Talk Story with Coralie Chun Matayoshi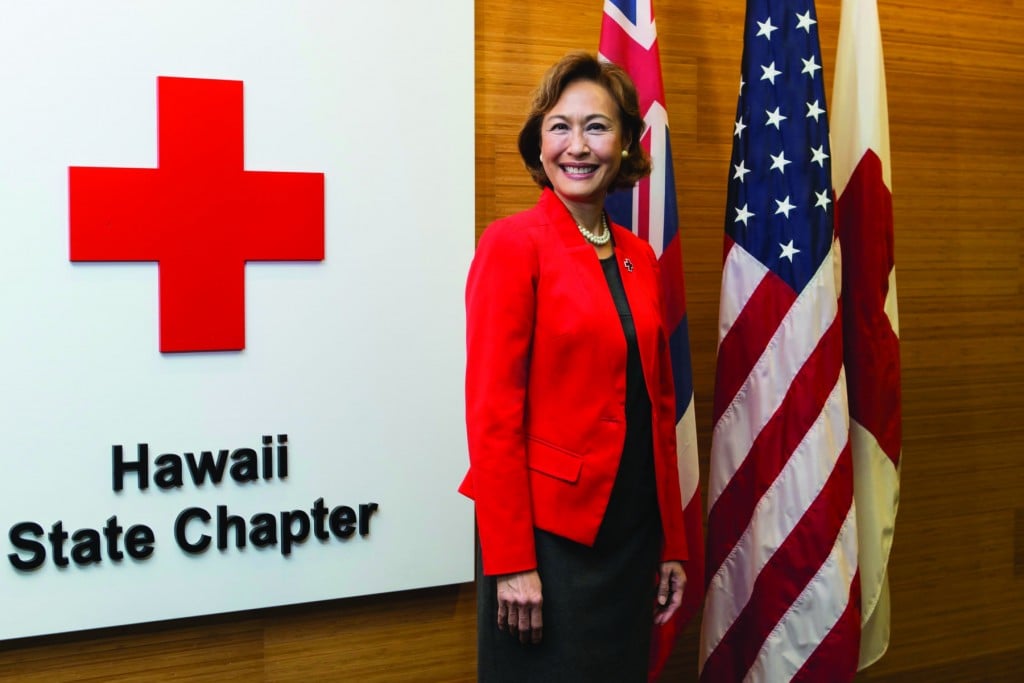 The Eastern Pacific hurricane season begins May 15 and runs through Nov. 30. In this interview, Matayoshi talks about disaster preparedness and the role the Red Cross plays in saving lives, locally and across the country.
What's the most important issue facing the Red Cross today?
To me, it's getting word out to the public about how important preparedness is. In Hawaii, people have become complacent, especially because we've had six almost-catastrophic disasters that didn't materialize – except the tsunami from Japan. That did cause $30 million worth of damage here, especially on the Big Island, Maui and Molokai. But it didn't really happen in Honolulu, so we're the least prepared area and the most densely populated. If everyone was prepared, then we could focus on vulnerable people who aren't able to prepare: the elderly, the disabled and non-English-speaking people who really need our help.
What are all the things the Red Cross does?
There's disaster preparedness and response. Then, there's saving lives through things like teaching CPR and first aid. We have babysitting, nurse's aide training and pet first aid – all to save lives. We have first aid station teams – we call them FAST teams – which are groups of volunteers who go out every weekend to places like the Honolulu Marathon or the 50th State Fair. If someone is having a heart attack or heatstroke, is giving birth or has sprained an ankle, we're there to help, free of charge.
The third major component of our mission is providing services to the armed forces. That's another 24/7, 365-day operation. We provide emergency communications between deployed military personnel and their families in a crisis. If a soldier is in Afghanistan and his father is dying here, we'll get word to his command so he can get permission to come home and say his last goodbye. In Hawaii, we have volunteer caseworkers who help the family through the crisis. That's really an important point: People don't realize we have trained, licensed mental health workers – like social workers and psychologists – who help people through tragedies.
Every four days we're responding to disasters. Just because a bad thing doesn't happen to a lot of people at the same time, like in a hurricane, doesn't mean it's not a disaster. If your house just went up in a fire and you lost everything, that's a disaster to your family. In fact, those people don't have any other support system because it only happened to them. So the Red Cross helps.
We have volunteer hotline operators on every island who receive phone calls from first responders, such as fire, police or civil defense, anytime, day or night. These operators then deploy disaster action teams, what we call DATs. There's an Alpha and a Beta DAT, and they work 12-hour shifts here. On the Neighbor Islands, sometimes they work for a whole week at a time. Once deployed, the DAT will arrive on the scene within two hours. So, we're there with the first responders. The firefighters don't have time to help; they're fighting the fire and saving lives. So, when people are standing there in their pajamas with their whole lives crumbling around them, it's the Red Cross volunteers that help them. That's just priceless.
If there were a widespread disaster here, Red Cross volunteers from other places would come to help. Does the Hawaii Red Cross respond to disasters elsewhere?
Yes. Whenever there's a domestic disaster, people from Hawaii have gone to help. I went to help after Hurricane Katrina. People have gone after Superstorm Sandy, and Hurricane Ike and Gustav. Every disaster is an opportunity for our volunteers to deploy – not only to help those poor victims, but to gain valuable experience that will be needed one day in Hawaii. It's like war. You can train all you want, but until you're actually in it, you really can't understand the magnitude of a big disaster. So, when they deploy and they come back – it's usually for two weeks at a time – they understand what a big disaster entails, and they're going to be our leaders for when, not if, it happens here.
We've even deployed somebody from Molokai. Because we're islands, it's not just the state of Hawaii that has to survive on its own; each island has to survive on its own. If the harbors and the airports are out, everyone has to be able to survive. We in Hawaii have the most isolated population on Earth. That's really scary. If people realized that, maybe they would be more prepared.
What's the biggest misconception people have about the Red Cross?
When you say "American Red Cross," it sounds like a rich organization, like somehow we have funding without struggling. But every year is a struggle. The community needs to invest in their own Red Cross in their own community. Otherwise, we won't exist; and Hawaii needs and deserves a strong Red Cross. We're really a very efficient organization, in that we leverage volunteers very highly. We calculated that we receive about 300,000 volunteer hours a year, which translates into a value of about $7.3 million. Instead of paying a mental health worker to deliver the services, or paying someone to be on standby for 12-hour shifts, it's volunteers. How much more efficient can you get than that?
It still surprises me and makes me so proud that volunteers will do this. They get so much joy out of helping people. I remember when they came back from American Samoa, where they slept on cots in an open-air gymnasium with mosquito nets over them, with no hot water for three weeks. They came back saying they'd do it again because they knew, when they got home, they would have hot water and a nice place to sleep, but the poor people over there would still need to rebuild their lives.
(This interview has been edited for conciseness and clarity.)