Talk Story with Kathryn Raethel of Castle Medical Center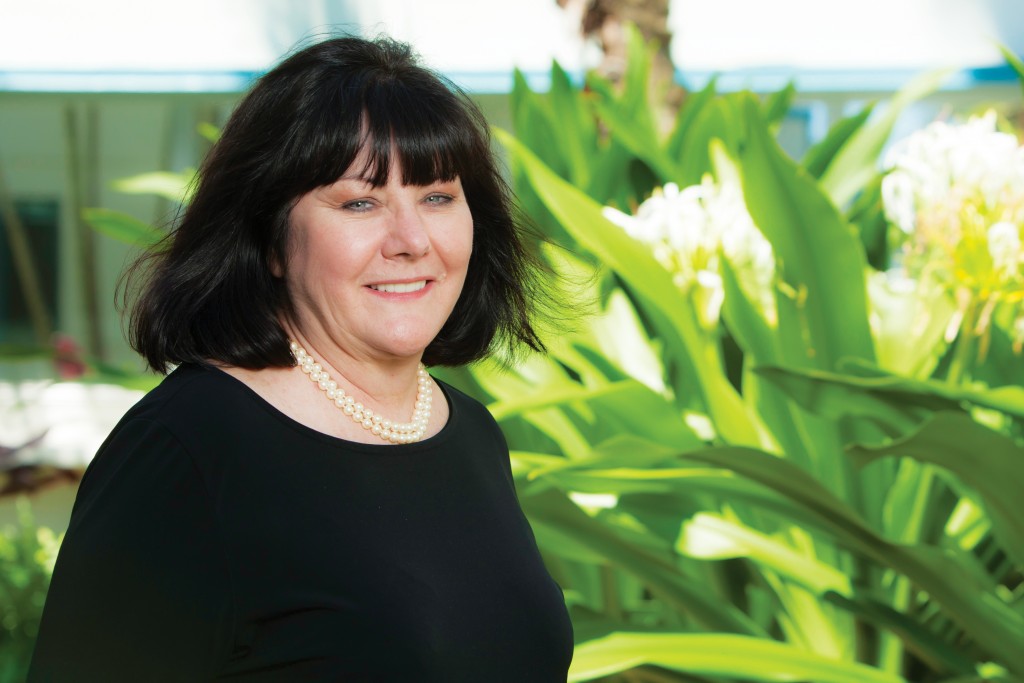 The first woman to lead the full-service medical facility in Kailua discusses Castle's renovations, green efforts and open-heart-surgery program.
Castle is undergoing a $26 million renovation. What's changing?
Over the last 10-plus years, we've been renovating older areas of the hospital. We've done most of our inpatient areas. Now we're renovating the operating suites, ambulatory surgery facility, and expanding our emergency department from 18 beds to 26. We'll be putting imaging services off the front lobby and creating an outpatient imaging center that's much more outpatient-friendly and easily accessible. We expect the entire renovation project to be complete, probably, by the end of 2013.
Where did funding come from?
All of our capital funding comes out of our corporate structure (Castle is owned and operated by a national nonprofit, Adventist Health). But it's based on our earnings and our ability to contribute. For the first time in its history, Castle is completely debt-free.
How is that possible in these tough economic times, and in light of closures of other medical facilities on Oahu?
We are careful in our use of resources, whether those resources are capital or people. About half of our expenses are actually labor expenses, so we try to be really cautious. We don't understaff, we don't underspend, but we're not wasteful. We've been good at that for a long time.
How will hospital services be affected during the renovation?
There will be some disruption, but hopefully not much. We'll work in phases. For example, we'll phase in our emergency and imaging departments so we don't have to close the services down. There's a lot of pre-planning work that goes into it to make sure that we've anticipated what we need to do in advance of a phase.
What can patients expect once the renovation is complete?
They can expect a beautiful, more functional facility. We'll have two much more distinct entries. Right now the emergency entry has become the primary portal of entry. And we don't want that. So the front lobby area will become the primary point of entry for nonemergency, visitors, outpatient procedures and registration. It's my intent for the front lobby to be very beautiful. It's old and dated and probably looks like how it originally looked back in the day. It will be more modern and much more user-friendly.
We will be upgrading some of our services. Our imaging services will be improved and there will be improved access to mammography. Ultrasound services will be improved and upgraded and, of course, the operating rooms will be much more functional.
We are also creating an area in the emergency department, specifically for our behavioral-health population, which has been an issue over the years. It will be better suited in caring for these patients in their acute phases before they are admitted.
In February, Castle received a $647,000 check from Hawaii Energy as incentive funding provided by the American Recovery & Reinvestment Act. How did this come about?
That was in the works for a couple of years. We worked with Hawaii Energy and they evaluated our entire campus and areas where we could improve our consumption of energy. We ended up replacing some cooling towers, chillers and all the lighting throughout the entire facility to be more energy efficient. It cost us about $2.3 million. We received $647,000 back through state and federal matching funds and we expect to now save about $200,000 a year in energy costs.
What other efforts has CMC made to "go green?"
We've been on a "going green" journey for several years. Our associates came up with ideas at first and challenged us to be more energy-friendly. Some of the things we've done: We have 20 bike lockers for our associates to bike to work and keep their bikes secure. We've also done quite a bit in our cafeteria with biodegradable utensils and biodegradable packaging. No Styrofoam. We've done a recycling effort to make sure we capture all of those bottles and cans. We don't care who takes them, some of our housekeepers take them, others take them for projects. We just want to get those out of the waste.
How has the closure of Hawaii Medical Center East and West affected CMC and other medical facilities?
All the hospitals on this island are feeling the effects of the closure of the two facilities, but I think it is truly remarkable the way everyone's working together collaboratively to accommodate all those patients. There are a lot more transfers between hospitals to try to ease the burden.
The medical center is in the process of starting up an open-heart-surgery program. How did this come about?
We requested approval from the state earlier this year to start the program. A surgeon from Hawaii Medical Center East, who was displaced by its closure, asked us if we were interested in doing that. We submitted our (Certificate of Need) application to the state in January and we finished hearings in February. The program is now approved and we are in the process of hiring appropriate personnel and renovating the ORs. We hope to perform our first cases this year.