Talk Story with Mayor Kirk Caldwell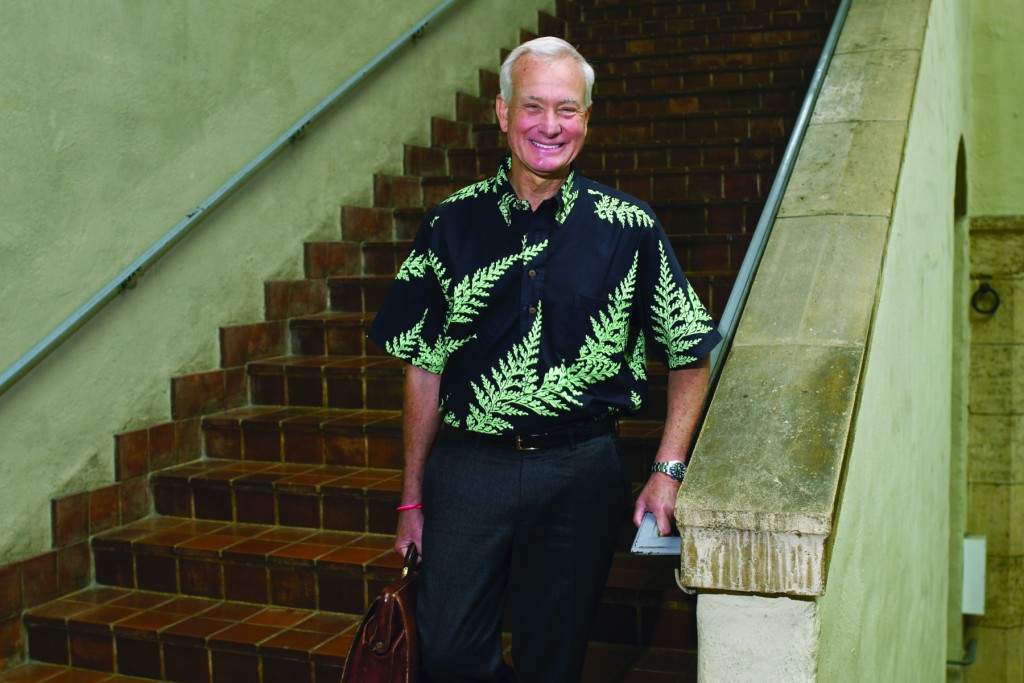 GMO has been a divisive issue on the Neighbor Islands. Is there a further role for GMO agriculture on Oahu?
I want to preserve as much of our agricultural land as possible outside the urban growth boundary, and I want to see more food grown on Oahu for local consumption. Ultimately, it's a security issue. We are dependent on shipments of food. If there were a major incident in the world and ships and planes stopped coming, we would be in deep trouble. Locally grown food will still be here for us to eat if the shipments stop. Locally grown food is fresher, tastier and better for the environment because we don't have to burn fossil fuels to ship it to Oahu.
Over 30,000 acres of our ag lands outside the urban growth boundary are currently fallow. There is tremendous pressure to develop those unused lands. GMO farming, as controversial as it is, is keeping significant acreage of Oahu ag lands in use and employing hundreds of Oahu farm workers.
I support greater disclosure on the use of pesticides because consumers deserve the right to make informed decisions. I support GMO labeling of food products. I also support responsible use of pesticides and, as state House majority leader, I authored and passed a bill that is now law, requiring home-improvement and garden stores to provide signage about the proper use of consumer pesticides and potential health risks associated with improper use.
As with any issue, we should have a robust debate on GMOs, but I urge everyone to go about it in a civil manner. The best way to address the issue is with science and facts, looking at all the economic, social and political implications.
The county mayors asked the Legislature for the right to impose their own add ons to the state general excise tax. If granted that authority, how would you recommend spending the added revenue?
I'm part of the Hawaii Council of Mayors with the three Neighbor Island mayors and we unanimously agreed to this proposal. But, if it passes, I will not ask the City Council to raise the GET for Oahu. I agreed to join the other mayors on this bill because, if it passed without Oahu included, the Neighbor Islands would get resources from the GET surcharge in perpetuity while Oahu's would expire as scheduled in 2022 (the current surcharge is helping pay for rail-transit construction). That would put Oahu on a different footing than the other counties, and I wanted to ensure that future Honolulu mayors have the same tools as the Neighbor Island mayors. If the bill passes, the Oahu surcharge could still only be used for rail, so a future mayor could keep the half-percent surcharge to fund rail operations or to extend the line.
The counties already have the property tax. Wouldn't it be less regressive to increase property taxes rather than adding to the excise tax?
I disagree. Real-property taxes by definition are paid only by property owners on Oahu, the majority of which are middle-class homeowners. A third of the GET is paid by tourists. Raising real-property taxes on average Oahu property owners would have a dramatic impact on them. I'd rather have our visitors pay their share through the GET. We spend millions on visitor services in Waikiki and other parts of the island, so it makes absolute sense to have our visitors, who put a major strain on our infrastructure and public safety departments, pay into our revenue system.
What specific policies would you recommend to sustain and improve the visitor industry on Oahu?
Build more hotel rooms, for two reasons: first, to take advantage of demand. We've had record-setting month after record-setting month. Second, to upgrade our visitor locations. We must keep Waikiki looking fresh and new for our many repeat visitors.
The city passed zoning changes in Central Oahu that will permit a certain type of business hotel that can serve this growing community and UH West Oahu. And there is discussion over the possibility of new hotels in Ko Olina, Turtle Bay and even Haleiwa. This type of boutique expansion could ease pressure off Waikiki, where available land and space are limited.
Given that most of the public services consumed by visitors – police, fire protection, ocean safety, traffic management, etc. – are provided by the counties, what percentage of the Transient Accommodations (hotel room) Tax should be given to county governments in comparison to the $93 million a year they currently get?
Without question, the $93-million-a-year cap should be lifted. In 2012, Oahu generated $74 million in TAT and only received $42 million. The city provides most of the services in Waikiki to ensure its vibrancy and, right now, Oahu resident taxpayers have to make up the difference. The cap is arbitrary and does not change with inflation, so, in essence, every year Oahu gets less while the cost of providing services goes up. The burden then falls on Oahu residents to subsidize visitor services with property taxes and other fees. That's not right.
Given the increasing capacity and sophistication of county governments, is there still a need for the state Land Use Commission? If so, what should be the LUC's role?
I'm proud that Hawaii was the first state in the nation to zone every square inch of our land. However, I think there is a jurisdictional overlap between the LUC and the counties, which adds an unnecessary burden on the construction of badly needed middle-class housing. I support eliminating duplicative processes, but I do not support abolishing the commission.
Should the counties be allowed to permit some form of gambling?
While I support home rule, I'm opposed to all forms of gambling. I opposed it while serving in the Legislature and continue to oppose it as mayor. It's not worth the social ills it leaves in its wake.
What are three particularly thorny issues you will be facing this year?
Homelessness is one. We're working closely with the state and service providers to get Housing First implemented and help get our homeless individuals and families off the streets and into supportive housing.
We've had a degree of success in regaining access to our sidewalks and parks through compassionate disruption. We will continue to aggressively enforce the sidewalk-nuisance and stored-property ordinances as well as park closure hours.
The second issue is the budget. The City & County of Honolulu continues to struggle with a deficit for the coming fiscal year. Controlling the cost of government while improving services like TheBus, repaving roads, restoring parks and fully funding Oahu public-employee health and retirement accounts is definitely a challenge. I will continue to work with the City Council to reduce costs wherever possible, while enhancing services and maintaining our AA+ credit rating.
The third issue is managing our traffic woes. While we are getting our city roads in better condition, every day there are more cars on this island using them. Rail will provide an alternative when the full line opens in 2019, but, in the meantime, we are looking at improvements like creating a traffic-management plan to better coordinate road, rail and utility projects with the state. We will be opening a new traffic-management center to help deal with rush hours, and we are promoting alternatives by building protected bike lanes and installing BikeShare, and proposing revenue sources to increase bus services.
Assuming the current rail route is completed as planned, are you beginning to plan for extensions into Waikiki and to UH Manoa?
This should and will be a larger community conversation. People have ideas about expanding rail further into Kapolei, expanding into Mililani, and to UH Manoa and Waikiki. I would like to see it go to the university because, as we are reminded every time school starts up again, a lot of our daily traffic involves trips to UH Manoa. Students struggle to find parking. I favor UH over Waikiki, because Waikiki can be well served by frequent bus service from the Ala Moana rail station without rail construction in our tourist district. In time, I'm sure rail will be expanded in other directions in West and Central Oahu.
This interview has been edited for clarity and conciseness.