Talk Story with Mike McCartney of HTA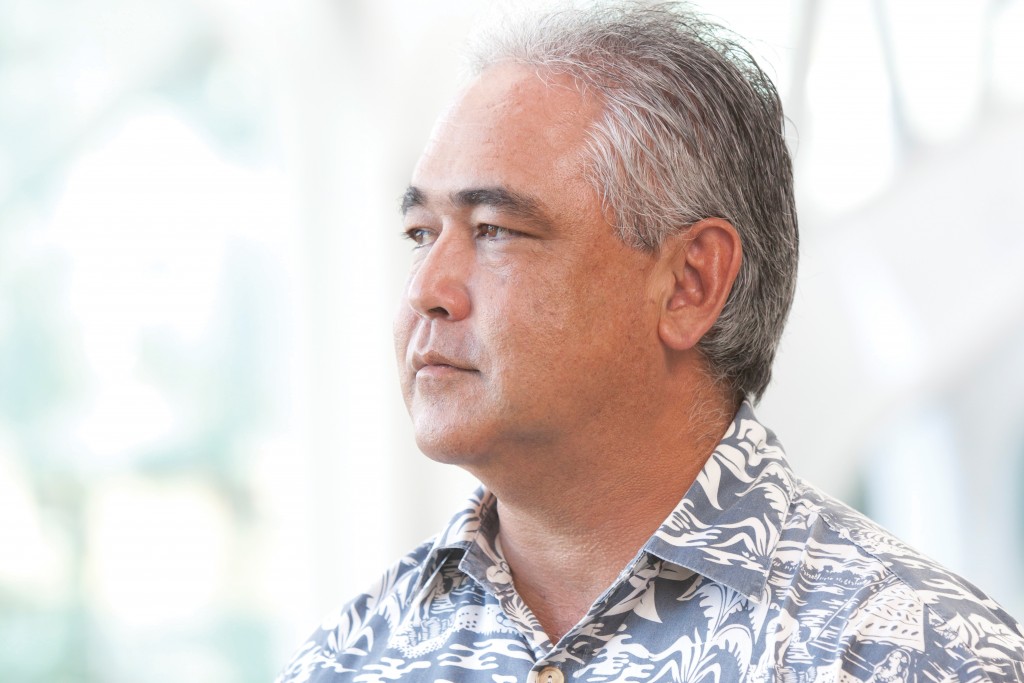 Mike  McCartney
President & CEO, Hawaii Tourism Authority
McCartney, who served on the APEC 2011 Hawaii Host Committee, discusses the after-effects of APEC and HTA's plans for 2012.
How will APEC affect Hawaii's visitor industry now and into the future?
APEC gave us the ability to believe in ourselves, improve our skill sets and improve who we are as a community. Hosting this event made all of us have to work together, look in the mirror, see what it is we do well, see what it is we thought we did well, and see where we fall short and what we need to do to help each other improve.
It gave us confidence and demonstrated to ourselves and to the world that Hawaii is not just a leisure destination, but a place where we can hold serious business meetings.
You have made "Aloha" the theme of the HTA, using a quote from kupuna Auntie Pilahi Paki that, "The world will turn to Hawaii as they search for world peace because Hawaii has the key … and that key is Aloha!" How did APEC attendees receive this concept of aloha?
So many APEC participants told me they had never gone to an APEC meeting where they actually got to interact with and know the host community. To me, this event wasn't for Hawaii, this event was for the world. We took every opportunity to share our values and one of the primary values we shared was aloha.
When you heard President Obama's speeches and toasts to world leaders, he talked about the values of Hawaii and how there's no other place like this. He said, "This is the closest place to perfect that I know of." He talked about the Aloha Spirit, how we're diverse and yet we can work together and come together. He gave a toast in Hawaiian (which translated to), "There's no task too great that we cannot accomplish if we do it together." That was powerful, but, to me, the single most powerful event was when Corbett Kalama [First Hawaiian Bank executive VP and Bishop Estate trustee], who served as Hawaiian cultural chair of our APEC host committee, gave the opening oli for Secretary of State Clinton's private dinner with all the other secretaries of state.
Corbett shared with them what Auntie Pilahi, who was really his auntie, told him when he was 6. She told him, "There will be a day when you will share this concept of aloha with the world." It was a chicken-skin moment. Three days later, we heard Clinton say that she has never had a meeting like that. Participants were still talking about it three days later. If anything, what we did at this meeting was to share aloha and, hopefully, have the participants understand that they have aloha, too, and they can take it with them around the world.
Do you know of any deals signed or negotiated during APEC, investments in local companies or talks about future big conventions in Hawaii?
There were MOUs [memorandums of understanding] signed by different entities with the state and with some businesses like Sopogy. There have been a couple of conferences and meetings that have already come to some hotels as a result of APEC. One APEC student meeting started here this past February and will come back every year for five years. Students from all over the world from the 21 APEC countries will be using "design thinking" to solve world problems. That came directly out of APEC.
All these things came out of APEC, but we want to look long term. APEC gave us an opportunity to build relationships, and it's up to us to cultivate them and see if we can bring a result.
In January, President Obama signed an executive order easing access for international travelers to the United States. What will be the direct impact on Hawaii?
On the heels of APEC, that's great news. When we were bidding for APEC, I asked President Obama's advance officer, "What does the president want from this meeting?" He said, "The president said, 'I want to introduce Asia to America.' " So, this announcement means that we are pivoting toward Asia. Easing of travel restrictions will ease commerce, create economic opportunity, not just in the visitor industry, but create the pathway for us to do more business. As more travelers get familiar with us, they'll feel comfortable doing business with us. Travel is the key to building peace, relationships and the foundation for economic opportunity.
What's the focus of HTA in 2012?
We are working with Japan to increase the number of visitors coming here since the tsunami disaster. Of course, we have flights from Korea and China and we're now cultivating new flights from Australia to fly direct to Hawaii from Brisbane and Melbourne, instead of connecting in Sydney. We're becoming more global and trying to cultivate more meeting business from Asia because of APEC. There's good potential for meetings not only for the convention center but for hotels. We're diversifying tourism beyond just leisure, to the business traveler. It's a more balanced approach.
Do you have plans to return to politics someday?
No. I respect the people who are there because it's a real tough job. I'm glad I did it, but I wish I knew back then what I know now. But you can't look back. I'm happy and feel blessed that I had the experience, but I knew in my heart that I had to walk away in order to grow. I'm not judging anyone else, it was just my own journey. It's really not about one leader, but it's about all of us collectively. We are all a part of the community. The only way it's going to get better is through collective leadership, collective stewardship. We all have to step up and do our part.