Talk Story with Paul Kosasa of ABC Stores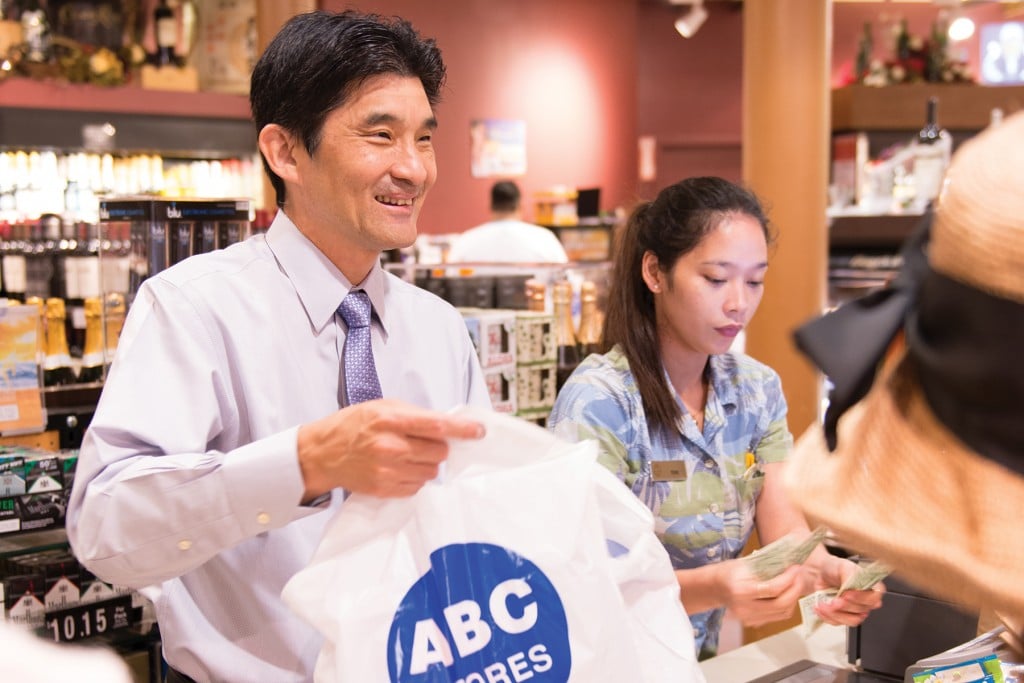 Kosasa, 56, has been at the helm of the family business since 1999. His parents, Minnie and Sidney Kosasa, opened the first ABC Store in Waikiki in 1964. Kosasa talks about the future of ABC, which has about 1,000 employees at 78 stores in Hawaii, Las Vegas, Guam and Saipan.
What has business been like lately?
The visitor market has been steady, but I'm always paranoid because it's a fragile industry. You could have labor strikes or a global disaster and that would affect travelers' confidence in going abroad. We've been through the effects of 9/11, the Iraq War and the recession, so hopefully nothing happens in 2014. But we always have to brace ourselves.
How did the recession affect the stores?
It was tough. When the visitor counts dropped, we didn't lay off anyone. We cut hours, but kept their benefits. Management took pay cuts. It's sort of, "We're in it together," and it has to start from the top. We still give bonuses through tough times because we know our employees are having a tough time, too. All our managers have grown up in the store. They've walked in the shoes of cashiers and stock clerks, so they know what it's like.
How will planned developments in Waikiki affect the stores?
International Market Place and the Princess Kaiulani Hotel are going to go through redevelopment, so we'll be losing four stores. It's always a challenge to figure out what we're going to do, but we're not going to lay off anybody. People can always be moved to different locations. Hopefully we can get back into those locations when the renovations are complete.
What role do you play within the tourism industry?
I'm chair of the Waikiki Business Improvement District Association and the Hawaii Community Foundation. I play a role in making sure our streets are clean and safe, that we have good customer service and that we're engaged with our visitors. One of the initiatives of HCF is addressing the homeless issue with state and county agencies. It's just a very big, complex, communitywide problem. Everyone needs to work together on solving it in a dignified and proper way.
Any plans to expand into Japan?
No, but Japan would be a terrific market. However, I think when people travel to Hawaii and shop at an ABC Store, it's unique to Hawaii. For the Japanese, ABC is a part of Hawaii, so when they go back to Japan with the ABC shopping bag, it's like, "Oh, you must have been to Hawaii." Keeping it in Hawaii keeps it special.
What about franchising?
Franchising is a good way to expand but I guess I'm a bit of a control freak. We have a strong training program. We have really high standards and a culture that is very hard to copy. I think if we start franchising, we'll lose some of that culture. So we remain a privately held company to maintain those philosophies.
How have the stores changed over the years?
Back in 1964, we carried mostly health and beauty aids. Waikiki was more residential. We evolved into carrying souvenirs and apparel like aloha shirts. After we took over a small Waikiki grocery store, we added groceries. Today, with changing consumer tastes, and demand for high quality, we're now carrying fine wines and a few stores have delicatessens in them. We prepare made-to-order sandwiches, salads, Spam musubis, bentos. I think it's just being connected to the customer and to trends that appeal to the changing tastes.
How come you have so many stores within blocks of each other in Waikiki?
Waikiki is unique in that it has very high density. We grew organically in Waikiki, one store at a time. But each store is busy and merchandised differently, too. The Kuhio Avenue store will have slightly different products than the Kalakaua stores.
Who do you consider your competitors?
Lawson, Walgreens, Longs, Walmart. Anybody that sells anything we sell is a competitor. We need to maintain our locations and keep reinventing ourselves to make sure we are still attractive and appealing, even though the product is sold in other places.
What's the most important lesson you learned from your dad that prepared you to run this business?
There were lots of lessons. He scolded me a lot (laughs). I'm not sure if he was harder on me than anyone else, but probably, and it should be that way. The main thing he was always concerned with was making sure our employees were happy and taken care of. So if there was one single thing that he left for me to carry on his legacy, it would be that. And we still do that.
Who spends the most at your stores and what do they buy?
It's still the Japanese. In Waikiki, they buy omiyage, but that's slowly transitioning to buying for themselves. However, on the Neighbor Islands, it's not necessarily the Japanese, but the cruise ship passengers and westbound tourists who spend quite a bit. We probably sell more beach mats than anything else.
What are your plans for expansion?
We have a property in Poipu, Kauai, and we're working with the community and County of Kauai in developing a store.
How do you feel about local businesses shutting down when big-box companies come in?
It's tough when you get the mainland guys, who have tons of money and can buy their way in, and small businesses fail as a result. But, on the other side of it, we should be good enough to compete. Things are different today. For instance, back in my dad's day, there were a lot of competitors. But one of the nice things was, say, if a competitor's cash register broke, we would say, "Here, use my extra one." And your competitor would in turn help you if your cash register broke. There was competition, but it wasn't like, "I'm going to step on you, I'm going to smash you," because these were your neighbors.
I think that sort of thing still happens on the Neighbor Islands. But on Oahu it's evident it no longer exists. You see that by just driving on the freeway and people don't let you in. Common courtesy is just not as prevalent as it used to be.
(This interview was edited for clarity and conciseness.)