Talk Story with Scott Barber, President and CEO, Hawaiian Telcom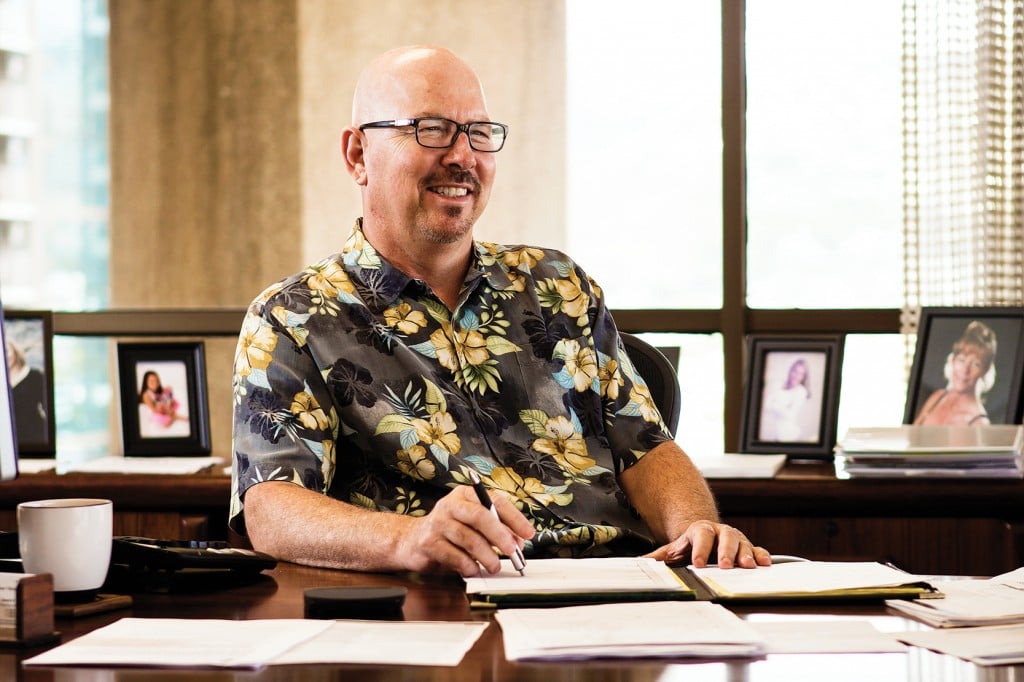 Barber had been Hawaiian Telcom's COO since 2013. He was promoted this June when former CEO Eric Yeaman left for First Hawaiian Bank.
---
Your career began more than three decades ago as a phone company lineworker in California. What was the biggest factor in your rare rise?
Early in my career, a plant manager asked if I had a suit and tie to attend the Christmas party. He wanted me to go up to the company's board members and make small talk. He said, "Do that because they are no different than you. They have more experience, but they are not smarter than you. And they want people to approach them. I want you to feel like you belong."
I did exactly what he suggested, but I didn't really reflect on it until years later, when I became VP. I realized that he taught me to show up and believe in myself. I was lucky to always have somebody more experienced who believed in me and would teach me those little things. Even though I was scared to death, I took the advice.
How does rising from ordinary worker to corner office inform your perspective as CEO?
I like seeking out people in the company that I believe are sort of like me: Somebody I see something in, which they don't necessarily see in themselves. I find ways to highlight them and give them a shot in the arm. When I look back on my career, I think of the people who believed in me. So I want to do the same for the next up-and-comers in their 20s or 30s.
As a leader, what are your strengths?
We had a consultant talk with our team and he said, "Scott, you have a way of easing tension in a room, summarizing a situation and reaching conclusions that seem acceptable to most." I felt good about this. I've had other people tell me that I'm lighthearted and funny, but I like being able to build consensus.
What are your areas for improvement?
As CEO, there are more demands on my time in my roles for customers, employees, shareholders and the community, so I need to get more organized and learn to say no to some things. I knew this was part of the job, but you don't really know it until you're thrown into the frying pan.
You joined Hawaiian Telcom as COO in 2013 and are now at the helm. Do you wish you had more preparation time?
In terms of the job of CEO of a telecom company, I'm not sure I needed more time. In terms of Hawaii, there would have been a benefit in being here longer because it is so rich and diverse. I've certainly engulfed myself as much as I could into community events, politics, news and key leaders.
Thankfully, I have great leaders on the board and at the company who have introduced me to many people, so I'm comfortable with it.
How is Hawaii different than other markets where you have worked?
From a business standpoint, decisions on the mainland tend to be made more on price or the math. Not always, but certainly more than in Hawaii. In Hawaii, many decisions are made based on relationships and trust. The people of Hawaii are rooting for local companies to succeed.
Your predecessor left a strong imprint on the company. How do you envision Scott Barber's legacy?
I don't know that I'm after any legacy. Eric's efforts to get us out of bankruptcy and build a strong culture were a great foundation for me. My focus is going to be about employees. What can we do to engage and collaborate more? How are we going to support one another, versus just growth? Eric had those same goals, but I want to underscore employment engagement as much as possible.
When you have 1,300 employees, it's easy to set up silos and not understand what's going on in other departments. So my efforts and the entire management team's efforts are about breaking down walls.
" In Hawaii, many decisions are made based on relationships and trust. The people of Hawaii are rooting for local companies to succeed."
What will the company look like in 5 to 10 years?
We just rolled out our new brand as Hawaii's technology leader and that's about putting in broadband pipes and introducing apps on the cloud.
We just launched Microsoft 365, which you can buy directly from the cloud. You can get your desktop software directly from the cloud. We are going to continue in that direction. We will be a cloud provider.
Your slow cooker at home is going to be IP enabled on your Wi-Fi network. You are going to say, "It's 3 o'clock, let's start the slow cooker" and, ding, you turn it on. You are going to scan your empty milk carton on a little barcode zapper on your refrigerator and it'll tell Foodland to deliver milk. That's where we're headed. It is all about that broadband pipe.
We just launched 1 gigabit-per-second service for the home. People say: "There is no device that runs at 1 gig," and I say, "Yes, but you've got your iPad, your smart TV, your smartphone all trying to run at 100 to 150 megs, but they can't, because they are being forced to go on this narrow, two-lane road." Broadband offers a multilane highway where all of those devices can run as fast as they can, including your slow cooker and your refrigerator, one day in the future.
What keeps you up at night?
Being a small company on the Nasdaq, we are subject to volatile macro events: those days when people view all telecom as good or bad. Instead of people looking at you uniquely and seeing you as a great investment because of the network you're building and potential revenue down the road, you get caught up in that throw-out-the-baby-with-the-bathwater mentality.
How do you manage the strain of operating a telephone company in an era when landline use is shrinking?
Luckily, I have an innate quality of being upbeat and lighthearted. There are certainly times, when we face disappointments and there is stress. But, if you carry that around, your employees will emulate it. That's not a good way to lead and, frankly, not a good way to live.
Some of our peers are shrinking themselves to "success" – that is, laying off a lot of people, because they can't grow the top line. But when you let tons of people go, your customer services go down. Luckily, we have had the opportunity to invest in our company year after year and have been able to grow and
be profitable.
This interview was edited for clarity and conciseness.