Talk Story With UH President M.R.C. Greenwood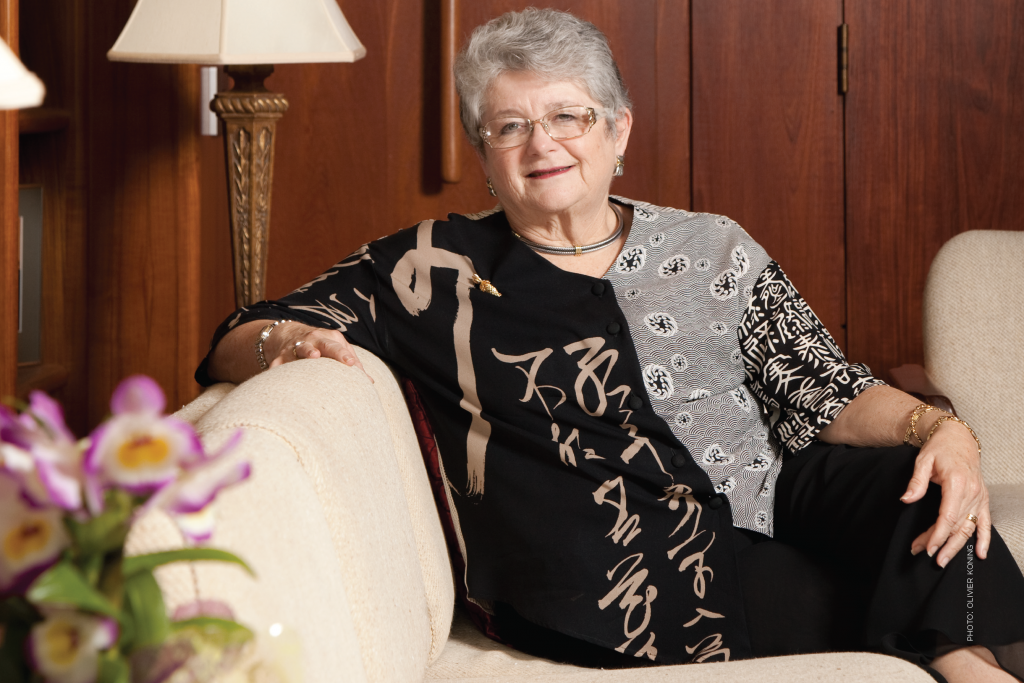 Greenwood, who has been leading theUniversity of Hawaii for two years, talks about the university system's broad, new goals.
HB: What's your philosophy on leadership?
A: It's very important to understand and appreciate the organization you're working in, both the cultural context and the specific institutional context. I first assess and then look at the opportunities of building a team. I'm very much a team leader, rather than a CEO type, but I do a mixture of both. I do a lot of assessing people's input before I make a decision. But I'm not afraid to suggest directions we might go to stimulate discussion and set out goals.
HB: What are some of the changes under way at UH?
A: We already have a good strategic plan, so we won't dramatically shift it, although we will be refreshing it, especially with new U.S. Census data. Using that plan, I want to reinforce it with several broad goals: One is to increase graduation rates for students at all levels — by 25 percent overall by 2015. We've had very specific discussions about how to achieve that, and analyzed whether we're doing everything we can to provide financial resources. We discovered that many students weren't aware of the availability of Pell grants or availing themselves of fellowships, so we've increased the support we offer onsite and online. We've dramatically increased the amount of aid students are getting and devoted a lot of tuition (money) to financial aid. And we've increased participation rates of Native Hawaiians, Filipinos and other underserved groups.
HB: What are some other new initiatives?
A: Manoa is putting in place the initiative: "You can do it in four and let us show you how." We have a new "Fifteen to Finish" slogan. There's been a culture built up that 12 credit hours is the semester load, but you cannot graduate in four years taking 12 credits a semester unless you're going in the summer as well. So we're putting on a push to help students finish in four years, helping them take courses in the right sequence at the right time, while understanding that a lot of students are working at jobs, too. We've encouraged some of the bottleneck courses to be offered in multiple formats, enlarged some classes, offered additional sections and are identifying open seats throughout the system.
To do that we've put in place a very good student-information system and we're able to see what courses every student is taking, what classes have spaces and what don't. So, if you can't get "X" section at Manoa, we can let students know if seats are open at another campus. As well, courses in the general core are now being accepted on every campus without students having to apply. Before, you had to apply (to the next campus) to be accepted. In this very difficult financial time — we've lost close to 25 percent of our core state budget — all of this has turned out to be critically important.
HB: You were criticized for your use of UH Foundation protocol funds. Was this fair and has this criticism led to changes?
A: First of all, these are not taxpayer dollars. These resources are provided to help the university president develop relationships to build on for our fundraising efforts. The real story here is that the president's protocol funds are now under incredibly tougher scrutiny. The university has put in place a detailed process to make sure these precious funds are used for the university. We have a system where any resources I get reimbursed for are looked at by several people here, receipts are very carefully documented and then, at the UH Foundation, another three people look at everything. Then, the whole Board of Regents sees it in detail every quarter.
There are many things I don't do, because I don't think it would be appropriate. Let's apply a business model: We're a $1.4 billion business, we raised $41 million last year in a tough economy, and hope to raise $45 million this year, and $130,000 (used in protocol funds) is a very, very small percentage of that and it was used to help get me out there for the first couple of years.
HB: Are there new fundraising initiatives ahead?
A: We're preparing for a new campaign (to start) next year that's still in the planning stages. We're in the process of doing a wealth analysis on the prospects we have and the market testing of our proposition to see whether people can relate to it. (Before launching) fundraising, you start with an assessment, you test market and you do a hard-nosed analysis of what you think you can do.
HB: What new directions do you envision for UH?
A: We have the best in the world in several fields, including astronomy and oceanography, and want to stay there and bring in additional people. And we want to put significant resources into new fields that are emerging, including renewable energy, cyber security, high-end data analytics. We have huge data sets in areas like astronomy and oceanography and we can build the capacity to manage them and create new algorithms to do that. All these areas and more could create niches for the future. As we get better at energy independence, for instance, we want to create new programs, train the workforce and grow our own experts here.
HB: Tell us about your initiatives with the state Department of Education?
A: We have to imbue students with a spirit of entrepreneurship and expose them to principles of entrepreneurialism at all levels of education. With the P-20 Initiative, we're working on strengthening the whole pipeline. We're active in the Step-Up diploma with the Board of Education and our people work together on Race to the Top.
HB: It seems presidents of public universities live in fishbowls. Do you agree
A: Yes. The president being constantly in the public eye means people care about public education. That's a good thing. I would rather be watched than not noticed. If you choose to serve in a public role you have to accept that. And, frankly, you should not lose your sense of humor about it.