Teas That Make You Want to Hula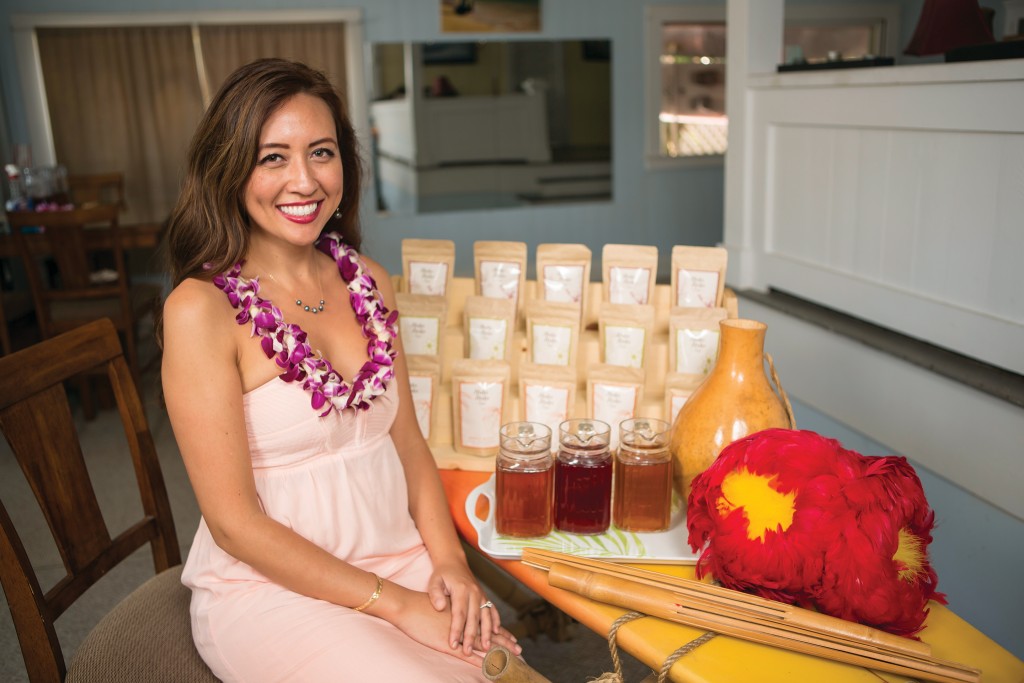 Malia Haumschild – like the teas she creates – is steeped in hula and Hawaiian culture.
"From the age of 11, I danced hula at the then-Maui Prince Hotel in Makena three nights a week, for about 11 years," remembers the 32-year-old Native Hawaiian entrepreneur, who can trace her lineage to precontact days. "The 'Dance Malia' business was started by my parents for me. Then in my 20s, I started to produce entertainment events at nights and on the weekends when I was not at my other full-time jobs."
Her "other full-time jobs" included stints at the Office of Hawaiian Affairs, at the state Legislature as chief of staff to Rep. Mele Carroll, spearheading Hawaiian affairs initiatives, and as an OHA intern in Washington, D.C.
After receiving her executive MBA from UH-Manoa in 2011, Haumschild devoted herself full time to Hawaiian entertainment and founded Hula Hula Entertainment, a company that produces shows for Japanese weddings and other events.
At the Merrie Monarch Festival last May, Haumschild introduced Hula Hula Tea, a product line inspired by her hula students as a way to share Hawaii with others. "Both my kamaaina and malihini students loved teas, but it was my Japanese students who inspired me to create Hula Hula Tea as a product."
Harvesting native ingredients from her homes on Oahu and the Big Island, plus other local and nonlocal sources, Haumschild creates her exotic blends here in Hawaii, but ships "the tea to the mainland to be processed and placed in tea bags." The final packaging is done on-Island in a commercial kitchen and the company markets its teas online, at craft fairs and with six retail partners.
"As we continue to grow and are able to purchase raw goods in larger quantities, we look forward to sourcing more and more locally. Our ultimate goal is to source 100 percent local," says Haumschild.
When Ann Scott, 62, an organization development professional from Chicago, was visiting her daughter in Kailua last May, she was introduced to the pikake green tea and has been a regular customer since. "It's a perfect wake-up tea in the early morning, and the green tea is calming before bedtime as well," Scott says. "I'm also a fan of black tea, so mango black is my go-to.
"I stock up here when visiting (about three times a year), and then buy gifts online for the holidays, birthdays, etc.," she says.