Harnessing Intelligent Tech for Your Company Now
Thousands of Hawai'i businesses have moved some or all of their operations from in-office to remote and online. Local tech expert Derek Gabriel, cofounder and CEO of Ignite Solutions Group, suggests ways your company can create opportunities in this new technological landscape.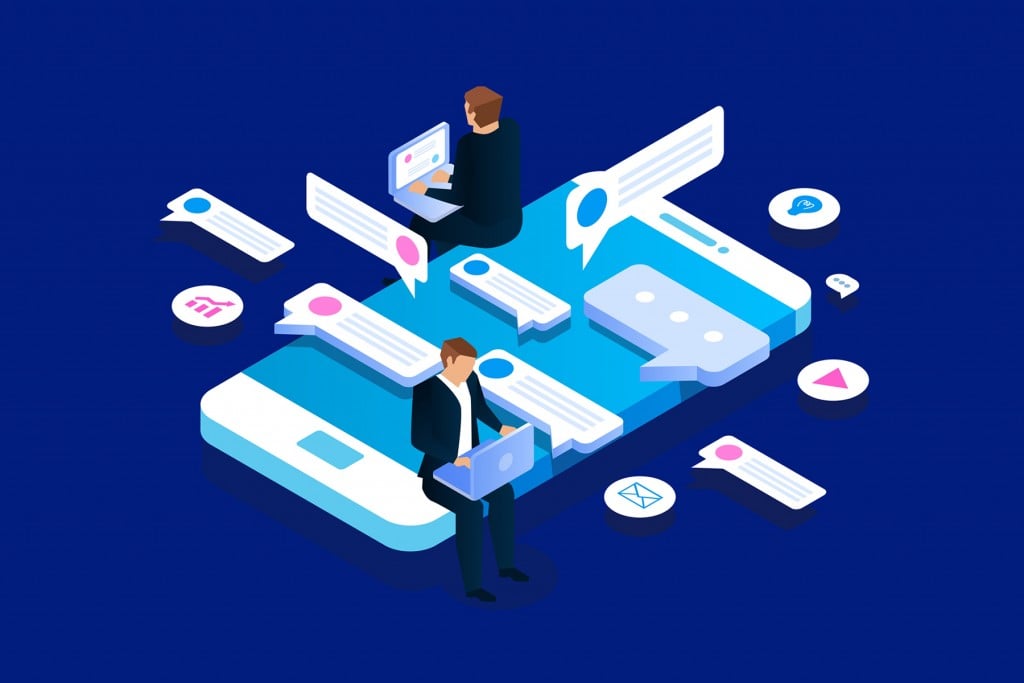 What advice would you give someone who has moved their entire business online?
Regardless of whether you just moved your business online or had it there for a while, the first thing to do is get intelligent.
As soon as someone enters your business you want them greeted and engaged. It doesn't matter that they are now entering your business online. Your webpage is the first impression or the new doorway for your potential customers, regular clients and even your employees. If someone goes on your website and doesn't get engaged, it is like having an open store with no employees in it, or a phone that no one answers. There should be a chatbot popping up to greet them and engage them.
I see these chatbots a lot. How do they work?
Essentially these bots function off a model that is predetermined. Take the World Health Organization website and its information on COVID-19. That information is the answers people look for when they go on the WHO website. The model is built to link that information to possible questions people will ask. So, for example, you take 25 base answers and you build 5-10 questions for each answer. Because the bot is intelligent, it can start to form connections between the questions it has been programmed with and unknown questions. The bot will try an answer. If the user is satisfied with the answer, the bot records this new connection. If it can't make a connection, the bot can either send a default message or it escalates to a human.
We are actually working with the cloud communications platform Twilio and the local organization Code for Hawaii to create a COVID-19 bot specific for Hawai'i. We build it from recommendations from WHO combined with information specific to Hawai'i questions, such as meal services for keiki, kupuna outreach services, etc. We collect the answers that our users want, then we build the questions our users would ask and post those FAQs on our website. Users usually find the answers they want from the bot, freeing people to answer more complex questions.
What about other intelligent solutions?
You have computer vision for example. At the end of a networking event, you come away with business cards from people you've met. These are qualified leads for your business. Now you or one of your employees must manually enter these into your CRM tool. With computer vision you could take a picture of the business card with your smartphone and it will upload that information. It is the same technology that lets you deposit a check by taking a picture with your smart phone. Think of the applications: the form you fill out the first time you visit a doctor's office, an application for an apartment or a loan. All these repetitive time-consuming tasks can be automated, freeing staff to do more important things.
Are you saying AI will replace humans?
No. This isn't a bot versus human scenario; this is a bot and human scenario.
We are replacing humans' mundane tasks, so humans can be more efficient at their jobs. Anytime, you have a human answering the same question over and over, you want to look for a way to automate that. As soon as state governments, schools, universities, and large organizations moved to work-at-home, their help desks crashed. After our governor's press conference announcing the mandatory 14-day quarantine, all the tourists with tickets to Hawai'i, wanted to know if it pertained to them. They wanted to know lots of things. Most people want to know the same answer, which a bot could answer. The small number who need to get specific help, would then be turned over to a human. The bot can even be programed to tell when a user is becoming frustrated and will escalate to a human. It provides a better experience for the user and the employee.
It doesn't stop with online FAQs. We enable bots for several of our clients. We program these bots to prequalify their potential clients. When the bot has qualified leads, it sends our clients messages on their cellphones. They can either take over from the bot or collect the client's information to follow up.
Won't these kinds of intelligent solutions send jobs to call centers outside of Hawai'i?
No. This is how small local companies maintain and gain back their market shares.
Before the COVID-19 crisis, the world was already online. Businesses have been adapting to the real-time, on-demand culture in which consumers are living. They are not working to just control supply but also demand. By and large, supply is now infinite. Local businesses were combating this by relying on the quality of their product, the strength of their brands and local high-quality services. This new situation where everyone is on-line offers an incredible opportunity to enhance that service.
There are two main obstacles. First, people hate filling out forms or giving away their email to wait for a reply. And second, research shows over and over that businesses don't respond to leads fast enough. Consumers want to connect with someone, and they want that connection fast. The bot can move the qualified leads straight to your local team.
If the company has to use a call center on the mainland, it might be an indication they aren't managing the volume of their inbound marketing and sales calls. Using a call center in that case is just uncomfortable for everyone involved. It can potentially degrade the user experience and add to the wait-time for a follow-up. Having multiple people in the office stop what they are doing and play receptionist should never be an option. It is completely counterproductive. In all these cases chatbots would be a more cost-effective and better for the users' and employees' experience.
Can anyone besides the big players afford this?
Ultimately, you should talk to your IT solutions provider so they can assess your needs and budget to come up with the best game plan.
That being said, there are some limited free services out there. I recommend Drift. Once people start to see the potential and they want to scale up they are going to have to consult an expert and it is just easier on everyone to grow when you start with a high-quality product.
But to break down the cost structure, there are two primary factors everyone is looking at: set-up and use. After the upfront cost of setup, there is a consumption-based sliding scale. The more you use it the more it will cost. But you will also be saving on your biggest expense: your employees' time. The biggest line item is always personnel. If you don't maximize your people's time, making it efficient and enjoyable for them, you are burning money.
This interview was edited for clarity and conciseness. Read our March 26, 2020 interview with Gabriel.