20 for the Next 20: Terence Young, Hawai'i Pacific Health Medical Group
A problem solver who leads by listening, the health care system's chief operating officer spearheaded its massive vaccination effort.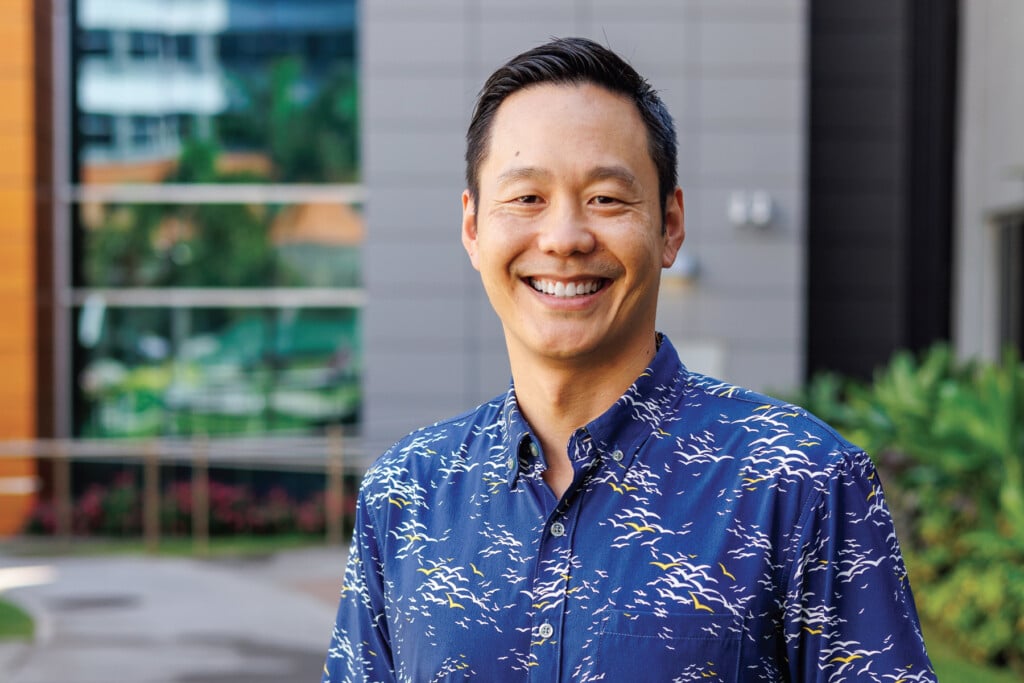 Terence Young

Chief Operating Officer, Hawai'i Pacific Health Medical Group
Terence Young leads by listening. Whether it's his team members or the wider community that Hawai'i Pacific Health serves, Young says he takes pride in gathering different perspectives and helping people achieve their life and health goals.
"He does a lot of listening, he really hears all points of view, really thinks through what the issue is so he fully understands it," says Art Gladstone, executive VP and chief strategy officer at Hawai'i Pacific Health. "Then he starts thinking about how we can solve it."
Young's keen listening and problem-solving skills proved essential during the Covid vaccine rollout in late 2020, when he worked to get frontline health care workers vaccinated, then spearheaded a mass vaccination clinic at Honolulu Harbor's Pier 2. It was the "first and largest mass vaccine center in the state," he says. "At one point, we were doing over 3,000 shots a day."
But Young quickly realized that not everyone could get to the downtown location, so he decided to bring the vaccination clinic to residents where they lived. "We started going mobile," he says, and deployed "big touring buses that were not in use, because there were no tourists here. We were able to take the vaccinations out to the community and the schools and the neighborhood areas."
To Gladstone, accomplishing such a feat calls for a special set of skills. It required Young to "not just engage people, but mobilize people. He has that ability to say, here's the goal – and it was a big, lofty goal – and get people to engage, which is a whole different leadership," says Gladstone.
Young is currently the chief operating officer at Hawai'i Pacific Health Medical Group. He was born and raised in Hawai'i, graduated from the University of Miami with a degree in information technology and lived in California for 10 years. But he says he missed being near family.
He says he is close to his sister and particularly fond of his niece, whose birth was a turning point in his decision to return to Hawai'i about 11 years ago. To Young, family connections matter, and they have been a source of inspiration throughout his life.
"My dad has always taught me to take pride in my work," says Young. "That's what I focus on: just doing the best that I can, in everything that I do."