The Best Advice I Ever Got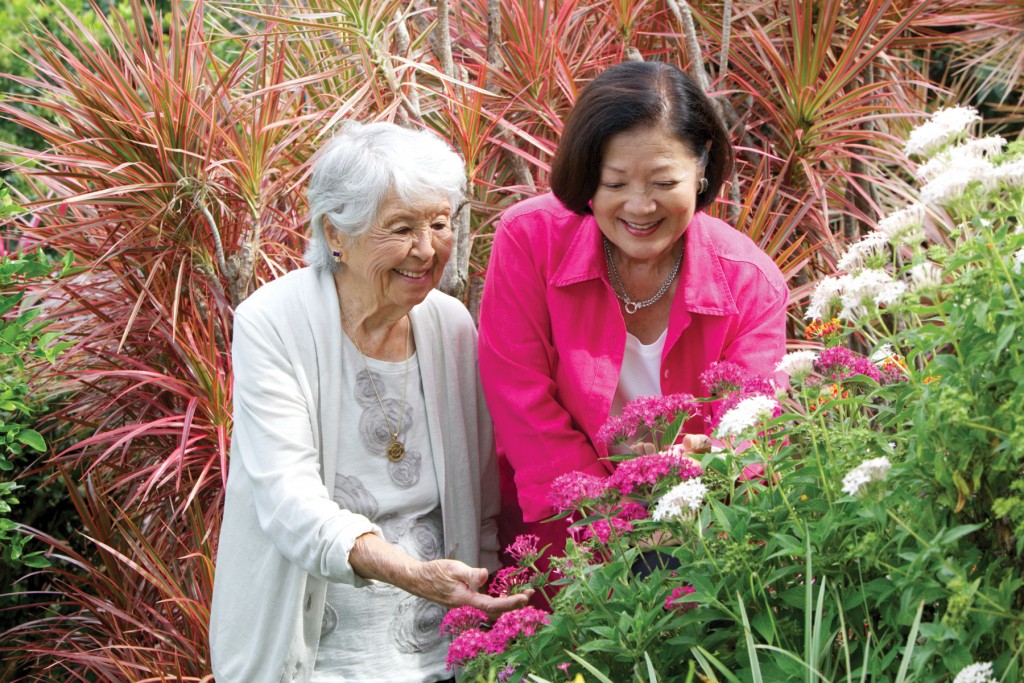 In our lives, we're probably given more than a million words of advice. Almost everyone feels free to dispense it, even if we don't ask for it, but much of it is trivial and soon forgotten. The advice that resonates and sticks is worth sharing.
We asked a wide range of prominent people about the best overall advice or the best career advice they've ever received or learned. Here's what they told us.
Take risks
"The best advice I've ever received was to take risks. I learned this from my mother, not through her words, but through her actions. Rather than suffer through a terrible marriage in Japan, she risked everything to seek a better life for her family in Hawaii.
"I continue to be inspired by the courage it took for her to plan our escape in secret and head into the unknown."
Senior VP and General Counsel, Hawaiian Telcom
Start with Self-Assessment
"I think this is a truism although people have a hard time actually doing it: Understand what your strengths and weaknesses are and surround yourself with people who bolster your weaknesses. Don't get people just like you, but get people who fill those gaps. This may be hard, because sometimes people don't like to admit they have weaknesses. But to me, admitting that you're not as strong in a certain area is not a weakness but a sign of strength."
CEO and President of Atlantis Submarines
Create a Living Culture
"One of the people who made such an impact on my life was Glenn Furuya, whose leadership class I took when I was first starting out. To this day I still use what he said and send a lot of people from my businesses to him. He taught me to build the culture that we have here at Atlantis. The culture of the business is the most important thing you can work on. In order to have a business that's living, you need a culture that's living. You have principles and you stick to them and make sure you communicate that to everyone. At Atlantis we have that – a culture of safety, courtesy and show. We start with, 'Is it safe?' Then we take you to, 'Is it courteous?' And then, 'Does it add to the show?'"
Two Very Different Grandmothers
"My maternal grandmother, Tutu, is a modern, opinionated go-getter while my paternal grandmother, Grandma Lydia, is a traditional, humble peacemaker. Growing up, my Tutu would always tell me, 'Eyes on the prize.' She would write it in every card and tell it to me again every time we spoke about my dreams and goals.
"On the other hand, my Grandma Lydia, being a devout Catholic, would always tell me to 'Offer it up' (to God). Whenever I would complain about anything or pout, when something went wrong, it was always, 'Offer it up, Brianna.'
"My Tutu gave me my drive, my motivation. When I wanted something, it was 'Eyes on the prize,' and to do whatever needs to be done to reach that accomplishment.
"So many times I would almost give up but instead of doing that I would remember Grandma Lydia saying to 'Offer it up.' I would remember all my blessings and how thankful I am to be alive and well."
Hawaii Island Mayor
Think, Feel and Then Talk
"I remember my dad telling me, 'Oh, boy, you know your mom guys they always tell you, 'Think before you talk.' Well, do me one favor: I like you think, feel and then talk. That way, whatever you say comes from your heart. People can agree or disagree with that, but at least you're honest.'
"I always took that to heart. Process what you say, but make it come from someplace meaningful.
"There's another piece of advice that came from Sen. Inouye 20 years ago when I was an intern in Washington, D.C. 'Billy, it's very important to do a couple of things: One, always be humble. Two, always, always be respectful, and three, work harder than anyone else and you will do fine in public service.'
"The senator also said, 'Billy, good leaders will never take credit. They'll take the blame and give credit. The leader you don't want to be is the one who takes the credit and gives everyone else the blame.'
J.D. Watumull
CEO, Watumull Brothers
Act Quickly
Watumull says he has used this advice throughout his career. "Make a decision. Quickly. Don't get analysis paralysis. And if it's the wrong decision you just need to be able to change it."
Comedian
Treat Everyone Well
"When I started my career, my manager, Millie Fujinaga, said: 'Take care of everyone, no matter if they're the valet or dishwasher. When we do shows, everyone should be treated with care and aloha, from the waiters to the cooks.' An example is when I'd be waiting for my show to start at a hotel where there was a big banquet, I'd sit with the waitresses and help them fold napkins.
"Millie also said, 'When you get into the spotlight, get ready for criticism, and if you can't handle it, get out now.' Through the years she has helped me to become very strong. She's retired now but she's still my counselor."
Chef Extraordinaire
Go Back to School
Wong says the best advice he ever got came when he was 20 and working as a dining room manager in Waikiki. The advice made him realize that to do anything well, he needed to know it from top to bottom.
"A friend asked the provost of Kapiolani Community Collegeto give me some advice," he remembers. "I wasn't in school – I had kind of dropped out of UH-Manoa – and his advice was, 'Go back to school, Alan.'
"Then he pointed to the chef behind the counter. 'You see that guy back there? He's going to be able to run circles around you because you know nothing of the kitchen and nothing of food. You go back to KCC and enroll in the food-service program, and learn about food and the kitchen, and it's going to make you a better manager. If you stay on this current path, I foresee that maybe you'll get to be an assistant food and beverage manager in a small hotel.'
"That didn't sit well with me. So in the end I did go to school and learned about food and the kitchen with the purpose of coming back into the front of the house, but I never did because I loved the food part so much."
Russell Lau
President and CEO of Finance Enteprises; Vice Chairman and CEO of Finance Factors
The Power of Win Win
Lau was looking for a negotiations strategy when he read the book "How to Get to 'Yes.' "
"When I read it I thought, 'Hey, this makes sense.' I try to create win-win situations. Make sure you know what the business partner or customer wants, and what you want, and make sure both parties get what they need. It creates an environment where people feel they're successful at the end of the deal. If you can create a win-win situation where everyone thinks they're getting what they want and need, they'll feel like a winner and you'll feel you've won.
"In this, it's important to know what motivates the other party and to make sure you know what the other party wants. One of my directors says, 'You always find ways to compromise and make things happen,' and I say, 'I'd rather get 90 percent or 80 percent of the job done than nothing.' … If you have people happy at the end of the day they'll come back and do more business with you. If everyone holds their ground, at the end of the day, nothing gets done."
Sherry Menor-Mcnamara
COO, Chamber of Commerce of Hawaii
Ganbatte: Don't Give Up
"It was what my mom told all of her kids, every time we had a test or anything challenging: 'Ganbatte.' It means you have to try your best. Hang in there. Don't give up."
Menor-McNamara says her Japanese-born mother practices what she preaches, and has managed to survive and thrive. "She has run a travel agency in Hilo – Naomi's World Travel – for more than 35 years and it's still open, even with all the changes in travel. It's pretty amazing. My mom and dad were divorced and she pretty much put us all through school, ran a business and did it all knowing little English."
CEO and president of KTA Super Stores
The Golden Rule
"I've never forgotten what my mother told me as a kid: 'Treat others as you wanted to be treated.' I watch how other people deal with different people and how they approach people and I try to be empathetic and to communicate with them so that I don't hurt their feelings. … I know I've deviated from it once in awhile but I've tried as much as possible to follow that.
"And, indirectly, through conversations and actions, I've tried to pass this on to my kids. I explain to them why I do certain things so they see the rationale. … So that when they make their own decisions they should consider these things, too."
Dean, University of Hawaii, John A. Burns School of Medicine
Listen well
Hedges received a lot of good advice as he grew up, but he particularly remembers his grandmother's advice.
"'You have a special gift, the ability to listen well. Use it,' " she told him when he was 8 or 9.
"Often times in medicine," he says, "we sort of create this image of the person we want to have as a leader being the person who can stand up and give a very thoughtful and inspiring speech, and that's clearly something you'd like to have in your toolchest as a leader.
"But I've found where people fail to succeed, especially in terms of follow through, is they don't listen to those they're hoping to inspire and capture the essence of what's in the heart and imagination of those individuals.
"It's one of the things we emphasize here (in JABSOM training) … the talent of 'talking story' to first put a patient at ease and second to hear their concerns through their eyes so you really understand the full context."
UH Professor
Think Big
Karl is the winner of the 2013 Alexander Agassiz medal from the National Academy of Sciences, the equivalent of a Nobel Prize in oceanography. In the academic world, the best advice he got was to choose a big problem to solve. "You should always select the biggest scientific challenge even though it seems daunting," he recalls. And don't be afraid to fail, he adds, though, "If you fail, figure out why, and then change things."
What does he tell his students? "The advice I give to students is science is a team sport and you should pick your team members for the greatest scientific impact. Nobody can solve big challenges by themselves."
CEO and president of Communications Pacific
Take Focus Off Yourself
Lagareta says that as a young 25-year-old volunteer at Ronald McDonald House, she learned something that has become an important business tool.
"I was working with CEOs and had a lot of responsibility, and I was stressing out, and someone told me, 'If you just focus on helping everyone else be successful, you don't have to worry about your own success.'
"I find that when I'm working in a community organization and lots of people are involved, if I can find the way to maximize their success, or likewise focus on my clients' or employees' success, it's always a winner. Then I don't have to think, 'What am I doing to be successful?' It builds trust with people and changes the dynamic.
"The second piece of advice is if you don't make the hard decisions, someone else will after you're gone. As a leader you have to make the tough calls. You have to make those choices and keep your business and everything else moving forward. … It's not just letting someone go but finding ways to keep things together in tough times. … It can be helping people understand that doing the same thing they did five years ago isn't what's needed by our clients."
Allen Uyeda
President and CEO of First Insurance
Leaders Create the Values
Uyeda says the most powerful learning experience in his life came while he worked for International Paper in the forest-products industry just after college. He had to write reports of deaths and serious injuries. When a new management team from Dupont, renowned for its emphasis on safety, came aboard, the difference was striking.
"The new management team wanted to change the safety record of the company. And it was very simple, things like putting a lock on the chipper or installing cameras to monitor the operation. Because of the cameras, someone overcome by fumes while painting the inside of the chipper box, was rescued.
"There was clear communication that safety, people's lives and health were critically important, and accidents dropped dramatically. Seeing the impact that mission and values had on people's lives, that really made an impact on me.
"It's important for top management to set the values of the organization and it changes the whole culture. It's why we place a heavy emphasis on risk control. And it helped me realize that management is responsible not just for the bottom line, but for the values that the organization stands for, and creating the type of culture that exists."
Lowell L. Kalapa
President of the Tax Foundation of Hawaii
Put Your Heart in It
Kalapa, an influential commentator on local issues, says that while he was in high school and reluctant to apply to a good college that might reject him, his American history teacher said: "Put all your heart in it and don't be afraid to take risks."
So he took the risk, applied to the Medill School of Journalism at Northwestern University and was accepted. "The Medill graduate program required that you spend two of the four quarters reporting for the Medill News Service, so one of the quarters I was in D.C. reporting on Congress, and another reporting on the World Bank. It all helped me to stand up and speak my mind and take risks.
"Now, because I really haven't had to win points or lose points in the (state) Legislature, I can tell it like it is. People may not like it, but to be honest and upfront, and take the risk to reveal what you're thinking and why, is important."
President and CEO of Locations LLC
You Need to Buy In to Really Play
Chee says he got great advice 44 years ago as a young Realtor, which seems specific, but can actually be applied universally.
"Someone once told me, 'You can't play in the real estate business until you buy something,' but I had already bought something. Now I wish I never sold anything that I bought. I do still own 10 different properties and there's no mortgage on any of them."
Executive VP and CFO, Hawaii National Bank
A Recession-Proof Future
"I returned home to Maui for summer break after my first year in college studying engineering. The economy was weak at home and I had no success with internship opportunities, so I started to become concerned about securing a job in Hawaii after graduation. I was the first in my family to attend college and had no one to turn to for career advice.
"I remember setting up an appointment with a local CPA in downtown Wailuku, Maui, to talk story and get some perspective on the local economy and job market. He told me, 'All my clients seem to be struggling across all industries and as a result jobs are tight. However, my practice is recession proof.' I asked him why and he said, 'These companies are losing money, but they still need me to keep track of how much they are losing. If you go into public accounting, I am pretty sure you will not have a problem getting a job in Hawaii after graduation.' "
Nobriga eventually changed his major to accounting and got a great job with a national CPA firm a year before graduation. "It proved to be an incredible learning opportunity for me and allowed me to develop the foundational skills, knowledge and experience I've leaned on throughout my career."