The Business of Love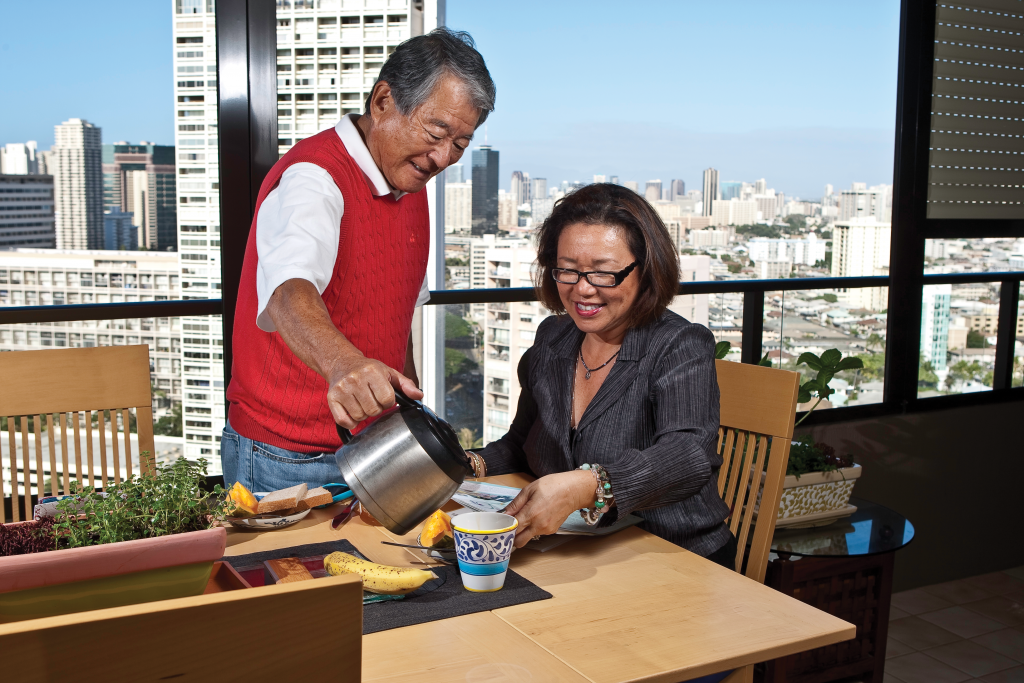 More than 50 percent of marriages in the United States end in divorce and Hawaii accounts for about 5,000 of those breakups every year. Of those who remain married, true love is not always the reason. That's why relationship experts say it's crucial to take time upfront to choose the right mate. Selecting a supportive partner who allows you to pursue your career and other goals could determine into which half of the nation's couples you and your spouse fall.
The following pages describe how four successful couples met, fell in love and are making their lives – and romance – work, despite hectic schedules, demanding jobs and kids. A common thread: They've all mastered the power of negotiation.
The Attorney and Her House-husband
Christine Kubota says it was a long road to finding Mr. Right. When she hit her 30s and still hadn't found "the one," she decided to go to law school and focus on her career. She eventually met her future husband, Sadao Takahashi, through a mutual friend. They golfed on their first date and Kubota says that by the 19th puka, she was so hungry she devoured her entire entrée.
"(Sadao) is from Japan so I don't think he had ever seen a woman eat like that," Kubota says, laughing. "But for some reason, he said he was impressed because he knew I was a genuine person." The couple met in November 1989, Takahashi proposed in February and they married a year-and-a-half later.
Takahashi, 15 years older than Kubota, had been a top salesman for General Motors in Japan. He retired early and moved to Hawaii when job stress began to affect his health. Today, Takahashi is a proud house-husband who does most of the household chores, including the laundry, taking out the trash, ironing, washing the cars, cooking, cleaning, making the bed, and preparing breakfast every morning.
"But I do the gardening," Kubota says, smiling. "This kind of thing is very strange for a Japanese national because you'd think they'd be very traditional, samurai-style, but he's not. Being the homemaker is his thing now and it works for us."
Kubota says without such a supportive husband, she would not be able to devote as much time to her career. Her normal hours as an attorney with Damon Key Leong Kupchak Hastert are from 9 a.m. to 7 p.m. and she often works on weekends. When he's not taking care of the home, Takahashi enjoys golf.
"We both contribute to the marriage in our own ways," Kubota says. "We know our roles and we're happy filling those roles. I think I'm very lucky to have a husband who is selfless enough to allow me to focus on my career. I don't think many men could do what he does."
Kubota said she knew exactly what she wanted in a husband and wasn't willing to settle for anything less. "I think Mr. Right changes with age so it was good for me to wait until my 30s to get married because I was more focused, established in my career and mature."
After nearly 20 years of marriage, Kubota has this advice for young couples: "No. 1, there will be disagreements but it's important not to stay mad too long. Also, I always tell my clients that 'compromising' means not getting what you want so deal with it. And finally, you shouldn't marry someone thinking that you can change them because chances are you won't. However, you can train them," she says with a wink.
The Juggling Act
Love, marriage and kids have been a whirlwind for Trini Kaopuiki Clark and her husband, Sean Clark. They met at a mutual friend's wedding in May 1999, got engaged eight months later and were married eight months after that.
"To me, timing is everything," Trini says. "When we met, we were both ready to be in a long-term, committed relationship. We had done the wild and crazy partying and had gotten all of that out of our systems, so now that we have a family and have practically no social life, we're fine with that," she says, laughing.
Although Trini knew exactly what she wanted in a husband, she says, you never really know how your partner will behave until the situation arises. Lucky for her, Sean helps with diaper changes, puts their two children to sleep and even woke up with Trini in the middle of the night every three hours for feedings, despite having to get up early in the morning for work.
Now that their daughter, Malie, is in school and their son, Kala, is 2, Trini says life has become one big juggling act. Sean, a partner at the Honolulu law firm of Goodsill Anderson Quinn & Stifel, gets morning duty with the kids since Trini wakes up at 3 a.m. to deliver the weather report on KHON's Wake Up 2day show. Sean takes Malie to school and then drops Kala off at KHON before heading to work.
"Basically, we have two minutes together in the morning when he hands off my son," Trini says. "Then, Sean normally gets home around 6:30 or 7 p.m. and I go to bed at 8 p.m."
Although their time together is limited, the couple tries to set a date night once a week. "I think a married couple needs to put each other first, even before the kids," Trini says. "I have seen, firsthand, marriages crumble when both mom and dad only focus on the children. Then, when the kids grow up and leave the house, mom and dad realize they have nothing in common anymore."
The couple also recognizes the importance of alone time to pursue their own hobbies. They will switch off watching the kids on the weekends so Sean can surf and Trini can go walking with friends.
"You have to trust your instincts and if there are red flags in the beginning of the relationship, pay attention to them. You want to marry someone you can grow old with, because looks will fade, but hopefully you choose someone whose good qualities will last forever," she says.
The Power Couple
City managing director Kirk Caldwell and his wife, Donna Tanoue, vice chairman of Bank of Hawaii and president of the Bank of Hawaii Charitable Foundation, met in Washington, D.C., while Caldwell worked for Sen. Daniel Inouye and Tanoue attended law school at Georgetown University. When Tanoue returned to Hawaii to take the bar exam, the couple maintained a long-distance relationship. "When I asked Donna to marry me, I knew we shared the same values and some common interests, yet we valued the fact that we were each independent as well," Caldwell says.
To some extent, the couple agrees, finding the right mate is similar to finding the right business partner. Character, trust, confidence and commitment are important for both relationships, Caldwell explains.
Caldwell and Tanoue say the secret to their nearly 30-year marriage is that they share the same values about life and love and have complementary personalities. Tanoue says they have a 50-50 partnership – and having a wonderful, supportive mother-in-law also helps.
Between board meetings, public service and a teenage daughter, Maya, Caldwell and Tanoue have extremely hectic lives, but the couple supports each other and each allows the other to develop and grow.
"When times are hard, Donna is always there for me," Caldwell says.
"When I chaired the FDIC, Kirk made a lot of sacrifices," Tanoue says. "He maintained his law practice long-distance, working out of the house in D.C. and flying to and from Honolulu every month." She says Caldwell spent a lot of time caring for Maya and volunteered at her school.
Although Tanoue admits life isn't always orderly, "We are a small, good team." Even with Caldwell's demanding job and his upcoming mayoral campaign, the couple insists on both family time and romantic dates whenever possible.
For singles looking for love, Caldwell suggests: "Work on yourself and you'll find love."
This Team Takes Turns
Gwen and Gary Pacarro met as students at Punahou School; she was a sophomore and he a senior. They went to different colleges but married when Gwen was 21.
Today, Gwen is the complex manager for Morgan Stanley Smith Barney and Gary works for Positive Coaching Alliance, an organization that promotes positive attitudes and life lessons for student athletes. Throughout their marriage, Gwen says the couple took turns focusing on their careers and filling in as the primary caretaker for their two children. When Gary went back to school to get his teaching degree, Gwen spent more time raising the kids. Once he began teaching, their roles reversed and Gwen focused on her career. "The most important thing is that we never kept score," she says.
Gwen says they knew their strengths and worked well together: "He was the nurturer and I was the disciplinarian." For eight years, the Pacarros even worked together as financial advisers at Morgan Stanley. "When you work together, you don't have the ability to secure down time – sacred couple time – and that's absolutely necessary," Gwen says. "I think couples that work together can have a successful marriage, but it does pose a new set of challenges."
After 35 years of marriage, Gwen still calls Gary "sweetheart." "I would not be where I am today if I hadn't married such a wonderful man. I could not be carrying the responsibilities I have now."
A good marriage is all about respect, she says. "We respect that we've come from very different cultures, different upbringings and we have different ways of dealing with conflict. We've learned to create our own way to make our lives work. We've sort of taken the best of both worlds and found what works for us."
As a mother, Gwen offers this advice to her children: "If your mate brings out the best parts of you and nourishes and develops the best parts of you, then they're good. But if they bring about bad behavior in you or a negative attitude, then you'll be unhappy and that's not good."
Despite busy schedules, the Pacarros try to find their way to the corner of the couch at 9 every night. They also enjoy golfing together and try to schedule monthly "board meetings" when they go standup paddling.
How to Pick a Partner
Finding the right mate starts at home, says Joe Spillman, chair of counselor education and supervision at Argosy University. He says individuals should know what they want and need in a relationship on four dimensions: physical, mental, emotional and spiritual. "Self-awareness means you can start looking for someone to have an interdependent relationship with," Spillman says.
Susan Ray, a licensed marriage, family and couples therapist, says singles looking for love should approach dating with a purpose. "I know it sounds kind of unromantic and methodical, but you really need to have a checklist – at least a mental one – of what you're looking for." She says it's important to be honest with yourself and if you recognize that a relationship is not going to work, move on.
There is truth to the idea that women tend to be attracted to men like their fathers and that men are often attracted to women like their mothers, she adds, because that's what they're familiar with. However, people aren't only drawn to the positive, familiar qualities; sometimes they are attracted to familiar bad behavior as well.
Ray says partner selection is similar to a business negotiation, especially if a person is divorced and trying to bring two families together. "At this point, it's not just about following your heart. It's about making sure the situation works for everyone."
Both she and Spillman say premarital counseling is a good way to help couples constructively address issues about finances, children and future goals that might arise later.
"Most smart business people would never take on a $30,000 or $40,000 investment – which is what some people these days pay for weddings – without having serious discussions about future plans, expectations or getting advice from a business consultant," Ray says. "Marriage should be no exception."
The 5 Cs of Coupling
You could save years – and a lot of heartache – if you consider these five aspects when choosing your mate, says Joe Spillman, chair of counselor education and supervision at Argosy University.
Communication: It's the most important thing in a relationship. Notice how the other person communicates and if it fits with the way you communicate. You can avoid assumptions, misunderstandings, false expectations and hurt feelings with open, honest communication.
Church: It's not necessary for couples to share the same spiritual beliefs, but, if you don't, be sure your partner accepts and respects yours. This is also huge when it comes to raising children.
Children: It's crucial to discuss parenting styles and roles. Is someone going to stay home to raise the children? How will you discipline them? Parents need to show a united front if they want to be effective, so discuss these things before you marry and start a family.
Career: Select a partner who will support your personal development. Couples must be flexible and negotiate which career might take priority, and then adjust depending on work schedules, parenting duties and finances.
Coitus: Sexual compatibility is very important because it encompasses physical attraction, communication, intimacy, trust and closeness. People tend to not talk about sex much but it is a vital part of many marriages.
Tech Changes the Way We Mate
Social mediums such as MySpace, Facebook, and e-Harmony have completely changed the way we meet people but has also introduced new challenges.
"All these things, including text messaging, have totally changed the dynamics of dating," says Joe Spillman, chair of counselor education and supervision at Argosy University. "Texting is like the new-age foreplay! Guys don't even have to ask a girl out on a date in person anymore and risk getting rejected face-to-face," he says.
But new tools have also brought new problems. First, don't believe everything that's online, says Susan Ray, a licensed marriage, family and couples therapist. People can be anyone they want in cyberspace and it could be completely different from reality. Technology, including online chats and pornography, can also lead to major trust issues and infidelity, Ray adds. "My advice would be to be respectful of your partner at all times and if you feel like something is getting out of hand, disconnect yourself from that world because it's not worth losing your marriage over."
Keeping the Marriage Fresh
No big surprise, our experts say open communication is the key to keeping your relationship happy and healthy. That means share your needs and wants with your partner on a regular basis and don't assume they know what you're thinking and feeling.
"Show appreciation for what your partner does, and don't always point out what they don't do or aren't doing right," Ray says. A lot of times that leads to a vicious cycle that eventually leads to resentment and causes the person to stop trying.
Ray recommends that couples schedule weekly meetings even if they're only for 20 minutes to reconnect. "It's hard to set aside time when things are hectic and the kids need your attention, but you have to schedule this time together as you would an appointment for work," she says. And, just as you have regular job performance reviews, couples should reevaluate themselves, their goals, expectations and the relationship from time to time. "Life brings frequent changes so you need to make sure you and your partner are still on the same page," Ray says.
Many times, children take precedence over the marriage but Spillman says individuals need to take care of themselves first before they can help anybody else. "It's like when you go on the airplane and you're told to put on your oxygen mask first before assisting others in an emergency. It's the same thing. If the individual is not happy, the marriage and the kids will suffer."
Spillman says oftentimes couples think they need to make big changes to make the marriage better when it's quite the opposite: "A lot of times, it's not about doing; the real action or remedy is in the listening."