Master of None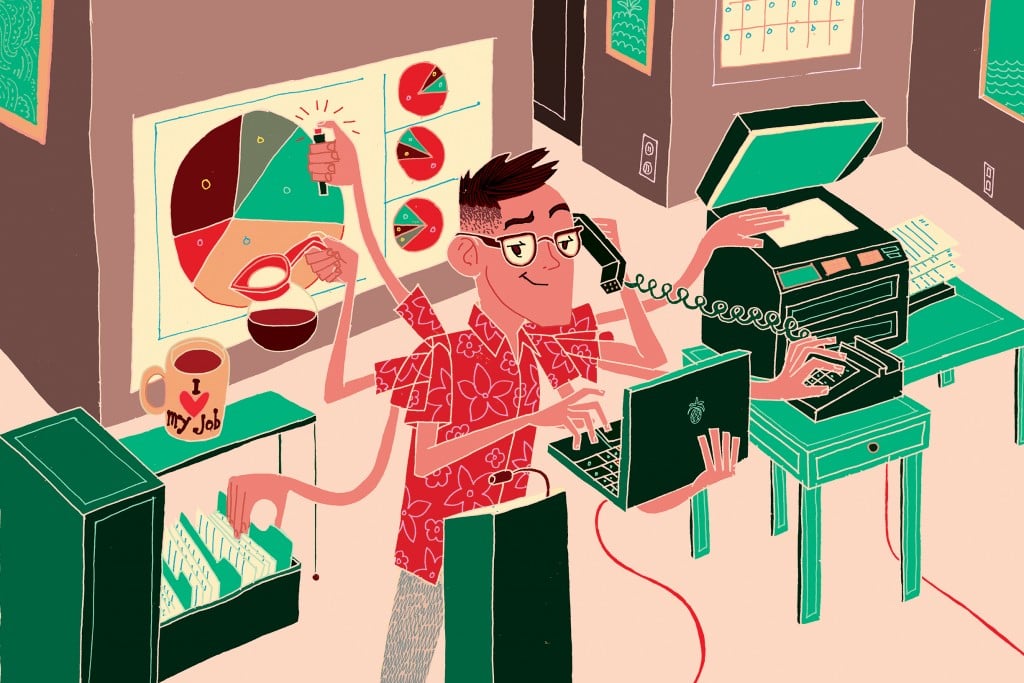 Q: In May, it will be four years and five jobs since I graduated from college and I'm still trying to map out a career. Is it better to be a specialist or a jack-of-all-trades?
A: I posed this question to Penelope Trunk, the founder and CEO of Quistic, a company that provides online courses to help manage your career. Trunk has founded three other startups, has a career advice website (penelopetrunk.com), played professional beach volleyball and now lives on a farm. I had pegged her as a devotee of career dabbling, but she surprised me. "You have to specialize. When you're young, everyone is learning, but there comes a time when you are 30, 35, and if you aren't specialized by then, you are competing with 22-year-olds," she says. Essentially, if you're a Jack of All Trades, you will perpetually be in the same talent pool as recent college graduates.
"The key to a successful career is to know what you are good at by age 35. You can change careers and jobs, but stay within the specialty, which means you have to know what you are good at. It blows my mind that everyone doesn't know their personality type. Everyone should know that early, like in high school." Trunk is referring to the 16 Myers-Brigg Personality Types. "Each type is very special at one thing," says Trunk, "and you're always going to do better if you're doing what makes you special. It's ironic, because for most of us that comes so naturally we assume everyone else is good at it. We have our specialty right in front of us and don't realize it. We kill ourselves trying to find something else."
Think about what you're great at and spool a career around that, instead of trying to be all things to all people. If you want to find out your Myers-Brigg personality letters, take the test free at tinyurl.com/hlvdc43.
Q: I'm changing jobs and want to send an aloha email to everyone in the office. But I'm at a loss for words.
A: Thank your colleagues and, if you can, explain what is next in your life so no one is left wondering what the heck ever happened to you. Express gratitude; this is a wonderful opportunity for shout-outs to your team. If you work with just a few people, consider sending a short personal note to each one. Share a memory, something you admire about them or a specific accomplishment that you cherish. Circle back to give former colleagues your new company email once you have one, or a personal email if appropriate, so people can find you in the future.
By the way, it is a great idea to "leave well," rather than in anger or without saying goodbye. Tie up loose ends at your old job as best as possible so others are not upset at your departure. People will think more highly of you and you will feel better for it. Besides, you may come across your former colleagues someday, inside or outside the work world, and you don't want to them to feel bitterly toward you.
Q: I'm a 47-year-old guy and I'm wondering what your take is on cosmetic procedures. Would it give me an edge at work or am I being incredibly vain?
A: I believe in equal access. If men want to go in for surgical or nonsurgical tweaks as a way of gaining advantage in a challenging and sometimes ageist job market, why not? Nobody wants to look old. Still, men tend to be more secretive than women about such work.
"Men are interested in procedures. They just don't want anyone else to know," says Irina Francis, owner of Hawaii Medical Skin Care in Honolulu. "They say, 'Don't tell anyone I had this filler or that Botox.' " Her clientele is about 10 percent male, 90 percent female. The most popular procedures for men, she says, are reducing wrinkles on their foreheads and treating double chins with Kybella.
To remain discreet, schedule Botox or fillers (Juvederm, Radiesse, etc.) at the end of the workday. More invasive procedures should be scheduled on a Friday so you'll have the weekend for swelling to go down. Francis' advice? "Go to a skilled doctor. You want a better version of you, not a different version of you."
Q: We have a small company and our IT department is redeveloping our website. Should they handle the SEO? The head of the marketing department claims it's her job. Or should I hire an outside consultant?
A: SEO turf war! It's a First World problem. To broker the peace, I called on Rob Bertholf, the Honolulu- and San Diego-based creator of DIYDIFM.com, a site providing "Do It Yourself" marketing training and tools. He sees SEO as an umbrella term that is really an "artificial band holding things together; if you remove that band, the duties bounce back into their respective places," he says.
Here's how to break it down: "The IT team should be dealing with infrastructure: Is the server up? How are the other websites and bots looking at the company's website? IT needs to keep the site up and keep it fast. The marketing side is analytics, and producing content and ideation. Marketing also needs to distribute that content to other channels." So SEO isn't one person's role, but a goal that many people at your company should work toward. Remove SEO from your head and focus on a positive visitor experience.
What if you're a solo entrepreneur or running a very small business, and you don't have multiple people working on SEO? "If you don't have an IT team, get on a tool that is search-engine friendly, and that's WordPress," says Bertholf. "Use the plug-in Yoast (a website optimization tool). You're good to go." Then create good content, and update it weekly if you can, but at least monthly. Hire a writer or work with a text broker if you have to. "Get that content out," says Bertholf. "Make sure you post that article to your company's Facebook page, send the link to LinkedIn, to Twitter, push that content out. Maybe you're in a LinkedIn group. Socialize it. Be diligent about getting it out there."