The Careerist On: Bring Your Own Device? Hillary Did and It Hurt Her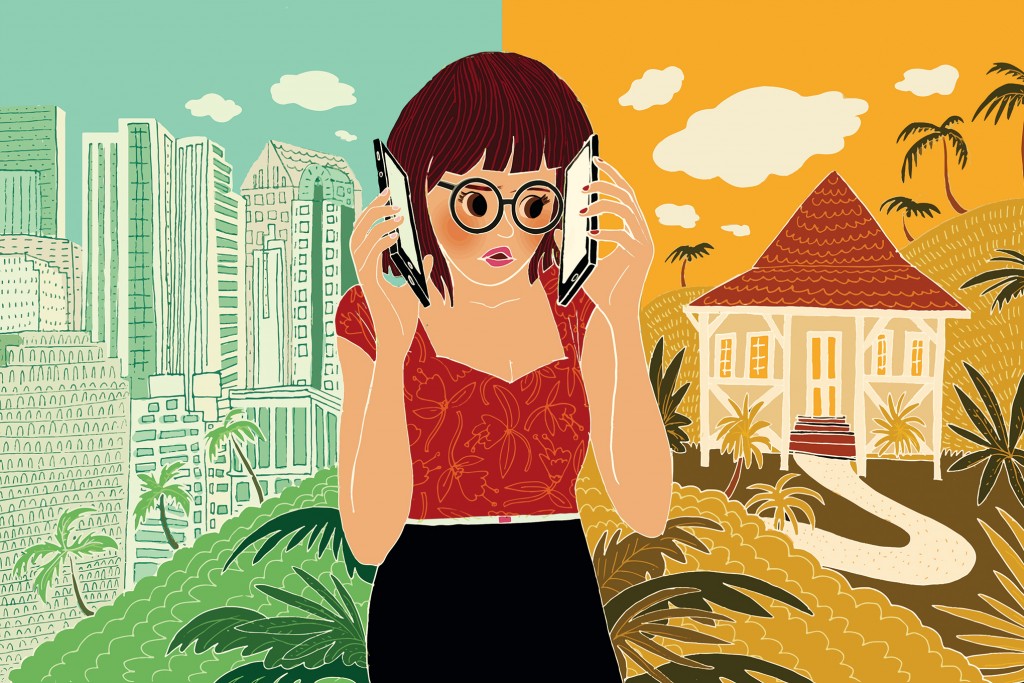 Q: I just interviewed for a job and was told the company has a strict policy against BYOD. I nodded sagely as though I understood, but what is that and why should I care?
A: If you take the job, make sure your pockets are big enough for two phones, because you're about to become one of those people.
BYOD is your own real life version of Hillary's emails. While many companies have shifted to a bring-your-own-device policy, others – like the company you interviewed at – see a slippery slope they want to avoid. BYOD is tempting to employers because it often keeps employees happy if they can use their own phones, tablets and computers on the job rather than depend on corporate IT departments that are often slow to jump on the latest tech bandwagon. (Just ask Hillary about the antiquated government systems at the State Department.) And it may be cheaper for the company, even if it subsidizes the personal devices. But BYOD can cost dearly if there's a data breach.
Cisco Systems reports that employees greatly prefer a BYOD environment, resulting in a happier and more effective workforce. The flip side of Cisco's study – which gives CEOs heart palpitations – found that three out of five employees believe they are not responsible for protecting corporate information on their devices, while seven out of 10 admit to knowingly breaking IT policies.
Local companies seem to be struggling with the same dilemmas as Cisco over BYOD or have not developed a policy. One executive, after hearing my question, says, "I think I need to hang up now and go find out what our policy is."
Like most human resources and technology issues, it's critical that businesses create a thoughtful policy and IT structure, and stick with it.
---
Q: I finished college last spring and am actively pursuing a career in business. I get up every morning and check all the websites, do all the online applications, and send my resume to places that look solid. I have my LinkedIn page updated, my Facebook account is clean (no college beer pong photos), and my Twitter feed is filled with pithy takes on business trends and news. I've gotten a few interviews but no job, no promising leads and, mostly, a black hole of internet silence. What am I doing wrong?
A: Get outside, my friend! Get some fresh air. Walk away from the screen, look folks in the eye and have a conversation. Business is built on relationships, integrity, chemistry.
As we lean on technology more and more, business and human resource professionals are keenly focused on your personal attributes, not just your screen appearance. When I pose your question to Barbara Guss, professional recruiter at HI-Employment, she laughs and says, "People tell me that all the time – they are applying ad nauseum online, and while someone occasionally gets lucky, most are disappointed." Her advice? Get out there and work your network. Get involved in organizations and associations in the fields you're interested in. Is there a particular company you covet? Ask about internships or volunteer opportunities.
"A no is as good as a yes," she says. "It means you're working it. Keep going. Have as much personal contact as possible, and make sure you're doing something productive and meaningful in the meantime."
It's a tough world out there, and first impressions matter. A lot. Remember to personalize your cover letters, emails and resume to the specific job and individual you're targeting. "Make a personal connection," Guss says. "When I get a letter addressed to another employer, for example, I conclude the applicant is either negligent, lazy or has no common sense."
Ouch. Whatever you do, don't be that guy.
---
Q: I've been in the hospitality industry for the last 30 years and have loved my job. My retirement is coming up next spring and, while I'm excited about it, I'm also worried that I'll be bored without something productive and meaningful to do. I'm not looking to be a lei greeter or rental car bus driver at the airport. Surely there's more out there for us "seasoned" workers who want to keep skin in the game.
A: Baby boomers. Didn't everybody know they'd redefine retirement, too? Keep your engines running – there's never been a better time to be a retiree looking to do more. In a piece called "Geezers Doing Good," New York Times columnist Nicholas Kristof writes, "Boomers just may be remembered more for what they did in their 60s than for what they did in the Sixties."
"Encore careers" as they are now called (because, you know, baby boomers need to name this stuff) are the new hot thing, so much so that there's even an organization, Encore.org, whose mission is to "tap the skills and experience of those in midlife and beyond to improve communities and the world."  It seems to be working. A 2015 study of encore employees working for nonprofits reported that almost three-quarters of these employees were credited with new ideas, approaches or tools to better the organizations and more than half of them were responsible for increasing the organization's visibility to potential funders.
If you're not in it for the money or can't find a paying gig, you might consider volunteering with these groups. "There's a wisdom that comes with older people working with these youth," said Maureen Purington, director of the Windward Boys and Girls Club, "especially men working with our boys, modeling what it means to be a man."
If you've dreamed of being Ranger Rick, check out the seasonal opportunities with many of the U.S. National Parks. They got in on the action early, making seasonal employment available to seniors as well as college students.
Or consider talking to the folks at UH. They report having seniors and retirees in positions from senior levels to cafeteria and cashier jobs, often people who've retired from their life's work and just want to be around young people. "We recruit for experience," says UH spokesman Daniel Meisenzahl, "And if you've got experience in an area, you could have a new post-retirement career with us."
Other retirees grab a slice of the gig economy, signing up with Uber and Lyft. Honolulu resident and retiree Rick Tuteur starting driving with Uber in January to justify buying a new car. "I keep doing it because I like the social aspect, meeting people, hearing their stories," he says. "Plus I discover parts of the Island I've never been to before, and I've lived here 30 years."
As for the money, he says, it's nothing to scoff at. "It's play money, but good play money.".
---
ASK THE CAREERIST
Have a question about work, life and that place in the middle where it all gets tangled up? Ask the careerist at: feedback@hawaiibusiness.com