The Careerist: Shake It Off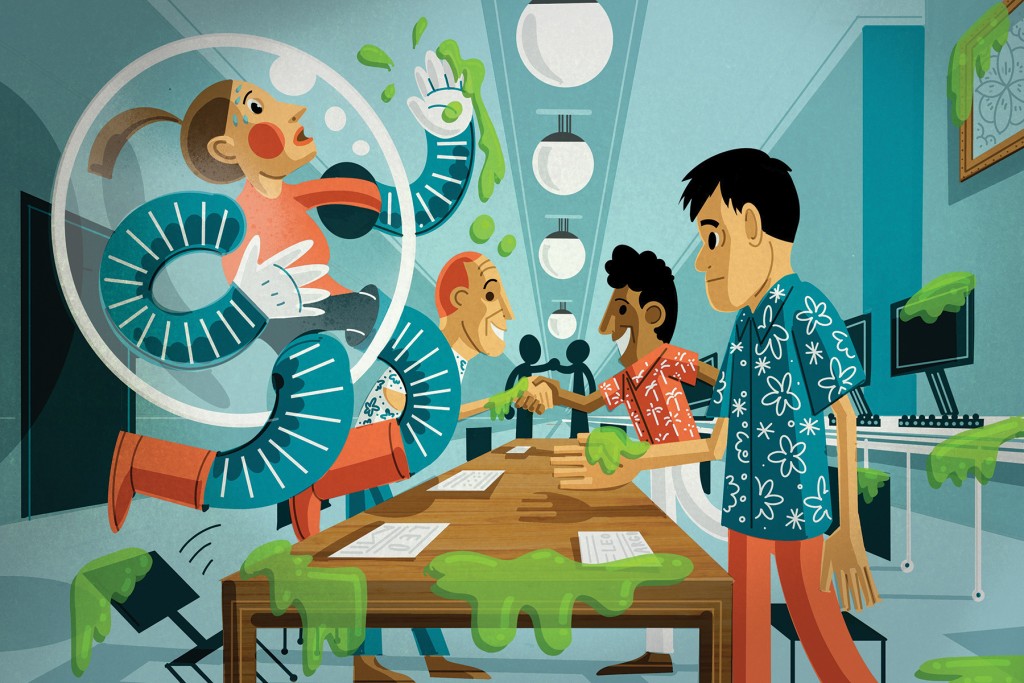 Pleased to meet your hot hand teeming with staph bacteria!
Q: I've suffered from three colds in three months. I'm sick of getting sick and want to stop shaking people's hands entirely. Is that rude?
A: You could offer up a polite little bow. Or wear a bowler hat and tip it, with a wink. Perhaps sport a lapel pin with a logo of hands crossed out, that reads, "No offense, just makes sense." (Order one online at Zazzle.) THAT should go over well.
The thing is, shaking hands is deeply ingrained in many cultures – it goes so far back in history that there is an Assyrian stone relief showing the action, from the ninth century B.C. – and it's a potent symbol in American business. Still, is it a bonding tool or disgusting practice to phase out? I asked Paul Dawson, Ph.D., professor of food, nutrition and packaging sciences at Clemson University and the co-author of "Did You Just Eat That? Two Scientists Explore Double-Dipping, the Five-Second Rule and Other Food Myths in the Lab."
"Hands are certainly a way to cross-contaminate with a cold, flu or food-borne illness," Dawson says. "I do shake hands, but then I'm aware of that, in the same way as if I have been touching a rail or a doorknob, that my hand is potentially a cross-contamination vessel." (I'm picturing Dawson holding his hand aloft in horror.)
Dawson notes that we participate in many relatively low-risk actions, such as having Granny ask the keiki to blow out the candles on her birthday cake, which spreads microbes all over the frosting, or grabbing ice with your hand to put into a drink. Then there's that double-dipping. "At gatherings, if there are a lot of people, I stay away from the dips. It's low risk, but for me it's like wearing a seat belt." He reassures me that 99 percent of bacteria are either good for us or innocuous.
After speaking with Dawson, I don't think you need to be scared to shake hands. Just keep hand sanitizer around. He also taught me to order from the menu in a restaurant, then to wash my hands – not the other way around – as menus are not the cleanest things in the world. Lastly, you might rethink beer pong. Experiments in Dawson's lab showed those pingpong balls are covered with gross stuff and then land – splash! – in the beer. Luckily, beer pong doesn't come up at the office. Much.
Q: A successful startup is recruiting me. It seems like a good fit and a solid business model, but I'm on the fence because the company is owned by a married couple. What would it be like reporting to them?
A: Even if they aren't calling each other Schmoopie at work, married business owners are likely going to be very loyal to each other, so you are right to be concerned about structural problems that could arise. What will you do if you have a beef with one half of the couple? Good luck with that. I'd recommend asking a lot of questions during the interview process. How aligned are their goals for the business? Are their roles within the company well-defined and distinct? Do they have a plan for handling sensitive situations, or perhaps even outsourcing some HR duties? Are they open to a third wheel someday joining in the profit sharing or C-suite titles? See what you can suss out before saying "I do" to this couple-preneur.
Of course, love could go awry, implode the marriage and take the company down with it. But let's not go there.
Q: As a business owner, I know I need to respond to reviews on Yelp, Facebook and Google. But is there too much of a good thing? Do I look overly eager if I reply to each one? Is there a sweet spot, like half and half?
A: I give this question **** stars! Online reviews do matter, and it's not just the number of stars or level of ratings that are racked up; customers and potential customers dive deep into what is discussed. According to research from Fan & Fuel (tinyurl.com/reviewsarekey), a company that specializes in e-commerce, 94 percent of customers typically read the content of reviews to research their purchases.
How to curate these reviews – if you can even do so – depends on which social media platform is being used, but one thing is a constant: Yes, you need to reply. That is the counsel I received from Gwen Woltz, co-founder of Honolulu-based social media management company Wahine Media.
"Our recommendation is that all businesses should aim to reply to most, if not all reviews, whether they are good or bad," Woltz says. "Think of it this way: If someone were to walk into your business and give you feedback to your face, you wouldn't stand there in silence. It's no different online, and if you aren't replying to people who are taking the time to leave feedback about your business, you are missing out."
Thanking people for positive reviews is one thing, but even negative reviews should be addressed. "They can be taken as an opportunity to not only right a bad experience, but to show other people who are reading your reviews that you are a business that cares," Woltz says. "Take time to make authentic and heartfelt replies to both the positive and negative reviews, and you will see that people will notice."
In some instances, you shouldn't handle a review publicly, as you would have to get into details that should be kept private, such as a reservation number or someone's address. "In those cases, make an initial public reply and direct the customer to take the conversation offline – either via email or private message," she suggests. In only a few situations would you want to avoid replying at all, she counsels, such as if the person is being harassing, discriminatory or overly aggressive.
Replying also pays off with the social networks' algorithms, which favor businesses that reply to reviews often. To meet your goals, Woltz suggests the following: Create a system for replying, have a point of contact on staff, and "be sure the person who is replying genuinely loves customer service and people, and has great communication skills."