The Commerce of Hawaii Political Campaigns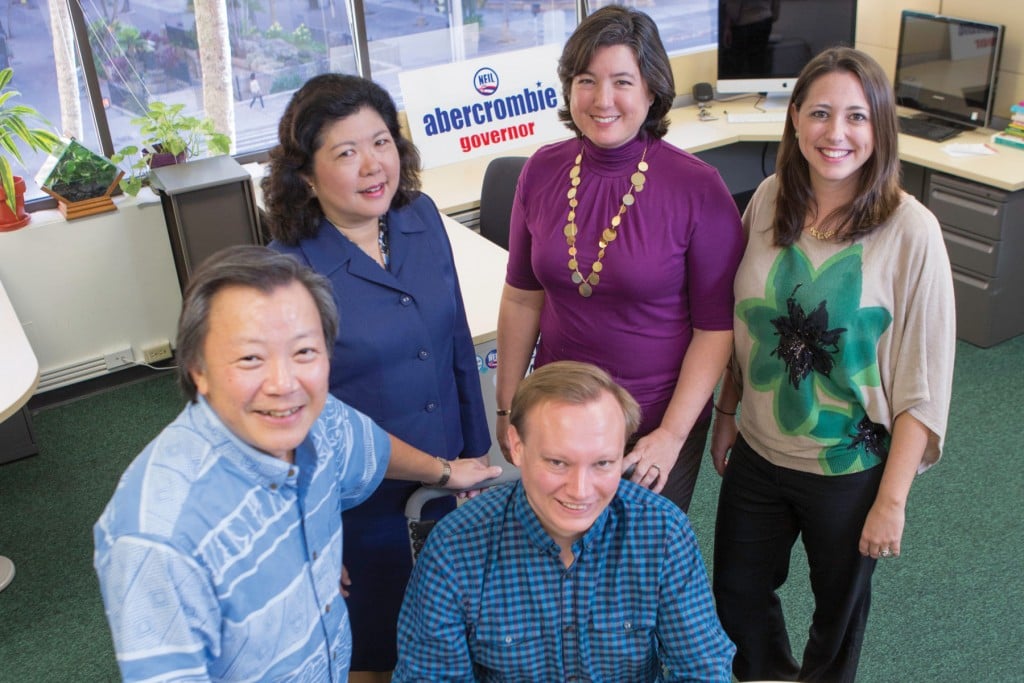 The best political candidate in the world might get nowhere without a team of marketing, direct-mail, advertising, polling and other professionals to help refine the message and effectively deliver it to voters.
It's an election year and Alan Tang is acting like a football coach. He's putting in longer hours, obsessing over tried-and-true plays and guiding his star player. For the second time, the president and CEO of Olomana Loomis ISC is leading the marketing and strategic counsel for Gov. Neil Abercrombie's political campaign.
"Every campaign is like the Super Bowl," says Tang, who has six of his 12 employees working on the campaign. "It's a lot of emotional investment; you go into it wanting to win. It's not just a job."
Tang and his campaign team know the taste of both victory and defeat: They helped Kirk Caldwell's successful bid for mayor and watched client Ed Case lose the Democratic primary in his 2012 run for the U.S. Senate.
The 2014 election season is already in full force. It's near impossible to walk down a street without seeing campaign signs blooming in front yards like flowers. You can't turn on a TV or radio without hearing politicians declare their visions for a better Hawaii.
Behind every colorful sign, effective message and savvy ad are folks like Alan Tang – experienced professionals who guide politicos through turbulent election campaigns. For as long as 20 months for a single campaign, they provide specialized services such as strategic counsel, public relations, website design, market research, printing or all of the above, while also juggling responsibilities to their long-term business clients. The goal is to put candidates in office and it's an invigorating – sometimes exhausting – task every two years, Tang says.
Masters of Message
Kitty Lagareta, the CEO of Communications Pacific, has a strong reputation for her work on political campaigns. She's best known for PR and marketing strategies that twice helped elect Gov. Linda Lingle, whom Lagareta still considers a close friend. This past fall, Honolulu City Council chair Ernie Martin hired CommPac for his re-election campaign, and Lagareta is personally volunteering with another candidate, but declined to say who.
"We often help with messaging; we help (candidates) align their thoughts," she says. "My view is that there's a lot of template campaign stuff. I find too often candidates get too busy talking about themselves personally, and they forget that voters don't tune in until they find out what candidates are going to do to help their lives."
Obviously, how candidates presents themselves to the media and voting public is crucial. So, it's important that campaign professionals get to know the candidate so they can best understand how to help them, Tang says. When he helped with Abercrombie's first gubernatorial campaign in 2010, Tang says, he started meeting with campaign chair Bill Kaneko more than a year and half before Election Day and, soon after, talked with Abercrombie himself to "understand why he was leaving Congress after 19 successful years, why he was coming back to the Islands." That helped Tang form a cohesive strategy that unfurled through the long months of the campaign season.
When candidates hire advertising, research and digital professionals, molding the perfect message is the top priority. It's not about changing the candidate, but about drilling down into the message and targeting it to the right people. "When, say, a candidate goes before a group of senior citizens, they have their choices of issues to talk about," says Barbara Ankersmit, the president of QMark Research, part of the Anthology group. Speaking at a community talk story with retirees is different than appearing at a Chamber of Commerce meeting filled with businesspeople. Ankersmit helps candidates incorporate language important to kupuna, the business community and everyone else.
She does this through polling, all conducted from QMark's in-house call center on the eighth floor of downtown's Pauahi Tower. For political polls, Ankersmit says, she prefers a sample of at least 400 people. She did a poll for Colleen Hanabusa nearly a year ago and also conducted market research for Kirk Caldwell during his successful bid for mayor (she has a framed research poll he signed sitting on her desk) and for former Honolulu Mayor Mufi Hannemann and former Gov. Ben Cayetano.
Many political professionals say they must believe in the candidate and the campaign message to provide their support. Lagareta says Lingle's socially moderate and fiscally conservative policies appealed to her, even though she is a lifelong Democrat and Lingle is a Republican.
"If you don't believe in the candidate," adds Tang, "if you don't believe in his policies, if you don't believe in his integrity, it's going to be very hard to do a good job for the person."
Ankersmit and her colleague Dennis Christianson, the president of Anthology Marketing Group, both work only for candidates they personally support. "I'm pretty liberal and I won't work for a candidate that I wouldn't be happy with if they won, because my goal is to help them win," says Ankersmit. Similarly, Christianson has worked with political clients for 20 years and has worked mainly with Democrats, though sometimes with independents. He's currently assisting Colleen Hanabusa in her race for the U.S. Senate and Stanley Chang, the former city council member now running for U.S. House District 1.
However, Hagadone Printing, which also provides direct-mail and digital-marketing services through its H1 division, serves members of both major political parties. President Clint Schroeder says Hagadone and its employees view candidates as clients they are dedicated to helping, not as politicians they are endorsing. The candidates' political strategies are more important than whether they have a D or an R next to their names. Hagadone has served many politicians over the years, including Republicans such as Linda Lingle, Duke Aiona and Charles Djou, and Democrats such as Hannemann, Caldwell and Cayetano. When Hawaii Business talked with him recently, Schroeder said Hagadone was in discussions about taking on both congressional and state legislative candidates as clients.
Data Driven
Political campaigns have changed significantly from 20 or even 10 years ago. Successful candidates tend to need a lot more money nowadays and that's partly the influence of technology. Technology has made some parts of campaigning easier, especially in creating visibility, but it's also made campaigns more sophisticated and changed the ways voters are influenced. That's why politicians rely on professionals like Lagareta to navigate an increasingly digital world. CommPac, for instance, handles candidates' Facebook, Twitter and, sometimes, Instagram accounts because politicians are often too busy campaigning to post themselves, Lagareta says.
Social media is imperative, she says, adding she has declined to work with clients who dismiss online platforms. Lagareta also prepares candidates, especially less seasoned ones, for the public scrutiny that can happen online – all it can take is one tweet or one YouTube video.
"Everyone is a citizen journalist today and everyone is capable of catching you at your worst moment and sharing that with the world," she says. "They're also capable of catching you at your best moment and sharing that with the world."
TV and radio audiences have also fragmented, forcing advertisers to innovate to reach the right voters with the right message. Good thing market research has kept up. For a research-happy client who has the money, Ankersmit say, QMark can do daily polls. These rolling polls check the public's pulse on a candidate's likability, on reaction to a debate performance two nights ago or a voting record over the past two years, and more. Advertising campaigns are cultivated from this detailed information, but then reviewed by several focus groups of eight to 10 people before heading to prime time. "I call it a disaster check," says Ankersmit. "To make sure we didn't do something that's in poor taste or something that people will react to differently than we expected."
What about going negative? Schroeder says that doesn't work for Hawaii candidates. "Dirty campaigns don't fly here. This isn't Chicago, you can't just sling mud at someone. People don't respect that here," says Schroeder, who came to Hawaii eight years ago from the Windy City.
Ben Cayetano may have a different opinion. He is suing the Pacific Resource Partnership for what he says was libel and slander in its campaign against him during the 2012 election race for Honolulu mayor. Cayetano had been leading in the polls before the campaign, but ended up losing to Kirk Caldwell. "We're trying to negotiate a reasonable settlement," says Michael Green, one of the former governor's attorneys. "Both sides want to settle so we don't have to litigate." As of press time, Green estimated it would happen within six months.
Dennis Christianson agrees with Schroeder that negative campaigning is a no-go, but he adds that fact-based advertising, such as comparing candidates' records, is "fair game."
Technology not only helps candidates expand their public outreach, it can also increase fundraising. Hagadone has one of the most advanced printing presses in the state, complete with in-house data-processing and digital-printing departments. The company can use a candidate's donor database to print targeted direct mail. "With blanket direct mail, you're never really able to know which people are able to or willing to donate," Schroeder says. "With variable data in the database, digital printing allows us to do a press run of maybe 2,500 pieces, but each of them is tailor-made to that person who is actually receiving it." Schroeder says the response rate for a general direct-mail campaign is 1 to 2 percent, and that's considered successful. Just with the person's name printed on it, the response rate jumps 4 to 8 percent. Direct mail with targeted messages can be even more effective.
Hagadone helped Lingle in her 2012 Hawaii campaign for the U.S. Senate and, although she lost, Schroeder says the campaign's targeted approach in reaching grassroots donors was the company's most advanced. He also cites the recent Caldwell and Cayetano campaigns as achieving high response rates for direct mail. "I love this part of my job," he says.
Another issue is how much of the election work is done in Hawaii by local businesses, and how much is done outside Hawaii. For instance, Schroeder says, much of the printing for the 2010 gubernatorial campaign was done on the mainland. "We're really working to build partnerships that meet the needs of all of the candidates. It's so much better for the state economy when they have local options and local providers," he says.
Expiration Dates
The political season is like a sports season, an intense campaign culminating first in a playoff – Primary Day – and then, if you survive that, the championship game: Election Day. Like a sports season, the limited time frame for an election campaign is simultaneously exhilarating and exhausting, say political professionals.
Steady fundraising is important, but timing is everything, says Tang. "It has to do with the sentiment of the public. You can come out too early and people are not ready for the election message; you come out too late and people may not get it in time to make their decision. And then it's all subject to when the opponent is going to come out in the media as well."
Anything can suddenly transform a campaign, so quick turnarounds are essential, whether that means quickly publishing a post-debate statement on the candidate's website, making last-minute cuts to a TV ad or printing an immediate direct-mail brochure based on your opponent's latest verbal blunder.
Christianson, who's no stranger to political volatility, says there has to be a constant balance and rebalance. "This line of work isn't for sissies," he says with a laugh.
Tough, yes, but, in the end, this work is all the more satisfying, adds Tang. "You can't just be lucky in this," he says. "A political campaign … really puts the marketer to the test."
Where the Money Goes
Political candidates must tell the state Campaign Spending Commission or theFederal Election Commission how they spend their campaign funds. Here are some selected expenditures for some candidates, based on the latest reports available.
Brian Schatz (running for U.S. Senate)
Total operating expenditures of $683,284, including:
$800 for signs from Pacific Sign & Graphics;
$2,000 to the Democratic Party of Hawaii for voter files;
$6,832 for T-shirts from Creative Design Hawaii;
$10,000 for strategic counseling to Reiken and Associates.
Total campaign contributions: $2,676,439
Colleen Hanabusa (running for U.S. Senate)
Total operating expenditures: $448,316, including:
$8,250 for consulting to communications director Richard Rapoza;
$6,269 for printing to Service Printers Hawaii;
$4,712 for HD video production services to Makaha Studios;
$6,756 for advertising and video production to Laird Christianson Advertising.
Total campaign contributions: $1,173,125
Stanley Chang (running for U.S. House of Representatives, Hawaii District 1 )
Total operating expenditures: $35,171, including:
$5,830 for communications consulting from Solutions Pacific;
$315 for business cards from Service Printers Hawaii.
Total campaign contributions: $309,187
Ikaika Anderson (running for U.S. House of Representatives, Hawaii District 1)
Total operating expenditures: $55,016, including:
$1,468 for printing services at Hagadone;
$7,725 for social media consulting to Pono Media
Total campaign contributions: $163,302
Source: Federal Election Commission. Data is from January to September 2013.
Neil Abercrombie (running for governor)
Total operating expenditures: $278,909, including:
$1,123 for flyers, website design and mass email blasts to Olomana Loomis;
$25,913 for market research to Solution Pacific;
$8,177 for strategic counsel and website maintenance to Olomana Loomis.
Total campaign contributions: $850,125
Source: State Campaign Spending Commission. Data is from January to June 2013.