The End of Tipping?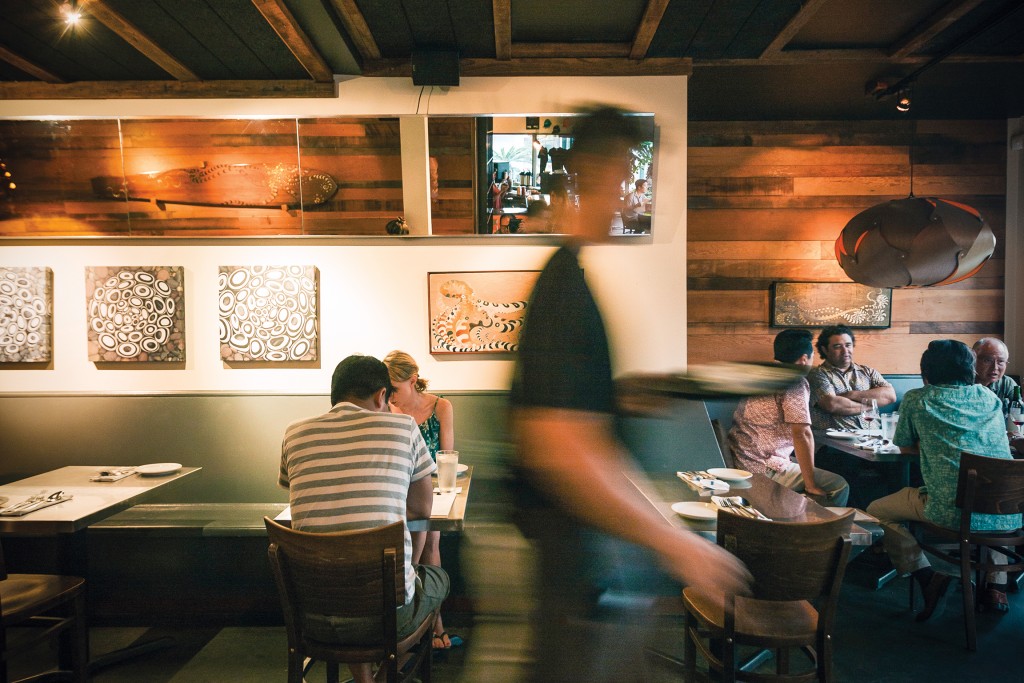 Danny Meyer, one of New York's most respected restaurateurs, plans to eliminate tipping and raise menu prices by a commensurate amount in his 13 restaurants. This news, along with Hawaii's gradually increasing minimum wage, which is now $8.50 an hour and will reach $10.10 in 2018, has prompted more conversations among local restaurateurs on the tip system. What's the rationale behind abolishing tips?
Wage Disparity
The primary reason Ed Kenney – chef and owner of three restaurants: Town, Kaimuki Superette and Mud Hen Water – is looking to possibly eliminate tipping is to reduce the wage disparity between servers and cooks. In mid-priced and high-end restaurants, servers can make three times the wages of a line cook.
Why not redistribute some tips to the kitchen to make it more equitable? Federal labor law mandates that tips cannot be shared with kitchen staff. But Kenney says if he eliminates tips and raises menu prices by 20 percent, which he says is the average tip at his restaurants, he can redistribute the money more fairly. In theory, his guests' final bills would be the same.
"The problem for me is that tips can't be split with the back of the house or anybody that does not have customer contact," says Kenney. "I know many customers assume that what they give is getting shared. I think other customers, if they ever thought about it, would realize the service experience is not solely because of one person ordering and (delivering) their food. There are a dozen people involved, and it bugs me that everyone involved can't share in that $30 an hour."
Minimum-Wage Rising
The higher minimum wage will only increase the gap in pay between cooks and servers, since most cooks are currently paid above the minimum wage, and the servers' base pay is the minimum wage.
Kevin Hanney, owner of 12th Ave Grill and Hale Ohuna, says, "I don't have a problem with the minimum wage going up. There should be a safety net. But it's going to make it harder to pay the kitchen more money because we have to give waiters more money, and they could already be making $25 an hour in tips."
Many restaurateurs lamented that, with the minimum wage increase, there wasn't a proportional tip-credit increase. Currently, an employer can pay workers as much as 75 cents an hour less than the minimum wage of $8.50, as long as those workers make $7 an hour or more in tips. Hawaii has the seventh-highest-tipped minimum wage in the country.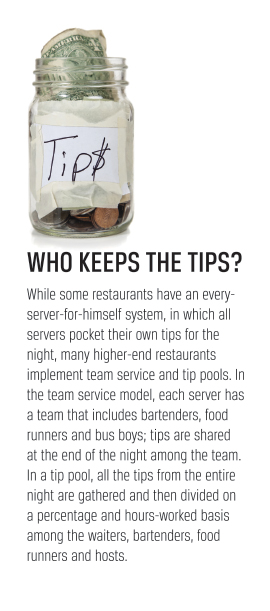 "The size of the pie is only so big," Kenney says. "Our gross labor costs cannot exceed 35 percent of sales – that's the rule of thumb after 10 years of having done this. Right now, we're right at 35 percent." Once minimum wage rises, something will have to give in order for Kenney to maintain his labor costs. "I think we're able to change that whole equation if we're able to raise prices and not require tips," he says. "So rather than the front of house take entire 20 percent tip, leave 14 percent for the front, 6 percent for the back."
Raising menu prices to offset the minimum wage increase, while still retaining the tip system, is imperfect since tips are a percentage of the total bill, which means, once again, more money for servers.
While cooks currently make more than minimum wage, that may not be the case in 2018 if cooks' pay doesn't also rise. Whether they keep the tip system or not, restaurants may have to figure out how to pay cooks more, or risk losing them to McDonald's.
Labor Shortage
Currently, many restaurant kitchens are already understaffed. "There's definitely a labor shortage," says Hanney. It's a problem that will only intensify in the coming year, as big new employers in Waikiki such as the renovated International Market Place and Ritz Carlton open, says Michael Miller, director of operations at Tiki's Grill & Bar. An estimated 75 new shops and 10 restaurants are planned for the Market Place and three restaurants at the Ritz Carlton.
Hanney says he's not against the tip system, but, "It would be nice if we could share a little more (with the kitchen) to help bring pay scales up. That would definitely help (with the labor shortage). But it's a matter of what the public is willing to pay for the meals – it's kind of hidden with tips. They're not realizing what it takes to put that meal in front of you."
Employer Control
Roy Yamaguchi, chef and owner of Roy's restaurants in Hawaii, says he likes the idea, as an employer, of "being able to tell your server, you have to earn your money today. You have to do a great job. As much as I can say that, I really have no control over whether he or she is going to do a great job. They're basically motivated by the guests that come into your restaurant. When they're paying the bill, they're going to determine how much money (the server is) going to make. The mighty customer has a lot more influence on that person than me yelling from the kitchen telling them to do a better job taking care of the guest."
Guest Experience
Yamaguchi says he thinks diners are "gratified when they are able to give their reward, which is a tip, directly to the server." But Hide Sakurai, president and CEO of Shokudo, Búho Cocina and Cantina, and Bread and Butter restaurants, thinks making his menu prices all-inclusive would create a better customer experience. He is considering raising prices and getting rid of tipping for Bread and Butter, the most casual of his restaurants, which currently offers counter service for lunch and full service for dinner.
"The whole thing is simply confusing," Sakurai says. "I'm from Japan. I don't tip when I'm in Japan." For him, eliminating tips makes his restaurants more "user-friendly. If there's no tip, it makes it a lot easier for people to come back. They don't even need to think about it." He says that eliminating tips will create a different culture among his employees, which will lead to better hospitality for his guests. "I want them to take care of (guests) not based on tips, I want them to take care of them person to person."
Drawbacks
While many restaurateurs admire New Yorker Danny Meyer's decision to eliminate tips, the number of Hawaii restaurateurs actually considering eliminating tipping is tiny. Of those we talked to, only Kenney and Sakurai are considering a no-tip system this year, and neither is ready to commit.
The rest of the restaurateurs cite drawbacks to instituting a mandatory service charge or raising prices to eliminate tipping: There would be extra payroll taxes for Social Security and Medicare, and for those who pay percentage rent – rent paid on a percentage of gross sales – that means either higher rent or a lease renegotiation.
But, mainly, they are worried about customer and server backlashes. Yamaguchi says, "A big part of the equation is our guests: Whether he and she can understand why the menu prices go up or the extra service charge tacked onto the bill."
Kenney is also worried that, by redistributing money to the kitchen staff, his servers will make less and quit. "The hardest thing would be the servers that are used to making a lot of money," he says. But, of the chef and owners he's talked to on the mainland who have "taken the leap, everybody has said they're happy about it. They lost the servers they thought they would lose before they implemented it, the ones not there for the company mission, but because it's lucrative and they make a lot of money in a short amount of time."
While many other countries observe a mandatory service charge or no-tipping policy, tipping is deeply ingrained in American culture. Yamaguchi says customers like the idea of giving money directly to the server, and choosing how much to give.
As for servers, they "love to earn their own destiny," Yamaguchi says. "They work hard, they give great service, they're attentive, they're knowledgeable. They give a lot more, they make a lot more."
In many ways, servers embody a make-your-own-luck American attitude. As Miller puts it, "I truly feel, no one is ever paid what they deserve at any level, in any job. Everyone feels they deserve to make more and they want to make more. And, right now, if you're in a tipped position, you have the opportunity to do that every single day. You can make somebody feel special, you can go above and beyond. With what you do to make someone feel special and what you sell – because people are tipping on a percentage of overall sales – you have a higher chance to make more for yourself and more for your team if you try harder.
"I would love it if tipping never was invented and no one tipped … I wish we could change society. If they can start it in New York, and it's a trend, like sous vide, that goes across the country and ends up in Hawaii, then they may have started something. But it will be very interesting to see."
---