The State of Hawaii's Plan to Modernize its Medieval Tech Systems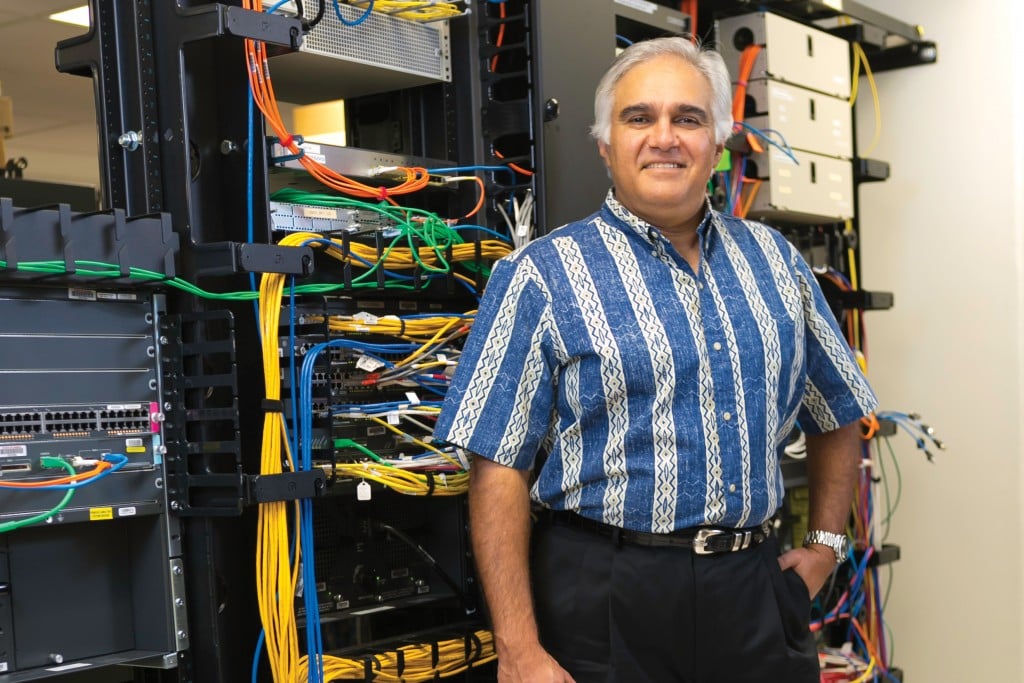 Sonny Bhagowalia has a plan to fix the state's archaic IT system
in June 2011, Bhagowalia became the state of Hawaii's first chief information officer and the point man in Gov. Neil Abercrombie's ambitious plan to "reinvent government." Bhagowalia and his small team at the new Office of Information Management and Technology are responsible for modernizing the state's patchwork of antiquated IT systems, and for streamlining business practices across 18 departments, 108 attached agencies, and 168 boards and commissions.
"We've identified 743 different legacy systems," Bhagowalia says. "This is a massive challenge. I have to call a spade a spade."
Bhagowalia certainly has the bona fides for the job. Before coming to Hawaii, he held a string of increasingly powerful IT positions in Washington, D.C. Most recently, he was deputy associate administrator for the Office of Citizen Services and Innovative Technologies at the General Services Administration, where he spearheaded the federal government's open-government initiatives, including cloud computing, mobile applications and the much admired Data.gov. Before that, he served as CIO of the Department of the Interior, a vast bureaucracy with 2,400 locations, 70,000 employees and an IT portfolio exceeding $1 billion. He also served as CIO for the Bureau of Indian Affairs and as an IT executive for the FBI.
As the state CIO, Bhagowalia knows he's starting from a deficit. "The systems that we're using, some of them are over 20 years old," he says. "FAMIS, the state's financial accounting and management information system, is 30 years old. The payroll system is 40 years old. We have systems here that were written in COBOL, a programming language that's defunct."
The reason Hawaii is so far behind is that it has skimped on IT investment for decades. "The state of Hawaii is an $11 billion enterprise," he says. "But it only spends 1.4 percent of its budget on IT. … The national average is closer to 3 percent. Gartner, the IT research firm, recommends 3 percent to 5 percent. It's 10 percent for the federal government."
Similarly, out of 41,000 state employees, only 746 are in IT, many of them scattered across departments. To help overcome all these hurdles, Bhagowalia has assembled an experienced and passionate team:
Randy Baldemor, deputy CIO for business transformation (and a member of Hawaii Business magazine's  "20 for the Next 20" in 2011), most recently served as deputy director at the Department of Taxation, where he helped streamline business practices. At OIMT, he'll be working with teams at the different state departments to create more efficient business practices.
Keone Kali, deputy CIO for operations, previously served as CIO for the City of Beverly Hills, Calif.
Paola Saibene, OIMT's most recent hire, was CIO for Hawaii's public library system.
Bhagowalia can draw on in-depth analyses and audits conducted by the well-regarded IT consulting firm SAIS. Last year, the team came up with a 1,400-page, comprehensive strategic plan to transform the state's IT and information resource management systems (IT/IRM) over the next 12 years. Before we get to the plan, though, it's useful to reflect on what it is supposed to cure.
Many Problems
Despite an IT system that desperately needs change, and a governor who campaigned for that change, it took a $4 million investment from Pierre and Pam Omidyar to get the ball rolling. According to Kelvin Taketa, president of the Hawaii Community Foundation, which manages the $50 million Omidyar Ohana Fund, the donation was intended to sustain the state's IT/IRM transformation until the next biennial budget, which begins July 1, 2013. (In 2012, Bhagowalia was able to persuade the state Legislature to pony up $25 million in supplemental funding for OIMT.) In effect, the Omidyar money paid for planning the transformation, including OIMT's initial staffing, a baseline needs assessment and benchmarking report from SAIS, and the development of the all-important strategic plan. But, why would a nonprofit underwrite a state government program?
Taketa says it's because HCF sees the state's IT problems as an equity issue, especially for poor, rural and Neighbor Island populations. "Let me give you an example," he says. "If you apply to the state for SNAP benefits – the Supplemental Nutrition Assistance Program, which used to be called food stamps – it requires you to fill out an application. But you also have to go turn that in and have a face-to-face interview with a state employee. If you live in Honolulu, that's really not too much of a problem; if you live in Hana, it's a big deal. Then, you have to drive three hours each way to Wailuku to go to the state office to meet with these people. In other states, though, that entire application process is done online. So, our view was that there was a real inequity about the access to state services and benefits because of the antiquated systems the state was using. That's why HCF got involved."
The absence of reliable digital access to government services causes similar inefficiencies in almost every department of state government. "As a result," says Barbara Krieg, director of the Department of Human Resource Development, "virtually everything we do, in terms of employment, is done on paper." Although jobs are posted on the state's website and applications are made online, that's about where the digital age ends for DHRD. "Once you're hired, that system doesn't talk to our human resource management system. So, on your first day working for the state, you're going to get a stack of paperwork this high. That's because there's a different form for each purpose, whether it's your health benefits election form, your basic data form, your emergency contact form or your bank deposit information for your payroll. There are a lot of forms to fill in, a separate one for each benefit."
The problem with paper, of course, is that it has to be moved, sorted, filed and retrieved. For large departments, like DHRD, managing all that paper is a nightmare. "Some stays within the department," Krieg says, "but the paperwork for your health benefits goes to a separate agency, the EUTF; the paperwork for your enrollment in the pension system goes to a separate agency, the ERS; payroll forms are also separate. And we have a stand-alone human resources system that doesn't have the ability to pass information through. We don't have the integration of information, so we're slaves to the paperwork processes."
That makes even the simplest procedures Kafkaesque. Krieg explains: "Let's say you get married or you have a child and you want to add your spouse or your child to your benefits. That means you've got to fill out any number of separate paper forms to change your emergency contacts or your benefits enrollments or whatever it may be. All that takes time. All that has the opportunity for error, because somebody, somewhere, is going to have to input what you've written into its own system."
Another archaic system is used to monitor the time and attendance of employees. "We have a paper form called the G-1," Krieg says. "That's sort of the universal form for requesting leave. You fill that out; it's approved up the line; and then it resides with a person that's responsible for keeping track. But the information on the G-1 is manually transferred onto a sheet of paper called Form 7, which is just a big grid of tiny squares. It's like a whole year's calendar on a single worksheet." HR staff then use an old-fashioned 10-key adding machine to calculate available leave. Because these processes are so slow and tedious, employees often receive their overtime pay months after the fact.
The inefficiencies of these paper-driven, manual processes affect all departments. For example, the ancient, COBOL-based program that the Department of Education uses to process its payroll runs on a 40-year-old VAX computer with tape drives and a dot-matrix printer that still prints on stacks of green-bar, continuous-feed paper. That system interfaces with the equally dated systems at DAGS, where the paychecks are actually written. For a large organization like DOE, with 254 schools and about a third of the state's 41,000-plus employees, the consequences of such an antiquated process are manifest. "Right now," says assistant superintendent and CFO Amy Kunz, "if you want to make changes to the payroll, someone has to go locate that line in a giant stack of green-bar paper, cross it out by hand, and make the correction with a red pen. Then, that goes back to DAGS, where they have to keypunch all the changes into the system by hand."
Another consequence of so much paper is the lack of current information. With so many employees at so many schools, Kunz says, it is important to track who works where and budget accordingly. Because the state's payroll system can't keep up with frequent employee moves, the only time DOE can fully account for its payroll is at the end of the fiscal year. "We start our school year in July," Kunz says, "but we don't know until September or October what the payroll figures are going to look like. Right now, we don't get actual payroll information; I think we have about a month lag time. Once a year, basically, we have good data."
She contrasts that with her experience as a manager in the private sector. "Every month, I had to put together a budget broken down by all the different categories – office expenses, what I thought revenue would be, etc. And each month, I would get a report showing my numbers: actuals, budgeted and variance. I wouldn't even think to ask for that sort of report here; the effort would put too much strain on the staff."
In fact, financial reporting is one of the most troubling results of the state's old, disjointed IT system. Perhaps the best example is the state's comprehensive annual financial report (CAFR). Remarkably, the state still operates on a cash accounting basis rather than an accrual basis. In order to complete the CAFR, though, DAGS still has to convert the state's financial data to accrual. Using FAMIS, the state's 40-year-old financial accounting system, this is a long, tedious process, much of which has to be done manually. Even worse, the DAGS staff responsible for CAFR has dwindled from six employees to two. As a result, the 2010 CAFR wasn't completed until after the 2012 fiscal year had begun, which delayed the state's ability to issue bonds.
Then, there's the question of data security and disaster preparedness. The age of many of the state's critical information systems makes them particularly vulnerable to failure. In many ways, the situation at DOE is typical: "We still have a VAX machine," says Kunz. "I think it's one of the only VAX machines in the world, so the risk of that going down is huge. Nowadays, we can only get replacement parts for it on eBay, and there's only one guy remaining at DOE who knows how to maintain the system and he's getting very close to retirement. He could say he's going to retire any day."
Even more alarming are the state's data centers. In its assessment, SAIC identified nearly two dozen data centers, ranging from a handful of "data closets" of less than 200 square feet to large dedicated data centers that warehouse vast amounts of state information. Many of these data centers are essentially unprotected from unauthorized access, posing a risk to state data. Their scattered nature also complicates service and maintenance. Worse still, there is basically no plan for disaster recovery. Bhagowalia points out that one of the state's main data centers is located below sea level, in the basement of a building only a mile from the waterfront. That raises the prospect of massive, irreversible data loss. "In fact," Bhagowalia says, "in some cases, the whole history of the people is on paper and in one building. If that building goes, it's all gone."
Transformation Plan
The state's Business and IT/IRM Transformation plan is intended to address most of those problems directly. The plan also emphasizes open government, a concept that has been the centerpiece of Bhagowalia's IT career. It will reinforce the state's e-gov aspirations. It will embrace mobile and online access to all government services. And the planning for it all will involve the people who actually do the separate jobs throughout the government.
So it's not just about technology. As Bhagowalia likes to put it, "Notice I'm the chief information officer, not the chief technology officer." To make sure the IT projects work, it's critical that the departments undergo serious re-engineering in their business practices. That's what Baldemor did at the state Department of Taxation before joining OIMT. By making modest changes in how the department handled incoming filings, without any new technology, he was able to dramatically improve processing efficiency. "In the past," Baldemor says, "the (tax) department had been known to take five to eight weeks to process a check. Now, the majority of checks are processed within one week."
In addition, employees that used to be swamped sorting mail have now been cross-trained so they can help with other parts of tax processing. John Pacheco, acting taxpayer services branch chief, says that means better service and better morale among the staff. "How would you feel if, when you got to work, there were 50 trays of mail waiting for you, and every time you looked it got deeper?"
That kind of scrutiny will have to happen throughout state government. There's no use investing in new technology that simply enshrines misguided business practices. Steven Fletcher, former CIO of Utah's state government, has a colorful way to put it: "I'm a horrible golfer," he says. "So, there's no point in my going out and buying the best golf clubs I can find. That just means I can now drive the ball 200 yards out of bounds instead of just 100 yards. It's the same with IT. If it was a bad process before you invest in better IT, it's still going to be a bad process afterward."
Change management is another key to the success of IT/IRM transformation. One of the reasons Baldemor was successful at DOTAX was because he included line workers in the planning process. That helped ensure buy in when the plan was initiated. Ken Theis, former CIO of Michigan, points out this is a kind of truism. "The older we get," he says, "the less we like to change. So the hardest part of these transformations is the people. There's always a technology that can fix any problem you have, and you can always come up with the processes to make that technology work. The hard part is getting people to buy in."
"The key," he says, "is WIIFM – 'What's In It For Me.' Everybody in the state has to see WIIFM. We did a horrible job in Michigan. We did very little change management. People just got a letter on Monday saying, 'This is your new job.' Hawaii, though, has set a great example. Just to develop their strategic plan, they brought in all the different agencies and departments. That's a critical part of the change-management process."
On the technology side, the biggest bang for the buck is likely to be using enterprise resource planning to identify and capitalize on the IT functions shared by multiple departments. All departments, for example, use services like email, financial reporting, payroll, document tracking, time and attendance keeping, constituent tracking and more. Rather than have each department buy, customize and maintain all these services independently, they can all be consolidated under OIMT. In fact, according to Bhagowalia, a request for proposals for just this sort of enterprise solution will go out next month. The increased efficiencies should be huge. For example, an integrated financial reporting system will, for the first time, allow DAGS, the Department of Budget and Finance and DOTAX, the three "money" departments, to easily share data.
Data centers are another resource that can be shared. Instead of putting data in isolated servers scattered among departments, OIMT plans
to consolidate them into fewer, larger centers that can be better maintained and protected. That means more investment, but, as Bhagowalia notes, the alternative could be even more expensive. "The cost of not investing in this," he says, "is we will lose our information, because our information is sitting in threads and not backed up."
Prospects for Success
The fear is that financial issues, political struggles or just plain cynicism will kill the IT/IRM transformation before it can get started. For now, though, people seem optimistic. Kelvin Taketa notes there's strong support for the plan, particularly among the state employees and their union. "We talked early with the HGEA and (executive director) Randy Perreira to be sure they were committed to a transformation as well," Taketa says. "Clearly, if the union wasn't going to be supportive of the effort, it was going to be much harder to do."
The people who know the most about these transformations – Bhagowalia's peers – are also hopeful. Michigan's Ken Theis points out that Bhagowalia has learned from the mistakes other states made. Steven Fletcher, now the president of the National Association of State Chief Information Officers, has high praise for the job done so far by Hawaii's OIMT team. "This is far and away the best transition plan that has been put forward by any state," he says. "It's an extremely comprehensive roadmap for every program upgrade and new system." He lards his enthusiasm, though, with a little dose of realism, saying, "We're talking about a 12-year plan, which, in the IT world, is a very, very long time."
For his part, Bhagowalia remains unabashedly confident. "I think the bottom line is that the momentum is palpable," he says. "It's tangible. I've talked to a lot of people: industry, citizens, other state CIOs, IT circles in D.C., media, the Cabinet. It's very clear, we are moving. We are shaking the tree and moving at lightning speed. Now, it's: 'Get on board or get left behind.' "
743
Number of "systems" used today by the state's government, which includes software, solutions and applications (but not hardware).
250
Number of systems planned for 2022.
---
State's IT Plan
Hawaii's 12-year IT/IRM Transformation plan runs to more than 1,400 pages. The executive summary alone is 10 pages. The overall plan has 11 top priorities, which are listed here after being translated as much as possible from techno-talk into English:
1. Smart Planning
Standardize common programs across departments to provide better service to citizens, reduce paperwork, increase access to files for employees and managers, provide up-to-date information and create reliable IT support.
2. Tax Modernization
Expand use of electronic tax filing, electronic payments and better analytics while improving integration with other departments.
3. Health
Align with federal Patient Protection and Affordable Care Act (Obamacare).
4. OneNet
Leverage Internet, wireless and mobile technology to provide citizens and government "anytime, anywhere" service.
5. Computing Environment
Standardize computer configuration and hardware requirements across government to simplify procurement, improve service and provide for regular upgrades.
6. Data Center
Build network of five data centers, distributed across the Islands, to provide backup, disaster recovery and "always on" service.
7. Security
Create proper IT security.
8. Mobile
Create standards and tools for mobile services.
9. Collaboration
Make it easier for ordinary people to use modern communication and information technology anytime, both inside and outside government.
10. Open Government
Establish state website to share data within government and with the public.
11. Broadband
Provide everyone in Hawaii with access to high-speed Internet service.
Full plan and other reports at oimt.hawaii.gov/reports/
---
Cost of Change
The state's IT transformation plan offers three cost scenarios, based on a percentage of overall state government spending (including operating and capital budgets):
1.4% How much the state spent on IT on average over the past 30 years. That was about $150 million in the last fiscal year.
2.5% Amount OIMT is seeking for future years. That amounts to about $280 million in the next fiscal year.
3 to 5% Recommended best practice, according to consulting firm Gartner Research.