Innovative Ways to Build Teams at Work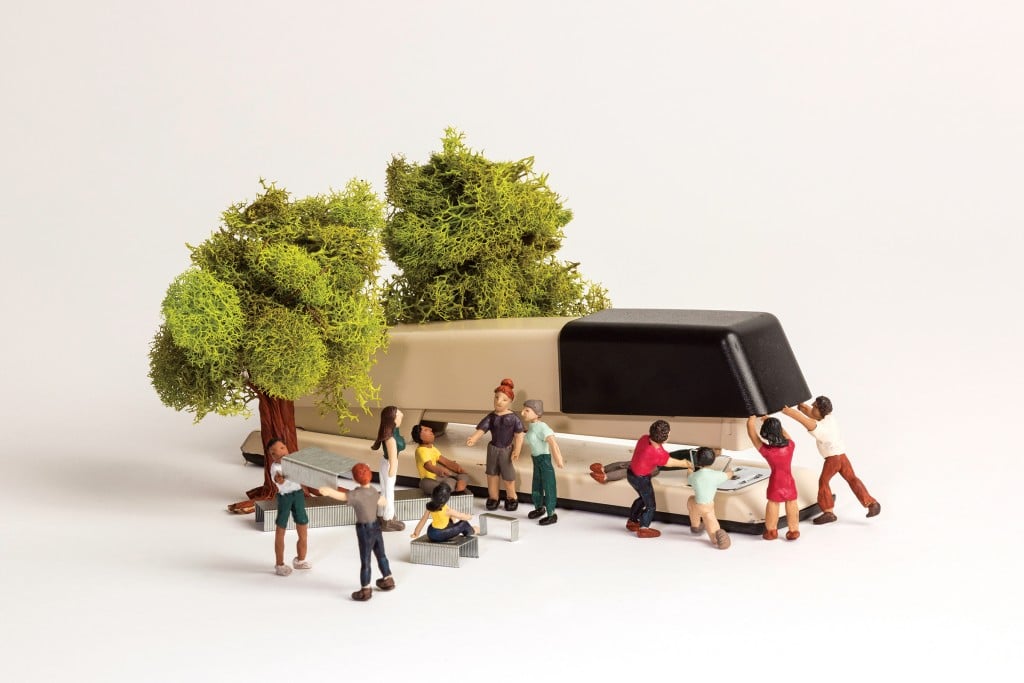 One way companies build great corporate cultures is with team building exercises that get people out of the office and out of their comfort zones. That can include walking on ropes 35 feet above the ground or throwing a coconut bocce ball accurately with your eyes covered.
The best companies to work for don't necessarily pay the most or have the best benefits. Instead, they have cultures where employees want to come to the office and be a part of the team.
To create and nurture such a culture, organizations often strengthen their teams with special activities so employees learn more about one another and how to work together.
Team building activities are designed to foster discussion and enhance behaviors that will help groups function effectively as a team, says Gabriel Wallman, who previously worked as the program director of guest services at YMCA Camp Erdman in Waialua on Oahu's North Shore. The idea is to get employees to see each other in a new light and get out of their work routine for a shared experience.
"When teams of people engage each other in different contexts than everyday work, it gives them a chance to experience one another in a more whole way."

―Trevor Spring, Facilitator and owner, Activated Leadership
"People always have facets of their personality that don't get expressed when they're working," says Trevor Spring, who facilitates team building activities through his company, Activated Leadership.
"Many people are working from a mindset of being focused on doing a good job and not wanting to get in trouble. This isn't exactly an environment that would let us loosen up and be playful with each other, is it? This is why some personality traits aren't expressed at work," he says. "When teams of people engage each other in different contexts than everyday work, it gives them a chance to experience one another in a more whole way and be reminded of how human they all are."
---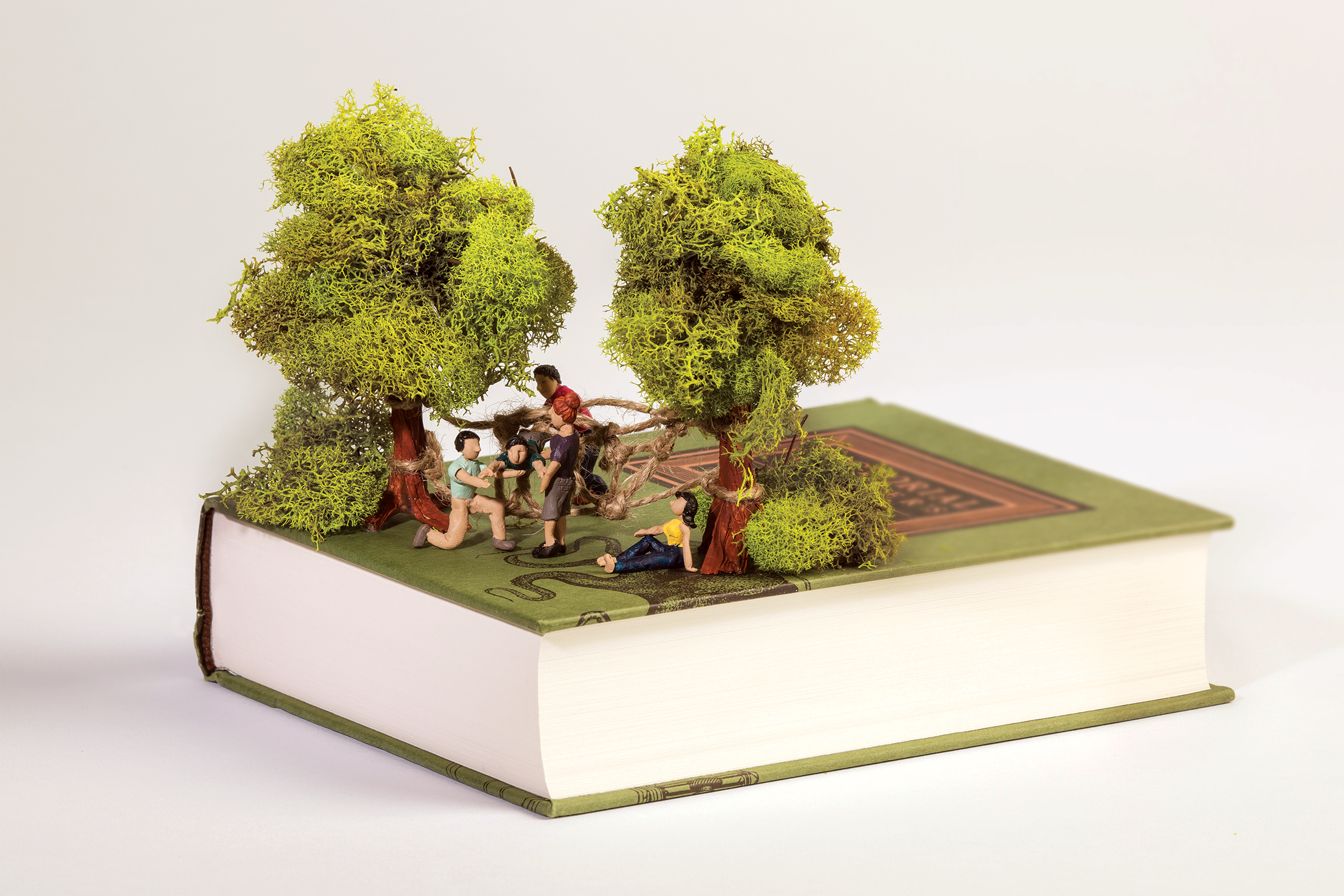 Spider Sense
YMCA Camp Erdman staff members help groups build trust by completing the Spider's Web. The rules are simple: A group has to pass from one side of the web to the other without making contact with it, and once someone passes through a hole in the web, that hole is closed to other group members, so sometimes people have to be lifted through.
"Even when you're stepping through, you think, 'Oh I can make that, I don't need any help,' but it really shows … that you've got each other's back," says Gabriel Wallman, who previously worked as the program director of guest services. "There are so many little human behaviors that come out, that really impact group behavior. And a lot of people are not conscious on a daily basis of that. So it really helps to flush that out, observe it, talk about it, become more aware of it and then you can go back to the office and be more conscious about how you're affecting each other."

Solid or Wobbly?
YMCA Camp Erdman's high ropes course has eight group challenges at 25 and 35 feet in the air. To get through the challenges, group members have to physically rely on each other to stay upright and move across the wires and platforms. This course is all about creating a support network, says Gabriel Wallman, former program director of guest services.
"What this Odyssey course shows, it's like a full commitment thing. So when everyone's fully committed, your support system is rock solid, you're immovable, it's just like so solid. And if you got two or three people who aren't trusting and they're pulling away from the group, the whole thing is so wobbly."
---
Building a Team
Trust and relationships are key to building a team, says Grant Kogami, director of Honolulu Community Action Program's Head Start program. Employees also have to understand the goals and mission of the organization. And, Spring adds, employees have to feel they are being heard, so they listen to each other and work together effectively.
But building a team takes time and effort, and everyone has to commit to the health of the team, says Trisha Nomura, chief people officer of ProService Hawaii, a human resources solutions company. But people have different perspectives and personalities, and it can be challenging to get people out of their comfort zones and into a place where they will share ideas and feelings. Spring says he'll often see offices face interpersonal challenges, usually from a lack of communication, a grudge or another conflict that needs to be worked through so the team can work together.
That's where team building comes into play: "When you take people out of their office environment and put them in a place that's more neutral, the defenses come down, and … communication becomes a little clearer between key partners, and you find out about people on a different level and you make a connection that's very different," says Keni Sumpter, director of national accounts at Turtle Bay Resort. The resort offers activities where teams can build a seaworthy boat or rideable bike, participate in a hukilau where teams fish for their food and play canoe tug of war.
"They can then say, 'I didn't know you were interested in that kind of thing,' and now all of a sudden, you've got that new affinity that you then take back to your office," he says. "And then, all of a sudden, that person who was maybe more bombastic now is a little bit more amenable, more friendly."
---
Disrupting Behaviors
For team building activities to be effective, it's important to know the current situation within an office and what objectives a team wants to accomplish through the activity. This way, a facilitator – the key ingredient to any team building activity, according to Mao Lefiti, education programs manager at Kualoa Ranch – can revise or create an activity that will help the team flush out behaviors that need work. That facilitator is needed to disrupt typical office behaviors and encourage people to change how they interact with others, Spring says, adding the ideal facilitator is a neutral person.
Team building activities at Camp Erdman helped about 30 family advocates in HCAP's Head Start program change how they interact with each other, says assistant director Donna Manibog and director Grant Kogami. The group had been dealing with communication issues that resulted from working out of two separate offices, so they spent two days at the camp to do team building activities and training.
One activity involved completing the Odyssey ropes course, where members completed a series of challenges at either 25 feet or 35 feet in the air. Group members had to physically rely on each other to stay upright and learn how to work together to compete in the challenges. Manibog says the event helped employees strengthen bonds and recognize and respect each person's individuality.
"In any profession, the culture in which you work is probably the highest motivating factor for employees."

―Jason Ferguson, Program director of the Family Medicine Residency Program at Tripler Army Medical Center
Team building activities can affect how a team performs, says Jason Ferguson, program director of Tripler Army Medical Center's Family Medicine Residency Program. He takes his first-year residents to Camp Erdman each summer to complete the Odyssey, and organizes other program-wide events throughout the year to build and bond the entire team. Such events include community service projects, monthly tag football or ultimate Frisbee games and a weekend retreat.
Ferguson says team building is a huge priority because "in any profession, the culture in which you work is probably the highest motivating factor for employees. … Especially in the Army, when I have zero control over what they're paid and the places that they work and even the places they get assigned to, the spirit of collegiality and teamwork … is the single most important difference in a team that performs well and a very poorly performing team. To me it's huge. It's really the difference between success and failure."
Team Bonding
Teams can also be built through bonding activities, like holding pau hanas, BBQs, beach days or community service days. However, they're not the same as team building activities; they're not facilitated and they're more about creating familiarity among colleagues, Wallman says. Such activities can build morale and connection, but it's unlikely they will help teams work through any chronic negative attitudes or dynamics within the group, Spring adds.
At AXA Advisors' Honolulu office, the team gets together for outside-the-office activities two or three times a month, says Amelia Mack, Northern California/Hawai'i branch licensing coordinator, and Ken Barnes, district manager. The 30 advisors in the office will do things like hold BBQs and beach days, attend happy hours, and watch and participate in sporting events. There are also quarterly activities with employees from the San Francisco and Neighbor Island offices; one activity was a Honolulu-wide scavenger hunt where teams that normally didn't work together had to complete a set of tasks, like find a rare dish at a restaurant or take a picture with a firefighter.
In an industry where most of the work is independent and hours often stretch beyond the typical 9 to 5 workday, the idea was to create an office environment and culture where employees are motivated and everyone feels more like a family, rather than a bunch of people passing by one another every day. "We're just trying to get an opportunity to decompress and be together outside of the work environment as much as possible," Barnes says. "It just kind of comes back to Hawai'i and the whole theory of 'ohana and all of that."
---

Coconut Communication
At Kualoa Ranch's Secret Island, staff members help groups improve communication through a game of coconut bocce ball. The objective is to throw the bocce ball as close as possible to the target, but each team member's eyes will be covered by another person who has to guide them on where to throw it.
"If you're given directions and you don't have your eyes, if you're given specifics, how do you give directions? Is it in centimeters? Is it in feet? Is it how much force do I know how to apply?" asks Alan Shepard, education tours manager at Kualoa Ranch. "How do you tell somebody, 'Throw the ball but not that hard – throw the coconut but not that hard?' And since it's a coconut, it's a different thing. So that's going to change their perception of, 'How I move this, how I throw this?' and change the other person's perception of, 'How do I tell somebody how to throw this?' "
---
At ProService Hawaii, employees are brought together throughout the year for an annual retreat, pau hanas, celebrations, community service events, team lunches and other activities – all planned by employees. The activities are facilitated, either by a resource from outside the company or by a manager within the company, though they don't just achieve a bonding or team building outcome. The activities are viewed as initiatives that support ProService's culture and help employees connect to the organization and its purpose and see their work as more than just a job, says Trisha Nomura, chief people officer.
An example of this is shown in ProService's yearly theme, which is used to personify the company's annual business goals, she says. This year, the theme is New York, so ProService's offices are decorated with New York-themed art, posters and props that help keep track of the company's progress. Initiatives that strengthen the health of the team and enhance employee engagement are tied in with the theme, such as "The Client King," which was inspired by Broadway. Each employee was given a $50 "ticket" to the play that they could award to another employee during the quarter – essentially a $50 bonus. To use a "ticket," the employee wrote about the awardee and what company core value that person exemplified and why he or she deserved the "ticket."
The idea is to create a positive work environment for high performers, says Ben Godsey, president and CEO: "In the 12 years that I've run the business, I've found that having this positive culture for high achievers, the type of culture that we've created and the people that we attract and develop is by far the biggest determinant of our success. … We have a really great culture and the way that we have developed a really strong positive high achieving culture is in part through these events.