These 5 Women Are Changing the Face of Real Estate Development
Christine Camp, Laura Kodama, Cayenne Pe'a, Karen Seddon and Michelle Swartman are proving that it's not a man's world anymore.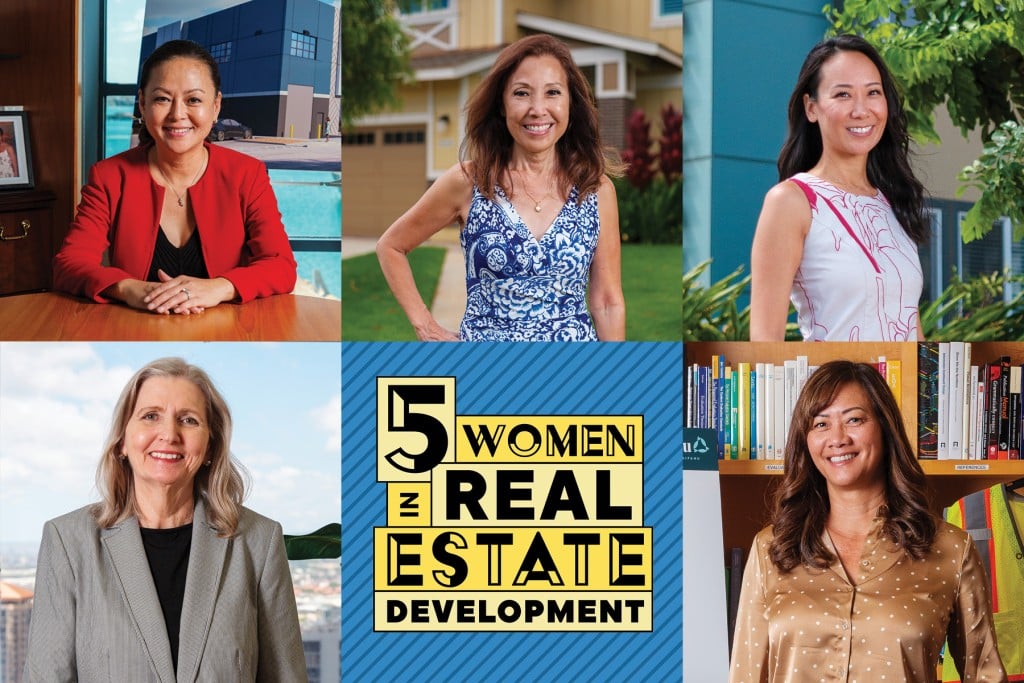 Most developers are men, but these women have earned a seat at the table despite challenges. They bring a different and valuable perspective, and have realized that the best way for others to join them is for women to support women.
Christine Camp,
President and CEO, Avalon Group
"I never thought of myself as a woman developer. I'm a developer first, then I am a woman."
Christine Camp, President and CEO of Avalon Development Group, says this mindset helped her break through the expectations she had growing up. "We're raised not to be confrontational. Be a good girl. Don't talk back. Get along with everyone. Don't speak unless spoken to."
Now, she asks, "Why shouldn't I sit at this board meeting and demand to be heard? Why shouldn't I endorse a candidate? Why shouldn't I speak for the industry? Why shouldn't I take on the presidency of Hawaii Developers Council? Why shouldn't I?"
When she first served on a board of directors, three men who were board members told her she shouldn't say anything for a year. She replied, "I have a fiduciary duty of being on the board of directors, and you're saying I shouldn't say anything for a year? Are you kidding me?"
Camp didn't heed their advice back then – and she hopes girls and young women today will dismiss similar suggestions to stay within their "socially assigned" gender roles. "What I want women to do is take a lot of risks," she says.
Working Up From The Bottom
Camp says that growing up she did not have family resources or connections through prestigious schools to rely on. But these setbacks gave her "immense drive" to create her own path to success.
She recalls crying one day, thinking she would never be successful because all of her friends were going to schools on the mainland and she was taking night classes at Kapi'olani Community College.
Her mentor told her, " 'Everybody's the same. There's always going to be someone smarter, better and more connected than you are, so get over it. And just work on what you have to do.' And that's what I did."
Camp earned her degree in finance and business administration from Hawai'i Pacific University. Early in her career, one colleague constantly reminded everyone during board meetings that Camp did not attend an Ivy League school.
In similar situations today and in the past, she focuses on the positives: "Look at me, I'm here now. I'm in the same conference room as you guys."
---
Recommended: Talk Story: Christine Camp, President and CEO, Avalon Group, Camp Counselor
---
Finding Her Connections Taking
Camp enjoys being a developer but acknowledges its challenges. When she first joined the real estate field in the 1980s, she was an outlier among many men. They would bond by playing golf or smoking cigars, then have lunch meetings in a dark restaurant with high booths and two shots of whiskey to seal a deal.
Camp was excluded and, in turn, she lost connections and missed out on promotions. And some deals didn't happen.
But she learned that success comes from being an outlier. So she embraced being different from the men and looked for "opportunities where I have an advantage."
She worked 60 to 80 hours a week and created her own connections by serving with nonprofits.
"I'm doing things that are greater good in my mind for the community, and I'm meeting with like-minded people in a deeper way and connecting with them. To that extent, I'm satisfied."
When she feels like she is missing out on the men's activities, she looks for more ways to serve her community. She finds strength in giving back to the community and working with them to create solutions.
Taking Risks
Camp has learned that "everything is about possibilities, and not about the failures that happen." A developer has to take risks, be confident, fearless, tenacious and sometimes "in your face." Sadly, she adds, many girls are raised not to take risks.
"So I think parents have a great responsibility to allow girls to be hurt and learn to take risks. It's OK to fall down," she says.
"It's how you shake yourself out and get up that matters."
She encourages women to embrace their failures because "every lesson is painful, and through the pain, you learn the best. If you're not failing, you're not learning; if you're not failing, you're not trying. So I would like to see more women try."
Being A Career Mom
Camp has raised her now 14-year-old son as a single parent and, along the way, has learned to reset the expectations of perfection that she set for herself.
"There is no happy balance as a single mom. You're always feeling guilty that you're not doing enough."
She says it is essential to ask for and accept help to ensure your needs and your child's needs are met.
"We are so hard on ourselves," but we can still be happy and fulfilled, she says. And for her and many others, if that means being a career mom, "there's no shame in that."
Laura Kodama earned a degree in fashion merchandising from UH Mānoa but soon after graduating she realized she didn't enjoy that field.
Instead, she worked various jobs until she happened upon one with a Japanese company, where she learned the fundamentals of development. One day, a co-worker left a newspaper clipping on her desk, a help wanted ad for a project analyst at Castle & Cooke.
Despite her doubts about being qualified, she applied and got the job. Her work with the Japanese company, she says, gave her an edge over 30 other applicants.
Such experiences inform the advice she now gives to interns and others: "No matter what path you are on, enthusiastically learn everything you can from every opportunity, accept all challenges given to you, hone your skills and listen intently to everyone who shares their knowledge and experience with you."
She has worked at Castle and Cooke since 1993 and became director of planning and development in 2007, but her first few years were filled with "on-the-job training."
But she was willing to learn and soaked up the knowledge and advice of co-workers and top female developers like Kathy Inouye, Christine Camp and Natalie Kiehm. Those three women were inspiring and "shared traits of success: tenacity, creativity, resourcefulness and a solutions-based orientation," Kodama says.
Learn Early About Careers
Kodama says high school is a great time to learn about possible careers because "that's when you start to imagine and dream about what the possibilities are. You're not necessarily committed to anything, but at least it expands your horizon as to what those possibilities are." And girls need to know that there are not just men but women in development and other traditionally male-dominated fields.
Kodama says when there are successful women as examples in development it is easier for young women to pursue that path. She was not undermined or disrespected during her path, which she attributes to those three women at Castle & Cooke who "had already blazed the trail."
Finding Balance
Kodama says she loved her work the second she started as a project analyst at Castle & Cooke. She had fun and often chose to work late in the office or to bring her work home.
"My goal was to do my job well and then find ways to do my job even better. By just focusing on that simple goal, each project, each challenge, each position, led to more opportunities for learning, for growth and for further advancement in my career."
Kodama was focused entirely on work, but when she had her twin sons, she rebalanced her life and entered an entirely "different dimension."
As a single mother and full-time developer, she depended on daily help from family and friends, especially her brother, who was there for her almost every day. She also found support from co-workers and company leaders themselves, who encouraged her to spend time with her boys.
There were challenges and sacrifices, but she found it easy to smile because "I just adored my sons and thought they were the funniest things."
She says some days as she was driving to work, "I'd laugh to myself as I thought, 'Did I comb my hair?' "
However, when that started happening frequently she realized, "I need to take care of myself because if I'm not healthy, who's going to take care of my sons?"
Diverse Set Of Voices
Planning for Castle & Cooke's Koa Ridge community started in 1990, and Kodama became involved in 2000. She is now overseeing the development of the project, which broke ground in 2017.
During her career, Kodama has seen the importance of having diverse voices involved in planning and decision-making.
She says Castle & Cooke has a collaborative process for project meetings, which is essential "because everybody comes to the table with different experiences and different backgrounds, and all of their perspectives really shape a better decision."
It's crucial women have a seat at the table "because women bring in their own unique perspective," and they represent a large part of the community the company is building for. That's why the development field should be open to everyone, she says.
Cayenne Pe'a,
Principal and Co-Founder, Alaka'i Development
Cayenne Pe'a refers to the real estate development field as male-populated instead of male-dominated because "no one's dominating anybody," she says.
She focuses on successful female developers instead of the ratio of men to women. That mindset "makes way for women to step into their own confidence and not live under the shadow of being dominated by others," she says.
It was that confidence that persuaded her to jump in 2016 from development manager at Forest City to founding Alaka'i Development with her business partner, Jon Wallenstrom.
"I think for anybody, even a woman thinking about going into a male-populated industry, if that's what you're passionate about, at the end of the day, you're going to succeed."
Pe'a says she has been lucky to work with respectful co-workers, but on the unlucky days, Wallenstrom is "cognizant" of the challenges she faces as a female developer.
---
Recommended: 20 for the Next 20: Cayenne Pe'a, Alaka'i Development
---
"We may have certain meetings where whoever we are with just looks only at him, as if I'm not even there, and he's aware of that." Their mutual understanding helps them find solutions, she says.
Pe'a uses her growing self-confidence to help navigate these day-to-day challenges and advises other women in these situations to stay focused. "Don't let it stop you or deter you. … Just keep your eye on what your goal is and persevere."
The Right Mentor
Her drive was nurtured by a female mentor at Forest City who "believed in me and gave me the confidence to believe in myself," she says.
She says women who have already succeeded are key to growing the ranks of female developers in Hawai'i. They can help, she says, by "reaching out and pulling the next one up."
It's not just about having a man-tor, but finding the right one, "and that was something I don't think I understood until I had the right one."
"You want, as a woman, to find someone, preferably a woman, who has walked in the shoes, down that path that you want to follow."
Many Possible Entryways
Pe'a says there are many paths to becoming a developer: Hers began with a bachelor's degree in accounting from Loyola Marymount University.
Because there are so many different entryways, "I would just encourage someone to be as open as possible and look for opportunity and learn as much as you can" from people in any field of work. She encourages aspiring developers to "not be afraid to take on a new challenge."
When she chose to open her own company, she says her mind was filled with stories of successful women in development, such as Christine Camp, president and CEO of Avalon Group.
"I think the more of us there are out there, the more it's a little easier for others to make that jump as well."
Karen Seddon,
Regional VP, EAH Housing
Early in Karen Seddon's Career, her boss told her the big construction company where they worked was letting her go.
He said, "You've hit a glass ceiling in this company and you're not going to get past it. And it's not you, it's them."
The boss did not say it directly, but the message was clear: The company was not willing to promote a woman.
Seddon says she was furious and questioned whether she should leave construction but stayed because she loved the industry.
After getting a job at another construction company that treated her right, gave her opportunities to advance and helped her gain back confidence, she realized that, "in the end, he did me a favor."
"That change in my life became a really positive thing and so I prefer to look at it as good fortune rather than bad fortune."
Change In Direction
Seddon, who eventually ended up moving from construction to development, says she's always looking out for new opportunities and possibilities. And that mindset, she says, can work for anyone in any field: "You should always be reassessing," she says, whether you're looking to change careers or are perfectly happy where you are.
"You have to be open to that thing that shows up that you didn't expect."
That approach, she says, ensures she never misses an opportunity that could further her career, success and happiness. "You want to be challenged, you want to keep going, you want to add, give back."
That desire to give back has led to her current work building affordable housing. "This is the kind of industry where you have to have a passion for it or you can't do it. It would make you insane. … It's not simple, but it is rewarding."
She says essential workers like teachers, firefighters, police officers, bank clerks and retail workers need affordable housing because of their relatively low wages and the high cost of living in the Islands.
The obstacles to building affordable housing here are intricate, she says, but she and others in the field have decided, "We're here to do this because it's needed and we can do it."
Many Changes
She says so much has changed since the day she walked onto her first project site two weeks after graduating from Oregon State University in 1979 with a bachelor's in construction engineering. That's when the project superintendent told her: "I need a letter typed. Karen, type this letter."
"He decided he was going to show me that he was in charge," she recalls, so she replied, "I don't know how to type."
She knew how to type, but her response was meant as a "little pushback" against a man who had never been pushed back before.
Even today, "There are still both men and women who feel like women shouldn't be in the workforce, and because they're women, they're never going to be as good."
She learned the way to persevere "is having confidence in yourself and your knowledge and standing your ground."
Support In University
She and a classmate were the second and third women to graduate from Oregon State's construction engineering program, where she found support and friendship among classmates. There was a little lighthearted teasing too, which, she says, was "never undermining or disrespectful."
That changed when she actually got into the construction business. "It was way more, 'What are you doing here? You should be at home having babies.' "
Seddon's tone becomes soft as she recalls an especially horrible incident when she was a project manager in Oregon. The grader was a shy young woman who had just begun her career at a time when it was still rare to see women on construction sites.
A male dozer operator thought the young woman didn't belong. One day, as she was on her knees pounding a stake into the ground, he dropped the blade of his dozer onto the back of her legs, crushing the muscles in a way that would affect her for the rest of her life. She would never walk the same again.
"Supposedly it was an accident," Seddon says.
"The rest of the operators were pretty sure that he'd done it on purpose," or at the very least, "they knew that he didn't value her enough to be careful enough not to end up hurting her."
As she tells the story, Seddon comes close to tears. He could have easily killed her, she says, and describes what happened as a hateful act against a young woman who was "just trying to learn, improve herself and be able to make a better living for herself."
Michelle Swartman,
Planning and Development Manager, Kamehameha Schools
Michelle Swartman earned her bachelor's in political science from UH Mānoa and planned to study law. But her goals changed when she took a four-year trip through Southeast Asia, living in Taipei, Singapore and Bangkok.
She came home with renewed appreciation for Hawai'i and a desire to help "shape the way our lands were used and what our communities looked like."
She recognized one good way to do that was through real estate – her mother was a Realtor, so as a girl she would often tag along to open houses and sales meetings. Then while attending college, Swartman got her real estate license.
After returning from Asia, she worked for a number of companies, including on Kaua'i.
Landing her job at Kamehameha Schools in 2015 was "serendipitous," she says. She had applied to Kamehameha Schools throughout her childhood "and never got accepted," she says, "until I finally became an employee and became a part of the team."
Opportunities For New Generations
Being both Native Hawaiian and a woman inform her work as a developer, Swartman says. As a Hawaiian, she focuses on "a mutual relationship and obligation between land and man" and so plans development with "minimal impact to land and natural, cultural resources."
And, she says, Kamehameha Schools gives her the platform to ensure that Hawaiian culture and values are brought into the development process.
She also explains how women bring a valuable perspective to development. "I think women in general are very collaborative. We like team building. We're strategic planners. And I think we're very passionate in what we do."
Finding Support As A Career Mom
"There's nothing that a woman can't do while raising a family," says Swartman, who has raised three sons while working full time.
She's grateful for the support she has had along the way, including from her husband, who she says is "incredible."
"He understands that I'm ambitious, that I want to be there for every milestone that my projects reach, as well as being there for all the milestones my kids have accomplished throughout their lives."
She is also thankful for the support she received while working at different companies, including a construction company she worked at when she had her youngest son. It was at a time before accommodations like nursing stations, so she nursed him in the construction trailer.
The company's owners were a husband and wife who understood the need for women in the construction industry. Swartman says supportive leaders who share your values enable "women to manage their career and be a parent."
If you cannot find an employer who shares your values, she says, then "become your own employer."
She says skills learned through motherhood, such as multitasking, time management, effective communication and strategic planning, are valuable to any career or industry.
Empowered Through Failures
"A woman can be anything she wants," Swartman says, an idea that was instilled in her as she grew up. For those who don't receive the same support her parents gave her, her advice is "to be strong. Don't be afraid to ask questions. Be open to learning."
She notes the importance of failure because "if you don't make mistakes, there's no opportunity for you to learn or to grow." After every failure, pick yourself up and try again, she says.
Though things have gotten better, she recognizes women must still deal with people's unconscious biases. "They're always going to be around and it's always going to be a struggle, no matter what industry you're in."
She says being confident enough to overcome other people's biases is key to earning respect and trust.
"As for women, we have to empower ourselves," she says.
"The way we're going to empower ourselves is to bring awareness, support each other, share in success, create room for other women in those leadership roles and continue to keep chipping away at it."
---
Recommended: 20 for the Next 20: Cayenne Pe'a, Alaka'i Development, Talk Story: Christine Camp, President and CEO, Avalon Group, Camp Counselor
---