Today's Lesson: No Wi-Fi = No Learning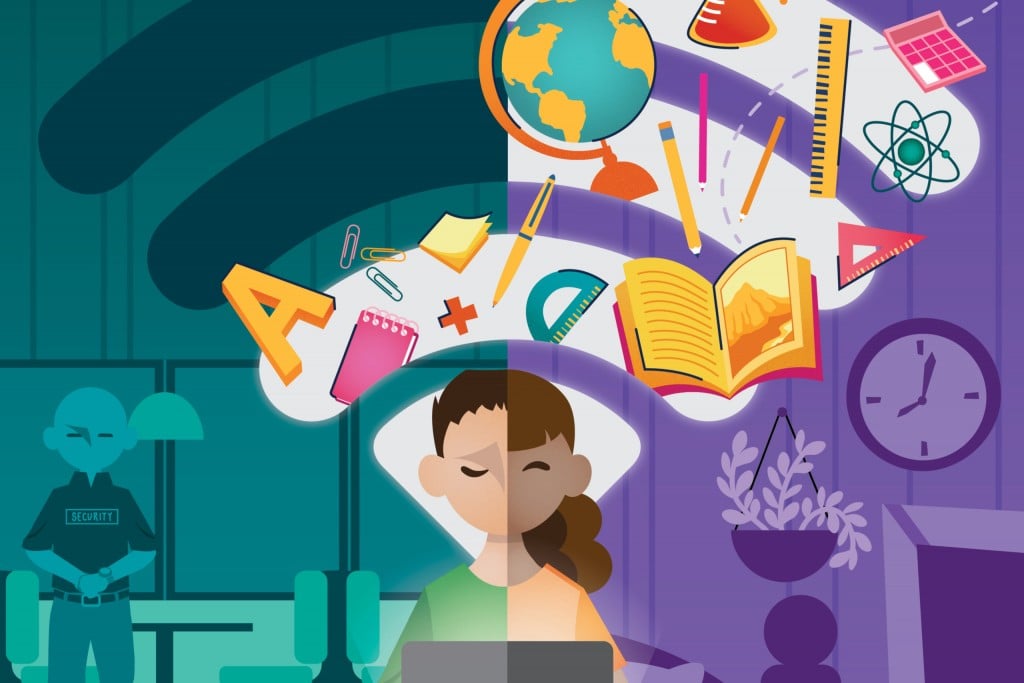 Disparities in internet access have long made learning more difficult for some students, from kindergarten to college. And with students learning from home now more than ever, that digital divide has widened.
Educators, nonprofits, companies and families are working on immediate fixes, but a complete solution likely means changes in public policy and major infrastructure investments.
Not all of Sarah "Mili" Milianta-Laffin's students do their schoolwork at home during the pandemic.
For those without internet access, says Milianta-Laffin, a teacher at 'Ilima Intermediate School in 'Ewa Beach, "it's Starbucks or McDonald's."
It's not a good solution, she says, especially since the local McDonald's hired a security guard. "My kids would go buy a large fry and try to eat it slowly" while using the restaurant's Wi-Fi. But once the fries were gone, their time at McDonald's was too, and the security guard would escort them out.
Milianta-Laffin teaches seventh and eighth grade STEM lab. She says 50% of the children at her school get free or reduced-price lunches, and it's the only school she's worked at that has "extreme haves and extreme have nots."
When school first went online last spring, she called all 170 of her students' families to find out what kind of internet access they had. What she found was disheartening: Some families had internet, but not the high broadband speeds required for school video calls. Some families were unprepared for astronomical data bills after students streamed school video calls on their phones. About 15 families said they got rid of their internet because someone in the family lost their job. Milianta-Laffin even tried to help one family get online, but the family's low credit score prevented them from getting their internet reactivated.
"The best internet in your community shouldn't be at a Starbucks," she says.
The COVID-19 induced switch to online school last spring laid bare educational inequities among students in kindergarten through college, fueled by disparities in internet access. Whether it's because their families can't afford broadband services, they live in rural areas without the infrastructure for high-speed internet, their families lack the technological knowledge in their home or it's something else, many students have a difficult time doing their schoolwork from home.
This digital divide existed long before the pandemic, but the need for remote learning has made it impossible to ignore.
"As a public school teacher, my question to the DOE, to the Hawai'i state Legislature, to our U.S. Congress, is, as a nation, are we saying it's acceptable because a family can't afford a basic service like the internet in their home, are we saying that poor kid just can't go to math class?" Milianta-Laffin asks. "It's an ugly mirror to hold up to society, but if we don't highlight the issues it's not going to get better for our students."
Digital Divide
According to 2018 Census Bureau Data, 5.1% of Hawai'i households that own a computer do not have a broadband internet subscription.
This digital divide has challenged teachers and students for years, often going by other names. "I know I've seen it being called in the media the 'homework gap,' " Milianta-Laffin says. "This is something that has been a chronic problem for a very long time."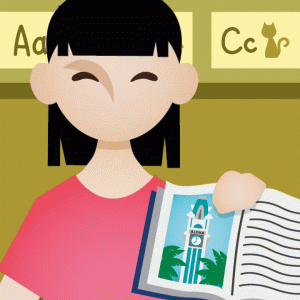 Daniel Hoffman, an assistant professor of Learning Technology and Design at UH Mānoa, thinks of the digital divide not as a simple division between those who have technology and those who don't, but as a spectrum. "Of course, there are people who have very, very little, and there are people who have everything, but the vast majority of people are actually falling in the middle," Hoffman says.
"Where you are on the spectrum is not static, because everything is changing. New technologies are being introduced. Others are going away. And so there's this kind of churn," he says.
The pandemic and consequential remote learning have exacerbated digital disparities across the country — Hawai'i is not immune.
Kevin Argueta, who teaches fifth grade at Kahakai Elementary School on Hawai'i Island, has witnessed significant broadband inequities among his students. He describes one student living nearby in Kahalu'u who was struggling with online classes. The school provided him with a device, then realized that he was still not able to connect to the internet, and finally provided him with a Wi-Fi hotspot as well. Despite being able to connect to class at last, Argueta noticed the child's connection was not as crisp as other students'.
"The quality of the bandwidth is really affecting the student experience. So the kids who have the higher bandwidth, oh my gosh, they're able to accomplish so much more," Argueta says. "Different kids have different experiences and it just doesn't feel right."
Arugeta is most concerned about students living in rural areas. Even if their families can afford internet services or can acquire devices and a Wi-Fi hotspot, some rural areas in the state are simply not equipped with the infrastructure for high-speed internet. His school is in Kailua-Kona, where the internet infrastructure, in general, is good, but he worries about students living in remote places on Hawai'i Island, like Ocean View and Miloli'i.
"There are kids who live off the grid and don't have internet access, and it makes it really difficult for those kids to really jump on into the distance learning," he says. "When I think about who is most affected, it's our rural communities who might not have internet access, or cell towers, or the infrastructure."
College Students Also Affected
Internet access, especially in rural areas, is also a big issue for college students now learning from home. Garret Yoshimi, VP for information technology and chief information officer of the UH System, says this semester's courses are being taught primarily online, with few face-to-face classes. Internet connectivity has been "top of mind for a lot of people," he says.
"Internet infrastructure isn't necessarily as robust as you would like it to be, and it's not the same as if you're working from classrooms or labs on campus," Yoshimi laments. "That's always been a challenge. And there's the group that cannot get access."
Like Argueta, Yoshimi is particularly concerned about students trying to learn from remote areas such as "the eastern coast of Maui, some of the more rural areas on the Big Island, some of the communities on the north side of (O'ahu)."
One reason these areas and others struggle with high-speed internet access is that broadband companies have not installed the necessary infrastructure there. Rural areas' lack of connectivity can be traced to basic economics: Hawai'i's rural areas have too few potential customers to make costly investments profitable. Long distances and rough terrain add to the costs.
"The quality of the bandwidth is really affecting the student experience. So the kids who have the higher bandwidth, oh my gosh, they're able to accomplish so much more." –Kevin Argueta, Teacher, Kahakai Elementary School
"It's a little hard because it's capital intensive stuff," Yoshimi says. "Stuff costs money. They (broadband companies) have to be in business. They have to make profit."
The two broadband companies that primarily serve Hawai'i, Hawaiian Telcom and Spectrum, often rely on outside funding and government grants to service rural areas. Considering the circumstances, Yoshimi says they do a good job of supporting the local community: "Large wireline carriers are all very good about listening to the needs of the community and trying to extend their networks to make that happen."
In an emailed statement, Hawaiian Telcom says it is "proud to be the only local service provider that's actively extending broadband to rural areas in Hawai'i." Using money from the federal Connect America Fund, it is currently working on installations on Hawai'i Island, Moloka'i and in Hāna on Maui, Hawaiian Telcom says.
Dennis Johnson, western region communications director for Charter Communications, parent of Spectrum, says in an email: "Charter has invested to improve and expand services so that more residents have access to fast, reliable broadband, including building to 6,000 new homes and businesses in Hawai'i in 2019. Over the last two years, Charter has expanded its network to provide broadband to over 1.5 million homes and businesses in the U.S., about a third of which were in rural areas."
Ann Nishida Fry, senior manager of corporate communications for Hawaiian Telcom, says: "We're committed to Hawai'i. This is a state where we, all of us, live and work and we want everyone to have access to broadband, which is why we take on the challenge of applying for the federal funding.
"We don't just get money, we have to adhere to timelines and deadlines and there's a lot of extra stuff that comes along with getting that funding. We believe that it's worth it."
Argueta is one of those who thinks eff orts to reach rural areas are not happening fast enough. "I just feel like if there's a kid that lives in a household, I think that internet provider should be held to a standard, that they should be providing a certain amount of bandwidth, and it shouldn't be negotiable."
How Many Are WiFI-less
State Senate President Ronald Kouchi represents Kaua'i, which has many rural areas. He was concerned in April that the Department of Education had not yet collected sufficient data on the technology needs of students, so he and a group of legislators, educators and community leaders went to work. The data they collected, he says, shows that internet access is a bigger issue than access to devices on Kaua'i.
About 8% of students on Kaua'i are not connected to the internet, he says, "and we have just under 10,000 students, so that works out to be 800 some odd students."
The DOE released data on student internet access in June. The data shows that 76% of students "have reliable internet access in their homes," and that lack of internet is "the biggest barrier (to) effectively learning from home" for 4% of students.
Parents for Public Schools Hawai'i, a nonprofit advocacy group, conducted its own survey of families. Although many families said they have internet service, many also said their bandwidth is not enough to support the remote learning and working needs of all family members. Lois Yamauchi, president of Parents for Public Schools Hawai'i, says the percentage of local families without internet access is probably higher than the surveys indicate.
"It was a digital survey, an electronic survey. We gathered information from people through email; they can respond on their phone or their computer, so it's not surprising that the people who responded suggested that they had devices and internet access."
Of course, Yamauchi says, such surveys won't reach people without Wi-Fi access or devices.
Creative Solutions
David Miyashiro, executive director of HawaiiKidsCan, a nonprofit that advocates for students and focuses on public policy, says he was frustrated by what he considered a lack of support from the DOE for students and their families when classes went online last March. He heard from teachers that schools were not prepared for distance learning, and he didn't see the DOE trying creative solutions.
Inspired by what Miyashiro saw in places like South Carolina and Texas, HawaiiKidsCan connected with individual schools and tried a creative solution on its own: Wifi on Wheels.
Miyashiro likens the concept to a drive-in movie. A vehicle with an installed wireless router moves to various locations on a set schedule. Kids can come to get a strong internet connection, either in their cars or socially distancing outside of the Wi-Fi vehicle. HawaiiKidsCan has also worked with schools to identify locations that are most convenient for kids who need Wifi on Wheels.
HawaiiKidsCan has been working with the Hawai'i County Economic Opportunity Council to start a pilot program in October in Kahalu'u and Kailua-Kona. The council was just awarded $400,000 in CARES Act funds for 15 more vehicles on the island.
"I love that this little idea that started up with a bunch of educators and nonprofits has now grown to something where they have $400,000 worth of money to really spread it around the community," Miyashiro says.
David Brookshire "Brook" Conner, assistant superintendent and chief information officer for the DOE, says the DOE has spent its allotted CARES Act money on devices, Wi-Fi hotspots and an "'Ohana Help Desk," a telephone number families can call for tech support.
"There's multiple ways we're simultaneously looking at for addressing network access for our students. Hotspots are one way that's visible. We've got just over 5,000 that we purchased during the summer — 5,196. We put in an order for another 11,700 on Aug. 20. Those should be arriving next week," Conner says.
The Wi-Fi hotspots that Conner refers to are small devices that connect to the cellular phone data system and create a short-range Wi-Fi signal, which gives people nearby access to the internet. The term hotspot is used to describe both the device and the signal it creates. Students can connect to these hotspots with their phones, tablets or laptops.
Shortages of Equipment
However, high demand from schools across the country has created shortages of hotspots and other devices. Conner describes a time when the DOE told a vendor it was ready to purchase 13,000 Chromebook laptop computers. The computers were available at the time, but the very next day, only 2,500 were left. The DOE ordered Chromebooks in June to distribute to students, but by September they still hadn't arrived.
"It's not just Chromebooks," Conner says. "We're starting to see (shortages) with Windows laptops, we're starting to see that a little bit with some vendors with Wi-Fi hotspots."
Yoshimi says UH is waiting for a back order of 100 hotspots for students. Even when they arrive, hotspots are an imperfect solution. For example, they don't work in rural areas that have no cell service, and they don't always have the capacity to serve a full-time student.
"The best internet … (for students) shouldn't be at Starbucks. It should be in a free community space." –Sarah "Mili" Milianta-Laffin, Teacher, 'Ilima Intermediate School
"When you think about a hotspot, what it's designed to do, it's kind of an older technology. It was kind of before Zoom, and before these broadband calls, and it's meant to be a stopgap if you have to use it, but it's not meant to be a 9-to-5 device," explains Milianta-Laffin, the 'Ewa Beach teacher. "Also, when you hit a certain data threshold, whatever plan was put on them, there is the risk of data caps or not being able to keep transmitting at a certain level."
The DOE and educators had also been encouraging families to sign up for free and discounted cable packages, but those come with installation fees and credit checks. Milianta-Laffin says the packages aren't viable options for some of her students: "It was just not what families have."
The last resort for many schools seems to either be allowing a limited number of students to come to school in person, or sending home paper packets. Yoshimi says UH Mānoa has kept its outdoor campus space open so students and teachers can use the Wi-Fi outside. UH has also kept limited computer lab space available to students.
Christopher Sanita, principal of Hāna High and Elementary, describes a "cafe learning hub," where students can get dropped off at school to do their work. For students who don't have Wi-Fi and aren't comfortable being on campus during the pandemic, his school has distributed paper packets.
However, these might not be sustainable solutions. If coronavirus cases rise, even the cafe learning hub might not be a safe option, and paper packets alone are not the same as teacher-led instruction.
Long-Term Thinking
Miyashiro of HawaiiKidsCan says Hawai'i eventually needs to turn from crisis mode to find some long-term internet access solutions. "Mid-March, when everything was shutting down, Hawai'i was just this boat that's taking on water, and all anybody could do is pick up a bucket and throw the water out of the boat," he says.
"But at some point, we have to be able to step back and say, 'OK, we can keep doing that. But we also need to try to figure out what is the root cause of this leak.'
"The DOE doesn't have the answers, yet. Conner, the DOE's chief information officer, says: "What are we going to do next school year? We don't have answers for that yet, but we're trying to figure that out, and work with our partners, both in other agencies, and the Legislature, and the private field, and whatnot."
Conner agrees, however, that fundamental change is needed. "The proverbial cat is out of the bag in terms of distance learning and technology as part of your daily experience…. So we're going to need to rebuild our structure."
Milianta-Laffin believes disparities in Wi-Fi access need to be addressed through public policy, with all hands on deck. She wants everyone to have a say in the matter. "Sen. Elizabeth Warren says, 'If you don't have a seat at the table, you're probably on the menu,' " she says, referring to the senior U.S. senator from Massachusetts.
"So without a seat for teachers, parents, and students, corporations get to decide how connected our students ultimately are. The best internet, like I said, shouldn't be at Starbucks. It should be in a free community space."