Today's Shidler Students: Different Experiences, Difficult Choices, Distinct Expectations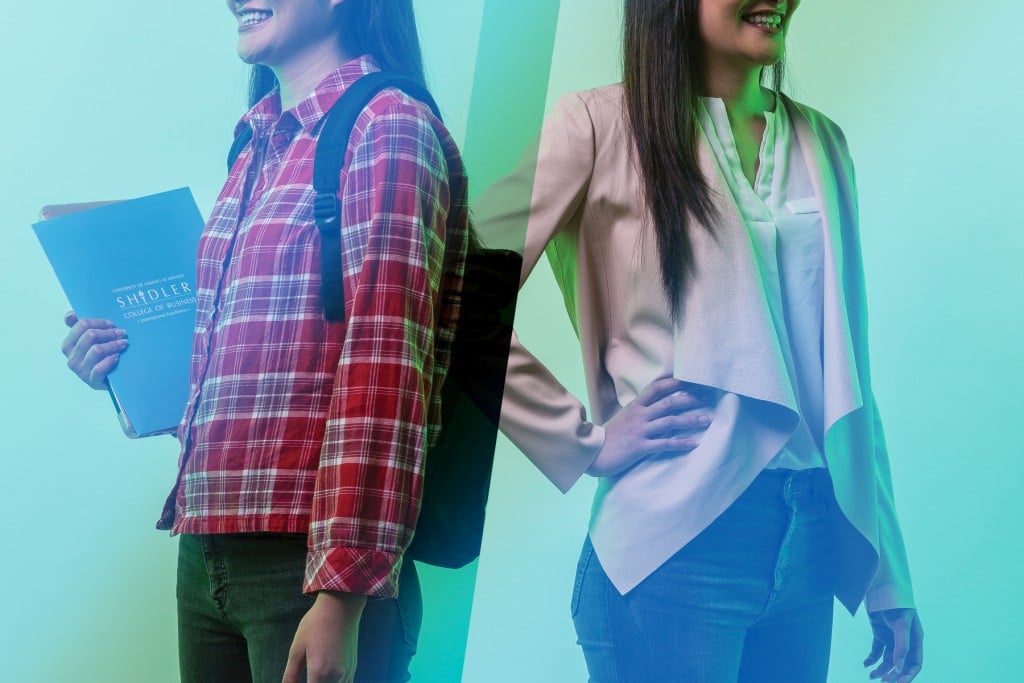 Business is now the leading college major in America, with more than 300,000 bachelor's degrees in business conferred in 2015-16, according to the National Center for Education Statistics.
Students at the Shidler College of Business comprise 8.5 percent of the total student population at UH Manoa, roughly 1,500 students.
In a generation, a lot has changed at Shidler, including what is taught. But longtime professors say their teaching methods and learning format have changed even more than the curricula. "Part of it is that students have changed over time. But also I've changed over time," says Dr. Jack Suyderhoud, a recently retired professor emeritus of business economics and director of the MBA program who still teaches part-time.
Suyderhoud's format has shifted over the last 10 years from lecture only to project-based learning. Rather than lecturing three days a week as he did in the past, Suyderhoud would lecture only once a week and assign more group projects during class periods. "I'm much more interactive than I used to be," he says.
Keeping students focused today can be a challenge, especially as mobile phones and laptops vie for their attention. "They now have that technology that allows them to be distracted easily. You have to work harder to keep their attention and figure out ways to engage them," says Suyderhoud.
Dana Alden, chair of the marketing program at Shidler, decided to go with the flow, not fight it. "I learned the hard way," he admits. "I said no computers and no cellphones. We're going to have interaction but it's all going to be mediated through me and that's just not the way it works with them."
Alden changed strategies by posting syllabuses, readings and even textbooks on Laulima, the UH online learning and collaboration system. From Laulima, students can take quizzes and access simulations, and teaching can be geared toward collaboration rather than memorizing facts and regurgitating them in comprehensive exams.
"I'm your coach. I'm not your great renowned professor, and we're going to make our team better together and I'm going to coach you, but you're going to have to get out there and play," Alden says.
The goal is to prepare students for the "real world."
"We have such a short time to get these people ready to go out and work," Alden says. He gives students time tested models and approaches to solving problems to cut down their error rates so they have tools for their jobs. Internships and networking events familiarize students with the business world outside of academia.
"There was a sense back in the '90s that you could really only learn stuff out there in the real world and you couldn't really learn much of value in school," says Alden. "But I think that's changed." The ideal now is to integrate real-world experience and business school theory. "At the end of the day, it's about how much these people learn and then are able to use what they learned in the job."
Opportunities and Options
With Hawaii unemployment around 2 percent, Shidler's graduates can often pick from different offers and maybe even hold out for higher wages than their initial offers, Suyderhoud says. Employers are always looking for good problem solvers and communicators, he says.
"That's been a constant theme over the 40 years that I've been teaching. What is not constant is the job market itself. There are times when it's really good like now, and there are times when it's really sucked." That was the case 10 years ago, in the middle of the Great Recession, when new BBAs would be lucky to get a job interview in their preferred field.
Graduating students today face a choice that may be even more difficult than which career field to enter: where to live. A 2018 report from the federal Department of Housing and Urban Development caps "low income" for a single person in Honolulu at $65,350 – a person making less than that is eligible for affordable housing and rent subsidies. That's considered low income because of our high cost of living. Meanwhile, median per capita income on O'ahu is just $32,192.
That math persuades some Shidler grads to start their careers elsewhere before returning home. "I would say the trend is more people want to live and work here," says Jacob Baysa, a senior at Shidler planning a career in public accounting. "I want to do that too. But for me, I want to start my career on the Mainland. But I definitely call Hawaii home so eventually I think everyone's plan generally is to eventually work back in Hawaii and raise your family here."
But leaving Hawaii to return later carries risks, says Shidler alumnus Ross Murakami, a 2009 recipient of Shidler's Hall of Honors award and a partner at the local accounting and business consulting firm KMH LLP. "If you look at someone who has worked for five years in a public accounting firm in Hawaii, the network they've created in five years versus someone who has gone away for the same five years, they have no network. So it's just that much harder," says Murakami.
"However, a smart person could compensate for the smaller network with added know-how. The experience that you gain from being away has significant value also, so you have to just weigh the different opportunities," he says.
Many Millennials draw an important distinction between their long-term careers and any particular job. Kelli Sunabe is a 2018 Shidler graduate who studied fashion design and merchandising and whose overall career goal is to improve labor conditions in the fashion industry. "I feel like careers are seen much differently from a job. The career becomes something you're passionate about and that's why you pursue it, not just a job to get by," says Sunabe. "For me, having purpose in your job relates to a purpose in life."
A 2016 report from Gallup, "Paycheck or Purpose: What Drives Millennials?" says that, despite financial challenges, Millennials tend to place personal growth ahead of pay when searching for jobs. Among other things, the Gallup report says they care highly about opportunities to learn, the quality of their manager and being interested in the work they do.
Global MBA student David McCleary says salary is only part of his job choice considerations. "A big part of it is understanding what impact I'm making through my work and what impact is that company trying to make?" says McCleary. "What is their vision and what is their mission?"
He says Millennials' loyalty to a company will be much higher if their core values and lifestyles align with their place of work. In a way, job hunting for young professionals means not only impressing potential employers but discovering whether the company is a good fit. "It's a two-part thing," McCleary says. "It's understanding what a company is about but first you have to understand what you're about."
Baysa plans to become a public accountant. For him, having goals and expectations for an ideal workplace is essential. "The first thing I look for when I'm looking at a company is do I fit with the people? That cultural fit to me is the most important thing because these are the people I'm going to be working with regardless of what I'm doing," Baysa says.
He acknowledges that his impact on a company won't be immediate. "I know that also comes with time. There's a learning process that you have to go through with the training." The results of a job well done are not always apparent, especially in the first few years. Depending on the profession, it can take even longer to see the payoff beyond the paychecks.
Murakami advises young professionals to be patient about finding purpose in the day-to-day grind. "Certain professions, certain types of jobs, you see the social benefit a lot clearer. Other positions it's not that clear. But the more skilled you are, the more experience you get, the more of a difference you can make," he says.
Millennials, like everyone else, have to pay their dues. "Going into a demanding career is going to require sacrifice," Murakami says. "I look at life with three legs: You have your home life, you have your friends and you have your profession. At any one time, it's never going to be even."
Adding Something New
Millennials know they must prove themselves. McCleary foresees growing pains. Sunabe anticipates tough choices: "You have to formulate your own opinion and figure out how you're going to contribute to either making it better or following status quo."
Millennials grew up during the digital revolution and companies value tech savviness. In January, LinkedIn surveyed the top 10 hard skills that employers were looking for in 2018. Not surprisingly, all 10 involved technology or digital data management.
Despite the stereotype that Millennials are "self-entitled," many gratefully attribute their opportunities to the hard work of their predecessors. Shidler alumna Cassandra-Joy Ecraela graduated in 2016 and now works as a provider recruitment assistant at Hawaii Permanente Medical Group. Ecraela credits her parents for getting her where she is today.
"Their hard work and stability gave me the opportunity and the good fortune to explore different things, to feel like I could do a different path," says Ecraela. "I'm first generation here, and because of my parents' hard work and their sacrifice, I'm able to do something new."
Baysa, who is studying six business concentrations in preparation for the certified public accountant exam, acknowledges his parents for his motivation to learn. "They always said do whatever you're interested in and what you like," he says.
Murakami says the young generation provides an opportunity for everyone to adapt. "We're constantly changing. You have to change and so will they."
At some point, Millennials will be the leaders in the workforce and eventually pass down their knowledge to the next generation. "It's very Darwinian," Murakami says.
Alden, the marketing professor, describes his students as capable, interesting and knowledgeable. "I still see the optimism, I still see the wide-eyed enthusiasm for getting out there and making it happen, whatever that may be," he says. Although he is aware of the pressure on Millennials to be successful, Alden is confident his students will make it through today's challenges. "Overall, I think we're going to get through it and be fine, I really do. I'm excited about the new generation."