Top 250: Inside The Bottom Line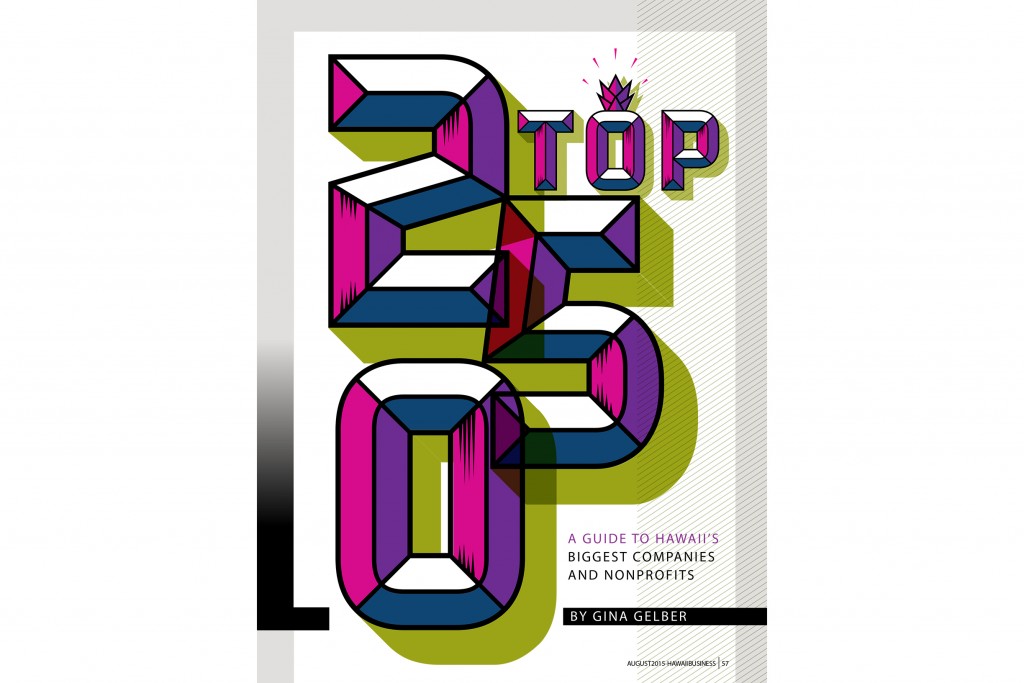 Hawaii Business launched the list of Hawaii's Most Profitable Companies in 2011 to add another dimension to the Top 250 list. We use the "top line" of gross sales to rank our Top 250. But the top line won't stay strong for long if profit, the "bottom line," is weak. That's why it's important to report on the Most Profitable Companies each year.
Log in to view the list. Not Subscribed? Sign up here.
We can find the 2014 profit or loss for publicly traded or regulated companies from public records such as SEC filings. But privately held companies present a bigger challenge: They are sometimes reluctant to reveal the size of their profit or loss. Fortunately, some privately held companies were confident enough to submit their information to us this year. We salute you. To those who didn't submit figures, we invite you to participate in the profit survey next year when we collect data for the Top 250 list. Email us at feedback@hawaiibusiness.com.
Here are highlights from this year's list of Most Profitable Companies:
Staying Power
First Hawaiian Bank has ranked No. 1 as the state's most profitable company ever since the list's inception in 2011. This year, the bank posted net profit of $226.3 million – an impressive 33.4 percent of overall revenue. To put it in perspective, First Hawaiian has a $58 million lead in profit over the second most profitable company in the state, Hawaiian Electric Industries, Inc., which tallied a net profit of $168 million.
Bob Harrison, First Hawaiian's chairman and CEO, says he's not fixated on the bank's profits. "To tell you the truth, the concerns on my mind are mostly about providing strong services to our clients and doing right by our employees," he says. "The rest will follow."
One measure that Harrison watches carefully is the bank's return on assets. During the first quarter of 2015, First Hawaiian produced a 1.32 percent return on assets; the average among its national peers was .99 percent.
Insurance Leader
First Insurance Co. of Hawaii Ltd. recorded $18.9 million in net revenue in 2014, making it the highest ranked insurance company on the Most Profitable list.
"We are not resting on our laurels," says Stephen Tabussi, senior VP of underwriting and marketing, adding that the company is constantly looking for ways to drive down costs and gain efficiencies. "We want to be profitable without affecting our product or prices," he says.
Blockbuster Effect
Pharmacare Hawaii Inc. started by providing home-based intravenous infusion treatments to patients in 1983 and quickly carved a lucrative niche by distributing high-priced blockbuster drugs locally. This year, Pharmacare tallied a net profit of $2.3 million.
"We do much more than dispense medications," says Byron Yoshino, president and CEO. "We help ensure that patients take the medications correctly to achieve the intended results."
Pharmacare's success is due in part to the FDA's recent approval of several revolutionary hepatitis C drugs, which can eradicate the disease with minimal side effects. "There had been a lot of anticipation in the market for these drugs, so when they came out there was a lot of demand," Yoshio says. The price tag for the drugs starts around $100,000.
The Turnaround
Barnwell Industries Inc. posted a profit of $672,000 in 2014, in stark contrast to the $8.5 million dollar loss the previous year. The company got its start with geothermal exploration in the 1980s, according to Russell Gifford, executive VP and CFO. It has since diversified into other areas, such as water well drilling, which he says powered its turnaround this time.
The Ship is Sailing In
Alexander & Baldwin Inc. is bearing the fruits of two long-term projects: its full integration of the Grace Pacific construction company and the sale of its luxury real estate portfolio on Kahala Avenue. The company posted net profits of $61.4 million – nearly 11 percent of total revenue. Stan Kuriyama, A&B's chairman & CEO, says the company's leasing business generated a 12 percent increase in net operating income, primarily from Hawaii commercial properties.

MANY FACTORS CAN make a company rise or fall on the Top 250. This year, a merger helped carry one company from 138th place all the way to 21st. In one booming industry, all sorts of companies climbed higher on the Top 250, while in a related sector, companies fell because regulations and an 800-pound gorilla blocked their path. Here are the stories about the biggest gains and declines on this year's Top 250.
We can find the 2014 profit or loss for publicly traded or regulated companies from public records such as SEC filings. But privately held companies present a bigger challenge: They are sometimes reluctant to reveal the size of their profit or loss.
Soon to be De-Throned?
Hawaiian Electric Industries this year held the No. 1 spot for the fifth straight year, with HMSA as the runner-up in each of those five years. But HEI's reign atop the 250 may soon end. NextEra Energy's proposed acquisition will unbundle one of HEI's most prized assets: American Savings Bank. The takeover likely won't be completed this year, so it won't affect the Top 250 list next year, but a takeover early in 2016 would have an impact on 2017's Top 250 list.
"If approved, our proposed merger and bank spin-off can unlock the value of two strong local companies, with both continuing to be among the leading institutions here in Hawaii and each having its own place on the Top 250 list," says Connie Lau, HEI President & CEO and chairman of the boards of Hawaiian Electric Co. and American Savings Bank.
ASB contributed approximately $252 million to HEI's total gross sales of $3.2 billion in last year's list. HMSA recorded gross sales of 2.8 billion. Meanwhile, HEI's gross sales have been essentially flat since 2011, while HMSA's total has grown, though somewhat erratically. It remains to be seen whether HMSA can snag the title of being Hawaii's No. 1 company in a few years.
Merger Boost
One figure that immediately caught our attention in this year's Top 250 list was the whopping 760 percent increase in gross income for AHR Hospitality Partners, Inc., owner of Aston Hotels & Resorts and Aqua Hospitality*. The meteoric rise is because parent company AHR decided to combine the gross sales of these two subsidiaries for the first time. AHR is now one of the highest ranked hospitality companies on the list, moving up 117 spots to No. 21.
AHR Hospitality announced its acquisition of Aqua in late 2013. Since then, Aston and Aqua have been consolidating back office operations and developing economies of scale, according to Bart Santiago, VP of finance. In August, the parent company will formally launch a new branding strategy.
Construction Heats Up
This year's Top 250 list had an incessant refrain: everything that real estate touches turns to gold. Most companies, whether construction, design or sales – even if tangentially associated with real estate – had a booming year.
Three of the top performers are Kiewit Corp., Albert C. Kobayashi Inc. and Swinerton Builders, which tallied increases in gross sales increases of 77 percent, 52 percent and 46 percent, respectively.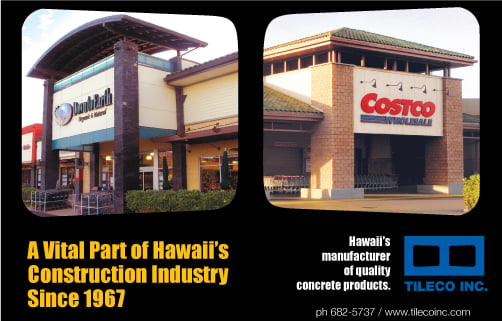 George Ehara, VP and division manager at Swinerton, credits the company's success to its discipline in the volume of projects that it chooses. "We are trying not to grow too big too fast," he says. "Our size is by design." He says that working on marquee projects, such as the Hawaii Pacific University's $50 million dormitory and retail property development at the Aloha Tower Marketplace, has been very exciting. "We are not striving to be the biggest," Ehara says. "What we want is longevity." Approximately 20 percent of Swinerton's projects are from repeat clients, he says.
Kobayashi's president and CEO, Russell Young, explains that while his company is currently riding the market boom, it is trying to insulate itself from a cyclic market downturn by not biting off more than it can chew. "So many projects are coming our way that we are having to turn down work," he says. "There is no doubt that our industry is riding a high now, but things can change quickly."
Big Milestone
The Queen's Health Systems broke the $1 billion mark in gross sales for the first time, according to Robert Nobriga, Executive VP and CFO. "We are very excited about this major accomplishment," he says. He attributes the growth to Queen's acquisition of North Hawaii Community Hospital and the expansion of The Queen's Medical Center – West Oahu campus, which officially opened in May 2014.
A Brighter Day on the Way
Regulatory uncertainty and HEI's resistance took a toll on Hawaii's solar energy sector last year – and that was reflected in our Top 250 list. Companies that had shown robust growth for years either dropped in the rankings or didn't make it onto the list at all. Some companies abstained from providing data to HB because they felt their numbers were too lackluster for public consumption.
But the Public Utilities Commission's support for renewable-energy-integration in Hawaii seems to have reversed the industry's fortunes. "2014 was rough," says Eric Carlson, chief innovations officer at RevoluSun LLC. He says, however, that within the first six months of this year, the company had already exceeded gross sales from all of 2014.
Hawaii Energy Connection also has a more favorable outlook. "We are seeing a major surge in residential and commercial activity," says CFO Neil Osato. Nevertheless, the company is diversifying so it doesn't face he same problem again. It has launched operations in New York and diversified into products such as its solar hot water systems, which do not require connection to the grid.
THE Fat Lady has Sung
Aloha Petroleum Ltd., a steady participant in the Top 250 list, didn't submit data this year. "We decided not to participate because we are no longer an independent company," says CFO Tom Grimes. Sunoco LP completed the acquisition of Aloha Petroleum in December.
It was not an easy decision. "We had gotten the usual branding benefits and attended useful events that were associated with the list," he says. "But, in the end, we did not participate."
Aloha Petroleum had been a top 15 company since 2010. Last year, with gross revenue of $767 million, it was ranked No. 10.
Two other companies that exited the Top 250 list are Minit Stop Holdings LLC and Maui Petroleum – also because of consolidation. Both are now subsidiaries of Hawaii Petroleum, which jumped 28 spots to number 48 in the Top 250. In last year's list, Minit reported $67.2 million in gross sales and ranked 109. Meanwhile, Maui Petroleum grossed $71.1 million and ranked 102.
*Post publishing of the list, AHR Hospitality Partners, Inc., informed HB magazine that due to differing accounting procedures between its subsidiaries, the figures it submitted for 2013 were not an accurate reflection of total room revenue. The correct figure is $218,449,363 for 2013 gross annual sales–not the $46 million that was submitted to HB. With these figures, the percent change in gross sales is actually 83.8 percent, versus 760.5 percent, and AHR Hospitality drops to number three on the list of biggest gains.
METHODOLOGY
WELCOME TO THE Hawaii Business Top 250, which has highlighted the state's biggest companies for 31 years. Our ranking tool is gross sales, a key indicator of market dominance and influence. However, the list also includes net profit, the number of full time employees and the names of key executives to help readers better understand Hawaii's business elite.
To assemble the list, we tap into a variety of public records or self-reported data from the companies themselves. Nevertheless, some companies with large local presences do not appear on the list for a host of reasons, including:
• Their U.S. or international parent did not provide separate data for Hawaii operations.
• The company is Hawaii-owned, but is privately held and declined to disclose its annual gross sales.
Collecting the Data
Each January, Hawaii Business researchers lay the groundwork by delving into annual reports, databases, referrals and previous Top 250 lists.
HB researchers also use public sources such as filings with the federal Securities and Exchange Commission, federal tax forms 990 and current investor relation reports. When these documents were not available, our researchers surveyed the companies directly and asked for self-reported financial data.
Businesses are asked to use generally accepted accounting principles for their industries in calculating gross sales for 2014. If questions about GAAP arose, we relied on the expertise of the accounting firm Accuity LLP.
Nonprofits reported their total annual revenue. Depending on the organization, this might include contributions, funding for services or proceeds from activities that support the nonprofit's mission.
Our Definitions
Rank: Companies and nonprofits are ranked by total gross sales. Some companies are tied based on the data we collected; others may appear tied, but are not because their annual gross sales have been rounded.
Gross sales: We use the latest available annual revenue for each company's local operations and its subsidiaries. Calendar-year revenue for 2014 is requested, but fiscal-year revenue is reported if calendar-year information is not readily available. For companies headquartered in Hawaii, sales reflect the revenue of the company and its subsidiaries worldwide. For a company whose parent is based outside of Hawaii, revenue reflects Hawaii sales only.
Employees: In most cases, the figure reflects full-time employees only.
Parent company: This refers to the parent of the ranked company. Each company surveyed was asked to identify its ultimate parent company and its headquarters location.
Should Your Company Be in the Top 250? If your company would like to be considered for next year's Top 250, email feedback@hawaiibusiness.com or call 534-7526.