Two Maui Watermen Unleash the Foilboard
GoFoil's innovative products take surfers to new heights – literally – without being tethered to a kite or sail.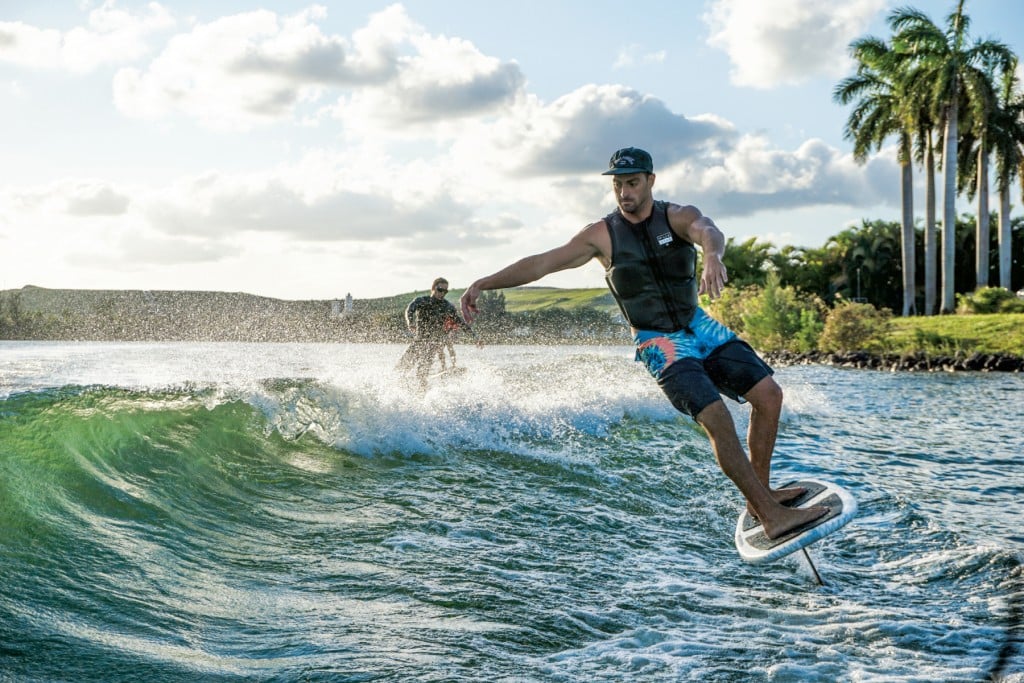 Foilboarding has been around for nearly a decade, but it took a conversation between two Maui watermen for the technology to truly take off.
A hydrofoil wing – shaped almost like a miniature Cessna aircraft, with two large metal wings in front and tail wings in the back – is the underwater element. It's attached by a sleek metal mast to a surfboard, paddleboard or kiteboard, which actually rides above the water – not on the water like other boards.
The first time you see a foilboarder riding above the ocean, it seems almost miraculous. All foils harness the forward energy of an ocean swell to keep the board a few feet above the water.
But for most of its life, foiling's popularity has been limited. Like kiteboarding and parasailing, a proper liftoff required more energy than ocean swells provide, which meant using a kite or sail to gain additional speed from the wind. Some early foilers would even get towed behind a boat. But that all changed when an ex-pro windsurfer and a Maui-born watersports phenom joined forces.
"What I did was, I made it so you could foil using human power and the ocean as your engine," says Alex Aguera.
"You can paddle in, stand up and surf."
Originally from Florida, Aguera, 59, has been living on Maui since his teens, when he decided to become a pro windsurfer. Since then he's competed on the windsurfing and kitesurfing professional tours, and more recently, reinvented the foilboard. By making the sport more accessible to everyday surfers, Aguera helped usher in a wave of foilboarding in Hawai'i and around the world.
The sport's "power solution" stemmed from a conversation Aguera had with Maui-born waterman Kai Lenny – who, at age 28, has already accomplished more than most as a big-wave surfer, stand-up paddleboarder, kitesurfer and windsurfer. Lenny knew Aguera had been foiling via kite for years, and that he'd even started his own kite-foiling company, GoFoil, but wanted him to make a foilboard that could be ridden without a kite or tow boat. Lenny wanted to fly using the ocean as his engine.
Aguera went to work, taking a kiteboarding foil and making countless adjustments to the equipment's thickness and shape for weeks before coming up with a finished product. It was an entirely new type of foil – stable and strong enough to more fully harness the ocean's power.
"Finally I had enough, so I called up Kai to ride it, but he was on his way to Europe," says Aguera, "so I decided to try it."
After numerous wipeouts and a few near decapitations, Aguera spotted a flaw in his design. The mast, which connects the board to the foil, was far longer than it needed to be, providing the rider with too much lift. "So I went back to my shop and cut the mast in half," says Aguera, "and the next day I take it out to Kanahā (Beach Park) and I'm, like, 'Whoa, I'm doing it!' "
After Lenny returned to Maui, he quickly picked up foilboarding and began understanding its complexities in record time. "When I first saw him foil I thought, 'Oh my God, what is he doing?' He's all over the place," says Aguera. "He went in front of the peak, across the peak, to the other side of the wave and back."
Before the invention of Aguera's modern foil, regular surfers were forced to stick to the "pocket" of the wave – where the wave peaks and breaks – to maintain speed and energy, but Lenny quickly found that the foil could take him wherever he pleased, as long as there was a pulse of swell below him catching the foil.
Then came the video. It's no understatement to say that social media can make or break a business in modern times, and a single Facebook post on Lenny's account – showcasing him up and riding off the coast of Maui (fb.watch/4rp-0WqjQS) – garnered millions of views in days. And that was all it took for Aguera to understand that his modern foil could be so much more than just a pet project. Going into business with his two brothers-in-law, who now help to manage GoFoil's factory in China, the trio have been pumping out foils at an ever-accelerating rate.
"We're jumping all in with building boards and wings now and we've got distributors worldwide," says Aguera, who lives in Hai'kū. "I'm driving around Maui and now I see foils all over the place, and I never would have thought that was going to happen."
Aguera is now focused on staying ahead of the curve, one he helped create. "It's really hard to keep up," he says. "You're the originator and the inventor of this whole new aspect of foiling, but you've got to get yourself out in front of the other guys because everybody's nipping at your heels."
To separate GoFoil from the competition, Aguera is focusing on the "winging" aspect of foiling, where foilboarders use a small hand-held kite to generate even more speed than what a normal, wingless foil provides.
Surfers are not big on change, so the speed at which they are ditching their old boards for foils shows how appealing foilboarding is. Maybe it's the ability to get away from crowded breaks and enjoy the ocean alone. Or it could just be fun to go fast. Aguera has his own ideas.
"There's something about humans and flight. They like to fly. And there's this sensation you get when you come up out of the water that you're flying. It gets quiet, you're above the water zooming along and it's a whole new feeling. And people really gravitate toward that."
---
How to Get Started
If you are a surfer, paddleboarder or kitesurfer and want to try a foilboard, here are tips from Alex Aguera:
"It's best to use a shorter mast when first learning to foil, so you don't go too high out of the water."
"When regular surf foiling, which we call 'prone' in the foil community, and also SUP foiling, start in knee high waves. Rolling white water is the easiest to learn in, since it will push you and help you get moving. Steep drops are not what you want when you are first learning to foil!"
"Remember that foiling is a front-leg sport, so put lots of weight on your front leg to hold the foil down."