Voluntourism in Hawaiʻi
The opportunities for tourists to volunteer are growing along with the demand for those opportunities. From beach cleanups to cultural exchanges, forest conservation to farm stays, visitors are looking for experiences that are authentic, intimate and altruistic.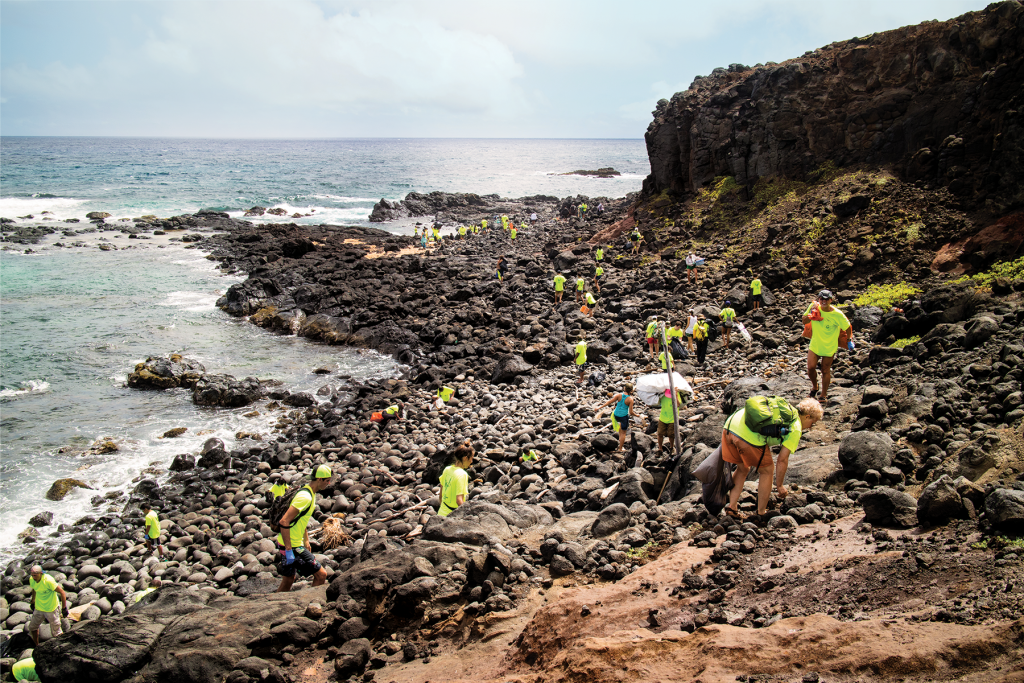 The trek starts at Hawaii Volcanoes National Park in the early morning. Before the sun has risen enough to kick tropical temperatures into high gear, a crew of 15 heads to a remote part of the rainforest that most tourists will never see. They gradually climb 400 feet while walking through a verdant jungle atop an active volcano.
Forty minutes later, the group stops alongside a monstrous tangle of Himalayan ginger that's slowly choking out the native flora. They spend an hour doing valuable maintenance by removing bundles of the invasive plants, leaving the aina a little better than it was, and then head back down the mountain, past native ohelo berries and nodding, indigenous ferns. They got their hands dirty and made a difference while working with people they probably had never met before, from all parts of the world.
Do-good Day Trips
It's different from the typical tourist itinerary, but more and more travelers are seeking "voluntourism" experiences like this one led by conservationists Jane and Paul Fields.
Normally, the Fields work with Friends of Volcanoes National Park, advertising their conservation efforts at booths for folks who are already at the park and have a half-day to spare. Recently, though, they've partnered with travel2change, a Hawaiʻi based nonprofit that connects impact-minded tourists with volunteer options around the Islands, including cleanups, workdays and other activities.
It's about benefiting the community while meeting the demands of the modern traveler for local, authentic experiences that are doable and short-term. Travel2change allows travelers to give back to Hawaiʻi in bite-sized pieces.
"We don't want to pigeonhole ourselves into a volunteer on vacation program, because we feel that people who are inclined to do that are going to do it anyway," says board member Dusty Loffarelli. "We're looking for the everyday traveler and trying to inspire their behavior to be different while they're on-island.
"We have a lot of activities that are only an hour, and maybe a half-hour of that is the volunteering. Our premise is fun and impact. There's an ampersand in every activity, such as 'Hike above Waimea Valley & revive a native forest.' On the left side of the ampersand is the fun, and on the right side is the impact."
The tourists have a good time and help nonprofits, government agencies and companies create positive change in the social, economic and ecological spheres. "We let (those groups) define their mission and then we help them amplify it, because we're tapping into a market that they're not normally tapping into," explains Loffarelli.
Farm Friends
The Hawaii Agritourism Association has similar goals, from an agricultural perspective. The membership-based nonprofit aims to educate the consumer about the significance of farms, as well as help local farms connect with visitors to generate another revenue stream. That goal goes hand in hand with the larger mission of establishing Hawaiʻi's economic and food security, says project coordinator Pomai Weigert. When the community supports farms, and the farm owners understand how to engage with consumers in more meaningful ways, the system is stronger. Plus, she adds, reinforcing Hawaii's reputation as a place of specialty agriculture (whether that be coffee, chocolate, wine or something else) adds to its value as a global tourism hot spot.
"We're seeing this shift," says Weigert. "Hawaiʻi is no longer just for North America or Asia; it's a global destination. How do we compete on a global scale? You could take your family to the Caribbean cheaper and also get sand, surf and sea. So, Hawaiʻi itself has really used agriculture to diversify. We've been really branding a lot with our food and culture – and really, the root of food and culture is agriculture."
Weigert provides visitors with different experiences than travel2change does. Her audience is interested in long-term systemic change, immersive educational experiences and one-on-one connections with specific aspects of farming or agriculture. For that reason, she's often handling custom requests, connecting individuals with farms, and setting up one-on-one volunteer days for people interested in, say, turmeric, cattle, honey or tomatoes.
She gets requests from wannabe farmers hoping to learn about a crop in Hawaiʻi, or foreign farmers who want to know more about the efficacy of methods such as Korean natural farming. Weigert says the visitors want to learn from the experts in an ideal agricultural environment, then use that knowledge on their own farms, or move to Hawaii and learn to farm.
These custom one-on-one setups are more similar to the WWOOF-ing style of farm stays (Working Weekends on an Organic Farm) than to the regularly scheduled hour-long cleanups. It ends up being "basically whatever the farmer is doing that day," says Weigert with a laugh. "You're going to be a part of that life. That could mean we're preparing the field for a planting, but before we're preparing the field, we need to take out all the trash that is inside of the field. I think when people are coming to volunteer, they're not necessarily looking for nicety. People have a desire to give back, and/or learn. The overarching umbrella is definitely education."
Coastal Work
Katie Ziemann is the former manager of Sustainable Coastlines Hawaii's voluntourism program. She has noticed that the tourists who join in the nonprofit's workdays and programs are often looking for something extra: authenticity. "The ones that do get involved in voluntourism want to get involved in a local perspective, not just get pushed into the tourist traps," she explains. "(They want) something real, done with real people, and to see a side of people that isn't just Waikīkī."
Sustainable Coastlines Hawaii focuses on beach cleanups and recyclables-sorting events, education outreach and auxiliary programs like the weeklong voluntourism program that Ziemann ran in 2017. Each year, Sustainable Coastlines Hawaii coordinates six large-scale beach cleanups, along with a few other smaller ones that they host in partnership with other groups. The biggest cleanup takes place on Earth Day at Waimanalo Beach Park and attracted about 1,500 volunteers last year, says Ziemann. Large cleanups are the ideal time for visitors to join with eco-minded local people and see a different part of Hawaiʻi.
"[Tourists want] something real, done with real people, and to see a side of people that isn't just Waikīkī," – Katie Ziemann, Sustainable Coastlines Hawaii
The Sustainable Coastlines Hawaii voluntourism program was a week long and included multiple days of beach cleanups, workdays in a loi and restoration of a Hawaiian fishpond. While a huge hit with the participants, the organization has moved away from the program, focusing instead on coordinating its popular large-scale cleanups and funneling voluntourists into those efforts. They also work with visiting school groups. The nonprofit says these high-impact programs reach a lot of people at once – and clear a lot of trash.
Even more valuable than the trash removed is what people learn from the experience about coastlines and the global plastic pollution epidemic, says Ziemann. The trash on Hawaiʻi beaches arrives on the waves, from China, Japan, Mexico, the U.S. Mainland, Canada – you name it. We're all connected and, she explains, the cleanup days can be a striking visual way to drive that truth home.
"It's quite a contrast from what people expect or want to see, from the postcards or the calendar pictures of Hawaiʻi. There are beaches on our Windward Side that aren't as crowded as Waikiki (beaches) … beautiful sand, beautiful beaches, but just covered in trash. It's all ending up on our beaches because of where we're situated, because of the currents, the ocean, the wind," says Ziemann. "So we do have this situation happening that growing up on the Mainland, on a beach, you may not see the impact of all of this plastic in the ocean as much as we do here in Hawaiʻi."
"I think just learning from experience is more powerful. … You can't unsee it," says Ziemann. "Then people are inspired and want to be like: 'OK, what can I do?' I think that by doing beach cleanups, it can open people's eyes to (the fact that) they have the power to make changes."
Cultural Capital
Connection, education, authenticity. Ecological, social, cultural. The same concepts and terms keep popping up, and also come into play at Kākoʻo ʻŌiwi, a community-based nonprofit that seeks to perpetuate Hawaiian culture and cultivate the values of land stewardship. It sits on 405 acres of wetlands and holds large-scale community workdays in its lo'i, during which volunteers weed and clear invasive vegetation. Kākoʻo ʻŌiwi also hosts small groups, like volunteers from Patagonia who come to work on the farm and give back to the land. Experiences like these and other voluntourism endeavors, say program director Kahiau Wallace, are powerful ways to forge meaningful connections between travelers and locals.
Wallace says Kākoʻo ʻŌiwi and other organizations offer an exchange: a chance to turn a tropical vacation into a relationship with a community and a place. It's the difference, she says, between something two-dimensional and something with real meaning. A lot of that involves discovering the shared humanity between visitors and locals, whether that be through recognizing the ecological and environmental impact they have on each other, even from oceans away, or from taking the time to truly appreciate a place.
"Our responsibility is just to get people to fall in love with the land again," she explains, pointing out that Hawaiians themselves sailed the world, and understood the importance of connecting. It's the land, she says, that unites everyone, no matter their color or origin. The need to eat and drink are shared by all – the land, which provides those things, is the link between them.
Weighty lessons like those are what unite voluntourism activities, and what attracts travelers looking for something with more depth than a round-the-island tour or a lū'au performance. The tourists contribute to a better Hawaiʻi and gain insight in return – a trade that benefits both locals and visitors.
"I like that tourists get the opportunity to actually experience different spaces of Hawaiʻi – not just a walk through, but actually getting their hands dirty or experiencing the power of a space," says Wallace.
"Voluntourism is the opportunity to actually make a connection, understand why we love our space and why we do what we do." And, she adds, "I think it gives them a better memory of an experience of their trip. They always will have a connection with the space, even when they go home, because they gave part of themselves to that space."