Welcome to the Real World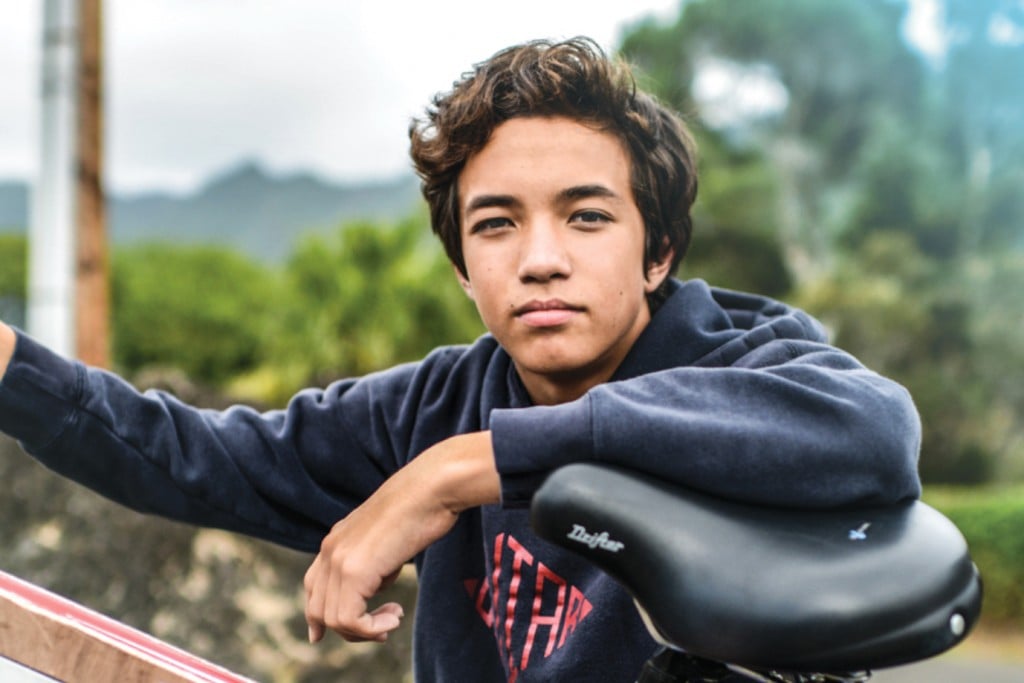 Today's assessments aren't just limited to bubble tests. There's also "authentic assessments," which require deeper, more innovative thinking from students. At Hakipuu Learning Center, authentic assessments take shape in the form of senior projects where each senior picks a topic, spends the year researching it, and defends what they've learned in front of the community.

CLICK HERE TO VIEW ON YOUTUBE [MOBILE]
---
Just about everyone has taken a standardized test.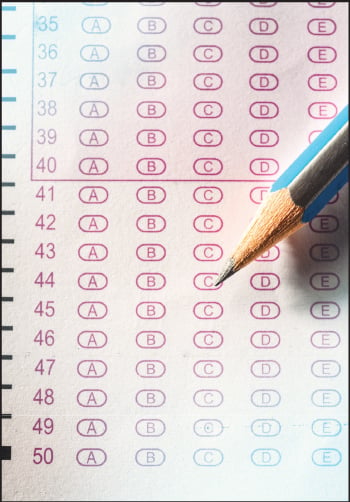 Adults will remember sitting among rows of desks, hunched over packets of multiple choice questions and a slim sheet with bubbles that had to be selectively filled with a No. 2 pencil.
The process evolved over time, but for the past decade, standardized tests have been the primary focus of schools locally and across the nation, thanks to a federal law that reprimanded schools if they failed to produce higher scores each year. That law is being phased out, and many educators hope school will teach more than just how to pass a bubble test.
Monica Stitt-Bergh, associate specialist in UH Manoa's Assessment Office, says: "Life is not a textbook. And if students only read the textbook, answer the questions in the textbook, we're not helping them prepare for the demands that society has for them, globally and locally."
Educators want students to apply the skills and concepts they're learning in class, and one way to do that is through "authentic assessments." Examples of such tests are science fairs, where students pick a project, develop it and defend their work; others include building an electric bicycle or creating a presentation on the impacts of colonization.
Advocates say authentic assessments require deeper thinking from students, teach them there's not always just one correct answer to a problem and force them to be innovative, critical thinkers. Some local schools already incorporate such tests – in addition to mandated state tests – but the time and work it takes to develop these authentic assessments present obstacles to schools that want to use them.
"Life is full of unstructured, open-ended problems," Stitt-Bergh says. "Faculty can set up these assignments so they are a safe way for students to try to find the answer to a difficult question that's meaningful to the community or meaningful to the workplace. And the students get practice in that before they are in real-life situations where the stakes are usually higher. Just like you want an airplane pilot to practice in a flight simulator, you want students to practice these challenging tasks while they're in school before they fly the plane."
MEASURING SUCCESS

Authentic assessments can begin with how success is measured as adults, says Jim Shon, executive director of the Hawaii Educational Policy Center at UH Manoa. For instance, he says, employers have these questions about employees: "Do they work well with others? Do they think out of the box enough? Are they just asking to be force-fed the next task, or are they making suggestions? Are they engaged? Can they learn stuff?"
Not all authentic assessments look the same. At Holomua Elementary School in Ewa Beach, Mitzie Higa asked her fifth-grade students whether they would inhabit a newly discovered island that already had people living on it. After learning about the 13 original colonies on the U.S. east coast, they had to create a presentation, weighing the pros and cons of colonization and using examples from history to communicate their understanding of what happened then and could happen today.
"I could give them a colonial test, but what does that really mean? Memorize places, dates. That's helpful in some ways. You've got to know your eras. But if you could apply that knowledge, because many times we're finding … people don't learn the lesson of history. The lesson is, 'Let's not make this mistake again,' " says Higa, who taught at Holomua until 2012. "So, they really have to understand the human impact on the environment, the human impact on other humans and how we can learn from this and make sure in the future we create a better world. And authentic assessments are all about that."
Darrel Galera, a retired high school principal, says one of the best examples of such assessments came in the form of the senior projects that students could complete to graduate with a special diploma in the late 2000s. Each student would choose a topic, partner with a community mentor, write a research paper and present the project to a panel of school and community judges.
Topics included leprosy on Molokai, school cooling systems, social causes and economics. Completing the project demonstrated the seniors were effective communicators, researchers and critical thinkers, and that they could work in the community. "They learned in so many ways, not only from the teachers and the people at the school, but so much from the community, from experts, like how to keep learning and keep moving forward in that area. Pretty powerful. You don't get that anymore from taking a test," Galera says.
He says many high schools stopped doing senior projects after the Board of Education changed its graduation requirements in 2011. Kalani High School kept theirs, principal Mitchell Otani says, because they pushed students out of their comfort zone to work with people in the community.
"When kids are engaged in real-life activities, they see a purpose to learning, they see a relation to what they learn and how they can apply what they learn to real-world experiences," he says. The school took a break from the projects this year, but next year, they'll be part of the school's new two-year Advanced Placement Capstone, a College Board program that aims to strengthen students' analytical and research skills.
WHY USE THEM?

Suzanne Mulcahy, assistant superintendent for the Office of Curriculum, Instruction and Student Support in the state Department of Education, says outside of the examples at Holomua Elementary and Kalani High School, she doesn't know how common it is for authentic assessments to be used at traditional public schools in place of standardized testing. On the other hand, Tammi Oyadomari-Chun, assistant superintendent for the Office of Strategy, Innovation and Performance, thinks many teachers use them as standard curriculum assessments in their classrooms, but to use them in place of standardized testing, the question is: To what extent are the assessments systemized across teachers and grades so there can be a common metric of success?
Authentic assessments take a lot of work to develop, which poses a challenge for schools that want to incorporate them yet keep up with the required state standardized tests, which are meant to give a snapshot of how students and schools statewide are performing. The No Child Left Behind Act of 2001 drove schools to ensure their students did well on standardized tests, lest they be labeled as failing schools.
Critics say the testing mandates forced many schools to focus their teaching on what would be on those tests – at the expense of a well-rounded education and independent thinking. Subjects like social studies, art, music, physical education and Hawaiian Studies were reduced or eliminated, says Corey Rosenlee, president of the Hawaii State Teachers Association.
"What are they training kids to do: That there's one correct answer to a problem, that you fill in a bubble for an answer? That's not what they're going to face in college, that's not what they're going to face in real life," he says.
Mulcahy says No Child Left Behind created a misconception: "People were so afraid of the status and the sanctions against them if they were 'a failing school,' that we kind of got involved in what I believe is a case of stinking thinking. Nowhere in that law did it say to stop teaching science, social studies, art, music, physical education."
FREEDOM AND INNOVATION

The federal No Child Left Behind law was replaced at the end of 2015 with the Every Student Succeeds Act, which allows states to decide how they determine whether a student is successful. However, Holomua Elementary and the high schools that offered senior projects proved it was possible to incorporate authentic assessments in public schools, even under the No Child Left Behind mandates.
Charlene Hoe, a resource specialist and administrative team member at Hakipuu Learning Center in Kaneohe, says charter schools have more autonomy to be innovative than traditional public schools. Hakipuu and 16 other Hawaiian-focused charters have taken advantage of that by working on a pilot program to develop culturally relevant assessments, which can take a variety of forms, including authentic assessments. The goal of the pilot program is to develop frameworks for schools to develop their own assessments.
Anna Winslow, principal of Kamaile Academy in Waianae, cites her school's senior portfolio defenses as an example of those tests. Toward the end of the school year, seniors must demonstrate their understanding of the grade level's core value of kuleana and reflect on how they found theirs during their academic journey, while also proving why they're ready to graduate – all in front of a panel of educators and community members.
Two independent schools, Mid-Pacific Institute and St. Andrew's Schools, say authentic assessments are common on their campuses because they're not required to follow the same federal and state testing mandates as public schools. "It's been incredibly freeing for us because we assess our kids very regularly using various types of assessments, but we don't have to spend a lot of time gearing up and preparing for these (state) tests that happen so many times throughout the school year. So we gain valuable instruction time," says Sophie Halliday, director of educational programs at St. Andrew's.
Billie Napoleon, a humanities teacher in the Mid-Pacific Exploratory Program, says ninth graders in her two language arts and history classes have done things like put on a puppet show for younger children to demonstrate they understood what an allegory was and, in the STEM component of the program, they've built electric bikes while learning about sustainability. "I think as a teacher that's the challenge … making sure how I assess these skills and asking, 'Is this an authentic way to do that?' "
NEW OPPORTUNITY

Hawaii is working to implement the federal Every Student Succeeds Act, and some educators see it as an opportunity to use more authentic assessments.
For example, the law permits up to seven states to apply for a pilot program where they can develop and administer "innovative assessments" – which include authentic assessments – in a group of districts to use for accountability reporting instead of the current state standardized tests. The goal is to learn from the pilot programs how to take innovative assessments statewide. Many Hawaii teachers want the state to apply for the pilot program, says Darrel Galera, who leads the governor's Every Student Succeeds Act team charged with creating a blueprint for public education.
At press time, Hawaii was still deciding whether it will apply, though the DOE already recommends that schools and teachers consider including innovative assessment practices on their own.
Concerns remain. Mulcahy says those concerns include how to pay for the extra work hours needed for educators to develop the authentic assessments and train for them. "We all are intrigued by it. We support authentic assessment. We're not sure how we would use it for 180,000 kids," she says.
Monica Stitt-Bergh in the UH Manoa Assessment Office says it can take a semester for a college-level academic program to design, implement and evaluate a new authentic assessment for, say, its senior capstone course. At Holomua Elementary, developing authentic assessments for certain aspects of reading, writing, science, math and social studies took eight years, says Mitzie Higa, who now works at Ewa Makai Middle School and is helping to develop such assessments there.
It's a lot of work to make sure everyone is on the same page doing authentic assessments so student progress can be measured, Mulcahy says. Plus, teachers come from different backgrounds and may have different degrees of understanding of how to assess students.
There's also the cost to consider. Scott Marion, executive director of the National Center for the Improvement of Educational Assessment, which helps states develop assessment and accountability programs and policies, says it can cost $1,500 to develop a single multiple-choice question for use on a state test, and $4,000 to $4,500 for an open-ended-response question. And questions have to go through numerous steps, with various levels of approval and field testing. He says a single authentic assessment developed for statewide accountability purposes would cost more – around $5,000 or $6,000 – because the requirements for technical quality are higher.
Marion was involved with New Hampshire's pilot performance assessment system, which now includes nine districts where students take local performance assessments in the years they're not required to take the state standardized tests. Local teachers created the questions and tasks; he says that makes developing assessments cheaper than if a state outsourced the work, though issues of teacher time and pay for substitutes arise.
No matter how authentic assessments are developed in Hawaii, there's a consensus using them more would boost the state's economy long term. Kathryn Au, a retired education professor who helped Holomua Elementary develop its authentic assessments, and who is now CEO of SchoolRise, a school-improvement company, says old tests helped prepare laborers for basic work on plantations and in hotels. Authentic assessments would prepare students for more complex, modern jobs.
There's a greater need for critical thinkers today, says Mid-Pacific Institute president Paul Turnbull, because simple jobs will be automated. "If you think about things that can be automated, it means they're systematic, they're routinized, there's not a lot of creative thinking that goes into them, and that entirely reflects standardized testing and bubble testing. It's just yes or no, do you know this answer? If you're talking about almost half the students who become adults, who didn't have exposure to critical thinking and all the authentic assessments out there, that doesn't bode well for the rest of the economy."