Space Wars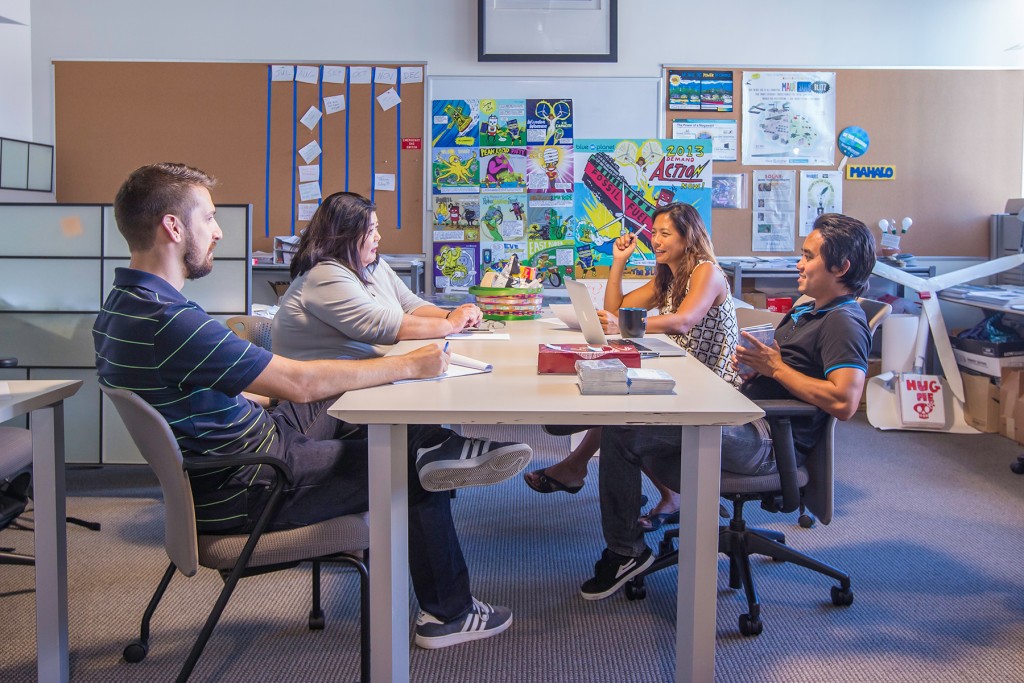 The most heated argument about modern offices pits the relative privacy of cubicles and offices versus collaborative nature of open workspaces
When the cubicle hit the furnishings market in 1967, it forever changed the landscape of office culture and the way we work. At the time, it was considered the tool for greater office efficiency.
By the 1990s, the satirical comic strip Dilbert was regularly earning laughter and nods of agreement by poking fun at the impersonal "cubicle farm," blaming the invention for helping stifle creativity and breed workplace dysfunction.
Today, many people see the cubicle – as well as its upscale older brother, the corner office – as passé as the fax machine. Instead, they tout the Google-inspired collaborative or open workspace as the best thing since PowerPoint.
It's not surprising that the suppliers of office furniture are trying to stay out of the dispute and offering to help create either type of environment. Linda Kano, president of Interior Showplace, a Kakaako office supplier, says one size does not fit all, as every organization has a different culture that helps shape which office layout is most appropriate.
"The workplace can help shape creative and engaged workers," says Kano. "(This is done by) considering a variety of places and spaces for groups and individuals to work, creating open space but also private spaces to think and focus."
Software entrepreneur Henk Rogers' business empire – Tetris Online, Blue Planet Software, Blue Planet Foundation and Blue Start-ups – is a perfect example of adapting workspaces to the type of work being done. All of the organizations are headquartered on the 17th floor of Harbor Court in downtown Honolulu, yet each has a slightly different layout.
Danny Han, marketing and PR manager for Blue Planet Software, the licensing agent for the Tetris brand, says BPS employees work in cubicles or offices.
"We're working with some top secret stuff," says Han, whose private office overlooks Honolulu Harbor. "In the world of video games and toys, you don't want information leaking out until it's ready to be unveiled. So offices with doors become necessities."
Meanwhile, the nonprofit Blue Planet Foundation, whose mission is to end the use of fossil fuels, has an open workspace. BPF's seven full-time staff members work at stations situated around a big table for impromptu "pow-wows," says communications director Catharine Lo, who firmly believes having a space unbounded by walls encourages creative, out-of-the-box thinking.
"We're always throwing funny quips back and forth, trying to one-up each other, and, once in awhile, the most ridiculous remarks turn into the best ideas ever," says Lo. "For example, once we were joking about having a crack squad of efficiency geeks who could go around and use a phone app to report places wasting energy. Among other names, we thought we could call the app, 'Rat 'em Out!' It didn't result in an app, but now it has become an easy meme that we all understand whenever we're referring to missed opportunities to save energy."
After much thought, Tetris Online also opted for an open workspace, both for easy collaboration and other reasons. "Cubicles are also an added cost and require more space," explains Casey Pelkey, VP of marketing. "We can put four desks in the same space where only three cubicles would fit. We reinvested the money we saved into ergonomic desks and chairs to make our employees as comfortable as possible."
In general, creative industries seem to gravitate toward the open concept and it's fitting that architectural firms lead the way as advocates of collaborative work environments.
At Architects Hawaii Ltd.'s new digs at Pacific Guardian Center, everyone from production, design, marketing and accounting sits in a modern, wraparound staff room surrounded by stunning ocean views.
Even president and CEO Bill Brizee can be found at a drafting table among his employees. He says he has no qualms about the arrangement, as he hasn't had an office since 1996, the year the firm got rid of barriers.
Sara Belczak, AHL's senior interior designer, spearheaded the workspace project and brought the entire staff together to collaborate on the space and design so there would be no surprises and to promote "buy-in" of the change.
"Open spaces are not a new phenomenon and it's popular on the mainland with Google and Facebook starting it all," she says. "With a lot of tech firms, it's either 'collaborate or die,' and these kinds of open bays promote communications between people, and that's so much more productive for projects."
The main criticism of open workspaces appears to be the lack of privacy, but AHL seeks to address that concern by including private project rooms along the interior. Even there, the open concept prevails as the rooms' walls are made of glass.
The rooms are also equipped to be converted into private offices, if needed. Each is furnished with a big-screen TV that can become a computer desktop, and a telephone that can quickly be programmed to the user's individual line. Interior walls serve as whiteboards.
Belczak says most downsides to having everyone working in a single room without walls can be remedied by tweaks in design, adding accessories and technology, or simply communicating with one another.
"For instance, we've discovered it's difficult to find a space to just have a private cell-phone conversation. Now, we have to go down to the lobby to do that. But there are furnishing solutions – these stylish phone booths that you can hang on the wall," says Belczak. "Also, we find that sometimes people talk loudly on their phones with the speaker on, so we have to gently educate folks about things like that."
Modern open offices like AHL's utilize "benching" arrangements where employees sit in rows or across from each other. There is usually a centralized common area, such as AHL's project-storage islands in the center of the workspace to reduce personal desktop clutter. AHL's LEED-certified office utilizes furniture meeting the LEED height requirement of 42 inches or less to maintain the view. Belczak says it's also the perfect height for team members to gather around to discuss projects, enhancing communication.
With its own textbook example of a collaborative workspace, AHL has created a business niche for itself by helping clients design their own open workspaces. Belczak believes most industries – including law, insurance and accounting – can benefit from some sort of open space, if not for team building, then for recruiting and retention.
"A lot of it is generational. Our younger, more tech-savvy workers will go where they feel more comfortable and, for the most part, it is this type of congenial, open concept and access to senior staff where they feel they can get the mentorship they need early in their careers," says Belczak.
That's not to say the older generation won't embrace the concept.
"There are four generations here. It may be a little more difficult for the older employees to accept this idea, as change is always difficult," Belczak explains. "But we've found that once everyone sees everyone in the same type of workstation, there's an improved camaraderie of the whole firm."
Architectural and construction project management firm Bowers + Kubota Consulting, headquartered in Waipahu, also put considerable thought and effort into its workspace design and came up with a hybrid solution combining private cubicles and offices with an open workspace.
"It depends on the duties of the individual whether a collaborative or private environment makes the most sense," says B+K president Brian Bowers. "I personally prefer an office because much of the work I do is private in nature, including confidential discussions with both team members and clients."
B+K's project team works in a semi-open office. Cubicle desks are on wheels to enable quick mobilization into a "roundtable" environment. The cubicles are open on two sides to maintain the "open office" feel, but each cubicle has a translucent sliding panel to provide privacy when needed.
Bowers says these cubicles provide less storage than regular cubicles, requiring staff to be more organized or suffer a cluttered desk. However, storage lockers along the perimeter walls can help workers reduce that problem.
A hybrid workspace is also the choice of PKF Pacific Hawaii, an accounting firm.
"We've found that giving each employee their own workspace, allowing for an area to collaborate in the middle and providing them with the best views in the office, offers a setup where they can be efficient and productive," explains partner Trisha Nomura. "When employees are happy with their physical space, it definitely impacts the way they work."
Nomura says the company put a lot of effort into planning the office layout and considered many factors, including cost, impact on employees and the ability to serve clients.
Other financial firms have rejected the open-space model and remain staunchly traditional. "We have offices and cubicles," says Alton Miyashiro, managing principal N&K CPAs, explaining that its more private environment works just fine and the company has no plans to change it.
"But we do have one section in our audit area that has lower-walled cubes," Miyashiro says. "We did this because our auditors work in teams, so the lower walls seemed to be better for communication."
Socialization
"With technology and email, employees in offices tend to become office 'hermits,' and don't come out to socialize or collaborate as often. Our marketing manager has a candy bowl in her office that brings employees into her office to 'talk story' and at the same time grab a snack (to get people to interact more)."
— Eric Tessem, Senior VP and GM, DCK Pacific Construction
Dilbert
---
Privacy
"It really depends on what you're doing. There are things I thought were very beneficial with open cubicles. But with some of the work I do now, it would be hard. I'm on the phone a lot with business partners and being able to shut the door is probably better for those outside my office so they don't have to listen to me."
— Danny Han, marketing and PR manager, Blue Planet Software Inc.
---
Teamwork
"In public accounting, every engagement involves a team. We try to provide an environment in the office that supports that effort and allows them to discuss ideas, ask questions and solve problems together."
— Trisha Nomura, Partner, PKF Pacific Hawaii LLP
---
On Distractions:
"One of the disadvantages (of an open office) is that it's more difficult to shut out what's happening at other people's desks – a phone call, a Skype chat, drive-by conversations, aggressive drumming on an electric drum set. For people like me who have a tendency toward procrastination, the temptation to participate in what someone else is doing is more powerful than the blinking cursor on my screen."
— Catharine Lo, communications director, Blue Planet Foundation
---
Recognition
"We see what each other does so we appreciate each other more. People who may have been hidden before, due to where they sat or because of their personality, now feel much more appreciated and valued for their work. That's priceless."
— Sara Belczak, Senior Interior Designer, Architects Hawaii Ltd.
---
Transparency
"Unions have been notoriously picked on as being … filled with corruption. Our intent was to show openness and transparency to both our members and the public. That's why we decided to incorporate sliding glass doors for our offices and low partitions which also allow us to collaborate more easily."
— Damien T.K. Kim, Business Manager/Financial Secretary, IBEW Local 1186
---
Morale:
"I've worked in an office and in a cubicle space. I am personally an extrovert and enjoy working right next to my colleagues and sharing information, ideas and an occasional laugh. As long as I'm near a window, I'm happy!"
— Katie Vanes, Assistant Account Executive, Becker Communications Inc.
Dilbert
---
Cost
"Sixty-five percent of the cost of standard cubicles is due to the panels. If you eliminate the panels, the cost decreases significantly for a workstation. Open spaces also give the office access to natural light which not only improves morale, but saves money on energy bills."
— Lester Ng, Senior Associate, Architects Hawaii Ltd.
---
On Collaboration:
"We have found that by giving each employee their own workspace, allowing for an area to collaborate in the middle, and providing the best views in the office, offers a set up where they can be efficient and productive. When employees are happy with their physical space, it impacts the way that they work."
—Trisha Nomura, Partner, PKF Pacific Hawaii LLP
---
Confidentiality
"As a firm, I think our hybrid solution works best because, depending on the duties of the individual, a collaborative or private environment makes the most sense. I personally prefer an office because much of the work I do is private in nature, including confidential discussions with both team members and clients."
— Brian Bowers, president, Bowers + Kubota Consulting
---
Thoughtful Design
"Space shapes our behaviors, so if organizations want to foster the types of behaviors that encourage growth, innovation and creativity, you have to invest in the spaces that do that. And that means creating a variety of places for people to work, some open plan and some private, quiet spaces for groups and individuals to focus."
—Linda Kano, president, Interior Showplace Ltd.