Women Helping Women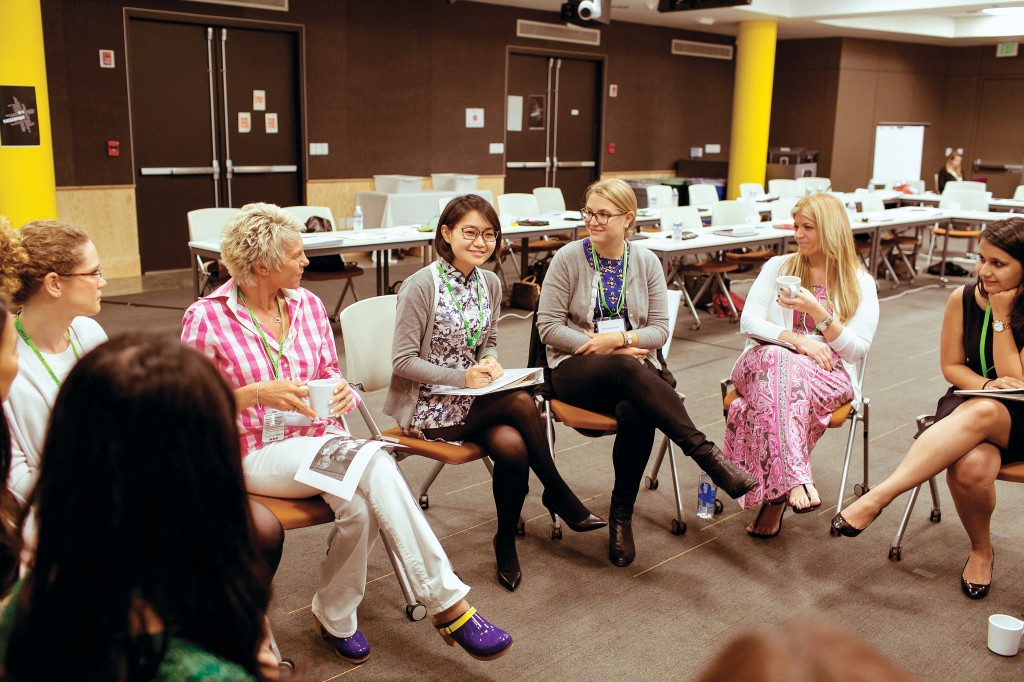 The leaders of Lean In Circles from across the world met in Palo Alto, California, to discuss ways to better guide their groups.
ONE GROUP CALLS calls itself the Crunch Brunch and these techies meet every other week in Kaka'ako though they all work for different organizations. Another is called Na Wahine Kuilima o Ka Leo Kamaehu and its members come from different professions but all work for the same company.
Both are Lean In Circles, the brainchild of Sheryl Sandberg, COO of Facebook, and first detailed in her book Lean In. The circles bring women together for mutual support and empowerment, and are often assembled by companies, industries, colleges, towns or by values.
The Circle of Starwood Hotels & Resorts in Hawaii is named Na Wahine Kuilima o Ka Leo Kamaehu, which means Women Moving Forward Together with One Voice of Strength. Members learn and grow with each other's support, says June Cappiello, the group's Kauai co-chair, whose day job is director of public relations at the Sheraton Kauai Resort and the Westin Princeville Ocean Resort Villas. The larger goal is to raise up more women leaders in Starwood, and the tools they use include educational videos and discussion manuals available on the Lean In Circles' website. Community service and participation in charities also foster members' connections. The group is very popular: It has 48 general members and five advisory board members, Cappiello says.
"I like that it's all women, since tech is a very male-dominated field."

— Ruby Menon, member of the lean in Circle called Crunch Brunch
A recent Kauai chapter meeting focused on "Communicating With Confidence." "The discussion was fruitful," Cappiello says. "It revealed some of our commonalities," which included anxiety over speaking in front of large groups and some habits that needed improvement. She says the meeting was part of a process that encourages "group members to continually evolve and grow as leaders."
Britney Taamu-Miyashiro, floor manager of BoxJelly, a co-working space in Kakaako, is the founder of Crunch Brunch. The idea was to create a group for women interested in learning and working on coding. It did not need to be a Lean In Circle, but Taamu-Miyashiro says Lean In provided an ideal platform with which to coordinate the group.
"It was incredibly helpful to have a foundation to set the core intentions and values of the Circle," she says. "So, off the bat, it makes it easier to interact and establish social norms for the group. It's cool to be working individually, and to ask each other for help, chat, provide input and advise – even though most of us are meeting for the first time."
People bring their own projects to work on in a comfortable setting with a conversational learning environment. Crunch Brunch currently has 29 members and their meetings occasionally feature one-on-ones or lectures. The circle also worked on a group project, building a website for HNL Soup, a potluck dinner during which people pitch community-service projects. Taamu-Miyashiro says that group experience could inform how Crunch Brunch is run in the future.
"Lean In as a brand has some pull, something recognizable, and has developed ways to support its circles with social media."

— Britney Taamu-Miyashiro, Founder, the Crunch Brunch circle, and floor manager at The Box Jelly
Crunch Brunch's aim is to get more women into technology and integrate technology more into members' careers. Getting together with other women in the field provides psychological and professional support, says member Ruby Menon. "I like that it's all women, since tech is a very male-dominated area," she says. "I get to meet other women I wouldn't usually meet outside of my usual social circles and learn from them, and I have a space and time to work on a very specific thing."
Lean In Circles have established something distinctive for career women: taking the simple concept of group solidarity and building it into a global institution. The important part is that women come together for shared benefit.
"Lean In as a brand has some pull, something recognizable, and has developed ways to support its circles with social media. It's encouraging to see what other women are up to in other circles, on other islands and around the world," says Taamu-Miyashiro.
---
Join a Circle
Create a circle or join one at leanincircles.org. Lean In Circles lead Emily Koh says there are about 23,700 circles in 120 countries worldwide and more are being registered every day.