Your Body Was Not Meant To Sit All Day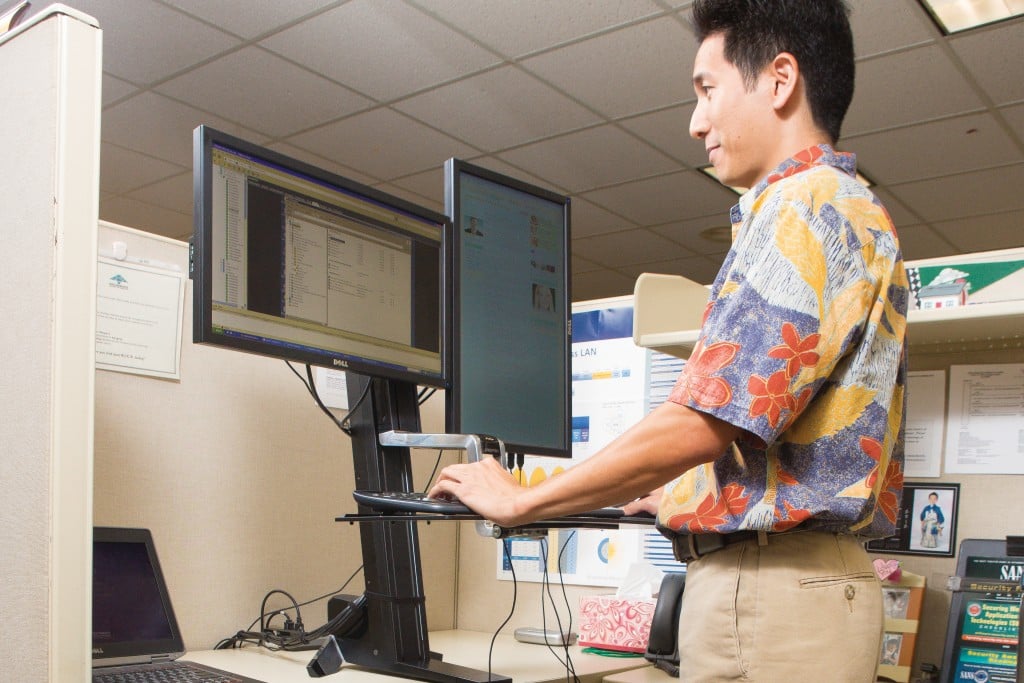 There's a new mantra going around Hawaii offices: Ditch your seat and get on your feet. Standing and sit-stand workstations are not just for geeks any more.
Eric Shearer used to suffer excruciating pain from sitting in front of his computer eight hours a day. The senior corporate writer at HMSA has a history of low-back problems primarily due to sports injuries, "So when I found out we had the option to get elevating keyboard trays installed about four months ago, I was the first to sign up," he says. "My keyboard can go from knee to belly-button height, just high enough to type while standing."
Medical studies have shown that hours of uninterrupted sitting can be bad for your health and contribute to heart disease, blood clots, poor circulation, diabetes and obesity. Working at a standing or sit-stand desk can keep core and back muscles engaged and improve posture. It also can help fight fatigue. Some say it even helps stimulate creativity. Such luminaries as Winston Churchill and Ernest Hemingway stood at their desks to work.
Michelle Garcia is a physical therapist who has been providing ergonomic evaluations at Hawaii Pacific Health since 1994. While she has arranged stand-up workstations for some people, she usually recommends sit-stand workstations, which encourage movement all day.
"The joints and muscles of the body need to move throughout the day, as well as take rest breaks," she says. "Static work, repetitive work, awkward postures and forces may lead to discomfort, injury and decreased productivity … Standing statically isn't better than sitting all the time. Changing position is key."
The ideal situation, Garcia says, is to be able to adjust everything in the workstation: the height of the desk, keyboard and monitor, as well as a flexible arm for the monitor: "Everything variable based on job tasks and body types or pre-existing conditions."
Shearer now shifts between sitting and standing several times a day, but says there was an awkward adjustment period. "At first I was all stoic about it, standing all day long. That was worse than sitting all day, and made my back and legs even more sore," he says.
"So you have to let your muscles get used to doing something new for hours. Now I'm all about moderation. When I start to feel stiff, I switch it up."
Barry Fong, senior network engineer at First Insurance Co. of Hawaii, recalls reading an article that said, "Sitting at your desk all day is the worst thing you can do. It puts you at higher risk for a heart attack." Fong is a fitness buff who plays volleyball, does strength training and stationary bicycling, and works out with a trainer once a week, so he didn't like the idea that all that sitting was hurting his health. That's why he stacked books on his desk so he could stand while working.
After a few months on his feet in front of the pile of books, Fong found an engineered sit-stand workstation that was ideal for him. "It's propped on my desk and can slide up and down. The monitors, keyboard and mouse are in a fixed position and the whole thing goes up and down so it's always ergonomically good for you," he explains.
Fong uses Ergotron's WorkFit-S, Dual Sit-Stand Workstation, which is available from the manufacturer's website for $399.
He's been sitting and standing at work for about two years now, but says the method is not right for everyone. "It might be worthwhile to try it out for a couple of weeks to see if it's for you."
Less Pain, More Gain at Work
Physical therapist Michelle Garcia offers these ergonomic tips:
1. Alternate positions
•  Work at an ergonomically organized workstation and take standing and walking breaks, ideally every 20 minutes. Visit the water fountain, stand for a meeting or to check emails, take the stairs or walk laps around the office.
•  Alternate standing and sitting using an adjustable-height workstation or by having separate sitting and standing workstations.
2. Create an ergonomically sound workstation that includes:
•  An ergonomically correct adjustable chair often including: adjustable chair height and seat pan, lumbar support that fits the low back, adjustable-tilt seat back for chair.
•  A desk that provides adequate depth and width for performing job tasks: 30 inches deep for those who keep keyboards on their desks and need to spread out paperwork; 27 inches for those who work directly with the computer and do not refer to other materials.
•  An adjustable-height monitor positioned at arm's length.
•  Adequate leg room under the desk with space in front for the knees and to either side of the legs.
3. Standing workstations require:
•  Adjustable-height desk;
•  Adjustable-height work surface that moves separately from the desk;
•  Adjustable-height keyboard tray that
allows the user to sit or stand;
•  A gel pad under the feet; and
•  Adjustable monitor arms, document holders and other options to help improve alignment and comfort.