Your Company Wishes You Well
When companies offer effective wellness programs, many of their employees become healthier, happier and more engaged. Here are before-and-after stories of four employees who signed up for wellness programs and turned their lives around. Does one of these "Before" stories sound like yours?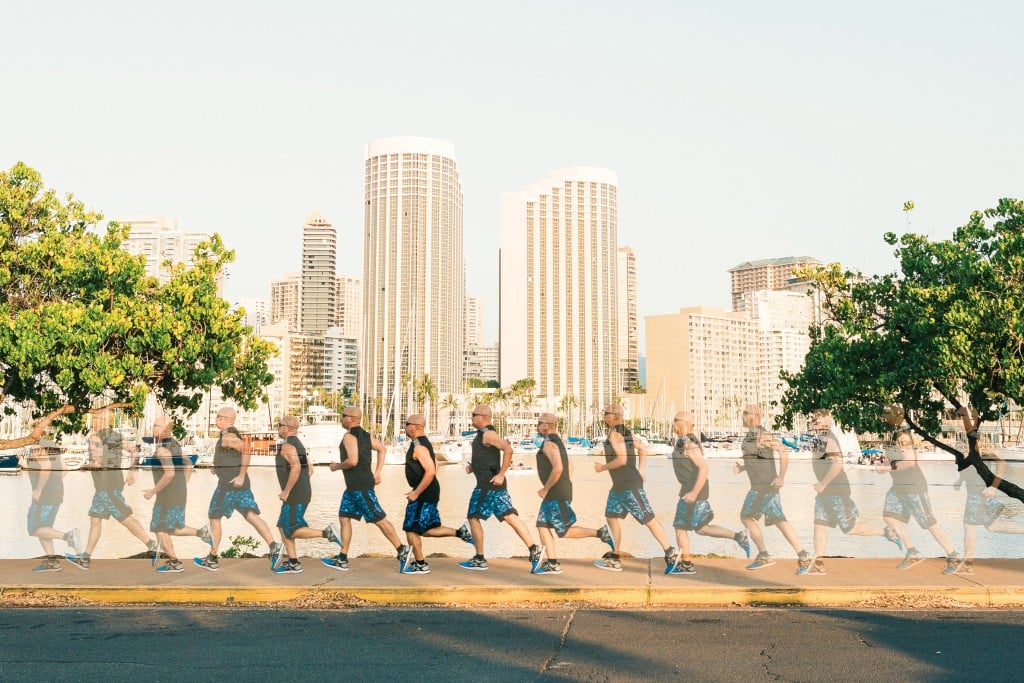 Craig Souza of American Savings Bank
Wake-up Call Saved His Life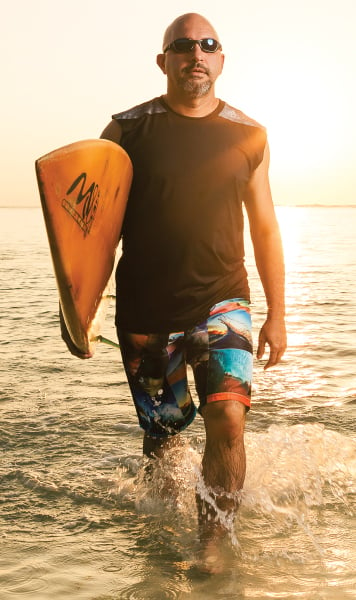 Craig Souza vividly remembers the moment two years ago when his doctor told him, "You are a walking heart attack waiting to happen."
His blood pressure was 155 over 95, and he topped 200 pounds though he is just 5 feet 7 inches tall. Plus, he has a family history of high blood pressure and has lost five relatives to heart disease or associated illnesses.
"It was 'Take care of it now, or you won't be around too long,' " he says. "That was all I needed for the light bulb to go on, to do something about it now and have a longer, healthier life."
Fortunately for the 48-year-old Souza, he works at American Savings Bank. The bank has a wellness program called LifeBalance that creates personal and team challenges. "I looked at what it had to offer and how I could use it," he remembers. "I had to make sure I had a goal that I could reach, something to strive for and to keep me on that path."
The company challenges only last six to 12 weeks, which he says makes them easy and doable. But once a challenge was finished, it was natural to continue doing it.
"They'd bring in new ones, too. They didn't get stale. And since you're doing it with your co-workers, there's always that friendly camaraderie of challenging each other."
One of the first challenges he took on was increasing his water consumption to four big glasses each day. "If it's not coffee, I don't drink it," he says with a laugh. Not anymore. He now drinks six or more glasses of water daily.
It was the same with the salad challenge. "You had to eat a green salad with little or no dressing at least three times a week before your dinner. You get used to having salads and I discovered they taste really good. My idea of salad before was that little bit of lettuce you get in the burger."
Souza, who works with electronic fund transfers at the bank, and some co-workers got together for salad lunches every day. They now pack them from home, and include a salad, fruit and a cup of water. Souza also switched to more vegetables at dinner; in fact, dinners are now mostly vegetables, not burgers.
"This made me feel better," he says. "I didn't feel so lethargic all the time. I didn't seem to get dehydrated and I wasn't looking for snack food so much. And I didn't feel I had to have a meal every two and a half or three hours. If you get dehydrated, you think you're hungry. That's what the doctors tell me."
Nowadays, he gets home from work and walks a couple of miles. On the weekends, he hikes, runs or surfs. He has lost 26 pounds and reduced his blood pressure to 127 over 84. In fact, he's doing so well, his doctor says he doesn't need medication.
"I just keep up with the different challenges the bank offers," Souza says now. "They have flyers that remind you! They keep it at the forefront of your mind."
---
Lori Buendia of Island Insurance
Weigh In and Work Out at Work
Chocolate was her down-fall. That, plus holiday goodies, gift baskets that come to the office, and eating out, because she doesn't cook.
That's why Lori Buendia joined Weight Watchers. What made it easier to stick with it, was Island Insurance brought the program into the office.
"Here at work, I knew I would have the support system because my co-workers and peers were doing it with me," says Buendia, 44, a customer-service supervisor. "I know them and we're all going through it at the same time."
When the company first offered Weight Watchers as an employee benefit six years ago, Buendia joined and lost more than 25 pounds. But, as time passed, the pounds crept back.
"I've struggled with my weight all my life. I love to eat and I've gone up and down. I find it really difficult maintaining the weight, being healthy and exercising regularly. We have a lot of barbecues and family get-togethers and I'm always eating out."
But Weight Watchers worked the first time for her and is working again, she says. So far she's lost 18 pounds, with 10 more to go. "I'm confident I'll be able to meet that. The difference this time is I understand about making better food choices."
The support from co-workers is also important. "Whenever you go to that meeting, it's all the people you know discussing what worked for them and what didn't. It gave me the motivation to join and continue with it again. We have the meetings during lunchtime in our big conference room."
Buendia also joined on-site exercise classes that Island Insurance subsidizes. If Weight Watchers and exercise classes weren't available at work, she says, she probably wouldn't do either. "It's here and it's convenient, and the exercise classes are right after work and I know I'll go. Once I get home I'm too exhausted."
She also takes advantage of the company's offer of a healthy gourmet lunch for $2 once a month. "I love the people I work with and this company is so supportive. It shows it cares about my health and my well-being and I appreciate that."
Her daily breakfast is a scramble with egg whites, ham and potatoes topped with cheese – one of the Smart Ones brand that's approved by Weight Watchers.
"Breakfast sets up the day," she says. "It's only five points and I'm allowed 30 points a day. If I don't have it, by lunch I'm starving and I'm going to want that chicken katsu plate lunch!"
She also has an app on her smartphone that lets her scan an item and tell her how many Weight Watchers points it has. She's been able to accommodate herself to smaller portions, plus healthy snacks that she can buy online or from the meeting leader.
"I have bought some new clothes, but I still have my 'skinny' clothes from the last time and I can fit in some of them," she says with satisfaction. "I'm almost there."
---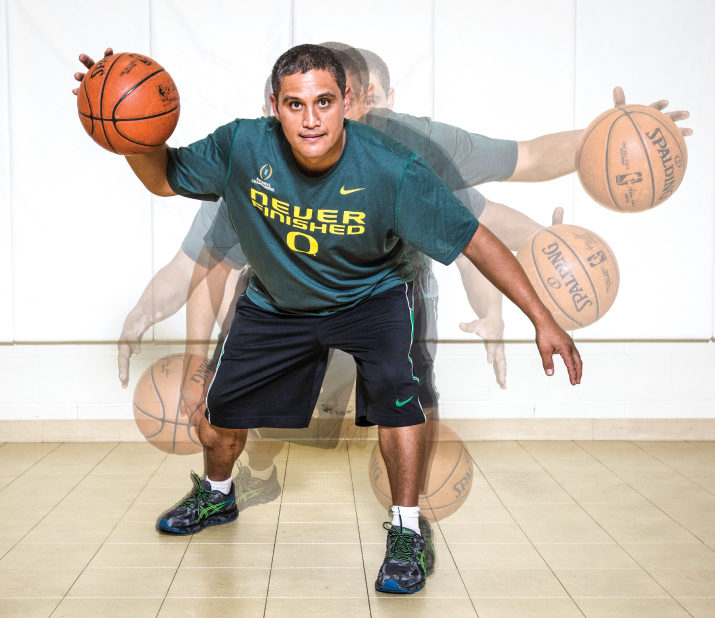 Sunhair 'Reggae' Nojima of Servco Pacific
Finding the Reason for Exercise
The sweat glistens on his face and drips down his forehead as Sunhair 'Reggae' Nojima leaps for a lay-up and flips the ball neatly into the hoop. A year and 100 pounds ago, he couldn't even bend over to lace up.
"I got so big I had to ask my son to tie my shoes," Nojima remembers. "That was a big wake-up call. I was 38 and 325 pounds."
Fortunately, Nojima listened to that wake-up call. But also he was fortunate to be working as a warehouse delivery/appliance installer for Servco Pacific, a company whose employee wellness program includes a gym.
"I knew I had to start working out. What I started to do was come to work early and just walk around the block. I remember that first time I was exhausted. One of the longtime employees, Lionel, said, 'Why don't you use the Wellness Center?' I didn't know the hours and thought I was too early. Then I discovered it opens at 5:30 a.m."
Even as a child, Nojima never liked to run. He played some sports, but couldn't fathom the joy of running. Still, he showed up at the Wellness Center by 5:30 a.m. daily, working out on an elliptical machine while watching the attached TV. "I had the biggest crush on one of the morning reporters on Channel 2," he admits. "I would go on the elliptical and watch her. At first it would be 15 minutes, then half an hour."
As he shed pounds, co-workers joined him and eventually they tried basketball. "At first, it didn't work because we were all completely out of shape," he remembers with a laugh. "We deliver all the appliances and we have a lot of drive time in-between. Everyone would load up on snacks. Chips. Cookies. Snacking, snacking, snacking. You're sitting in traffic and munch down on a whole bag of Oreos."
The company's wellness offerings helped again. "Servco has these workout classes in the afternoon," says Nojima. "And whoever was in the classes would have these things posted on the wall – this whole list of exercises people did. Without joining the class we winged it. We'd try to mimic the class: touch your toes, jump up, 'burpee' so many times. It was horrible at first. I remember at first we were just trying to match the women. I think the lowest was 20 and all of us could do 6! Now I can go on forever."
As his weight and health improved, Nojima and his colleagues got better at basketball. Just 15 to 30 minutes of running, jumping and rebounding worked up a sweat and increased his enjoyment of running.
"It's surprising how quickly you can start getting into shape," he says. "After about two months, we started
playing regularly. After about four months we started getting competitive where we weren't laughing when we played!"
He also changed his snacking habits, substituting lean protein shakes for cookies and chips.
Now, says Nojima, he's a running enthusiast, rolling out of bed earlier every morning to run for an hour before work.
"I come in already sweating. I'm 210 right now and have another 40 pounds to go."
"And I'm full of energy. I can run, have fun with my kids, live life. Before, I'd get home from work and be so tired and lazy and sit down in front of the TV and do nothing, just waste my life away," he says.
"I owe it all to the Wellness Center. Without it I never would have gotten started. I owe it to the Wellness Center and that TV reporter!"
---
Vivian Haitsuka of Atlas Insurance
The Vegetables Come to Her
Under Vivian Haitsuka's desk at Atlas Insurance is a bag with some of the most important things in her life: an exercise mat and her workout clothes. Twice a week at the end of work, she grabs her workout bag and walks a block to exercise classes.
"They're right after work at 4:30 and the instructors are really prompt," she says. "For me, it's also good for mental health. You feel better about yourself. If you don't do it you feel in the dumps."
The after-work timing is important for Haitsuka, who is the benefits consultant for Atlas and meets clients much of the day to help companies build their own wellness programs.
"It's difficult sometimes because meetings can run right until the end of the day. But I've committed to the Zumba class Thursdays especially and now nobody schedules meetings for me right at the end of the day." The company and employees share the cost of the classes, 50-50, she says.
Haitsuka, who is "50 something," started her regime with one class almost five years ago, and added a second class two years later. She was encouraged by her doctor and the numbers she got on her checkups, but also by the easy availability of the classes. Atlas offers wellness programs as perks to keep employees healthy and happy.
"For me, it all ties in with not wanting to get a bad report card when I go to the doctor," says Haitsuka with a laugh. " 'Oh, Vivian,' he said, 'your cholesterol is high, your sugar is high.' 'OK, I don't want to go on medication, so what do I need to do?' So I watch my sugar intake and exercise more."
Exercise was challenging at first, she admits. "We had body sculpting on Tuesday and I resisted going to the class. It sounds really hard and I didn't know if I could take it. But I tried it a couple of years ago and after a while it felt good."
Haitsuka oversees the "farmers market" in the Atlas lunchroom. The market is now every other month, with a healthy food demonstration or other event in the alternate months. The farmers market and the variety of vegetables sold on those days inspired a salad club among employees. "I see a group of people who get together at least once a week and have a salad potluck," Haitsuka says.
The company partners with Otsuji Farm, which brings in at least a dozen different kinds of vegetables each time. The Farmer's Market is aimed at Atlas' approximately 120 employees, but is open to other companies in the building.
"I always buy my lettuce here," says Haitsuka, "and they have this dinosaur kale that's good for kale chips. I make my own. I cut off the middle stem and use the leaves, tossing them in some olive oil with garlic salt and then roasting them in the oven for maybe five minutes at 350 degrees. They taste like seaweed."
She and other employees also take advantage of the company's Vitamix blender to make healthy smoothies. "It's stored next to the coffee machine. And there's a NutriBullet the company purchased as well."
The support of her company and the easy availability of exercise and healthy produce has made all the difference.
"A lot of our employees are self-motivated and a lot belong to a fitness center and go on their own," she says. But, for herself, the support of her company and colleagues has been essential.
---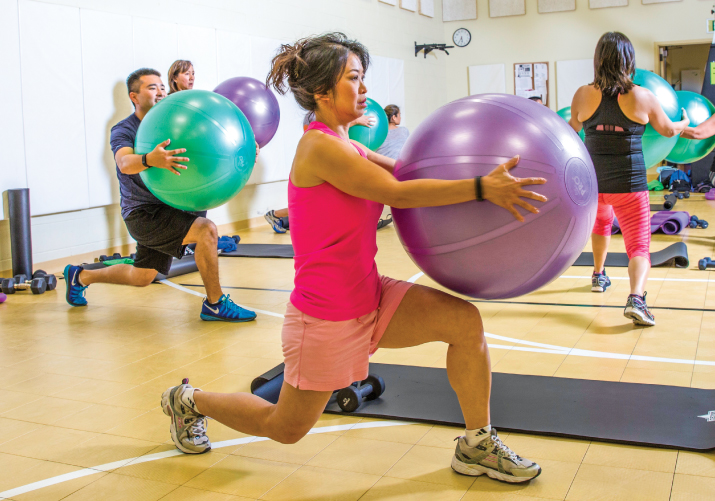 What Works
A national expert says short bursts of exercise many times during the workday is the most effective way to get employees healthy
A national consultant on workplace wellness programs says the best plan costs next to nothing yet achieves powerful results.
"The over-arching question is: Why has wellness failed over the last 40 or 50 years?" asks Andrew Sykes, president of Habits at Work, a Chicago company that works with employers, school districts, health plans and others nationwide to create wellness programs. In Hawaii, Sykes works with the health insurance company UHA and its clients.
"Exercise, eating healthily, meditation, avoiding tobacco, and a moderate amount of alcohol are the key habits in driving human health," he says. "In quantifying which is worth the most, the conclusion is that exercise is by far the most important health habit of all. That doesn't dismiss the other habits, but it has a stronger impact than any other health habit, and it often makes the other health habits easier. People who exercise are able to sleep better, have increased willpower, and make better food choices.
"As you exercise, you boost your energy. That does seem counter-intuitive, but the more you exercise, the more energy you have. … So we advise people to start on exercise first and then tackle something like quitting tobacco."
As you exercise, you build willpower and energy reserves. "It's the energy you feel you have to tackle any given task," including adding healthy behaviors or eliminating bad ones. And as a person exercises, they reframe their self identity and think of themselves as a healthy person, and consequently act in healthier ways, he says.
But not all exercise is equal, Sykes says. In fact, all of his company's research shows that exercising in small bursts throughout the day is more effective than waiting until the end of the day to do a longer workout. By small bursts, he means getting up from your desk at regular intervals such as every 20 minutes or hour, and doing five minutes of stretches, 20 squats or jumping jacks, or a quick walk down the block and back.
The challenge is: "How do we get people to practice these health habits?" The answer, he says, is simple: Build it into the workplace, hour by hour. That way, exercise is ingrained in the culture of the office, and highly effective.
At Sykes' Chicago office, they practice what they preach. "We have an app that pings every hour," he explains.
"Everyone stands up and we do a couple of exercises and then the meeting carries on.
"All our research points to the fact that people who do these four or five minutes of exercise at the beginning of each hour are more productive than those who don't," says Sykes.
In general, says Sykes, his company's research discovered that people care less about their health than they do about their job, their children and the way they contribute to the world. Understanding that psychology is crucial to creating effective workplace wellness programs.
Most people know their diets and sedentary behavior are unhealthy, he says, but they don't practice what they know. They say "they don't have time, it's too difficult, they can't afford a gym."
Sykes says that's why it's important to get employees out of a constant sitting position and institutionalize a few minutes of intense exercise repeatedly throughout the day. "That way there's no embarrassment of being the weird one at work," he says. "Or the fear it somehow detracts from being considered a good employee."
Sykes says companies that make the changes benefit. "It's very clear that employees who are practicing healthy habits are likely to make better decisions and fewer errors, less likely to be absent and less likely to be unfocused.
Add that altogether and they're more likely to be highly engaged in the work they do and, as a consequence, much more productive."
---
Launching a Wellness Program
An effective system can take years to develop, but companies that made the effort say the results are worth it

Eleven years ago, a valued employee of University Health Alliance died suddenly and her untimely passing shook founder Max Botticelli and the rest of UHA's leadership.
"Max said, 'This is never going to happen again,' " remembers Linda Kalahiki, senior VP and chief marketing officer. "We didn't do enough for her. We didn't help her. We didn't give her tools to be healthier in the workplace or tools to help her in life."
After that untimely death, UHA embarked on a sea change that would improve the health of its employees and those in the companies it insured. Kalahiki says that, among the changes, UHA was Hawaii's first health plan to charge no co-pay for preventive services such as annual checkups and mammograms.
Three years ago, UHA took the next step by advocating for wellness programs at workplaces statewide – clients and non-clients. The Hawaii Health at Work Alliance now includes 250 companies, ranging from big companies such as banks and utilities, down to small nonprofits.
"Our goal was just to help bring employers together so we can move the state to be healthier," says Kalahiki. "We have quarterly meetings with employers to teach them about worksite wellness and trends about what really works. It's a place for the employers to network and learn from each other and share their ideas as well." (Learn more at www.hhawa.com.)
Beth Whitehead, executive VP and chief administrative officer of American Savings Bank, knows from experience that a successful employee-wellness program takes years of evolution and tweaking. But she also knows the time and effort pay off: Last year, ASB ranked first in the large company category of Hawaii Business' Best Places to Work survey.
"We've had a seismic change in our engagement surveys," says Whitehead, "and wellness has been an important part of it."
Back in 2008, results from the bank's first Best Places to Work survey were dismal, including the part "My company cares about me," remembers Whitehead. "And our employee engagement scores were 37 percent. We pored through the results line by line, looking at different questions and asked, 'What are we going to do about this? What's our plan?' "
It took years of work, but employee engagement rose to 94 percent. At the start, a team drawn from across departments at the bank helped develop many ideas; some were adopted and others discarded. First, the bank hired a personal trainer, which worked for a time, says Whitehead, but didn't address the broad scope of issues. What succeeded instead, is the current approach that includes a revolving series of small individual or team challenges – as many as a dozen a month happening simultaneously. The challenges include doable ways to enhance well-being in many areas.
"We go in all different directions under several categories: financial wellness; mind and spirit (stress management); nutrition and healthy-weight management; family matters; workplace and personal safety; general health and well-being," says Whitehead.
The individual challenges, some suggested by employees, include drinking four glasses of water a day, eating salads before meals, doing five minutes of squats several times a day and meditating five minutes a day. "Variety was the key," Whitehead says.
The approach improved employee health, and built fun and lasting friendships. "People are cheering for each other.
They're having healthy lunches together and supporting each other," Whitehead says.
National wellness consultant Andrew Sykes sees value in these personal challenges.
"It's true that starting with small challenges is the right approach," says Sykes. "It builds confidence and competence and incremental improvement over time. There's a lot to be said with the 'tiny habits change theory' rather than declaring you're going to lose 20 pounds on New Year's Eve and then giving up three days later."
ASB's success has drawn a lot of attention: The bank has made Hawaii Business' Best Places to Work list for seven consecutive years, Fortune magazine selected it this year as one of the 100 best workplaces for women and American Banker Magazine included it among the 50 best banks for diversity.
"I've heard of companies tracking whether they made strides in absenteeism or productivity, but those weren't issues for us," says Whitehead. "We see a lot of great results in camaraderie and collaboration, things on the soft side.
There are a lot of things that are very valuable to us that don't track as dollars and cents."
UHA's Kalahiki agrees that both the employees and company benefit from wellness programs.
"If you have a culture of wellness in your company, your employees are going to be happier, less stressed, more productive, more engaged," she says. "When you have healthier employees with mechanisms in place to help them de-stress, to give them a break, they're more productive and they're more present."