Your Office is Changing
It may look a lot different when – or if – you come back. Furniture and accessory suppliers offer advice on how to plan for those changes, and companies discuss how they are evolving operations.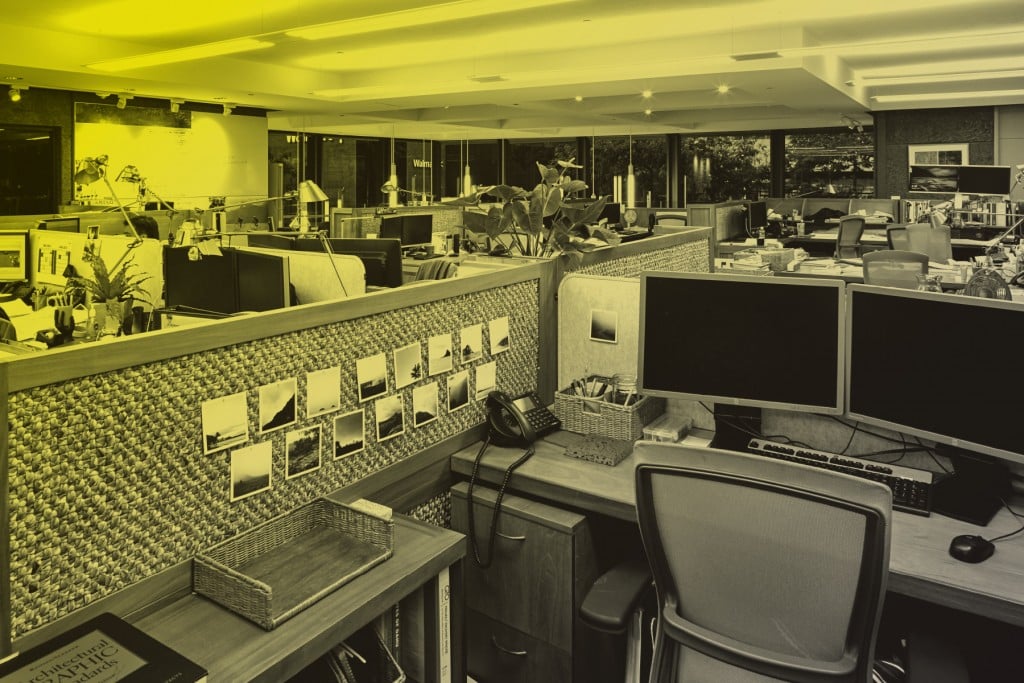 Working from home has become the norm for many local workers – and it may stay that way after the COVID-19 pandemic is over. Meanwhile, many of those who still work in the office are seeing plenty of changes.
Ann Motonaga, senior workplace strategist at CEI Hawaii, an office design firm and furniture supplier, writes in an email that most of CEI's customers are focused right now on meeting social distancing and safety guidelines. That includes installing sneeze guards and other clear plastic barriers between desks and increasing the height of existing panels to provide shielding and protection.
Min Plastics has adapted to meet the new demand. It supplies plexiglass barriers, cubicle dividers and even portable guards.
"We never did think that we'd walk into any place of business and see large sheets of clear plastic everywhere," says Min's GM, Andrew Min. "The good news is that the barriers are clear, which still allows for connection (and) natural light to come through."
Min recognizes that each business has unique needs but offers some general advice when reconfiguring barriers and furniture for added space: "You want to keep the flow of your office space manageable and maintain a sense of normalcy with staff and customers."
Kim Quezada, president of Interior Showplace, a Kaka'ako-based supplier of office furniture, writes in an email that the changes represent a dramatic shift from pre-pandemic days. Back then, she says, many customers were creating or enhancing open plan offices, intended to be more collaborative workplaces. Over the past decade, she saw a decrease in the average space allocated to employees.
That trend has reversed since the pandemic began. "The space not only needs to be safe, but also needs to feel safe physically, mentally and emotionally," she says. "Employees will not want to return to an office if it does not feel safe."
Michael Yasui, president of CEI Hawai'i, writes in an email that now, "both employees and employers are concerned about workplace safety."
Rethinking Office Spaces
Kellye Greco, associate principal at architecture firm G70, says its clients have requested more residential style furniture in their corporate office spaces.
"As we come back out of our houses, having more of a relaxed feel would be an appealing aesthetic to the interior environment but also knowing that there are safety protocols and the disinfecting as needed," she says.
Miki Lee, business development and marketing director for Infinium Interiors, which supplies furniture and accessories for many types of workplaces, suggests a starting point for companies planning post-pandemic changes: Evaluate how many employees will be returning to the office and how often – daily or just a couple of days a week.
"The pandemic has proven that work can be performed outside the office. If a business intends to continue allowing remote work after the pandemic, this might mean space can be freed up or repurposed," Lee writes in an email.
Quezada says some of her customers have had to delay projects because of budget constraints. On the other hand, some projects have been expedited with clients requesting quick turnarounds.
G70 is adapting to remote work by employees. One big benefit of working from home, says Sheryl Seaman, G70's vice chair, is that employees no longer have to spend two hours in traffic every day, getting to and from work. Now, time that used to be spent commuting can be used more productively.
But there have been challenges too. For instance, Seaman says, some designers and architects rely on their office workstations – with space to lay out drawings and blueprints and with computer screens much bigger than their home computers.
She says most of their employees work from home, but if they need to use the office, they can as long as they adhere to social distancing and mask wearing.
Remote work is still a work in progress. "It's that human connection that's really important when we're working remotely like this, but I don't think it's not achievable. It's very achievable," Seaman says.
Elsewhere, Elemental Excelerator, a global clean technology accelerator based in downtown Honolulu, has changed the way it supports startups. And some startups are changing their operations because of the pandemic, says Tiffany Huynh, EEx's director of external affairs.
"We're still funding our companies," she says. "We're still supporting our companies. We have made a couple of pivots in just how we're supporting them." That includes issuing convertible notes, a form of short-term debt that converts into equity.
A lot of the startups are using the capital to engage in new locations or customer segments, or creating new product features – usually as part of a COVID-19 pivot. The capital can also be used to mitigate falling revenue, budget cuts or furloughs caused by the pandemic.
With half of the team on O'ahu and half in California, the accelerator was already used to virtual meetings and presentations, Huynh says. And a lot of the work being done remotely because of the pandemic will continue to be done that way after the pandemic. Now, even student internships are done virtually, she says.
EEx is trying creative ways to replicate in-person connections and collaborations virtually.
"As we've been in quarantine longer and longer, there's that kind of one-on-one interaction in an informal setting that people are craving," says Huynh.
One way to replicate that connection during meetings is for people to break into separate virtual rooms for one-on-one conversations that build both business and personal relationships.
Huynh mentions another positive outcome that could come from the switch to remote work: Kama'āina who now live and work on the Mainland might be able to return home, without giving up their jobs.
---
Office Vacancies Up
Colliers International's third quarter report on O'ahu office market shows a further increase in vacant space.
At the end of 2019, the vacancy rate for office space on O'ahu fell below 10% for the first time in a decade – to 9.93%, says Mike Hamasu, Colliers' director of research for Hawai'i.
But in this year's second quarter, the rate was back up to 10.72%. And in the third quarter, the rate was 11.56%, says Hamasu's third-quarter report.
The trend toward remote work may further increase the vacancy rate. But most companies are locked into long-term leases, so if remote work increasingly reduces the demand for office space on O'ahu, the shift may be gradual as leases expire.
How to Rethink Your Office?
Kim Quezada, president of Interior Showplace, recommends these five steps when thinking about redesigning your office space:
Consider what is known about

preventing disease transmissions.

Encourage physical distancing by spacing out workplaces or removing seats.

Reconfigure or rotate desks so fewer employees sit face to face.

Add screens or panels between employees.

Avoid overcrowding by limiting the number of people allowed in an area.
Survey About New Normal Workplaces
63%: Percentage of companies that expect to allow more flexibility on where their employees work
67%: Percentage of companies that expect to allow more flexibility on work hours
Over 50%: Percentage of companies that said yes to each of these things: limit the number of people who can attend an in-person meeting; modified common areas; reduced access to common areas; and added automatic doors and other no-touch devices.
Source: A Forbes Insights and Zoom national survey of over 400 senior executives in HR, IT, finance and facilities published in May