SmallBiz Success Awards 2012
Hawaii Business proudly recognizes the six winners and 12 finalists of our 2012 SmallBiz Success Awards.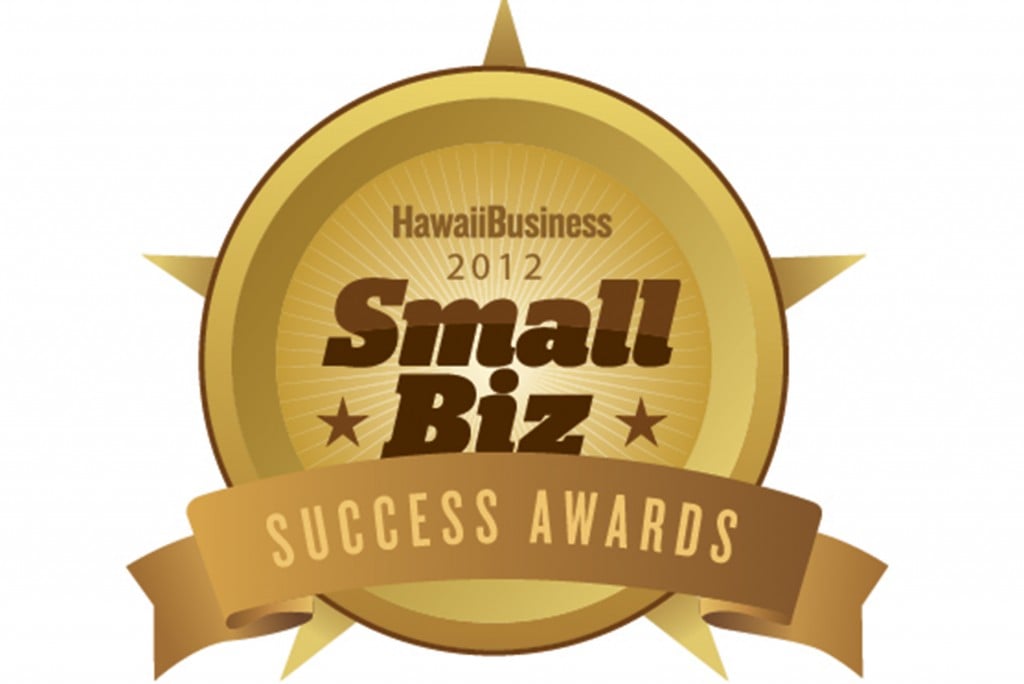 Our diverse group of winners includes a family-owned tire and maintenance shop; an innovator in agriculture; a renowned local woodcrafter; a boutique architecture firm designing hotels in Asia; a small but multifaceted nonprofit; and a bar whose name is synonymous with community service.
We are honored to tell their stories.
Don Murphy sees the bar that bears his name as not just a business, but as part of the community.
"We love living here and what we give people is the opportunity to get involved," he says. Murphy's, located in downtown Honolulu at 2 Merchant St., is the perfect spot for people to come together for entertainment and good causes, Murphy said before Christmas, as he prepared for the annual gift drive and wrapping event for Ronald McDonald House.
Murphy credits his mother with teaching him the importance of giving as he grew up in Oklahoma.
At times, his father was ill and "we spent a lot of time in the hospital," Murphy explains. "And when my mother would see someone in the corner, crying or feeling sad, she would always go over and give that person a hug."
He says his wife, Marion Elniski, makes all the charity work possible. "She supports me and, through her support, we're able to do it," he explains. "The staff goes along, and they really get excited."
Murphy's organizes and participates in fundraisers and other activities with more than 20 community organizations, including Coaches vs. Cancer, Hawaii Literacy, Aloha Festival Week and Save Our Schools. The annual Pigskin Pigout held at Murphy's has raised more than $1.5 million for University of Hawaii football over 15 years.
Diane Ono, an attorney who sits on the board of directors for the Hawaii Children's Cancer Foundation, says Murphy and Elniski have kind and generous hearts and their bar has hosted the foundation's main fundraiser for the past decade. Don has had "a real soft spot" for children fighting cancer since he helped a friend's child who eventually succumbed to the disease, Ono explains.
"But it's not just children with cancer … There's always one, sometimes two, things going on for charity," she says. For example, if it's a waitress who is sick, Murphy "helps them make it through."
Through the years, staff members have come back to thank him for teaching them about giving. "That's really special," Murphy says.
– Jolyn Okimoto Rosa
When Alan Batty opened American Tire Co. in 1992, he couldn't afford to buy furniture for his five employees, so his landlord graciously donated tables, chairs and filing cabinets.
"We were just a small warehouse and office on Colburn Street [in Kalihi] when I started the company myself," recalls Batty, who began his career as a tire changer in 1974 before rising to tire salesman and auto-service manager.
American Tire today boasts more than 35 employees in two locations, Mapunapuna and Kapolei, and is Oahu's only commercial dealer for Goodyear tires. The family-run company provides tire repairs and maintenance for private and commercial vehicles and ranks among the nation's fastest-growing private businesses, according to Inc. Magazine's "Inc. 500."
The Batty family is driven to succeed. The company's VP is Batty's wife, Lei, who, two years ago, retired from Kaiser Permanente after 25 years to manage American Tire's human resources and accounts payables. Their daughter, Olalani, joined the company as a graduate-school intern and now oversees the sales and marketing department. Their son, Daniel, is GM.
"We truly reflect the 'work-your-way-up' spirit," says Daniel, who also began his career as a tire changer at age 18.
Keeping family members aligned isn't always easy, but everyone "manages to keep their eyes on the prize," the company's growth and future, Daniel says.
The Kapolei store, a half-million-dollar investment, includes state-of-the-art computers that check a vehicle's alignment in less than 10 minutes, he says. Its September 2011 opening provided relief for many companies with fleets in West Oahu.
One of them, Hawaiian Dredging Construction Co., relies on American Tire to maintain its pickup trucks, heavy equipment and passenger vehicles.
"They go the extra mile to make sure the tires on our equipment are repaired on a timely basis," says David Gomez, equipment division manager for Hawaiian Dredging. "Their response time is normally within an hour of trouble calls."
– Cathy Cruz-George
Innovation Winner:
FarmRoof
A tour around FarmRoof University, the testing ground for a new and innovative farming system, is a rich lesson in the possibilities for urban agriculture. A concrete slab that imitates a roof is covered in long, mesh tubes filled with a proprietary blend of soil and bursting with greens. They are not just any greens, but nutritionally dense foods like heirloom kale and various Asian lettuces.
FarmRoof got its roots after Alan Joaquin, president and founder, happened upon a study that concluded that rooftops could be used for growing food crops if the weight could be distributed properly. "I thought to myself, if the biggest challenge is weight, I can address this," says Joaquin.
A walking encyclopedia of agricultural knowledge, Joaquin began his career as a young landscaper and built his first hydro-mulcher at the age of 17. He has combined his formal background in aeronautics with a knack for tinkering in order to engineer agricultural innovations and systems ever since. The FarmRoof system utilizes some of his previous designs combined with new technology to create a rooftop solution to a growing demand for feasible and affordable space to grow crops. While food is the primary goal, other benefits to rooftop farming include better insulation (which saves energy), more water catchment and a prettier space.
Joaquin says the crops grown on rooftops are harvested and sold, primarily through Whole Foods, where they frequently sell out, and FarmRoof's community-supported agriculture subscriptions. In fact, FarmRoof provides delivery to businesses and organizations that promote the CSA subscriptions.
Teresa Davis, the life-balance coordinator at American Savings Bank, says the bank subscribes to the CSA and promotes the service as part of its wellness program for employees.
"It's delivered to our doorstep and it's less expensive than going to the grocery store," she says. "FarmRoof bends over backwards to provide great customer service for us. They've been really easy to work with and have an outstanding product."
Joaquin envisions a better way for cities to use urban space and become more self-reliant by producing some of their own food needs. "What we're doing now is proving a model that could be replicated in other parts of the world," says Joaquin. "We're creating a turn-key, sustainable business that focuses on a triple bottom line of people, the environment and the economy."
– Tara Zirker
To learn about the CSA, go to the website and click on "Join Our CSA"
farmroof.com
Last year marked the 50th anniversary for local furniture company Martin & MacArthur. It was during the 1960s era of plastic and metal furnishings that Jon Martin introduced Hawaiiana designs made of koa wood to the Islands.
Since Simon McKenzie and Michael Tam took over ownership four years ago, they have revitalized the company by adding store locations and introducing new products, such as koa wood sunglasses, watches and even iPhone cases.
"We want to make koa more consistent with the lifestyle of today by providing products that are a combination of high-tech and high-touch," says Tam, who keeps a close eye on the wish lists of his clients. He notes that the average age of a typical Martin & MacArthur customer has decreased over the years as more people in their 30s look to furnish their homes with quality, local designs.
Even as the company offers new products, some things will always remain the same, like Martin & MacArthur's bestselling rocking chair. When Martin originally designed the rocker, he researched several designs before settling on the version that remains unchanged to this day.
"Our rocking chairs can be found around the world," Tam says. "The design has often been imitated but never duplicated. No other chair will ever feel as comfortable."
The company focuses on heritage pieces that can be collected and passed down. "I bought my first piece, the Ladies Rolltop Desk, in 2007," says Barbara Cargill, a loyal customer, who continues to build her Martin & MacArthur collection. "It's beautiful work and I feel very comfortable supporting a business that is using a local and renewable wood."
Indeed, for every piece of furniture sold, the company plants a koa tree on Hawaii Island dedicated to that customer. The company promises that wood used for furniture is always from fallen or dead trees, and living trees are never cut down.
Tam attributes much of the company's success to the 30 craftsmen on staff, who have all undergone vigorous training, with some achieving master craftsman status. Meanwhile, the company continues to recruit new woodworkers. "The art of fine furniture making has to be passed down to new generations," Tam says.
– Tara Zirker
Starting an architecture firm in the middle of a recession was a risky move.
"Yes, some thought we were crazy," says James Freeman, one of the three partners and principals at two-year-old FSC Architects. "But, we saw an opportunity and decided to take it."
Freeman and his business partners, Ralph Shelbourne and Benjamin Candari, had all worked together on previous projects and each had the right skill set to bring to the drafting table.
The trio decided to open a boutique firm that moved away from the conventional, large corporate structure. "One of our biggest selling points is that each client is assigned a principal and gets his full-time attention for the duration of the project," says Freeman.
"We wanted to get back to architects designing day to day with their clients. This means our clients get a real high-touch, hands-on approach."
In theory, such a model may limit how much volume a company can take on, but the partners insist it doesn't affect profitability. The new firm grossed $2 million in its first year and revenues are projected to continue growing.
Specializing in hotel and hospitality properties, all of the firm's current clients are overseas, primarily throughout Asia. In fact, FSC is one of the few firms in the world that can say it designed a property in Tibet.
James Ravi, president of G Charlton Hotels & Resorts Malaysia, a client of FSC, remains impressed by the company's organization and commitment to a project. "They have the capacity to build large-scale hotel projects, and always gain the respect of all of our colleagues and owners," says Ravi.
What advice would they offer to other small-business owners? The trio, seated in a semi-circle around Freeman's desk, all chime in. "Choose your business partners well," says Shelbourne.
"Prepare to risk," advises Candari.
Freeman emphasizes respect and building relationships with clients. "Hawaii is the best melting pot in the world. If you can't learn to get along here, you won't get along anywhere," he says.
With an international clientele, the three founders are well aware that their cross-cultural skills, combined with 15 years' experience designing projects throughout Asia, has positioned them to handle the rising demand for international hospitality development.
– Tara Zirker
Education, environment, empowerment. The Kohala Center's motto covers a lot, yet the Big Island nonprofit is delivering.
Founded in 2001, the Kamuela-based organization has made wide-ranging progress: planting school gardens, propagating Hawaiian plants and supporting Hawaii's families, farmers, ranchers and fishermen.
The center grew out of a community health project in 1999 and 2000 in which Hawaii Island residents were asked what would make their community a happier, healthier place, explains executive director Matt Hamabata. Faced with what he called dreadful statistics – rising rates of diabetes, obesity, drug and alcohol abuse, and domestic violence – the residents wanted greater investments in education and economic opportunities instead of another diabetes treatment center or domestic violence shelter.
"Their answers require a fundamental shift in the way we live our lives," Hamabata says.
Roberta Chu, senior VP and Hawaii Island manager at Bank of Hawaii, based in Hilo, is president of The Kohala Center's board. "Their work is to gather, analyze and use data from hands-on, in-the-community work to help design policies and come up with a vision," Chu says. "It's apolitical, which to me is something interesting."
Some of the organization's programs have been so successful they have been expanded statewide, including the school gardens, a project that was adopted at 59 schools and produced an estimated 15,000 pounds of food in the 2010-2011 school year, according to the center. That enables the schools to serve healthy, locally grown food.
Chu says The Kohala Center's involvement with caring for the reef at Kahaluu Beach Park in Kona started out with one grant, but has grown into a 10-year contract with Hawaii County to create the Kahaluu Bay Education Center. The center and the county will work together to enhance the natural environment of Kahaluu Bay through educational, public outreach and research efforts, the center's website explains.
The organization, through the Laulima Center, also helps farmers, ranchers and fisherman form cooperatives to buy supplies at lower prices, share heavy equipment or processing facilities, and market goods collectively.
The Kohala Center has a research advantage, Hamabata says, because the Big Island is a small version of the planet. "If we can find solutions to the challenges we face, we could be a model for the country."
-Jolyn Okimoto Rosa
Finalists for the 2012 Smallbiz Success Awards
Innovation
Kona Red: Shaun Roberts was scouting ingredients for another of his businesses when he discovered a University of Hawaii report on the coffee cherry, the fruit in which coffee beans grow. That led him and his business partner, Steve Schorr, to conduct more than a year of research on the potent antioxidant properties of the little-known fruit of the java plant.
The result is Kona Red, a fruit juice that can be purchased in more than 400 grocery stores statewide.
"We realized we had a highly nutritious ingredient that was considered the waste product of the third-largest crop in Hawaii," says Roberts. "Instead, we turned it into a sustainable business model."
Visionary Industrial Insulation: "Not much was happening in insulation technology over the past 40 years," says Ross Rolirad, VP of Visionary Industrial Insulation. "Then this new insulation came on the market and, when we tested it, we found it provided a 40 percent energy savings for high-temperature applications."
Rolirad and his business partner, Chang Jang, discovered the new technology while working at a refinery in South Korea. Soon after, they secured the distribution rights and Visionary Industrial Insulation was born. Companies find that the insulation not only helps them save money on energy, Rolirad says, they learn that switching over helps reduce carbon emissions, too.
New Business
Hawaii Employment Services: With a dream and a loan, Sean Knox embarked on his small-business journey.
"It was a tough decision, as my wife and I had just started our family, but I just knew that the only true job security is if you can make it for yourself," says Knox, president of Hawaii Employment Services.
His staffing agency, which has seen record growth since recently partnering with The Hawaii Group, recruits for professional positions ranging from temporary office help to CEOs. "The key to creating success is to find the right talent to support your business," he says.
Ke Ola Magazine: "I was just exercising and realized that what the Big Island didn't have was a magazine for people who lived here," says Barbara Garcia, co-publisher of Ke Ola Magazine.
She told her business partner, Karen Valentine, about the idea and, 24 hours later they had their first advertising inquiry. "Within a week we created a media kit and had set a deadline for the first issue," says Garcia.
The magazine focuses on arts, culture and sustainability on the Big Island and, three years after starting, it is a thriving 92-page, bi-monthly publication.
Family Business
Highway Inn: Highway Inn, founded in 1947 by Seiichi and Sachiko Nancy Toguchi, symbolizes three generations of family pride.
"We prepare our food with a lot of love and respect for tradition," says Monica Toguchi, VP and the founders' granddaughter. "It's a core value of ours to support the sense of family, friends and community through good, consistent-tasting Hawaiian food."
In the past decade, the Waipahu restaurant has expanded to include a general store, seafood market and catering service, and there are plans to add locations and sell products online.
Sumida Farm: Sumida Farm, the state's largest watercress producer, has been in the same Aiea location since 1928, despite the expansions of neighboring Pearlridge Center and other shopping malls.
"We have the best location to grow watercress, with lots of sun and natural spring water," says David Sumida, operations manager, who took over the farm in 1982 with his sister, Barbara. Their parents, Masaru and Norma, had managed it since 1950.
The farm's dozen workers produce more than five tons of watercress weekly on 10 acres of leased Kamehameha Schools land, Sumida says, adding that he recently signed a new, 20-year lease.
>> (808) 488-4517
Long-term Achievement
Leadership Works: Glenn Furuya, president and CEO of Leadership Works, has a bookshelf dedicated to binders full of testimonials and letters of gratitude spanning his company's 30-year history.
Furuya says about 10,000 business and organization leaders across Hawaii have been trained by his seminars and leadership programs, which focus on practical, sticky and transformational leadership techniques.
"Hawaii is the perfect laboratory for studying leadership because of the blend of Eastern, Western and Polynesian cultures. I call it Island-style leadership," says Furuya, who encourages businesses to develop effective work and leadership systems. "Systems make it possible, people make it happen and leaders are the key."
Liliha Bakery: Liliha Bakery is a Honolulu landmark that has been selling its famous pastries and breakfasts for 61 years. Closed on Mondays but open 24 hours a day for the rest of the week, the bakery continues to thrive and revenue keeps growing.
Peter Kim, who took over ownership four years ago, attributes the company's continued success to keeping its ear to the ground to understand what customers want. "We deliver a quality product and keep it reasonably priced," he says.
The bakery's most popular item? Coco puffs. More than 2 million are sold a year.
Community Service
Hui Ku Maoli Ola: Rick Barboza, co-owner of Hui Ku Maoli Ola, is a man on a mission, hoping to restore land in Hawaii with native plants. "We speak up for the plants and the animals," says Barboza, a zoologist by training.
Located in Kaneohe, the company specializes in plant sales, habitat restoration and landscape consulting. But the company also holds lectures on native plants, and conducts field trips and guided tours. So, three years ago, the company set up a nonprofit arm dedicated to education, Papahana Kuaola.
"Early on, we realized the more outreach we provided, the better it would be for our community in the long run," Barboza says.
MIRA Image Construction: MIRA's business is construction work, including asphalt, brick paving, septic systems and utilities. But it also contributes money and community-service hours to many projects and organizations, including repairs to the general facilities and track at Farrington High School, MADD and the Hawaii Athletic League of Scholars' Kalihi Gladiators.
Under president Michael Gangloff, the Honolulu-based company motto is "You name it, we do it!"
"With our A, B and C licenses, we are able to do almost any kind of project there is," the company says.
Small Nonprofit
Hawaii Youth Symphony: Although incorporated in 1964, Hawaii Youth Symphony's work connecting Hawaii's youth with music dates back to a partnership begun with the Jaycees in the 1950s.
Today, the organization and its 13 employees reach across the state: HYS enrolled 727 students this year from 112 schools on Oahu, Maui and the Big Island; provided free educational concerts for more than 13,000 youth; and performed 23 concerts for a total audience exceeding 21,000. It did all that on a budget of $700,000.
As its website explains, the goal is to help young people "Learn, Perform, Grow."
Pacific Resources for Education and Learning: In addition to its main office in Honolulu, PREL now has offices throughout the Pacific: Maui, American Samoa, the Northern Marianas, Micronesia, Guam and the Marshall Islands.
With more than 70 employees and more than $9 million in annual revenue, PREL is able to reach throughout school systems, from classroom to administration, and collaborate with governments, communities and businesses.
It partners with local educators and citizens "to make education a community affair that is culturally inclusive and relevant," says communications director Javier Elizondo.
We extend a big mahalo to all the nominators and to this year's judges:
Vance Roley, dean of the University of Hawaii's Shidler College of Business, and
Jane Sawyer, district director of the U.S. Small Business Administration's Hawaii district office, for judging the Most Innovative and Best New Business categories.
Dwight Kealoha, CEO of the Better Business Bureau of Hawaii, and
Jeanne Unemori SKOG, president and CEO of the Maui Economic Development Board, who judged the Family Business and Lifetime Achievement categories.
Gwen Yamamoto Lau, president of the Hawaii Community Reinvestment Corp., and
Lisa Maruyama, CEO of the Hawaii Alliance of Nonprofit Organizations, who judged the Nonprofit and Community Service categories.