Hundreds of Millions of Dollars at Stake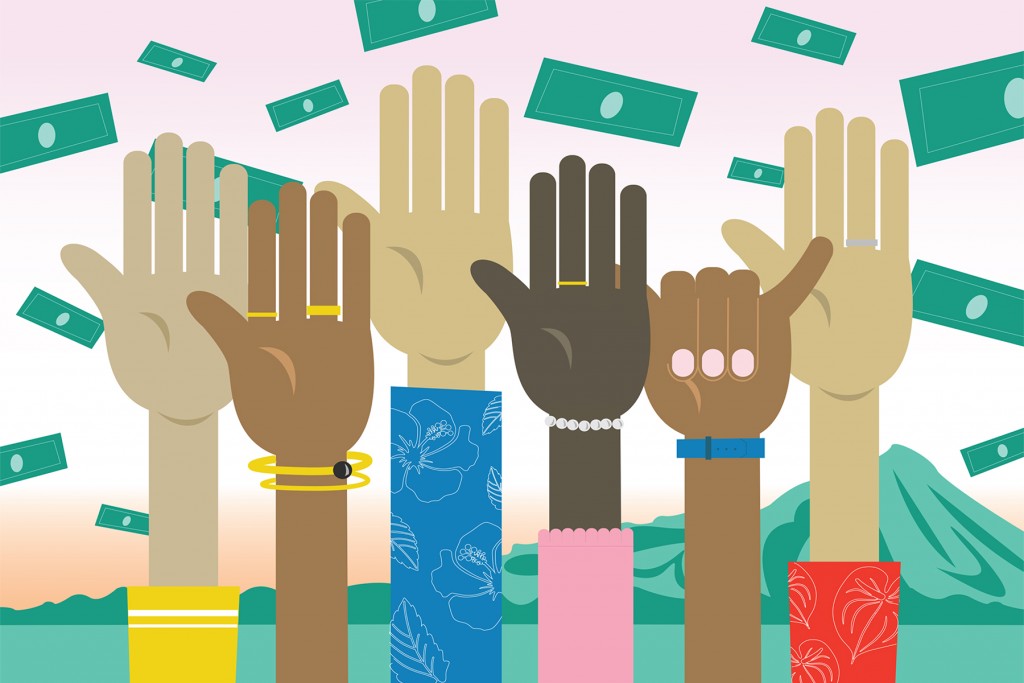 A full count in the 2020 census is key to Hawai'i getting its rightful share of federal funding, and the state is working to make that happen. Here's how you and your company can help.
The U.S. Census is much more than a count of who is residing in the 50 states: it is also the guidebook for the next 10 years on how to divvy up trillions of dollars in federal government aid for agriculture, housing and urban development, transportation, education, health and human services, and more.
"Hawai'i's responding rates to the census questionnaire were much lower than the national average in the past censuses," says Gov. David Ige.
The state faces many challenges in counting its population accurately, including the large proportion of non-English speaking people in its population (Hawai'i ranks 9th in the nation); the huge number of people in multigeneration living situations (Hawai'i ranks No.1); the large homeless population (Hawai'i ranks No.3); and special housing arrangements such as CPR (a condominium property regime is when a single parcel of land has been divided into separate units) and ADU (we often call an accessory dwelling unit simply a "cottage").
According to the U.S. Census Bureau studies, Hawai'i's population was undercounted by 1.9% in 1990, 2.16% in 2000 and there was an overcount by 0.44% in 2010. "However, the undercount is believed to be much larger and the estimated overcount in 2010 was with large errors," says Ige. "For each percent undercounted, the state will lose $43 million a year for 10 years." That adds up to almost half a billion dollars for just a 1% undercount.
To help conduct prior censuses, the state relied on federal funding from the U.S. Census Bureau, notes Ige. "However, funding for Hawai'i has been reduced for the 2020 census – including the elimination of field offices that were opened on neighbor islands for the previous census." That's why, for the first time, Hawai'i appropriated state resources for economic planning, research, and outreach on the census.
The governor helped create the Hawai'i Government Complete Count Committee, composed of members from all state agencies and the four counties to coordinate government efforts to accurately count Hawai'i's population in 2020. The message to everyone in the Islands: Your 'ohana counts.
The state Legislature appropriated $750,000 to support the campaign, says Eugene Tian, the state economist with the Department of Business, Economic Development and Tourism, and the HGCCC chairperson. He reports the state is hoping to raise the response rate on the 2020 census to 74% of Hawai'i households, up from an estimated 68% participation in 2010.
Hawai'i is not alone: 26 states are spending a total of about one-third of a billion dollars on ensuring high response rates on the Census, according to a report by the New York Times in December.
"Hard to Count" People
For the 2020 census, people can respond online, by mail or by phone; people who live in remote areas may be visited by a census taker. However, getting people to respond may be hard. Minorities and young adults are in a category deemed "hard to count" because they are less likely to participate in the census, according to a Pew Research Center survey, as are adults who make $30,000 or less each year.
Additionally, a push by President Donald Trump's administration to add a citizenship question, though thwarted, is expected to have a negative effect on census participation.
"We have a diverse community that includes a large number of immigrants who don't speak English as a first language," says Gov. Ige. "Part of our census informational campaign is to really make it clear that participation in the census is isolated from immigration and all other facets of government. There is no bad outcome as a result of participation in the census.
"By law the U.S. Census Bureau is required to protect personal information collected and keeps all responses to surveys strictly confidential. Responses are used in the aggregate to produce statistics and cannot be used against you."
The state has hired the Hawai'i Community Foundation to increase awareness and participation in the 2020 census in those hard-to-count populations. It has also spent over $50,000 on promotional materials and outreach activities, says Tian.
"The HGCCC has distributed about 5,000 brochures explaining the census and 12,000 promotional items such as shopping bags, pens, notepads, T-shirts, all with census promotional messages," he says. Brochures about the census are available in Hawai'i in simplified and traditional Chinese, Ilocano and Tagalog, Korean, Japanese, Spanish and Vietnamese. Committee members are also participating in business and community events.
How You Can Help
Having an accurate count is important to local businesses. "Businesses use census information in determining when and where to open stores, when to expand their operations and identify what products to offer," says Ige. "For example, if census data indicates an area with high growth of youth under 18, not only could the government plan infrastructure to support the youth and families, but business could also use this data to identify the consumer needs of that community. This could be a good area to start a day care center or a kid-friendly restaurant."
Your business can help get the census word out, Tian says, by organizing events, distributing brochures, passing out messages in paycheck stubs and employee newsletters, and displaying promotional banners. The committee will help businesses arrange promotional activities, such as having a display booth, and can conduct on-site presentations.
"Supporting an internal informational campaign is the simplest and easiest way for Hawai'i's business community to support the state's complete count efforts," says John Komeiji, president and GM of Hawaiian Telcom (he is resigning in February to join Kamehameha Schools). "Our employees participated in the All In: For A Better Hawai'i event at the State Capitol in January to show their support of being all in for the Census 2020. Like other companies, we are committed to an informational campaign to help remind and educate our employees about the importance of the census as well as providing them the proper links and resources to ensuring that they and their families are counted."
Other companies with similar census outreach efforts include Accuity LLP, aio (owner of Hawaii Business Magazine), Armstrong Produce, Central Pacific Bank, Suisan Company and the RMR Group.
Local nonprofits are stepping up too, including the Hawai'i Japanese Center in Hilo and the Chuuk Language and Cultural Association of Hawai'i. The Hawai'i branch of the NAACP has organized a Census Sunday with faith-based groups, done workshops with college fraternities, and held training with local leaders in the African American community.
"The training we're doing has an emphasis on why individuals need to be involved in the count, and to educate the general populace on the importance of the census in assuring that marginalized groups and communities are included," says Alphonso Graggs, the branch's president and a member of the NAACP's national board of directors.
"We can't afford to lose federal funds for our state," Graggs continues. "This is funding for hospitals and fire stations and Head Start and economic empowerment. I cannot overestimate the importance of being involved."
Find census resources for your business or community here.