5 Things to Know About a Digital Media Strategy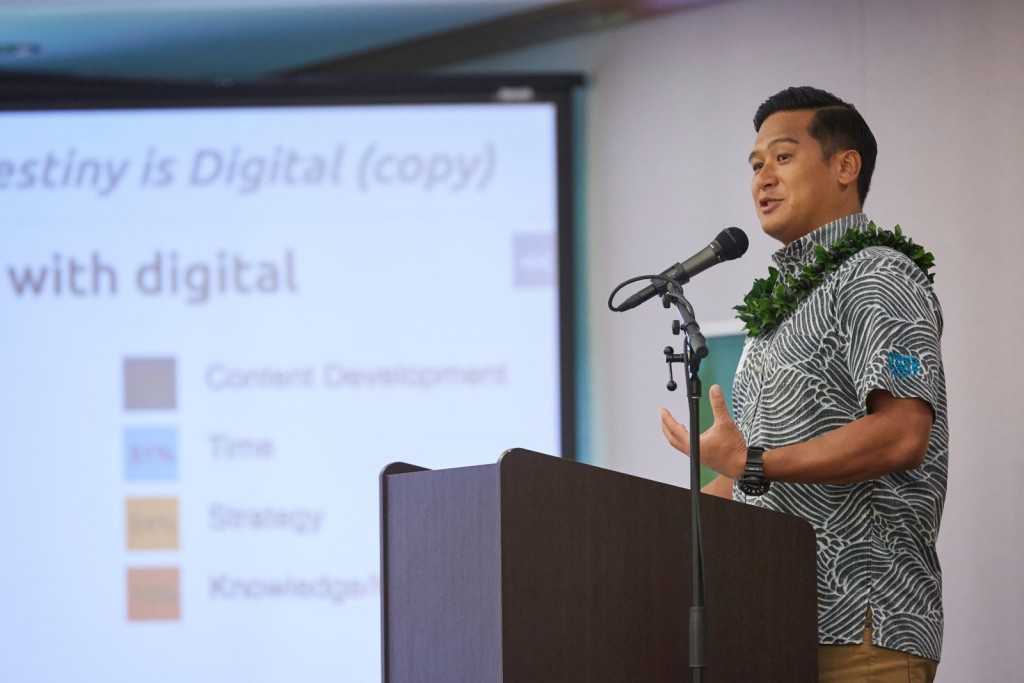 Thursday, January 1, 1970, –
By Noelle Fujii
---
"A digital media strategy is not something that you should be afraid of," said Thomas Obungen, digital and social media strategist for Upspring Media and associate editor of Frolic Hawaii.
But it is essential, he added. "Every business should have one because that's just the time we're dealing with. … The way to reach more people at a faster rate is online."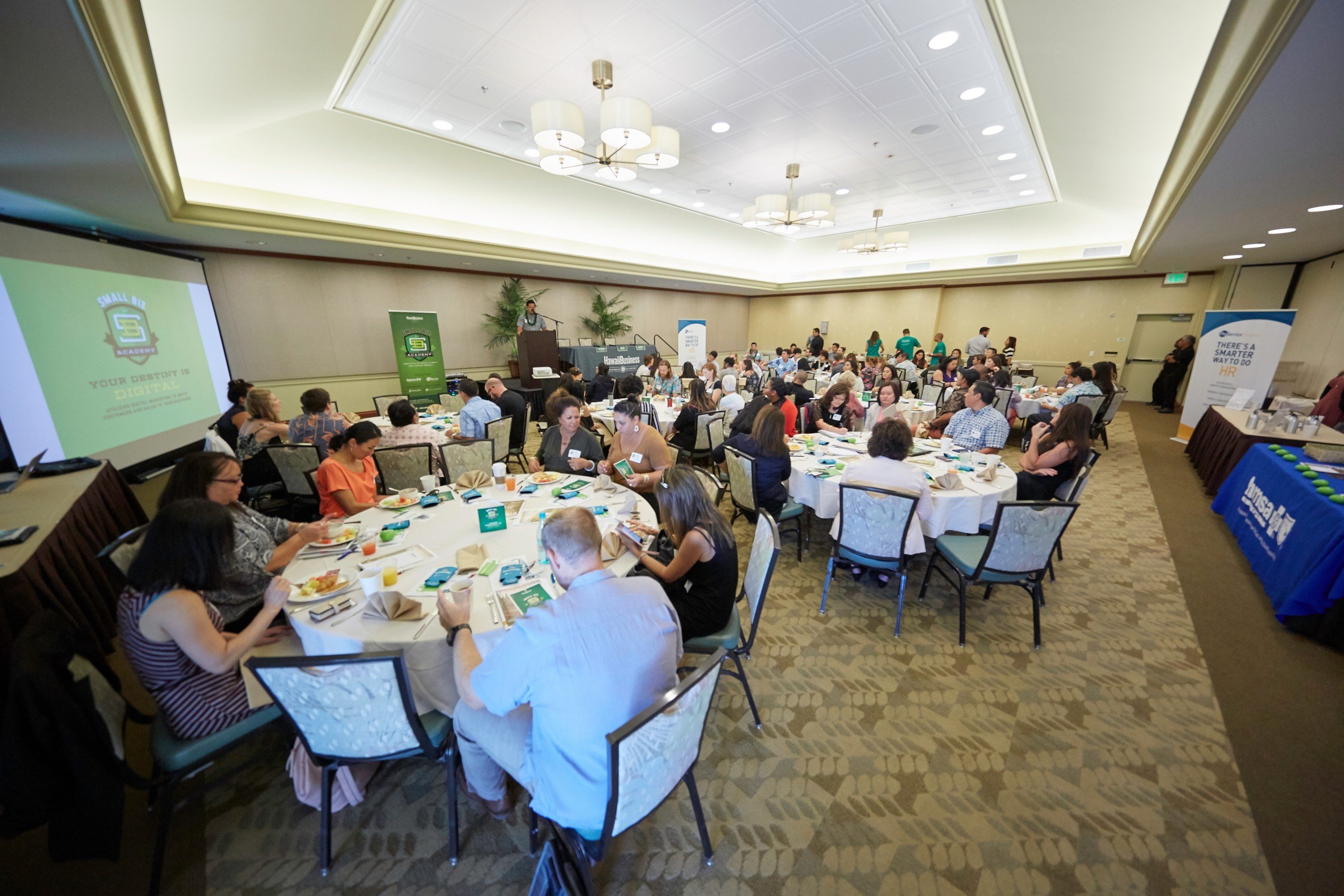 Obungen was the keynote speaker at Hawaii Business magazine's SmallBiz Academy on Thursday. More than 100 people attended the event at The Salvation Army Kroc Center in Ewa Beach to learn how to create their own successful digital media strategies.
After his keynote, Obungen sat on a panel with Kamea Hadar, artist and co-lead director of POW! WOW! Hawaii, and Jade Snow, social media and content director for Manaola Hawaii. Hawaii Business magazine's digital media director Daniel Ikaika Ito moderated the discussion.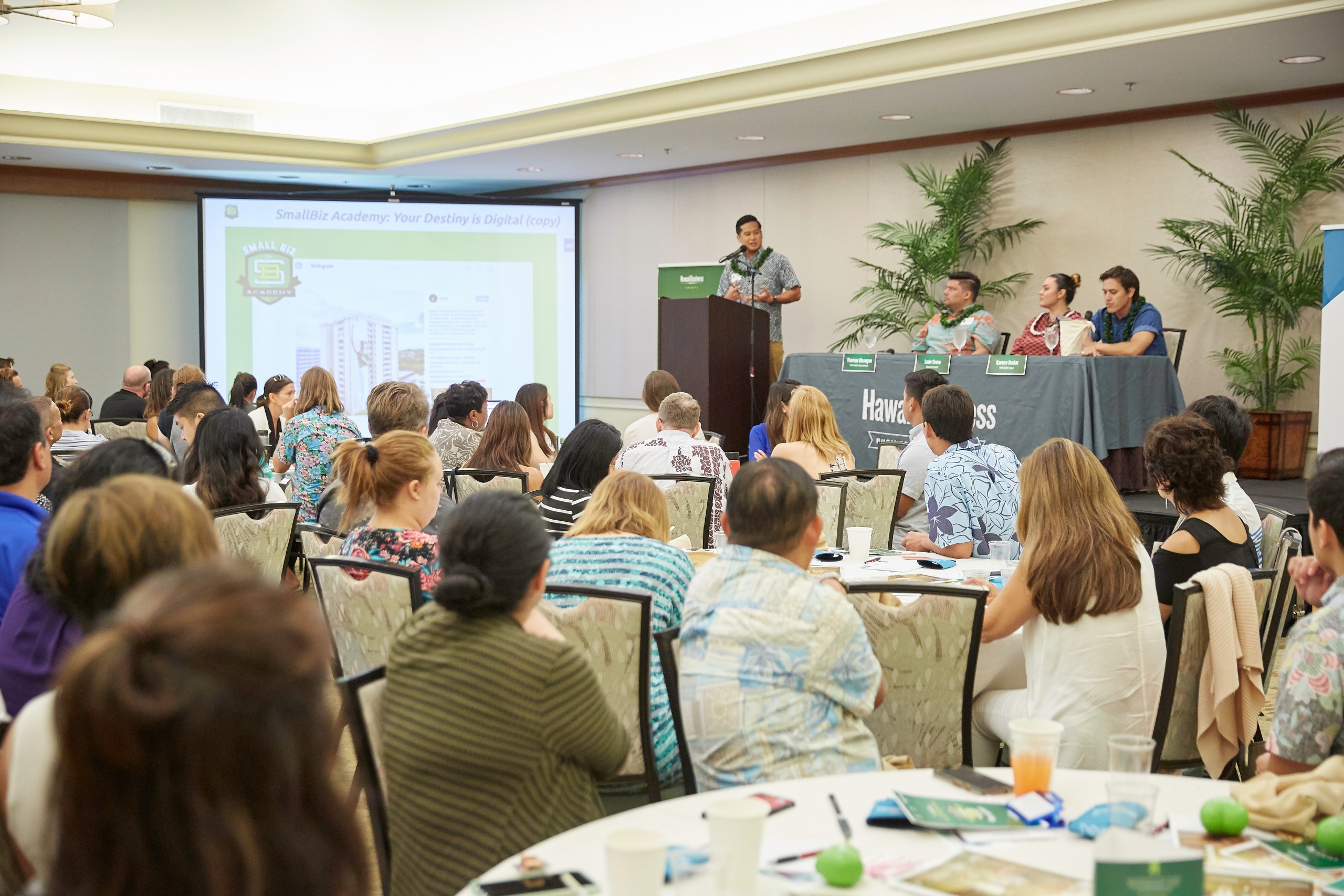 Here are five things we learned about crafting and implementing a digital media strategy:
1. The tools needed are easly available, Ito said, citing Google Analytics, Facebook and Instagram as examples. "All of these tools are at your disposal but if you don't have a proper strategy that is supported by quality data, then these tools are about as useful and dangerous as a rusty, dull machete," he said.
2. Data can justify and measure the results of a digital media strategy, so use the data. Data can be analytics from a company's website, as well as insights from Facebook, Instagram and email marketing, Obungen said. For instance, when Upspring Media works with a client, the digital agency wants to first know about a client's past successes with messaging, photos and videos so it can decide how to replicate that success in the future.
3. Quality digital content is important. "You can't just flood social media with garbage because there's so much out there and people's attention span is so short these days that it's easy to just scroll right by it," Hadar said. He cited a mural he worked on as an example: The mural is of high quality, and people can see that in person, but people online won't see the quality if the online pictures are mediocre.
4. Despite the growth of social media, it's still important to have a functioning, professional and up-to-date website, Obungen said. That website will help customers find your business when they search for you online. And make sure the site is mobile-friendly because most searches today are done on phones. In addition, Snow said, your website is often a potential customer's first impression of what you offer. "Especially if you're trying to reach a national or international audience, often they're going to look you up online, and that's your first impression, and that's incredibly important. There's so much value in impressing people from the start," she said.
5. Email marketing is the best way for a business to connect with its audience because emails are delivered directly, rather than relying on an Instagram or Facebook algorithm to decide who gets the message, Obungen said. Emails can also connect customers to the company website. And with email marketing, you own the customer data – not Facebook or another site.
DOWNLOAD THOMAS OBUNGEN'S KEYNOTE PRESENTATION HERE.