8 Hot Topics in Real Estate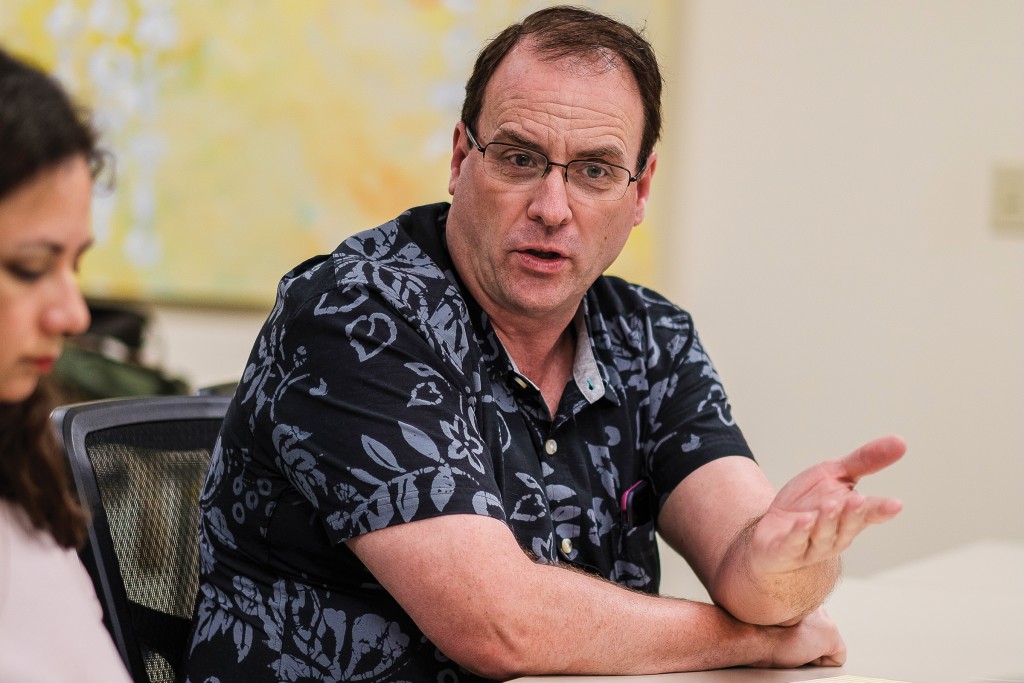 The top executives at Hawaii's five boards of Realtors provide insights into the local industry
Hawaii Business asked the top executives at Hawaii's five boards of Realtors to join in a far-ranging discussion about residential real estate in the Islands. Here is a condensed and edited transcription of the conversation.

(1)
Technology
HB: How is technology being leveraged today?
Belew: One tool is smart lockboxes. In the old days, someone would have to arrange to pick up a key to get into a property for showings. But electronic lock boxes are devices that are left at the property with the keys inside. Someone has to have an ID card with a chip to retrieve the keys. These devices provide reports to a seller's agent about who has been in the property, when and for how long. They provide security and convenience.
Shaw: Virtual reality is also really hot by giving people the experience of a property without setting foot into a physical space. And online videos speak much louder than any still photo. You can narrate the video and make sure, if there is anything private or of value, that you don't highlight it.
Drone photography is also a big deal because it provides the whole overview, which before was not really possible.
Other things are sprouting, like the use of electronic notary services. You don't have to incur the expense and inconvenience of going to a notary. Before it was all about paper, ink and being in front of the person.
Costa: Some of these new tools are prompting the association to educate our members about cybercrime, wire fraud and how technology can be used to harm the consumer. That's a big part of our National Association of Realtors and our state and local associations: to promote consumer protection. The more Realtors are doing their transactions electronically, the more careful we have to be.
Shaw: This is a big focus of escrow companies these days as well, since they are dealing with the documents.
(2)
Realtors vs. Do-It-Yourself
HB: How do real estate professionals stay relevant when more consumers try the do-it-yourself approach to save money?
Young: I don't have the exact numbers, but the numbers of "for sale by owner" transactions are actually going down. Nationally, they are under 10 percent. I think the online search and finding of properties has allowed the consumer to get into that initial aspect of the property search. But, actually putting in your offer and dealing with a 14-page purchase contract, and getting your offer accepted in a competitive market where inventories are so low and then seeing it through to closing – I think those are the critical steps when it is beneficial to have a professional Realtor.
Shaw: The other thing is that many of these property price estimates that people look at online are inaccurate – it might be a lofty sum, depending on the methodology of the website. But if you get in with a Realtor, they could go into the MLS and really research the data and get you good comps that reflect the true price.
Belew: The other great thing about going through a Realtor is that these individuals have to complete a certain number of continuing education hours every two years. So, you are guaranteed the person that you are working with is keeping up to date on what's going on in the industry. They are getting constant training and building up their toolkits so they can better service the consumer.
Shaw: Plus if you try the do-it-yourself approach, you have to do all of the showings. As a buyer, I would have difficulties if the seller of a house were hanging around because I wouldn't be able to speak as candidly as I would if I were talking to a middle person. Having a Realtor helps ease the tension. It is difficult to provide honest feedback when somebody is so personally attached to a home.
Also, you have to have the right forms. You can go to an attorney, and they can prepare documents, but you need to know about the seller's disclosure – those things last longer than just the closing of the escrow. Somebody can go back years after a disclosure, so you want to have that done right. And older properties must disclose lead-based paint. So there are things the average person may not be well trained on. That could come back later, after the transaction is closed, and still wreak havoc.
(3)
Code of ethics
HB: Realtors have a code of ethics. How does that help buyers and sellers?
Costa: If an issue doesn't go well in a transaction we have a lot of services to provide to that consumer with regard to mitigation and processing complaints that you wouldn't have if you were only working with the seller of a property.
Belew: The code of ethics has three main areas that all of our Realtors are expected to follow. The first one is their duties to their clients and customers. The second is their duties to the general public. And the third is their duties to other Realtors. So, it really lays out a great groundwork of rules for professionalism and a high code of conduct, so we can try to minimize the issues that may come around.
Young: The Realtor code of ethics is over 100 years old. Realtors created it not because of the government, but because they wanted to ensure that they were creating a measure for themselves to provide a quality service. I think that makes sense because real estate is usually the most expensive asset someone will buy in their lifetime. Our code allows a consumer to feel protected, to have a guarantee of service, and to know there's an organization behind them that will help them resolve disputes.
(Here is a shortcut to the Realtors' code of ethics: tinyurl.com/codeRealtorshere)
(4)
Specialties
HB: Are most Realtors still confining themselves to specific geographic areas?
Ono: All licensees in Hawaii have the same license, but they start to focus on a certain market, home right into that specific area, whether it be luxury homes or condominiums or residential. But they are more focused now with all these technology tools.
Young: The majority of our agents on Oahu are still local, but we have specialists who focus, for instance, on the condo market or foreclosures.
Shaw: The National Association has several designations and certifications so that somebody can become more of a residential specialist. They can become a buyer's representative. They can get certifications in resort and second home buying.
Some have a certification in certain areas, but others just develop a reputation. We have a woman who is known for selling million-dollar properties on Alii Drive in Kailua-Kona.
Costa: With so many people moving from the Mainland to Hawaii or moving from island to island, some of our Realtors have really found a niche by specializing in a lifestyle – becoming experts in the area where they live and where they are selling so that they will promote the lifestyle of that area.
Young: There are two other specialty areas where we do see a lot of Realtors gaining certifications. One is the senior market for those who are downsizing or moving into a senior housing community. And there are so many different things they need to know about when they are embarking on that time of their life.
The other area is the military, because of the specialty with various loan programs. The Realtors in this area understand the nuance of: Someone's only going to be here for three years, so, if they do decide to purchase a property, how much will it appreciate in value after three years? And, if they have to move, are they going to rent it or sell it? Oftentimes, you've got the Realtor holding down the fort, while the military personnel have already relocated to the Mainland. And the Realtor is still back here, closing up the sale of the house. So you have to know what you are doing. There are a lot of specialties: geographic, client based, first-time homebuyers, property, etc.
Costa: In my area (East Hawaii Island), we see a lot of people who live alternative lifestyles – off the grid, alternative energy, farming, sustainable – it's so interesting how diverse our areas are and what people are looking for.