Hawaiʻi's Top Employers Profiles 2023
Employees have spoken in the 2023 Best Places to Work Survey. Read to find out where they work and why they love their jobs.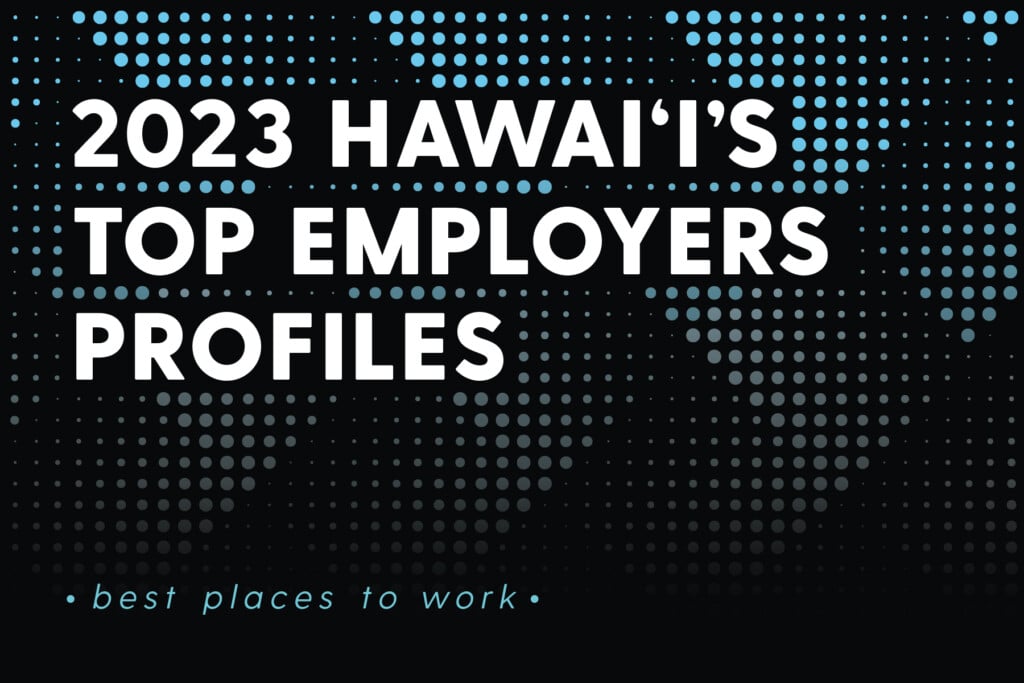 Employee's views about their workplace have changed dramatically over the last three years – engagement, morale, life balance and community commitment now often play a bigger role in workplace satisfaction than compensation. Employees have spoken in the 2023 Best Places to Work Survey. Read to find out where they work and why they love their jobs.
Platinum level winners have made the list 10+ years, Gold winners 5-9 years, Silver winners 2-4 years and Bronze winners one year.
American Savings Bank
Aqua Engineers, Inc.
Central Pacific Bank
Ceramic Tile Plus and Exclusively Yours
Child & Family Service
Decision Research Corporation
Diagnostic Laboratory Services, Inc.
EnviroServices & Training Center
Express Employment Professionals
Finance Factors
First Hawaiian Bank
First Insurance Company of Hawaii (FICOH)
Hawai'i Energy (administered by Leidos)
Hawaii State FCU
HawaiiUSA Federal Credit Union
HEMIC
Imua Family Services
Intech Hawaii
Island Insurance
Island Palm Communities LLC
Kapili Solar Roofing & Painting
Lawson & Associates, Inc.
N&K CPAs, Inc.
Northwestern Mutual Hawaii
Parents And Children Together
Prince Resorts Hawaii
ProService Hawaii
Servco Pacific Inc.
---
Platinum Level Winners
American Savings Bank
American Savings Bank (ASB) values collaboration, celebrates diversity and recognizes and rewards teammates for speaking up.
Paired with their unstuffy culture, award-winning benefits and unique work perks, they're not your basic bank, and they're proud of it.
"We are honored that the ASB Dream Team voted us a Best Place to Work for 14 years in a row," said Beth Whitehead, executive vice president and chief administrative officer. "Our teammates are the heart and soul of ASB, so we make sure to work hard to provide an excellent teammate experience."
Investing in an excellent teammate experience begins with feedback, a key component of ASB's culture. Many of ASB's award-winning benefits, such as weekly paydays, casual dress code, student loan repayment assistance and wellness and birthday holidays were inspired by their teammates. Committed to creating a welcoming workplace where all teammates feel valued and respected, members of ASB's IDEAS (Inclusion, Diversity, Equity, Allyship, Safety) Council recommended that Juneteenth be added to the company's holiday schedule. The holiday is now observed annually at ASB.
Teammates also provided input for the design of the ASB Campus, from the free Starbucks machines and fitness center to the arcade and outdoor lanai games.
Recognizing and celebrating teammates for their valued contributions is part of ASB's DNA. Teammates enjoy fresh-pressed orange juice on Mondays and celebrate work anniversaries and birthdays with soft serve ice cream every Friday.
As part of its annual Teammate Appreciation Month festivities, ASB hosted an annual Mahalo Party celebration where teammates across the state gathered for delicious food from top restaurants, collaboration activities, oversized lawn games, live music and more. ASB also gifted Thanksgiving pies to more than 1,100 teammates across five islands and an additional $200 gift card to help brighten their holidays.
With teammates feeling supported by ASB, they were able to focus their efforts on taking care of customers and the community. Staying true to ASB's vision, teammates contributed more than 12,300 volunteer hours and $212,000 to ASB's annual Kahiau Giving Campaign, resulting in the largest Kahiau donation since 2011.
ASB's commitment to provide an excellent teammate experience is the reason they're voted a Best Place to Work in Hawai'i year after year.
American Savings Bank
P.O. Box 2300
Honolulu, HI 96804
(808)-627-6900
www.asbhawaii.com
Central Pacific Bank
Central Pacific Bank (CPB) was founded in 1954 by World War II veterans who fought for their country, yet faced social inequities when they returned home. With their "Go for Broke" spirit, they established CPB to help all of Hawaii's people achieve their financial dreams.
CPB believes relationships with its customers and community, begins with how it takes care of its own employees, which today is nearly 800 people statewide. After the COVID19 pandemic, the company remained committed to its in-office, hybrid, and remote employees. To create more engagement, CPB opened a $3 million "Friendship Floor" above its flagship Main Branch in Downtown Honolulu.
The more than 12,500 square foot facility features an open concept, multi-functional space to collaborate and create. It includes eight conference rooms, 80 hoteling workstations, treadmill desks, privacy rooms, lounge, game room and kitchen with complimentary beverages.
CPB also prioritized employee health and well-being. For the eighth consecutive year, employee out-of-pocket health care costs didn't increase. Employee training, team building, and career advancement opportunities to promote from within continues to be a priority. CPB provides in-person and web-based training sessions, as well as $3,000 in tuition reimbursements, and financial assistance when purchasing a home.
The bank recently named a "Chief Happiness Officer" to help create a healthy work/life balance. The Employee Club sponsors themed events and individual departments are provided funds to host team building activities. Employees are encouraged to start or join a club, some of which include hikers, movie lovers, foodies, and gamers to spark new interests and strengthen bonds.
CPB and its employees enjoy giving back. In 2022, the CPB Foundation contributed more than $1.8 million benefitting 100 local nonprofit organizations. Employees devoted more than 6,200 hours of community service and donated $430,000 of their own money to Aloha United Way. CPB employees are also provided up to three days of paid community service leave each year.
Central Pacific Bank has a legacy of serving all of Hawaii's people and continues to treat its customers, community and employees with aloha. It is why employees are "Proud to be CPB."
Central Pacific Bank
220 South King Street
Honolulu, HI 96813
(808) 544-0500
www.cpb.bank
EnviroServices & Training Center
EnviroServices & Training Center (ETC) has been safeguarding the environment throughout Hawai'i and the Pacific Rim since 1994. Our mantra, "We'll Take Care of It" isn't just something we say, but a commitment to delivering exceptional work to our clients and an approach to caring for our employees. It has served as an inspiration for Hawai'i's leading environmental consulting and engineering firm as we approach 30 years of business.
When asked what makes ETC one of Hawai'i's "Best Places to Work," each employee may have a slightly different response – the people, the perks, the philanthropy, and of course the free snacks. But the answers all center around a culture where employees are happy, feel supported, and work towards shared success. Team members build peer relationships through Popcorn Fridays, weekly pau hana, Bring Your Pet to Work days, and festive holiday parties. Our office culture encourages employees to develop and grow together through monthly Lunch & Learns and collaborative work spaces.
Our team of scientists, engineers, and professionals are the cornerstone of EnviroService's success. Our dedicated staff work closely with clients, providing high-quality, personalized service; and are why we place such great importance on recognizing and retaining talented, experienced professionals. We look for opportunities that will bring the most value to our employees' lives. Great health care benefits, an employer assistance program, continued education subsidies, annual flu and vaccination clinics, and flexible work from home schedules are a few of the benefits we provide with the long-term goal of employee well-being and work-life balance.
Respect and care for others doesn't end within our office walls. Employees eagerly participate in annual food drives and community service projects ranging from benefit walks, removing invasive algae, and serving meals at homeless shelters. Employees are also encouraged to nominate grants to be given to local non-profit organizations from ETC's charitable gift fund.
Mahalo to our EnviroServices 'ohana for making us one of Hawai'i's Best Places to Work for 12 consecutive years! Your hardwork and thirst for continuous improvement allows us to continue our journey taking care of our employees, clients, community, and the environment.
EnviroServices & Training Center, LLC
505 Ward Avenue, Suite 202
Honolulu, HI 96814
(808) 839-7222
www.gotoetc.com
First Hawaiian Bank
First Hawaiian Bank is Hawaii's #1 bank because of its people. Relationships are their strength, and excellence is revealed in even the smallest detail, whether it's enhancing the financial future of their customers, or strengthening the communities in which they live.
Not only has this led to market leading performance, in 2023 First Hawaiian Bank has also received Newsweek's "Best Bank" award for the State of Hawaii, is Hawaii's top ranked bank in Forbes Magazine's "America's Best Banks" list and has been named as a Best Place to Work by Hawaii Business Magazine for 13 years.
As Hawaii's first and largest bank, FHB is celebrating 165 years of being a trusted advisor to generations of individuals, families, and local businesses, enabling them to embrace life's possibilities as they build a secure financial future. This commitment to building lasting relationships and connections, creates enduring customer loyalty and empowers its employees to make a positive impact in the community every day.
The Bank's 2000+ team members are passionate individuals who gain deep satisfaction in knowing that their work has the power to uplift others. They work together to improve the financial well-being of their customers; volunteer their time and talents to assist non-profits; and mentor new team members to foster growth within the organization.
Known for its innovative culture, the bank is investing in technology enhancements to modernize its approach to relationship banking – enhancing both digital and in-branch customer experiences and providing customers the information they need to make sound financial decisions. The bank is also creating greater efficiencies within the organization by reducing manual processes – creating a highly engaged team that is agile, dynamic and adaptable to an ever-evolving world. FHB also invests in its employees with programs that provide continuous learning opportunities, leadership development, and compelling career paths that allow individuals to grow both personally and professionally. Popular among employees is the 24/7 online learning center, and the Bank's award-winning leadership courses such as the Emerging Leaders Program, Women's Leadership Forum, the Circles of Growth Program and the Bank Fundamentals workshops.
The team at FHB embraces the bank's core values of caring, character and collaboration, creating an inclusive work environment where employees are treated like family, making it possible to build a rewarding career and develop lifelong friendships.
FHB is actively recruiting for a variety of different roles. To join the team at Hawaii's best bank, visit fhb.com/careers.
The benefits our employees appreciate:
Professional leadership and career development opportunities
Flexible remote work schedules
Fun company sponsored community service volunteer activities
Generous company match of up to 7.5% to retirement plans with the ability to contribute to Roth IRA with after tax income
11 paid holidays, plus 4 paid fl oat days
Paid medical, dental and vision coverage
Life insurance, long term disability, long term care and business travel accident insurance coverage
Company match to dependent care/elder care spending account
Subsidized meals at on-site employee lunchrooms
Popular tuition reimbursement program for continuing education
Convenient on-site fitness centers and lactation rooms
Free on-site annual health screenings and fl u shot
50% bus pass subsidy
Pet insurance
Discounted identity protection and banking services
First Hawaiian Bank
999 Bishop Street
Honolulu, HI 96813
www.fhb.com/careers
Hawaii State FCU
Always right by you isn't just a tagline. For Hawaii State Federal Credit Union employees, it's a way of life. It's also a promise, to treat our members fairly and like family. And to always consider what's best for them in all we do.
After nearly three years apart, our employees are making the most of our ability to meet in-person rather than through a screen. To work, celebrate and collaborate side-by-side, and most importantly, make new memories together. Even more exciting has been the continued growth of our Hawaii State FCU family, as we recently opened three new branches in Safeway locations on O'ahu and Maui – providing members with convenient access to our full suite of financial services while they shop.
Our employees are the cornerstone of our organization. They provide our more than 120,000 members statewide with outstanding service experiences and accompany them along their financial journeys day in and day out. They are also the reason why we place so much importance on hiring and retaining hard-working, talented individuals – providing them with the tools and resources to ensure that they can perform their jobs successfully.
One way Hawaii State FCU does this is by providing employees with a competitive compensation and benefits package. We also take care of our employees' physical, mental and financial health and well-being by offering a number of wellness and engagement activities, financial literacy classes, and counseling in-person, over the phone and online. In addition, the credit union also encourages employees to contribute actively to our community, donating time, resources and support a number of local nonprofit organizations.
We also strive to provide a workplace that is fun, productive and offers opportunities for professional and life-long learning and growth. With our new Hawaii State FCU headquarters building nearing completion, it further underscores our long-term commitment to offering an innovative and collaborative environment in which our employees can truly thrive.
As a company, Hawaii State FCU is committed to emphasizing trust, respect and integrity in all we do, and fostering solid relationships that help strengthen our organization, our members, and our community
Hawaii State Federal Credit Union
560 Halwkauwila Street, #5
Honolulu, HI 96813
www.HawaiiStateFCU.com
Imua Family Services
Commitment to serving the early childhood developmental needs of children and their families is at the heart of Imua Family Services and the Will Smith Imua Discovery Garden. Through a wide variety of services and programs, we stimulate and motivate our children's curiosity, learning and development. In combination, our offerings provide a pathway to help children move forward towards reaching their full potential. We have come to call this "The Imua Way."
Central to this concept are the many staff members at Imua Family Services who are the key to adhering to the promises we make to our community: cultural generosity through in-person human experiences; championing creative vitality for the many communities and visitors within Maui County; an unwavering commitment to inclusion of children of all abilities; and ensuring that play and sharing joy are at the heart of all we do.
Equally important to the focus Imua brings to serving the community is its dedication to those who staff its programs. One way that Executive Director Dean Wong has worked to empower the agency's staff has been through their inclusion in annual planning retreats, which have been the source of many ideas to improve and grow the organization over the years. "To move a canoe forward, each team member must be working in sync. While we all sit in different seats and play different roles, we must also understand and push toward that unifying goal," says Wong.
Through many services and programs, Imua Family Services and the Will Smith Imua Discovery Garden champion creativity and experiential learning – what we commonly refer to as "play." We are honored to welcome our 13th recognition among Hawai'i's Best Places to Work and continue to commit to sharing that spirit of play in all we do.
Imua Family Services
Early Childhood Development Center
161 S. Wakea Ave.
Kahului, HI 96732
West Maui Service Center, Lahaina
Molokai Service Center, Kaunakakai
www.imuagarden.org
Imua Discovery Garden
2471 Main St.
Wailuku, Maui
Intech Hawaii
This year Intech Hawaii is celebrating our 32nd year in business and our 11th year as a Best Place to Work company. Intech CEO Sam Gridley said "Thanks to our awesome team of almost 25 members for making Intech a fun place to work, learn, and grow! I believe we have the best clients in Hawaii who entrust us with managing their technology, safeguarding their environment from cybercrime, and meeting compliance."
As a kama'aina company, Intech believes in creating opportunities for local IT professionals to have long, successful careers in Hawaii. Our company's mission is "Helping People Succeed" which encourages ongoing training and certification by offering benefits such as paying for study time, training materials and tests. Employees grow professionally and financially by passing courses or achieving new certifications, which also helps our company deliver the latest IT, Cybersecurity and Compliance services.
We put a lot of emphasis on our core values by recognizing people when they display these values. Using a peer-to-peer recognition platform, people thank their peers and include monetary rewards from a pool that's replenished monthly. People use these "Intech Bucks" for gift cards. While IT can be a stressful profession, the culture of team encouragement helps keep everyone motivated and appreciated.
Our President, Branden Baker said, "We put a lot of importance on recruiting employees who have qualities such as humility, intelligence, and a thirst for learning. The company's recruitment process focuses on identifying the most talented individuals who will fi t into Intech's welcoming culture." Moreover, Intech offers a cutting-edge onboarding process to get people up to speed and ready to help.
Intech's company culture is all about cultivating talent, expanding technical and professional skills, and fast-tracking careers. Branden says that Intech is where young techs come to 'up their game,' and after three years with the company, they are not the same person as when they started. With a 30+ year track record of service delivery, Intech looks forward to many more years contributing to the tech industry in Hawaii.
Pioneer Plaza
900 Fort Street Mall, Fl 17
Honolulu, HI 96813
808-596-9500
www.intech-hawaii.com
Island Insurance
What does it take to be in business for over 80 years, rank in Ward Group's top 2% of U.S. property and casualty (P&C) insurers for 15 years, and make Hawai'i's Best Places to Work list for 17 years? A local team of caring experts who are "Island strong."
Since 1940, Island Insurance has provided personalized solutions and superior service to Hawai'i's families and businesses as the only locally owned P&C insurer in the state. Built on a solid foundation of local values, Island continues to support its employees and give back to the community in a myriad of ways.
Island employees enjoy:
Competitive benefits including medical, dental, drug and vision coverage
Flexible remote work schedules and casual dress attire
Paid vacation, observed holidays, floating holidays and sick leave
401(k) savings plan with company matching contributions
Profit sharing
Employee discounts on insurance products
Continuous training and leadership development programs
College scholarship opportunities for children and grandchildren of employees
Fun employee appreciation events and giveaways
Free on-site flu and COVID vaccinations
And more!
To highlight one program, Island's wellness "boot camp" encourages healthy lifestyles through four months of specially planned challenges and educational webinars. Employees receive credit for their participation and can enter to win prizes like Hawaiian Miles and gift cards at the end of the summer event. The culmination of boot camp is a fun fitness competition where teams vie for bragging rights in events such as planking, long jump and hula hoop.
One of the core values that unites Island employees is a shared commitment to local communities. In 2022, the Island Insurance Foundation contributed over $1.2 million to charitable organizations and is recognized as one of the top 25 most active private foundations in Hawai'i. Its corporate donation program also matches donations up to $500 per employee per year, and employees are given 15 hours of paid work time annually to volunteer and support approved local nonprofit organizations.
For more information and to learn how you can join the Island 'ohana, please visit islandinsurance.com/careers.
Island Insurance Companies
1022 Bethel Street
Honolulu, HI 96813
(808) 564-8200
www.islandinsurance.com
Parents And Children Together
At Parents And Children Together (PACT), we are committed to carrying out our mission of working together with Hawai'i's children, individuals, and families to create safe and promising futures. At more than 400 employees strong, we help 15,000 clients annually with essential services that support early learning, abuse prevention, behavioral health, community building and poverty prevention.
Over the years, PACT has built its reputation as a trusted statewide resource by staying true to its values while demonstrating an enduring commitment to the local community. Our authentic and compassionate approach allows our team to work alongside our clients while collaborating with industry partners to realize our vision of Hawai'i as a peaceful, safe, and vibrant community with opportunities for all to fulfill their dreams.
We've recently relocated to our new headquarters in Kapālama to our long-awaited permanent home. Originally Queen Lili'uokalani's place of refuge, the estate was named Kalaulanilawapuni to honor the Queen's legacy while advancing our complementary missions in serving all people of Hawai'i. Kalaulanilawapuni allows our team to continue delivering on our client-centric work to guide families on a path to bright futures. In addition to PACT's administrative offices, the estate houses PACT's Family Peace Center, Early Intervention Family Strengthening and Intensive Support Services that will further accelerate our critical work and deepen our statewide impact for future generations in need.
We live by the Hawaiian saying 'Mōhala i ka wai ka maka o ka pua – Flowers thrive when there is water, just like people thrive when conditions are good'. We strive to create ideal conditions for people to thrive, internally with one another and externally with our clients and industry partners.
Everyone at PACT shares in the common goal of doing everything possible to make Hawai'i the best home it can be. Regardless of the job or position, every individual has a chance to contribute to PACT's mission and help build a strong culture of respect, excellence, and compassion for the people we serve. While we offer a competitive benefits package, people choose to be a part of PACT because of our non-negotiable values and meaningful impact we make in the lives of many.
Parents And Children Together
1300 Halona Street
Honolulu, HI 96817
(808) 847-3285
ParentsAndChildrenTogether.org
ProService Hawaii
Companies depend on ProService Hawaii for human resource services and expertise to power their businesses. Recognizing that their 380 employees go above and beyond to deliver a great client experience, ProService provides its team with a mission-driven culture that grounds them in purpose, and exceptional benefits that allow employees to live, work and enjoy life in Hawaii. Since its founding in 1994, ProService has grown tenfold and for the 17th year in a row, the 'PROhana' has voted it one of Hawaii's Best Places to Work.
As a family-oriented company, ProService strives to stay ahead of the curve when it comes to supporting working parents. While paid parental leave is a relatively uncommon benefit in the U.S., eligible ProService employees can enjoy 12 weeks of paid parental leave – making the HR company a great place to start and grow local families. "Having time together as a family, especially in those early weeks, was so crucial to helping me learn how to become a father and settle into our new life without worrying about work, " said Jordan Valcourt, IT Infrastructure Manager at ProService Hawaii. "After having my two kids, I cannot imagine working for a company that doesn't offer this benefit," Robbi Bright, a Senior Implementation Manager, added. "Even more than the benefit itself, I appreciate the culture of flexibility at ProService. I feel empowered to make decisions that are right for me as an employee and as a mom," Bright explained.
In addition to supporting families, the 'PROhana' enjoys hybrid work options, competitive compensation with weekly paydays, 401(k) matching, pre-tax health and dependent care spending accounts, and a values-driven work environment. With continuous learning as one of the company's core values, employees also receive career development opportunities, student loan repayment assistance, and continuing education benefits.
"Our core values give our company a strong sense of purpose and guide us in building a thriving and positive culture," said Ben Godsey, CEO of ProService. "Investing in the well-being of our employees helps us to deliver outstanding service and value to our clients."
ProService Hawaii
6600 Kalanianaole Hwy., Ste. 200
Honolulu, HI 96825
(808) 725-6877
proservice.com
Servco Pacific Inc.
From Australia to Hawai'i, Servco's team members (also known as Team Servco), are a collective of over 2,000 like-minded individuals. Guided by a value-driven business model, Servco is a diversified business with operations in automotive distribution and retail, car sharing, musical companies, and venture & growth capital. As the company's journey of innovation continues, Servco is evolving to provide mobility solutions to serve the needs of its customers and communities in Hawai'i and beyond.
"As my grandfather, Peter Fukunaga, used to say 'You either grow or die. There is no middle ground,' " said Mark Fukunaga, Chairman & CEO. "Change is always with us and I'm grateful to be surrounded by team members who exemplify our Core Values of Respect, Service, Teamwork, and Innovation, and have helped Servco thrive during these times."
Servco's Leadership Acceleration Program provides the opportunity to lead and accelerate change in the company's global business and operations in a two-year rotational program that results in a leadership role. Spouses and children of employees are also eligible for scholarships to pursue a college degree from the Servco Foundation.
In December 2022, the company completed a full renovation of its corporate headquarters in Honolulu. Designed with collaboration in mind, the two-story building features an innovative and open concept floor plan, encouraging its team members to foster new ideas.
In addition to investing in professional growth, Team Servco members enjoy competitive compensation packages, generous subsidies on family medical and dental premiums, and discounts on Servco products and services. Servco was the first company to offer a profit-sharing program in Hawai'i for its team members, and it's a benefit that continues today.
Team members are encouraged to lend their time to building better communities by volunteering with local nonprofits. This year, our team members are focusing their service efforts on four areas: Youth Services, Earth, Wellness, and Social Mobility.
Servco also recognizes the hard work of its team members through company events including an annual Team Servco Dinner and a bi-annual Family Fun Day.
For more information on joining one of Hawai'i's Best Places to Work for the past 19 years running, visit servco.com/careers.
Servco Pacific Inc.
2850 Pukoloa St., Ste. 300
Honolulu, HI 96819
(808) 564-1300
servco.com
---
Gold Winners
Aqua Engineers, Inc.
Award winning Aqua Engineers Inc. is a 100% employee-owned company which owns, operates and maintains water and wastewater facilities state-wide. From its humble beginnings on Kauai 43 years ago to today's largest and most experienced water and wastewater management company in Hawaii, Aqua operates approximately 40 wastewater treatment facilities, 17 water systems and over 70 wastewater pump stations. Four of our wastewater treatment plants are R-1 facilities, producing the highest quality effluent and conserving millions of gallons of potable water every day. Aqua's mission is to deliver excellence in the operations, maintenance, management and engineering of our clients' water and wastewater systems, while supporting the health and safety of the community and protecting our environment through innovative, sustainable services and solutions.
In 2006 the company was sold to the employees through an Employee Stock Ownership Plan (ESOP). David Paul, President/CEO, says, "Aqua continues our founders' tradition of providing the best value in water and wastewater operation & maintenance services. We continue to train our employee-owners and recruit licensed operators who can make a difference in our employee-ownership culture."
As a service provider, Aqua considers its employee-owners as its most important asset. Our benefits include competitive compensation and a share of approximately 50% of operating income in distributions through annual cash bonuses & retirement profit sharing contributions. The other 50% goes to employee-owners as "shareholders" through stock price growth.
Employee-owner growth and development remains our number one priority. Through company paid training, licensing, certification and bonus programs, we help our employee-owners further develop their skills and prepare them for internal advancement into challenging careers that maximize their abilities and personal satisfaction. We believe that employee ownership promotes greater commitment through a shared understanding of key business disciplines and a culture of greater unity.
Although separated by islands, employee-owners are able to network (via travel and videoconferencing) by participating in various company activities: staff meetings, trainings, stock valuation celebrations, employee appreciation lunches & activities, community projects & events, holiday parties, etc. Our President's Messages and quarterly ESOP newsletters also help keep the Aqua Ohana informed statewide on a regular basis!
Aqua Engineers' benefits include:
Annual License & Certification Bonus Program
Annual Incentive Program
Health/Dental/Vision – Aqua pays 75- 90% of premium for employee-owners & their dependents
Life Insurance & Long-Term Disability Insurance
Retirement Plan: 401k Plan with 2% match and Employee Stock Ownership Plan (ESOP)
15 Days PTO/10 Paid Holidays Per Year
Paid Training, Licensing and Certification
Leadership Development Training Opportunities
Wellness Program & Quarterly Activities
Employee Assistance Program (EAP)
Company Uniform/Shoe Allowance
Aqua Engineers
3560 Koloa Road, Kalaheo, HI 96741
(808) 332-7381
www.aquaengineers.com
Ceramic Tile Plus and Exclusively Yours
Ceramic Tile Plus and Exclusively Yours, a second generation family owned business, has been supplying tile, stone, natural stone and quartz countertops and cabinetry to their customers for over 46 years. This is the sixth year it has been recognized as one of Hawaii's Best Places To Work.
"This recognition is a real source of pride for us" says James Doran III company President. "Most of our employee team have been with us for 10-28 years and to see that they value and enjoy their work experience is rewarding. An important part of our Father's legacy is that we do our best to support and take care of our employees because, as he impressed upon us, they are our most valuable resource. More than that – they're our Ohana. I am proud to work with each and every one of them."
Employees receive competitive salaries, a full benefits package including health, dental and chiropractic care, a $50,000 life insurance policy and our IncentFit Program that incentivizes healthy activities including $1 paid every day they walk 8,000+ steps, $2.50 to go to the gym, $25 to get their annual Flu Shot, $75 to get the Covid Vaccine, $50 to get their annual physical, subsidized gym membership, step challenges, birthday bonuses, and a matched 401K retirement plan.
Ceramic Tile Plus has everything you need, and more than you imagined, providing beautiful finishes for Maui's new home or remodeling projects.
Ceramic Tile Plus and Exclusively Yours
25 South Kahalui Beach Road
RoadKahului, HI 96732
(808) 871-8674
www.CeramicTilePlus.com
Child & Family Service
CFS brings hope to families and children in Hawai'i. Each of our nearly 400 staff members believe in the core values of Humility, Ownership, Perseverance, & Engagement. These guiding principles touch every aspect of our 124-year-old organization and service delivery that strengthens families and fosters the healthy development of children statewide. CFS helps Hawai`i families address serious life issues, with life-changing results.
Hawai'i's family-centered full-service nonprofit offers careers that make a lasting impact and reach. As a workplace, CFS offers its employees the most heartwarming reason to come to work every day – the families we serve and the impact we make in the community.
CFS offers an array of family strengthening programs statewide designed to prevent abuse and neglect, heal from trauma, and empower those we serve with tools and confidence to sustain positive changes in their own lives. CFS helps families embark on a healthy, thriving future and meets them where their needs are, in their neighborhoods, in their homes, and with their friends and family.
Annually, CFS provides direct services to more than 14,000 individuals and touches the lives of another 75,000 through phone calls, educational presentations, and by providing for those visiting walk-in family centers.
Our staff care deeply about people – family, community, and teammates. They think long-term about the future as opposed to just the here and now and are committed to making lasting change by strengthening families and fostering hope for keiki in Hawai`i. If this sounds like you, consider joining our `ohana with positions available statewide.
Perks of working at CFS:
• In addition to 15 paid annual holidays, employees are allowed time off to provide volunteer service, for their birthdays, and for preventative health.
Leadership development and training through an academy cohort where employees learn from peers and local leaders.
A Diversity, Equity, Inclusion & Belonging (DEIB) Committee – as the state's largest Hawaii-born human services organization, CFS remains at the forefront of innovative beliefs and values in the workplace.
Extensive benefits and an inspirational experience that will leave you feeling
Child & Family Service
91-1841 Fort Weaver Rd.
Ewa Beach, HI 96706
(808) 681-3500
www.childandfamilyservice.org
Express Employment Professionals
Congratulations to Express Employment Professionals and Lisa Daijo & Chad Higa (Express owners) for achieving "Best Places to Work Winner" for their 7th consecutive year.
"It is an honor to be nominated as one of 'Hawai'i's Best Places to Work' and to be considered with other great companies that are helping their employees succeed. We focus on constantly improving and creating an "employee-first" company culture emphasizing family, work/ life flexibility and mental well-being to contribute to the rebuilding efforts of our community," says Higa.
Express Employment Professionals is a locally-owned staffing agency, opened in Honolulu and Pearl City in 2007, and are "in the business of people." From job seekers to client companies, they have helped people thrive and businesses grow. Hundreds of Hawai'i companies have relied on their great customer service and top-notch results of providing quality candidates. Their areas of expertise are with candidates in general/skilled labor, professional, office administration and medical/clinical positions.
During the "Great Resignation," companies saw their experienced employees exit and struggled with recruiting suitable replacements, especially with the high amounts of turnover. Express Employment avoided that due to their highly desired company culture and continues to distinguish themselves as an 'Employer of Choice'. Due to developing and appreciating their staff, they have successfully helped their company clients and job-seekers. They focus on closing the GAP – by providing Growth, Appreciation, and being Present with their team. While increased pay would provide a temporary fix, they strategically work on long term solutions and focus on providing benefits and opportunities based on their employees' feedback. Company leadership emphasizes open-communication throughout the entire organization to foster a trusting, safe, solutions-minded environment to encourage employees to see, "how can we make our company better?"
Through this open dialogue, benefits that supported the team, such as paid family medical, and an increase in financial opportunities (profit sharing, quarterly bonuses) have been provided. While other businesses were bringing staff back into the office post-COVID, Express employees wanted to have the option of continuing to work from home and to have flex-hours to balance work/life responsibilities, which Express was more than happy to provide. Additionally, there was a renewed focus on showing appreciation through programs such as 'Employee of the Month' and travel incentives for professional training and personal travel. Through these efforts, their team remained engaged and intact with less than a 4% turnover rate. Express feels that their high levels of employee happiness are a testament to their 'employee-first' company culture. We congratulate Express Employment Professionals on their 7th consecutive "Best Places to Work Winner!"
Express Employment Professionals
1130 N. Nimitz Hwy, Ste A-135
Honolulu, Hi 96817
(808) 525-5225
ExpressPros.com
Finance Factors
For over 70 years, Finance Factors has helped generations of Hawai'i's people realize their financial goals and achieve homeownership. Today, Finance Factors is the state's largest locally-owned depository financial services loan company, specializing in residential and commercial real estate lending and operating 13 branches across four islands and a mortgage center in Guam. This is the seventh time Finance Factors has been honored as a Best Place to Work.
Finance Factors knows that supporting its 113 employees' physical, emotional, and financial health is essential to building a great workplace and helping employees thrive. The company has many long-time employees, some with 15+ years of service, attributing its high retention rate to its flexibility, culture and benefits.
Finance Factors offers onsite, remote and hybrid work models for eligible positions, 100% paid Kaiser medical insurance, transportation and gym membership subsidies, onsite immunizations, stress management sessions and health walks. Employees can also participate in one-on-one retirement planning sessions, financial seminars and 401(k) matching. Finance Factors' "Mahalogram" employee recognition program reinforces a culture of appreciation throughout the company.
Ihilani Carter, a customer service representative, shared her experience working for Finance Factors. "As a frontline representative, being able to make connections with our customers is very rewarding, especially with those who have been with the company from the beginning," Carter said. "The 'ohana culture extended to staff and customers gives me the confidence and motivation to be a successful employee."
Finance Factors encourages employees to be active in the community through non-profit gift matching and corporate volunteer events. Last year, the Finance Factors Foundation and Finance Factors Family of Company employees participated in various community service initiatives and fundraisers, supporting 40 Hawai'i nonprofits and donating $127,000.
Rob Nelson, president of Finance Factors, explains that the people, culture and mission set the company apart. "I'm energized by our smart, driven and compassionate colleagues who know Hawai'i's unique market and do good every day for our neighbors and community," he stated. "Our employees are the reason for our company's success, so we work to create connections, engagement, and a tight-knit work environment."
Member FDIC/Equal Housing Lender/NMLS #449916
Finance Factors
1164 Bishop St., Suite 300
Honolulu, HI 96813
financefactors.com
First Insurance Company of Hawaii (FICOH)
First Insurance Company of Hawaii (FICOH)was founded in 1911 in a small second floor office on the corner of King and Fort Streets. Today, we are a company of 250 associates whose collective dedication and drive have kept us at the forefront of the industry for more than 110 years. Hawaii's oldest property and casualty insurer, FICOH protects its customers with an unrivaled suite of personal and commercial risk management solutions.
Proud of its family-like culture, FICOH is taking active steps to preserve and foster in-person connections while continuing to offer flexible work options for its associates. We view creating a collaborative and engaging work environment as going hand in hand with successfully delivering on our commitments to our customers.
In addition to a robust benefits program, FICOH offers its associates flex time, part-time and full-time telecommuting options, an interactive wellness platform offering up to $650 in annual incentives, generous parental and caregiving leaves, and a profit-sharing program that gives associates a personal stake in the company's financial performance. In 2019, FICOH opened its first-ever satellite office in Kapolei to reduce the commutes of associates who live on the west side, furthering its commitment to helping associates balance work and life.
FICOH recognizes its responsibility to Hawaii and endeavors to make it a vibrant place through community leadership, volunteer service and charitable contributions. In celebration of its 111th anniversary in 2022, the First Insurance foundation donated $111,000 (approximately 15% of its total giving) to local environmental nonprofits. The $111,000 commitment included a tree-planting partnership with Mālama Learning Center to support native reforestation efforts on the slopes above Makakilo, with FICOH associates, family and friends volunteering their time and labor.
FICOH also stakes its success on continuous learning, providing its associates with professional development opportunities in Hawaii and beyond thanks to its relationship with Tokio Marine and its group companies in the U.S. and around the world, as well as mentorship and tuition-assistance programs and bonuses for achieving industry designations.
To learn more, visit us at https://www.ficoh.com/about-us/careers/.
First Insurance Company of Hawaii
1100 Ward Avenue
Honolulu, Hi 96814
(808) 527-7777
ficoh.com
Hawai'i Energy (administered by Leidos)
This past year Hawai'i Energy witnessed a surge of interest in their programs, as many community members felt the financial squeeze of shockingly high energy bills. Supply chain issues, global unrest, and the increasing environmental impacts of climate change all contributed to increased energy costs, and as local businesses and residents rebudgeted and rebalanced their finances to account for the changes, the Hawai'i Energy team was ready to support their efforts with energy-saving solutions.
Hawai'i Energy program's mission is to educate on and incentivize energy-saving choices throughout the community. Their team has put the community's needs at the forefront of its programs, and they haven't shied away from adapting and adding to their offerings in order to better serve the community. In response to the bill increases, Hawai'i Energy provided more financial support through increased rebate levels and grant funding, updated program offerings, and communicated even more customized solutions to high energy bills.
Hawai'i's 100% clean energy transition requires passionate, driven, and adaptive leadership and Hawai'i Energy's team is comprised of members that embody those qualities and move the needle in a big way. Their work culture is designed to support community-wide collaboration, while fostering leadership skills required to perform this challenging, but rewarding work.
Employees have access to company sponsored professional development opportunities, a virtual learning suite, bi-annual trainings on diversity and inclusion, and human-centric wellness plans. Those wellness plans include paid family leave for any parent of a newborn, gym membership & equipment reimbursements, flexible hours, and hybrid work schedules. If you stop by their office, you might even see them participating in group yoga and meditation sessions hosted by their employees!
Hawai'i Energy's commitment to the community is a critical piece of their success. Hawai'i Energy is proud to be one of Hawai'i's Best Places to Work for the sixth year!
Hawaiʻi Energy
45 N. King St. Suite 500
Honolulu, HI 96817
www.Hawaiienergy.com
HawaiiUSA Federal Credit Union
Meaningful and worthwhile work
HawaiiUSA values our workforce and empowers them to do meaningful work. Our employees have the opportunity to make a real impact on Hawaii households by improving their financial wellbeing. We take our commitment to members seriously. Enabling employees to reimagine and improve our member experience is a big part of our culture, and how we strive for continuous learning and improvement as an organization. We also hear a lot that working at HawaiiUSA feels like family, and that's good validation that our people feel valued and respected.
Employee engagement and benefits
From generous benefits to community giveback opportunities, there are many ways we fulfill our Life matters commitment to our employees. They appreciate that we cover 100% of their single medical, drug, vision, and dental. They also love receiving paid volunteer time, our pay it forward program, and matching their charitable donations up to $250 per year per employee. Tuition assistance for higher education is another special way we invest in our workforce.
Developing leaders
We've created a comprehensive leadership development program to strengthen our leaders and invest in their success. With better leaders, you see better outcomes such as greater employee engagement, increased member loyalty, and organizational sustainability. We've been around for 86 years and the constant is that our employees are our most important asset. We owe it to them to create an environment of learning where they can develop their skills in order to best serve our membership. When leaders complete this program it's a tremendous learning milestone and proof of commitment to helping HawaiiUSA become sustainable for the next 86 years.
Learning organization
We strive for high performance in everything we do. Perfection is not the goal; rather, we demonstrate high performance at HawaiiUSA by continually learning, growing, innovating, and improving. Being a learning organization means that we encourage employees to experiment and not be afraid of making mistakes, as long as we learn and grow together. We use data to inform our decision-making, and follow guiding principles to ensure we're keeping the member at the center of everything we do.
HawaiiUSA Federal Credit Union
1226 College Walk
Honolulu, HI 96817
hawaiiusafcu.com
IG: @hawaiiusafcu
FB: facebook.com/hawaiiusafcu
HEMIC
Founded in 1966 as a company kama'āina dedicated to serving Hawai'i's businesses and workers, today HEMIC is a diversified family of companies with insurance products and risk management services developed for Hawai'i's evolving needs.
"We are guided by our core values of excellence, integrity, connection and belief – belief in the importance of what we do, the people we serve, and what we can achieve working together," says Faye Bueno, Vice President of Administration.
"By extension, we believe in creating a 'best place to work' for our employees. When we provide an environment that fosters creativity, encourages problemsolving and imbues a spirit of excellence, this results in the best service for our customers."
The new HEMIC Tower in Downtown Honolulu was purposefully designed with this goal in mind. It offers a modern home where the family of companies can connect as a single enterprise and work together to deliver complementary, end-to-end solutions for Hawai'i businesses.
Says CEO Marty Welch, "The HEMIC Tower was carefully designed for our people and our purpose. We intentionally developed workspaces to support collaboration and innovation, and efficient, effective work. We created a comfortable, engaging place where our staff can thrive.
We believe strongly in investing in our employees. We support their professional growth and the pursuit of their goals with individual development plans, mentorship programs, and technical training, including industry-related designations."
HEMIC
Business Address:
Mail 915 Fort Street, Honolulu, HI 96813
Mailing Address
P.O. Box 3376, Honolulu, HI 96801
(808) 524-3642
www.hemic.com
Island Palm Communities LLC
For the seventh consecutive year, Island Palm Communities (IPC) employees ranked them as one of Hawaii's "Best Places to Work." The top reasons cited were professional and personal development opportunities, a commitment to the team's safety and well-being, and a diverse and inclusive workplace. "It's important that our staff know they're valued and that their hard work is appreciated not just by our residents but by our management team and their co-workers," said Ka'eolani Winner, Director of Property Management, IPC.
"In 2022, we established our 'Hype Squad' to support our Malama Program. Here, our employee volunteers create and drive dedicated local team member acknowledgment, recognition, and celebratory events—peer-to-peer inspiration and motivation. This Hype Squad is in addition to our generous corporate programs. We also realize the importance of happy and challenged staff and offer several professional and personal development opportunities, including leadership and skills training, mentorship, and cross-training." Lendlease owns and manages military housing projects, including IPC, across the U.S. in partnership with the Army. This collaboration has benefited countless military spouses who have built their careers at a Lendlease community and are looking to continue working at another Lendlease-owned military community when their spouse is reassigned to another location. With just under 400 employees, IPC offers a full range of benefits to its full-time employees, including medical, dental, and vision coverage, a matching 401(k) plan, paid vacation, sick leave, and a wellness and incentive program that encourages team members to volunteer in the community. Consistently meeting the needs of their team members, IPC added new benefits such as discounted gym memberships, new Fitbits annually, online health and well-being counseling, healthy meal delivery three times a week, hybrid work environments, pet insurance, and other perks including sponsorship of quarterly walking challenges with individual and team prizes. "Supporting communities where we work and live is integral to our business," said Jeff Williams, Project Director of Lendlease. "Our employees take great pride in what they do for our residents and each other—their commitment and resiliency during the most challenging times is a testament to a safe and happy workplace."
Island Palm Communities
North Regional Office
215 Duck Road
Schofield Barracks, HI 96857
(877) 487-4323
www.islandpalmcommunities.com
N&K CPAs, Inc.
Sadao Nishimura & Glenn Kishida started N&K CPAs, Inc. in 1973. The firm was originally opened under the name Nishihama & Kishida CPAs, with a staff of only 9. As we celebrate our 50th year of business, we also celebrate the evolution of our firm through the decades, having grown to have 10 principals and over 60 employees, serving over 1,000 local clients.
In the 5 decades N&K CPAs, Inc. has been in business, the world has changed drastically and through our resilience, we found strength in our foundation – our culture, our leadership, and our people. Through the years, we saw these challenges as an opportunity to engage with our people and clients in new and invigorating ways that paved the way for the changes we made in our operations so we could remain nimble, adapt to our ever-changing external environment, and most importantly meet the needs of our people.
As we celebrate our 50th anniversary, we also celebrate our place on the 2023 Best Places to Work listing. Our people-centric approach has positively influenced the experience of our people at all levels and we firmly believe that every member of our firm has a hand in creating a positive work environment, which is a pillar of our firm's vision.
One of the most impactful ways we have accomplished this is through the establishment of our Work Environment Committee, a group of volunteer members represented from each division of the firm. These individuals are influential in key elements of our culture. Bringing people together to connect remains a big request throughout the firm. In response, this group has hosted a number of events including Appreciation Day, Holiday Party, Pau Hana's, a Beach Clean-up and most recently, a Superbowl Luncheon.
We are proud to be a business in Hawai'i for 50 years and want to thank our clients for their trust and extend our gratitude to our current staff and alumni for their service. Our journey would not have been possible without you all.
N&K CPAs, Inc.
999 Bishop St., Suite 2200
Honolulu, HI 968137
(808) 524-22553
www.nkcpa.com
Northwestern Mutual Hawaii
For over 53 years, Northwestern Mutual Hawai'i has helped families across the Hawaiian islands on their financial goals. As a company, we exist to free people from financial anxiety. That's why we approach financial planning differently. Instead of starting with our clients' finances, we start with them: their lives, their families, their priorities. By creating trust-based relationships with our clients and developing a diverse workforce amongst our team of financial advisors, NM Hawai'i continues to positively impact our community.
"Our compass as an organization is set to the mission of 'elevating the trajectory of people's lives'. It permeates all that we do, from who we hire, to how we do business. I believe you win more often than not, by simply doing the right thing. It is no coincidence that we have grown as rapidly as we have in the past five years," Jamie Delgadillo, Managing Director of Northwestern Mutual Hawai'i. Our focus on skill development, commitment to diversity, and extensive support system allows our advisors to meet clients' needs in an encouraging work environment that has shown adaptability and a winning combination for success through any financial climate.
Northwestern Mutual Hawai'i has experienced rocket-like growth since 2018. The firm has grown total insurance production 215%, total investment production 218%, new advisor production by 722% and led the country in the number of new advisor businesses launched in 2022. Fifteen advisors from the firm achieved or exceeded Million Dollar Roundtable status, an industry production recognition. Nationally, Northwestern Mutual was again named one of the World's Most Admired Companies® in its industry according to Fortune's annual survey conducted in 2022.
Outside of the office, NM Hawai'i has donated time and treasure to Make-A-Wish Hawai'i by putting together a team for the Jingle Rock Run and donating gifts in their annual Holiday Toy Drive. We continue to support the education of the next generation of leaders in Hawai'i with a $50,000 endowed scholarship for students at Shidler College of Business. As an office, we were excited to participate in the return of the Honolulu Pride Parade in October 2022 and are looking forward to this event for years to come. As we continue to grow our presence in Hawai'i, we are charged with purpose to continue the work of uplifting the community, helping clients with what matters most, and creating a diverse and equitable workplace for our leadership team and advisors.
Northwestern Mutual
737 Bishop Street, Suite 1700
Mauka Tower, Honolulu, HI 96813
(808) 521-2345
hawaii.nm.com
---
Silver Winners
Decision Research Corporation
Locally owned and headquartered in Honolulu since inception in 1971 with a regional office in Philadelphia, Decision Research Corporation (DRC) has been providing thoughtfully engineered enterprise software solutions for the P&C insurance industry, while continuing to further the technological landscape of Hawai'i. DRC's clients include an impressive gamut from start-ups to Fortune 100 companies located nationally and across the globe.
DRC's core values are strongly rooted in Hawai'i: Live Aloha and Practice Pono, A Trustworthy Partner, Highly Competent and Capable, Deliver Results, Pleasure to Work With, and Completed with Care drive the culture of the business and external relationships. The foundation of aloha beginning at our headquarters extends worldwide to a strong community of our clients who share these values.
DRC's focus on employee well-being and the strong culture across the organization makes it a Best Place to Work. A competitive compensation and benefits package is offered including flexible schedules, 401k matching, healthcare and wellness benefits. In addition to taking care of its employees, DRC is committed to its corporate social responsibilities and supports local and national initiatives. Activities include working with environmental and social organizations to give back to the local communities by supporting the Nature Conservancy, hosting food drives for the Hawaii Food Bank and Feeding America, and lo'i patch clean ups, amongst many other activities.
Enabling the next generation of technology professionals is key to finding and cultivating local talent. DRC accomplishes this through events that serve University students including sponsoring a university fund, hosting office open house events, and an internship program that resulted in 50% post program hire at DRC. DRC recently pledged to support the state initiative, Good Jobs Hawaii in their efforts to support Hawai'i's workforce acceleration – building a better future for our islands.
"We are honored to be recognized as one of Hawai'i's Best Places to Work. The incredible talents of our 150 employees – not only in Hawai'i but across the US – are what pushes DRC to success and allows us to do more for our clients, for Hawai'i, and the world" stated Karen Yamamoto, CEO and President.

Decision Research Corporation
1601 Kapiolani Blvd #1100, .
Honolulu, HI 96814
808) 949-8316
www.DecisionResearch.com
Diagnostic Laboratory Services, Inc.
As the largest locally owned medical lab in Hawaii, Diagnostic Laboratory Services, Inc. (DLS) provides state-of-the-art microbiology, molecular and toxicology testing. There are more than 50 DLS patient service centers across Hawaii, Guam and Saipan. With over 800 employees, DLS is proud to have been selected by Hawaii Business Magazine as one of the Best Places to Work in the state in 2021, 2022 and 2023.
Our DLS 'ohana represents our ICARE values of innovation, compassion, aloha, respect, and excellence. During the COVID-19 pandemic, we came together and faced down many challenges brought forth by restrictions, safety concerns and an ever-growing demand for lab services. The agility and adaptability of our hard-working teams throughout the organization were key to the success in tending to the needs of the communities we serve.
Our transparent and inclusive culture emphasizes open door and two-way communication across the company, where we passionately care for our employees and are deeply grateful for their professionalism and dedication. We strive to provide our teams with the latest tools, techniques, and resources that enable them to grow and deliver tremendous service for customers. Our Career Connections program guides employees to positions where they feel they can make the greatest impact and use their strengths. DLS encourages employees to be their best selves at work.
The longstanding DLS Lokahi Committee is focused on fostering a culture of inclusion and engagement that integrates representatives from each department. Yearly, they organize several "pop-up" events, contests and meals that celebrate holidays, our anniversary and lab week.
"We consider it a privilege that the people of Hawaii count on us to provide for their health care," says DLS President Mark Wasielewski. "That comes with the responsibility of taking care of our employees so that they can continue to work in a way that exemplifies the ICARE values while maintaining a healthy work/life balance. Their expertise and caring are what makes DLS the home for great science and great people. I am so honored to celebrate being a Best Place to Work with my DLS 'ohana for the third year in a row!"
Diagnostic Laboratory Services, Inc.
99-859 Iwaiwa Street
Aiea, Hawaii 96701
808) 589-5100
DLSLAB.com
Lawson & Associates, Inc.
Mahalo! Being honored as a Best Place to Work for the third year means a lot to us. It means we are walking out our core values and collaboratively contributing to a workplace that people enjoy, find purpose in, and make authentic connections.
We are the #LawsonTribe. We pay attention, have each other's back, listen to our customers, and row in the same direction. Our #tribe may not be the right fit for everyone, but finding your people is a good feeling.
LOYALTY is not easily earned, so we nurture it and guard it. Loyalty requires teamwork and trust. We protect the (Lawson) shield by upholding our core values.
CONTINUOUS LEARNING develops new skills and knowledge. Level up! Seek improvement and progress to higher performance levels. We build our Safety Intelligence and critical thinking as unique tools. Critical thinking challenges the status quo, looks for new truths, and asks, "….but why?" We stay competitive and adapt to new challenges and environments.
SELF DISCIPLINE is essential. Our actions matter. We commit to DWYSYWD (do-what-you-say-you-will-do). People depend on us, and we rely on each other. Self-discipline is transformative. We establish healthy habits and follow through.
ETHICS guides Occupational Health and Safety, our company, and our profession. Ethics are always part of decision-making. We know what is right and then do it. H.O.T. Communication is Honest, Open, and Timely, allowing for transparency, which creates trust.
LEADERS strive to be the best, individually and organizationally. Like a pride of lions, each leader is an essential part of the group – protective, brave, and willing to fight – and strong enough to stand alone when necessary. Now the Whale in the group stands out amongst us all. Whales are unique and valuable. Whales know how to focus on what matters and use that focus best to manage their time, resources, and assets. We create high-performing teams where everyone knows where to focus their efforts to achieve outstanding results together.
Lawson & Associates, Inc.
Safety Intelligence Institute
1312 Kaumualii St. Honolulu, HI 96817
(808) 441-5333
www.lawsonsafety.com
Prince Resorts Hawaii
For more than 30 years, Prince Resorts Hawaii (PRH) has been known for its outstanding luxury hotels and championship golf courses. The company has now solidified its reputation as a great place to work as well. PRH has an enviable record of employee satisfaction and retention, critically important in today's changing labor market, perhaps this is due to its practice of empowerment and trust in employees.
It is inherent in everything they do. From upper management to line staff, every employee is encouraged and trained to make independent decisions that positively impact either the guest experience or the company's operations. Good decision making is the result of a clearly defined vision, expectations, and an approachable leadership.
"We trust our employees to go beyond what is expected to let our guests know of their importance to us," said Shigeki Yamane, president of PRH. "Our leadership team treats employees with the same respect and Aloha that we all show toward our guests. Genuine care for each other is a big part of our team's success and happiness."
The nurturing environment created by leadership, with a focus on lifetime wellness, attracts generations of families to become part of the Prince Resorts Hawaii ohana. Looking for ways to provide employee fulfillment, corporate and employee-initiated programs, including local school outreach/internship programs and Make a Difference community projects (with paid community days), have been launched with great success.
To provide further growth opportunities, the Prince Leadership for Tomorrow (a platform for innovative collaboration across all hotels) is in its second year. With the all-inclusive benefits package PRH offers, and its mentorship and recognition programs, employees have the opportunity to build a career with a company that keeps them engaged, challenged and connected to the community.
PRH owns three luxury hotels and golf courses: Prince Waikiki, The Westin Hapuna Beach Resort, Mauna Kea Beach Hotel, Hawaii Prince Golf Club, Hapuna Golf Course and Mauna Kea Golf Course. Prince Waikiki was recently awarded a 4 Diamond rating from AAA and all three hotels hold Hawaii Green Business Awards. PRH is a subsidiary of Japan's Seibu Holdings, Inc. and part of Seibu Prince Hotels Worldwide.
Prince Resorts Hawaii
100 Holomoana St.
Honolulu, HI 96815
(808) 956-1111
PrinceResortsHawaii.com
---
Bronze Winner
Kapili Solar Roofing & Painting
Kapili Solar Roofing & Painting is an outstanding company that provides exceptional roofing, solar and painting services in Hawaii. Known for its quality work and exceptional customer service, Kapili is also known for being a great place to work. There are several reasons why Kapili Solar Roofing & Painting is the best place to work.
First, Kapili Solar Roofing & Painting provides a positive work environment. Employees are encouraged to communicate openly and honestly with one another, and mutual respect is a core value of ours. This positive work environment leads to a more productive and enjoyable workplace for everyone. Additionally, the company promotes teamwork and collaboration, which fosters a sense of community and camaraderie among employees.
Kapili Solar Roofing & Painting values the growth and development of its employees. The company offers ongoing training and development opportunities, such as certification programs and safety training, to ensure that employees have the necessary skills and knowledge to perform their job duties effectively. This investment in employee development demonstrates the company's commitment to the success of its employees. Kapili prioritizes the safety and wellbeing of its employees. Roofing and painting can be dangerous work, but the company takes every precaution to ensure that employees have the proper safety equipment and training to perform their jobs safely. Additionally, the company provides health benefits, including medical, dental, and vision insurance, to help employees stay healthy and productive. Kapili provides competitive pay and benefits to its employees. The company recognizes the importance of fair compensation and provides a salary and benefits package that is both fair and competitive. Our employees are also eligible for a retirement savings plan, which helps them plan for their future and retirement. Kapili has been committed to giving back to the community. The company has a philanthropic spirit and supports local charities and community organizations. This community-focused approach creates a sense of purpose and pride among employees, who feel that they are part of something larger than just their work. Kapili Solar Roofing & Painting is the best place to work because it provides a positive work environment, values the growth and development of its employees, prioritizes the safety and wellbeing of its employees, offers competitive pay and benefits, and is committed to giving back to the community. These qualities make Kapili Solar Roofing & Painting a great place to work and a company that employees are proud to be a part of!
Kapili Solar Roofing
94-221 Leonui Street Unit A
9685Waipahu, HI 96797
(808) 621-7663
www.kapiliroof.com/tradesmen-careers