Career Change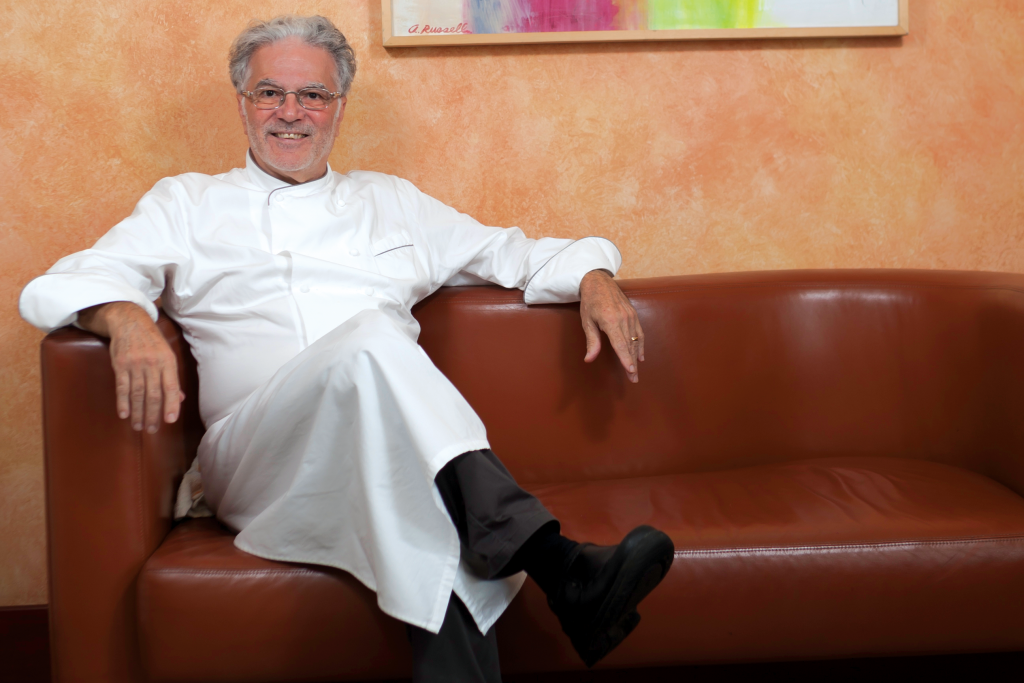 Roger Higa, Melissa Chang, George "Chef Mavro" Mavrothalassitis and Shanah Trevenna are very different people with one thing in common: Each experienced a turning point that put them on an unexpected journey to a new calling.
For Roger Higa, that turning point was the death of his wife.
Higa is the youngest son of Zippy's co-founder Charles Higa, and he thought he would work in the family business the rest of his life. After all, he knew the restaurant chain's operations like the back of his hand, having worked in at least 15 jobs, from custodian to cashier to recruiter.
"I had been living in Orange County working as an accounting manager, when my wife, Michele, decided she wanted to move back to Hawaii to be closer to family," he says. "So we moved back and I went to work at Zippy's."
There he stayed for 10 years until tragedy struck.
"The defining moment in my life came the day after Valentine's Day in 2007," recalls Higa. "It was the day Michele passed away." She had suffered a brain aneurysm two weeks earlier and, just when she appeared on her way to recovery, a second aneurysm occurred, leaving her brain dead. She was only 40 and he was just 42.
After Michele's death, Higa took a month off work, then plunged back into his 70-hours-plus work weeks to keep his mind off the pain of returning to an empty house.
"I was living in a daze and six months later decided I had to leave my job. I needed time to figure out what I wanted to do for the rest of my life."
Four years earlier, Higa had gotten a taste of the nonprofit world after starting the Kalihi Education Coalition, a charity providing scholarships for children in need. That experience steered him in a new direction.
"I liked my job at Zippy's, but I didn't love it," says the 1982 McKinley High School graduate. "Through my nonprofit work, I understood what it was like to help others. So, after Michele's death, I decided I wanted to spend the rest of my life helping people."
Although he believes his father was disappointed in his decision to leave the family business, his parents supported his choice to work first with the Aloha Chapter of the Alzheimer's Association, then with Big Brothers Big Sisters of Honolulu. He also launched the Hawaii Brain Aneurysm Foundation and Hawaii Healing Hearts, a bereavement support group.
Last year, due to budget cuts, he was laid off as marketing manager of Big Brothers Big Sisters and took a job as a life insurance agent for New York Life.
Now remarried with a 3-year-old daughter, Higa says his new career, along with his continuing leadership in the nonprofit world, brings flexibility and fulfillment.
Though Higa's turning point is not common, his career changes are, according to human resources professional Desirea Aguinaldo-Helsham, president of OneSource Inc.
When measuring career changes, the report most often cited is a 30-year study by the U.S. Bureau of Labor Statistics. It says that the average person born in the latter years of the baby boom, from 1957 to 1964, held 11 jobs from ages 18 to 44. Some human resources experts believe the study, called the National Longitudinal Survey of Youth 1979, doesn't reflect today's reality.
Aguinaldo-Helsham says older professionals today actually experience industry changes, not just job changes. "When you're young, you can move from job to job to eight different jobs, but these are just jobs to pay the bills. This is not career change," she says. "What we're talking about is industry change, like going from being a mechanical engineer to an HR advisor, or from being a lawyer to a teacher."
In response to the Labor Bureau's study, Aguinaldo-Helsham conducted her own informal poll of 200 people, ages 20 to 50, and says she found an average of two to three industry changes, though no one had more than three.
Roger Higa changed careers after an unexpected tragedy triggered a new outlook on life. Triggers for other people include mismatched expectations, the desire to chase a dream, declining industries or an interest in an evolving field.
For marketing maven Melissa Chang, it was the latter two. Having spent much of her career at public-relations agencies, Chang moved on to marketing and was downsized twice, first at Coldwell Banker Pacific Properties, then later at Aloha Tower Marketplace when it changed ownership.
"New Year's Eve 2008 was my last day at Aloha Tower Marketplace," recalls Chang. "But, even though the economy was tanking, I didn't feel afraid or depressed."
Chang, who holds a degree in journalism, immediately started marketing herself as a freelance writer and applying for jobs in public relations. She also called upon a new skill acquired at Aloha Tower: using social media.
"We didn't have a budget for social media, so promoting Aloha Tower Marketplace through Twitter and Facebook became a part of my job," she says. That was a blessing in disguise.
Chang was comfortable with social media even before the term was coined: She wrote for fodors.com, a travel review website, first used MySpace to keep in touch with nieces and nephews, then transitioned early on to Facebook and Twitter.
"In March 2008, Pearlridge contracted with me as a social media consultant, but I wasn't sure I could make a living doing that," she says.
However, as word spread, she acquired more clients and eventually partnered with IT specialist Russ Sumida to form Adstreamz Inc., assisting businesses with their social media.
She transferred her traditional media skills to the new wave of social media, creating a career niche for herself.
"It's not like a huge, drastic change, it's just using different media to get the word out. Social media is always changing and we're already looking at how we are going to be using different tools for different clients."
Kathryn Inkinen, president of Inkinen & Associates, an executive search firm, says that continuing to use existing skills can make your career change more effective.
"The chances of success are better when there is at least some overlap of skills from the first job to the second job," explains Inkinen. "For instance, an attorney can bring logical-reasoning skills and speaking skills to a different type of job that calls for these same skills."
Many times, clients will tell Inkinen, "Let me know what's available and I'll see if I'm interested." She says that's not the way to change careers. Instead, identify your passions and interests first.
"Don't go to a buffet and say, 'Here are 25 options. What should I eat?' Instead, you should say, 'Let's go to Le Bistro, because I've done some research and I hear their apple tart is great,' " says Inkinen. "With the buffet approach, you'll just jump from the frying pan and into the fire. Know what you want and where you want to go."
One celebrity chef identified where he wanted to go early in life but didn't act upon it until much later, triggering a drastic career change.
Raised in the French port of Marseille, George Mavrothalassitis, now known internationally by his nickname, "Chef Mavro," came from a family in which no one cooked. His father hired a family cook and young Mavro hung out with him in the kitchen.
"One day, when I was on vacation from school, I decided to cook for the family. It took me all day and I followed a recipe book very precisely and made a tripe dish," he recalls. "It was a huge success and everyone loved it. I knew I wanted to cook for a living."
But his father was a mechanical engineer and wanted his son to become one, too. Mavro put his dreams on the back burner, graduated from engineering school and specialized in making helicopter parts.
"It was at the height of the Vietnam War and there was a great need for these helicopter parts, so, at 28 years old, I became very rich and successful with my own engineering company," recalls Mavro. "Then, I can't explain why, but I woke up one morning and decided to tell my business partner, 'I don't want to do this anymore.' I wanted to be a cook. My wife at the time, my mother and my family said, 'Are you crazy?' "
Ignoring their concerns, armed with cash and not knowing anything about the restaurant business, he hired one of France's top chefs and the country's best sommelier, and opened a high-end restaurant. Two years later, all the money he had earned over six years as an engineer was gone.
"I still wanted to cook, so I decided I needed to apprentice in the kitchen under the chef I had hired. It took me six years to gain the skills to take over. I learned how to do everything, from polishing the coffee pot, cleaning the kitchen, cleaning the fish to cooking."
Although Mavro did not do the research before delving into a new career, he knew that cooking was his passion.
"Everyone should be in a job that they're passionate about," says Inkinen. "It would be wonderful if we could all work with what our hobbies and interests are. These are good places to look for job change."
Mavro says his engineering training helped him as a chef. "My sense of precision helps me. I am very good at pastries and that takes a lot of detail," he says. "I attribute that precision to my engineering background."
Like Mavro, University of Hawaii professor Shanah Trevenna left a lucrative engineering job for something different, but, in Trevenna's case, it was her work in a developing country that opened her eyes to what she really wanted to do.
"I came from a small town called St. Thomas in Ontario, Canada. I was the first in my family to go to college and, back then, I didn't even know what an engineer was," says Trevenna. "While working for a big corporation, I was sent to work in Monterrey, Mexico, and I experienced how people were being treated. I questioned my company's practices there and was told, 'You're right, but no one's going to do anything about it. The system is set up to fail.' " Disenchanted, and only 28 years old, Trevenna plotted her exit strategy.
"I took a course on technology, society and the environment, then I learned more about community economic development. It was all about how a region could be self-sufficient by honoring the triple bottom line of environmental, economic and social consciousness. I began expanding myself beyond engineering."
She also scanned the world for a place to fulfill her calling. "I had never been to Hawaii but chose it for its potential for sustainability," she explains. "Hawaii has the ability to be self-sufficient in this lifetime."
Trevenna moved to Oahu and, as a graduate student at UH-Manoa, launched Sustainable UH, an organization with the mission "to be in service of those establishing the University of Hawaii as a world leader in sustainable practices, education and research."
Trevenna now travels the country as a consultant promoting sustainability and her book, "Surfing Tsunamis of Change: A Handbook for Change Agents." She says there is a stigma attached to the process of making big career changes and a fear of the unknown, but her advice to others contemplating change sounds simple.
"What did you do when you were 10 years old and you could do whatever you wanted? That's probably your passion. Delve into your passion and, for practical purposes, do an internship in line with your passion. Trust in yourself," she says.
Inkinen agrees. In an age when employees want fulfillment in their careers and a better work-life balance, not just a paycheck, switching careers is no longer unusual.
And how should employers deal with disenchanted employees?
"If you have an employee who is unhappy and wants to leave, don't look at it as a bad thing," says Inkinen. "Turnover is often healthy. You can take the opportunity to revamp the position and fill it with someone different. This kind of change often helps a company grow, too."
Five Tips for Career Changers
1. Think before you leap
Do you want a new career or a new job? Perhaps you just need to change companies and not industries. For example, if you're an unhappy lawyer, perhaps you need to practice in a different specialty or work for a different firm, instead of leaving law altogether.
2. Identify your talents, skills and interests
Think of your natural abilities and allow them to steer you toward your new career. What comes easily? What are your passions?
3. Highlight skills that are transferable
Some skills can be transferred to a new career, including management skills, writing and public-speaking abilities, and many others.
4. Know the requirements of the new career
Will you need more education, training or certification? If a position requires an MBA, make sure you can commit the time and money needed to earn that degree.
5. Do your research
Network with people working in your chosen career field so you will know the expectations in that industry.
Source: Kathryn Inkinen, president, Inkinen & Associates