Government and Civic Engagement in Hawai'i Need to Change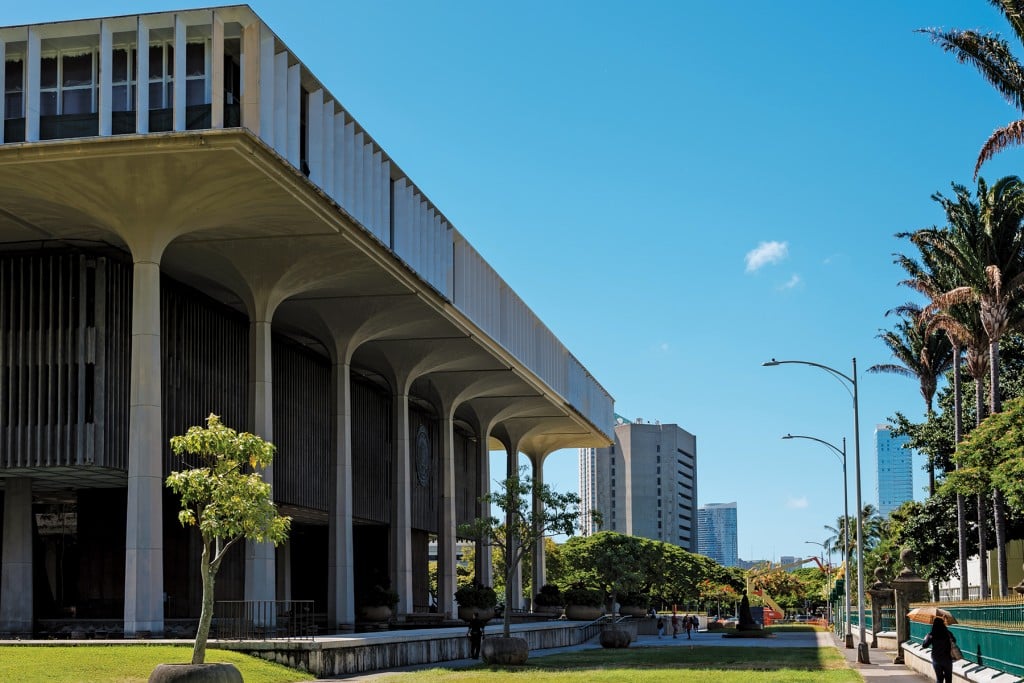 Local Phone App Designed to Increase Civic Engagement
By
Carin Enovijas
The Kākou app is a partnership of Pacific Resource Partnership and six other nonprofit advocacy organizations.
The free Kākou app for iPhones and Android phones launched in February, soon after the opening of the 2019 state Legislature. Pacific Resource Partnership's marketing manager, Melanie Kim, says the app encourages citizens to "tap into democracy" with a tool most hold in the palm of their hands and use every day.
PRP is a research agency that serves as advocate for the Hawai'i Regional Council of Carpenters Union. So, when PRP took over annual publication of the State of Hawai'i Directory of Public Officials in 2018, it didn't just want to update the traditional printed booklet. It built a digital platform and a hand-held tool for "amplifying civic engagement."
"Encouraging civic engagement and strengthening Hawai'i's community is at the core of PRP's mission. Going down to the Capitol to testify on an issue is not something that is easily accessible for everybody. Kākou gives everyone easy access to their legislators," Kim says.
Kim says that by the time the legislative session adjourned on May 2, the Kākou app had been downloaded 1,722 times and had more than 1,200 registered users. She says the app helped many of those registered users to submit their first public testimony on bills highlighted by the app's six other nonprofit partners: Hawai'i Appleseed Center for Law and Economic Justice, Hawai'i Public Health Institute, Council for Native Hawaiian Advancement, Hawai'i Children's Action Network, HawaiiKidsCAN and Rainbow Family 808.
The app connects users with links to the state's website and legislative calendar, contacts for representatives at all levels of government, and online voter registration.
Partnering agencies promote their legislative priorities by providing brief descriptions and position statements linked to an editable template for submitting public testimony on a handful of select bills. Push-notifications alert users to legislative deadlines, news and events that allow the nonprofits to attract new advocates.
Kim says PRP's nonprofit partners on Kākou are "really strong advocacy groups. We wanted to make sure that whomever we partner with are already working at the Capitol and have a strong advocacy base." She says Kākou is looking for further partnerships that represent the diverse interests of Hawai'i's people, including partnerships that represent Hawaii's business community.
Trish La Chica, policy and advocacy director for the Hawai'i Public Health Institute, says Kākou was adopted as an organizing tool for leaders of a statewide youth council-led campaign to ban the sale of candy-flavored tobacco products, a market she says specifically targets teenagers and other young people. (Both bills in the 2019 Legislature that aimed to ban flavored tobacco products failed.)
"Youth vaping has reached epidemic crisis levels," says La Chica, adding that Kākou is the perfect tool for engaging busy student activists who use technology to connect with the world.
"Our phones are basically like extensions of our arms now. We won't go anywhere without them, so the app takes advantage of that technology," she says.
"I think it's essential that citizens and community members know that they all carry within them their own power. It's the strongest tool they have to affect change. We can give them new tools, and we can give them some education, but ultimately it is up to each individual to decide to speak up for or against something."
Many people lack the money, time and energy to participate in politics and government processes, says Will Caron, communications director for the Hawai'i Appleseed Center for Law and Economic Justice. The Kākou app tries to address those barriers.
"The ordinary folks who are working 9-to-5 or two or three jobs to support their families are usually the people who don't have the time or the resources to participate in the first place. So, they're the ones that get left behind," says Caron. He says Kākou informs, facilitates and simplifies participation, "so we can meet people where they're at. I think that's an incredibly worthwhile project to support."
"I think it's wise not to assume that the people who are in charge, regardless of political party or affiliation, are always going to have your best interests at heart," Caron says, adding, "unless you make them have your best interests at heart by participating."
Kākou's co-chairs are state Senate President Ron Kouchi and state House Speaker Scott Saiki. Another vocal advocate for Kākou is District 24 Rep. Della Au Belatti.
"Kākou means together, or we. I think the choice of the word was deliberate and thoughtful," says Belatti, praising Kākou's potential to bring people together in ways that go "beyond the initial click" with an easy to use tool for becoming more involved in the democratic process.
Belatti says some people shy away from online environments that can foment division by acting as "echo chambers" that seek to censor or misrepresent differing viewpoints. "I applaud Kākou for creating a digital space where we can all discuss the issues that matter to us.
"I have not necessarily always seen eye to eye with PRP," says Belatti, pointing out that the range of interests represented by Kākou's partners don't always align with positions adopted by the carpenters union. She says open, thoughtful discussion of those differences often lead to more effective solutions. "That makes it a strong platform and at the end of day, it makes us a stronger community," Belatti says.
La Chica, Caron and Belatti agree that as users increase their engagement by using the app, they'll become more confident in their ability to write testimony that grabs the attention of legislators who are reviewing mountains of legislation and testimony during each session. Caron hopes Kākou's users create an "avalanche of testimony" that will transform Hawai'i Appleseed's legislative advocacy into empowerment and security for Hawai'i's low-income working-class families.
Access Kākou on the Apple App Store or Google Play Store.
Learn more: www.kakouapp.org
QUICKLINKS