Government and Civic Engagement in Hawai'i Need to Change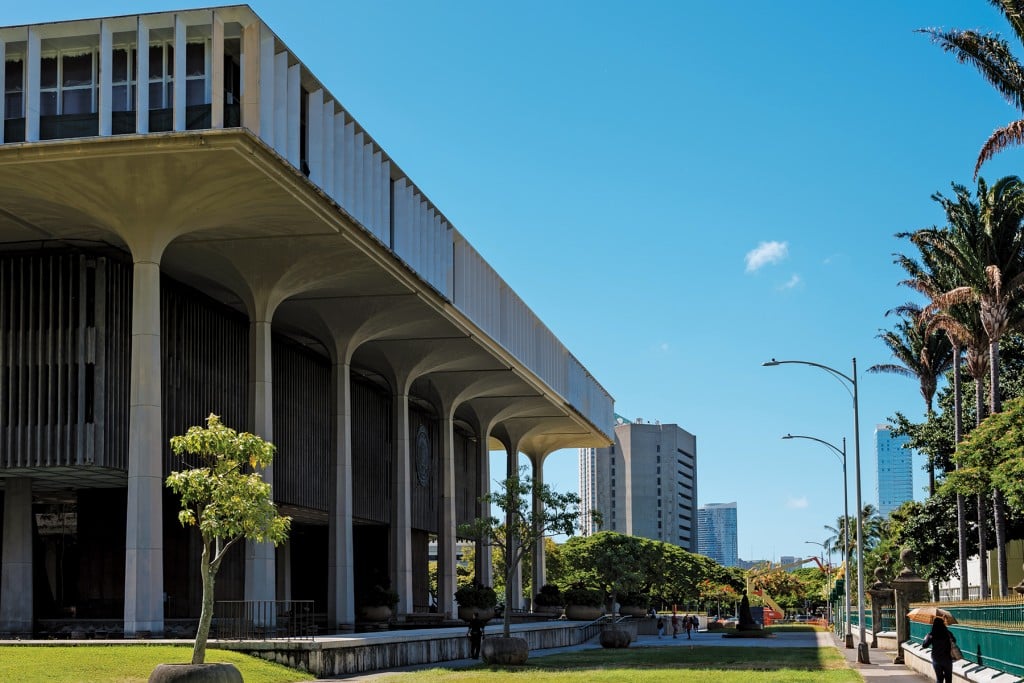 Part 3: Three Change Agents
Change in Hawaiʻi is often driven by ordinary citizens. Here are profiles of three local people who make a difference.
By Beverly Creamer
Puanani Burgess
She has been a poet and protester, change agent and conciliator
Fifty-one years ago, Puanani Burgess had a startling conversation with her husband that launched her life as a community activist.
"Two weeks after we were married," she says, speaking of her wedding with Hayden (now Poka Laenui) Burgess, "he said, 'I have to tell you something. You know I'm going to do the work I was meant to do, and that means you have to figure out the work you were meant to do, because your job is not my wife.'
"He said, 'I cannot give you your identity. You have to figure out what you're going to do and how you're going to do it.' My thinking was 'Are you kidding me? I was raised to be a wife and a mother and take care of the household, and you're giving me notice that's not going to happen!' "
That unsettling moment led Burgess to 40 years of community action, including being a key voice in creating the template for community-based development in Hawai'i. The Aloha Agreement between the developers of what is now Ko Olina and the Wai'anae community was signed in then-Gov. John Waihe'e's office in 1987. It set the precedent for communities on every island to have a say in what changes and what is maintained in their rural environments.
"It has given communities the ability to set guidelines for community development," Burgess explains. "Working on resistance to that kind of development and the impact it would have on rural communities like ours was an important part of my learning. It wasn't just saying 'no' to something, but saying 'yes' to something else.
"It became a really interesting method of doing things. It's not enough to just be against stuff, but you have to say what you're for. And out of that came the option of community-based economic development. And the Hawai'i Alliance for Community-Based Economic Development, HACBED. It's a separate not-for-profit created by many of us from different communities."
HACBED works as an intermediary with the state Department of Business, Economic Development and Tourism and other state agencies on development projects to ensure community voices are part of the planning.
Brent Kakesako, executive director of HACBED, speaks reverently of Burgess and how she uses storytelling and dips deeply into her own heritage to connect with people and bring them together.
"Prior to meeting her I had that reverence, like 'Holy Cow, this is some guru on a hilltop who I am fortunate to meet,' " he says. "I still have that. But when I met her she was humble and disarming, by what she shares and the aloha she emanates. She talks about herself in a very self-deprecating way and is very honest about her own limitations. And she uses that as a strength to build from, and a way to connect with anyone. You feel very comfortable talking with her and sharing."
To this day, seven years after they first met through HACBED, Kakesako seeks her advice and feels grateful for her mentoring.
"She has a gift for seeing the humanity in everyone and facilitating hard discussions to make changes that benefit the entire community."
Burgess' journey as a change agent included learning from Archbishop Tanouye Tenshin Rotaishi at the Zen Dojo deep in Kalihi Valley. The Zen master taught her that when community leaders negotiate change they must work with the top leadership on the other side to have the best chance of getting results.
"You have to negotiate at the right level – with people who can make a decision," says Burgess. "Having the direct relationship – that was really important for all of us who were doing community action."
She says her journey did not begin with leadership but as "someone with conscience and the capacity to move where I had to go." She says she always chose the path of change, no matter how frightening or difficult.
"To me it always comes back, basically, to 'no scared 'em.' There's a wonderful statement by the queen and she says you must remember never to cease to act because you fear you may fail. And I think her statement really has carried me. Some of the things you do are scary because no one in your family has a pattern for it. But you cannot not act because you're scared you're going to fail."
Her four-decade journey has taken Burgess, who is also a poet, to UH Mānoa for a B.A. in English. Her husband earned his law degree as part of the UH law school's 1973 inaugural class and she, too, went to UH's law school, but left in her third and final year after realizing she didn't want to be an attorney. But the training gave her the skills to research and write invaluable materials for the Hawaiian movement.
"Going to law school made me a dragon feeder. In Chinese philosophy dragons are not bad. I think of dragons when you apply for money from a group. There are rules and regulations. … You have to feed the dragon in a particular way. It (law school) encourages you to be a really good dragon feeder, even if you don't like it. If you apply (for a loan or grant), then what the dragon asks, you're going to try to give it to him."
Burgess' voice is gentle and soothing, an evolution from her earliest days speaking in protest as part of the Protect Kaho'olawe 'Ohana, an early Hawaiian Renaissance movement that helped end the military bombing of the island and committed the federal government to a multimillion-dollar ordnance cleanup.
Throughout the Hawaiian Renaissance, which began in the early 1970s, Burgess has been one of the builders, planners, speakers and strategists who shaped a renewed respect for the host culture, its needs and rights.
"There was a huge cohort of us who worked together," she says. "We were all a bunch of pals. It's pretty amazing, and we're still working."
Eric Enos called for her help against the Ko Olina development back in the 1980s, and she later used her legal expertise to work with Enos to help create the nonprofit and cultural center Ka'ala Farm. She also helped create Hoa 'Āina O Mākaha, a farm that fosters children's love for growing things; and the Wai'anae Coast Community Mental Health Center.
When young activists ask Burgess for advice, she tells them what an old man on the bus once told her: " 'If you plan for a year, plant taro. If you plan for 10 years, plant koa. If you plan for 100 years, teach the children aloha 'āina.' We need to proceed not just as humans, but as humans in relationship to other kin – everything on the planet."
In many ways Burgess' change agent work has found yet another outlet – from activist and protester to dragon feeder and now to conciliator and poet mediator.
When she is asked to help groups or businesses communicate more effectively she will often ask each member to write a poem about what the organization is about. Then they each read their poems to the whole group.
The group then works to turn the individual poems into one larger poem. "So now they have a collective vision, and they get a chance to see what they (all) are seeing – to help 'I' become 'we' and 'we' become 'us.' That really is the crux of the building community process I do with all kinds of different people."
She also uses another process called vision mapping. "What I ask people to do is draw a map of their vision and look at all the different parts of their vision and look at other parts of what other people have. Are there other things on theirs that you would like to include on yours? Most of my processes are storytelling processes, and the first audience for all of your stories is you. But then they become bridges to other people's lives and other people's hopes. That's a lot of what it's about – building bridges."
---
Jeff Merz
This change agent succeeds by focusing on one neighborhood
"Don't expect to change the world overnight," says longtime community activist Jeff Merz, who has spent 14 years as an advocate for a walkable, carefully designed and beautifully maintained Waikīkī.
"And don't get frustrated when change comes about at a seemingly glacial pace. Start small with short-term realistic goals and champions to assist you. Form community and neighbor coalitions. Most of all, be respectful of others' time, opinions and experiences."
Merz discovered the lessons of community change from years working to improve communities in which he lived. He was raised in the Midwest and trained as an urban planner. He applied his community-focus to his work in Africa while in the Peace Corps, to AIDS relief and support work in San Francisco's Castro District, and to Hawai'i's economic engine of Waikīkī. As the heart of our tourist economy, Waikīkī is critically important to all of Hawai'i, he says.
"We have to double down now and start the heavy lifting of preparing Waikīkī for climate change. We are already seeing beach erosion, king tide damage, threats from Ala Wai Canal flooding, extreme storms and tsunamis. Addressing these issues doesn't come cheap," he says.
"We should continue what we have been doing over the past few years, such as disaster and resilience planning, pushing to make developments more energy and water efficient, constructing infill affordable walk-up housing, repairing and replacing our infrastructure, and requiring developments to provide more open space and public amenities."
Merz has served on the Waikīkī Neighborhood Board for 14 years and says O'ahu's 33 neighborhood boards are a powerful way into activism and making an impact.
"It's a great first step to engage, learn about developments and issues in a neighborhood, and form relationships with city and state agency personnel, elected officials, community leaders and stakeholders," he says. "The longer you are on the board any initial interest in community activism is enhanced significantly. You are exposed to a myriad of issues and opinions in your neighborhood, and you cannot help but form opinions and seek action."
Bob Finley, who chairs the Waikīkī Neighborhood Board, says Merz has made an indelible impact on the area. "So many projects came up before he came on the board and we'd just sit there and look at the PowerPoint presentation and say 'Yeah, it looks good.' But he goes deeper. He's dedicated to making sure projects in Waikīkī are done right.
"He spends weekends reading environmental impact statements that are two telephone books thick to find out if designs meet the specifications of the Waikīkī Special District Plan, and whether they measure up. He dedicates a lot of his personal time to doing research for us. Whenever we have a new project in Waikīkī there's always the question, is there enough electricity, water, sewers; does it meet criteria for 50 percent open space, and if trees are remaining in place or will they be replaced," says Finley.
"He finds details that developers slip over and he reports that to the neighborhood board and we report that back to the developers. He makes developers nervous because he does so much detailed work."
His oversight ensures that developers follow all the required protocols, says Finley. "There are a few things that they've resisted but basically most of them thank him because it's something they've missed."
While Merz has made his own neighborhood the focus of his efforts, he believes Waikīkī needs to be everyone's issue.
"State residents ignore the plight of Waikīkī at their own peril. A massive percentage of the state's tourist dollars are generated in Waikīkī, providing a huge employment base and an international brand. The taxes generated in Waikīkī fund projects, agencies and programs throughout the state. While you may not necessarily like Waikīkī, we all have to realize that it needs to be maintained, redeveloped and thoughtfully planned with a high quality of life for residents and visitors, or else the entire state fails economically."
Like other change agents, Merz understands it's imperative to be patient. It takes time to build credibility and visibility, he says, and bring new concepts to the fore. To do that, you must know your subject inside out, do your research and have facts at your fingertips.
"Since first joining the board I have definitely seen a marked change in people's perceptions of what our community should be, i.e., support for bike lanes, the Ala Wai pedestrian bridge, better bus service, sidewalks, alternative transit, renewable energy and addressing climate change. Few of these concepts would have garnered support 14 years ago."
One also must expect opposition, says Merz, but it's crucial to respectfully argue your points and listen to what others say. Dialogue is part of the process – often a long part of the process.
"I was initially elected 14 years ago during the period when the controversy over the rail system was really heating up," says Merz. "While I'm troubled by all the problems implementing our rail system since then, I'm still a huge fan and advocate of transit and walkable, urban neighborhoods. Defending rail and advocating for a pedestrian-first approach to Waikīkī became my passion in the community and at board meetings.
"While not everyone in the community agreed, or agrees, with me – and many certainly let me know when they didn't – the community at least knows where I stand on the issue, and I believe they did, and still do, respect me for my principles."
---
Rafael Bergstrom
He found his passion and took action – you can too
Rafael Bergstrom never imagined citizen activism was his future. But in reality, his whole life prepared him for what he does today: inspire people to care enough about the environment that they work to protect it.
The executive director of Sustainable Coastlines Hawai'i now focuses on ridding our shores and reefs of plastic debris, but he has also empowered many hundreds of others to effectively advocate for change in many other areas.
"Change happens when you add up a huge amount of microsteps: the little things, the extra pushes into the night, the commitment to collaboration, the push through adversity and the celebration of small victories. Those are the combinations that eventually make the difference," Bergstrom says.
Small steps that lead to something momentous are also a good way to describe how his childhood and young adulthood led him to environmental activism. His love of nature grew during a multitude of camping trips with his family in the Sierra Nevada of California. In his 20s, Bergstrom traveled the globe as a professional baseball player and learned more about the beauty and fragility of the environment in Germany, Israel and Australia.
A baseball injury sent him home to California to finish college and start learning about resource management at nature preserves, and then to Hawai'i for an advanced degree in natural resources management at UH Mānoa.
Hands-on Education
He spent one summer as a team leader for the nonprofit Kupu's Hawaiian Youth Conservation Corps; added community development courses with project-based learning at another nonprofit, Ho'oulu 'Āina in Kalihi Valley; and served as president of his UH department's graduate student organization. That experience built leadership skills and strengthened his connection to the land and sea.
"As I finished my degree, I was challenged by Rep. Chris Lee to be involved in the legislative process," says Bergstrom. "I began working on a project to craft a state legislative bill to manage stormwater runoff. Through that process I had my first taste of citizen engagement in politics and found my way in 2013 to my job as a coordinator for Surfrider Foundation's O'ahu Chapter."
Lee clearly remembers the conversation that began it all. "We were sitting around in his house one day having a beer and the conversation drifted into ways individuals can really make a difference," says Lee. "There was a lot of concern for sewage contamination in nearshore waters as some of the group were surfers, and Raf came up with the idea of doing something about it.
"He had never participated politically before, but he came up with a plan to organize friends and get people engaged with the idea that we can enable counties to have alternatives to dumping. He did the research and came up with a bill that I helped push along, got people to the table to testify, and built support.
"Two years later, with (Bergstrom) standing there, the governor signed the bill into law," Lee says.
"That's the kind of attitude and spirit and drive that Raf has always brought to the table."
Developed "Civics is Sexy"
Bergstrom's skills as a grant-writer, outreach coordinator, planner, photographer, storyteller, scientist and community activist helped develop the O'ahu Surfrider chapter into one of the most influential environmental nonprofits in the state.
He developed "Civics is Sexy" – a popular one-day training workshop about political activism at the state Capitol. It taught the basics of testimony writing, making oral arguments at committee hearings, and how to organize around an issue.
"In four years the event grew from 50 attendees to 300," Bergstrom says, "and included follow-up workshops in schools, small community gatherings and online to increase participation in the legislative process.
"For the everyday citizen it's important to find the organization or individuals who are already working on the issue they care about, and start there. Learn from the ones who are already in the trenches and see what makes them succeed or fail.
"From there it's important that we all take the time to evaluate our strengths and interests and figure out how they can play into solutions. Everyone has something to offer, and every movement needs diversity."
QUICKLINKS