Chocolate and Determination Create a Community
Part three of a series of stories about resilience during the pandemic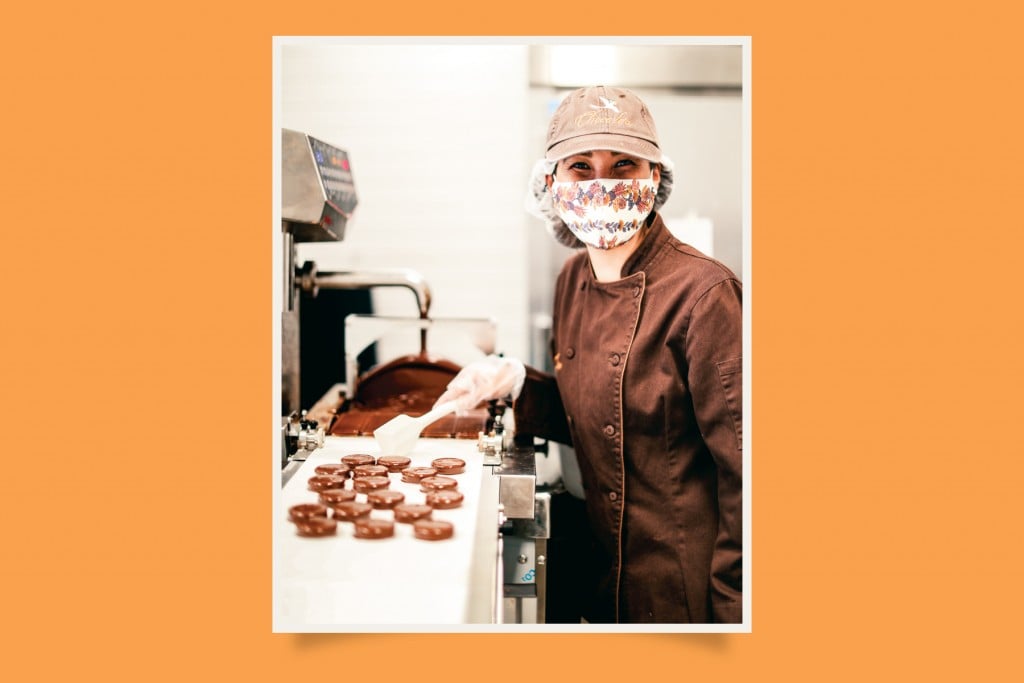 The pandemic has crippled thousands of small businesses in Hawai'i and forced tens of thousands of people to find new jobs. Amid these personal tragedies are stories of grit, perseverance and transformation. Here is one of those stories.
---
Erin Kanno Uehara makes upscale chocolates and sells them to locals, tourists, hotels and companies. Her shop, Choco le'a, had been a Mānoa haven since 2014 when she opened with confections created from her uncle's recipes.
Then the pandemic hit.
"The first week was devastation, shock," she remembers. "We closed the end of March. … April was completely dark, but we started doing curbside pickup in May."
First there were prayers, then determination kicked in.
"The next stage was strength and focus, and fight," she remembers. "I was closing accounts, paying bills, asking for payment extensions, trying to apply for loan options, reading about grants and getting people on unemployment."
Kanno Uehara moved quickly to ensure her 22 employees got unemployment benefits.
"I laid them all off right away. I had a great HR person and she said 'Do this right away. You've got to take care of the people. You can always bring them back, but make sure they get into the system.' They got unemployment right away."
Fortunately, the lease on her commercial kitchen was ending in April 2020. Though she'd been planning to add space, she was able to cancel the lease, but her $20,000 worth of culinary equipment sold for just over $1,000. She took a few remaining pieces and moved into her much smaller 600-foot office space in Mānoa.
In that first month and a half, Kanno Uehara juggled hours with her husband Chris, who got home from his Pearl Harbor job as a shipbuilding specialist by 3:30 p.m. each day to take over care of their 3-year-old and 5-year-old.
Then she'd work to phase out and close the commercial kitchen until 10 or 11 at night, she remembers. "Sometimes I took the kids with me all day. They'd play with toys, or it meant they were sitting in front of a screen."
That's when she reinvented her business and planned for a new future. She grew her community of customers and friends through social media, shared her feelings in weekly emails, and created new products and marketing ideas.
"Local people started saying 'We're rooting for you,' 'We miss you,' 'We still have birthdays in quarantine,' " she says. "And we started really valuing our relationships. … I started to focus on them and concentrate on their needs. My world is here in Hawai'i and taking care of these people."
People would order online and her curbside pickups began to flourish in June, and she rehired four employees. At first, pickup Awas once a month, then twice, and now every Saturday. She even created tutorials to help older people learn how to shop online.
She has added products and recently created a Chocolate Club Subscription that includes monthly specials. "We make sure every special is reserved for them."
And the future? More videos to share chocolate experiences with 11,000-plus Instagram friends, and additional online options, perhaps small private shopping parties inside the store, collaborations with other small businesses. By the end of February she had completed a book about her experiences during the pandemic; it's available at chocolea.com.
"What's really been our focus is bringing peace to the world, one chocolate at a time," she says. "Now it's one experience at a time, or one story at a time, or one collaboration at a time. It's now about focusing on your purpose in life."