Hawaii's Construction Challenges 2019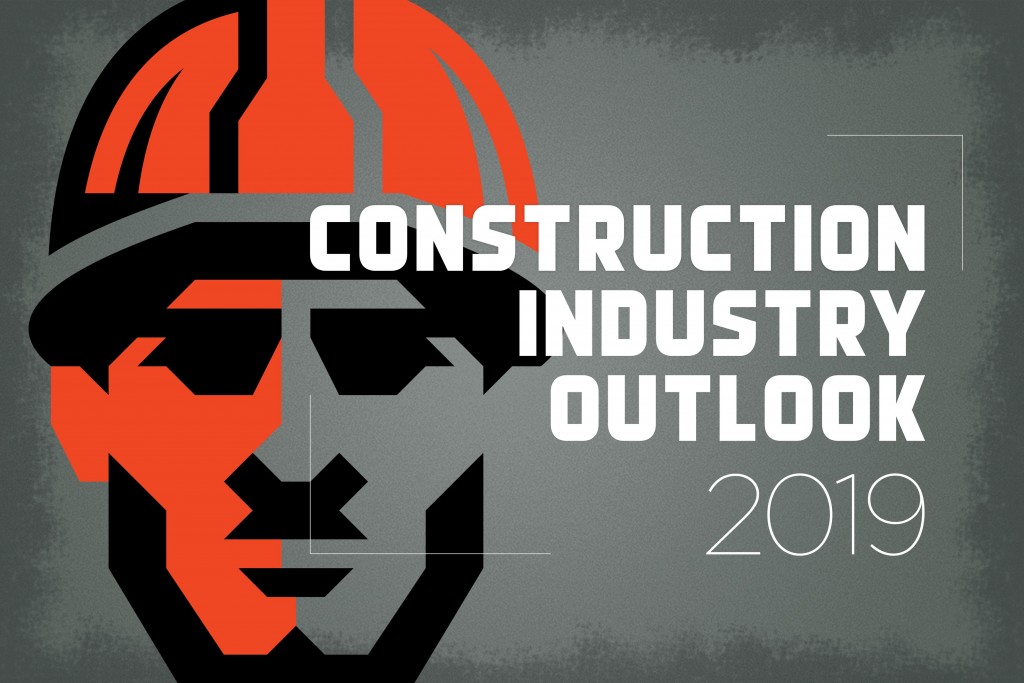 Experts reveal the top challenges of today's construction industry—and what's to come in the new year.
In a diversified industry involving numerous jobs, from property builders and developers to contractors, engineers and suppliers, the construction industry contributes greatly to the state's economy, so understanding its challenges and where things are headed is essential.
Every alteration to any structure or new real estate that gets erected is done by professionals in the construction industry, who create these assets that benefit society, whether it's to upgrade schools, repair a highway, build new houses, renovate hotels or expand hospitals.
Last year's construction outlook looked grim following a negative year of decreasing government contracts, private building authorizations and construction jobs, but toward the end of 2018, projects began picking up and are expected to continue increasing slightly in 2019.
Housing developments, such as Koa Ridge and Hoopili, are bringing 14,000+ new housing units to Oahu, feeding the demand for more affordable homes.
Technological advances in Hawaii's construction industry are also making things more efficient and lowering costs. These shifts are important for the economy and the industry in general.
However good these positive changes sound, the industry isn't going through the same boom that was seen in past years.
"I think it's pretty obvious that construction has plateaued in Hawaii," says Mark Tacazon, marketing manager for Swinerton, a commercial construction company. "Although there are some cranes up in the sky, today's construction outlook pales to the comparison in 2014–2016 caused by the high-rise boom."
━━
A message from:


Hawaiian Dredging Construction Company, Inc.
With our legacy dating back to 1902, Hawaiian Dredging Construction Company, Inc. has played an integral role in building the face of Hawaii. Starting from its humble beginnings in dredging Pearl Harbor's main channel, and constructing the Ala Wai Canal to enable the development of one of the world's iconic tourist destinations, Waikiki, Hawaiian Dredging is truly a part of Hawaii's history.
Today, we are one of Hawaii's largest general contractors with a presence on every major island, with over 900 employees. Hawaiian Dredging is also among the state's most diversified general contractors comprising of five major divisions: Building, Commercial, Heavy (Civil), Power & Industrial, and Waterfront & Foundation. With our diverse and collective experience, resources and expertise, Hawaiian Dredging has continued to lead the industry in a comprehensive array of construction services on projects ranging from hospitality, commercial, residential, institutional and healthcare, as well as major infrastructure and utilities work.
━━
By the Numbers: The Latest Reports
For the past few years, construction has steadily added to job growth and employment, but factors such as work volume, higher costs for materials, and even permitting delays can affect both the industry and the economy. Similar to previous years, these daunting challenges continue to plague the construction industry, however, 2018 ended with some good news and 2019 looks promising.
"Following two years of decline, the pace of building in Hawaii has stabilized," according to the Economic Research Organization at the University of Hawai'i (UHERO) in its last public report published at the end of September 2018. "The value of construction permits is posting healthy gains across all sub-sectors this year, and projects either planned or in the pipeline will maintain construction activity near its current level through the end of the decade."
Other positive outcomes from 2018:
Income and employment is expected to increase slightly
Strong tourism industry is expected to sustain high levels of renovation and new developments of resorts
Maui and Kauai saw some home sales gains
Low and high-rise residential buildings continued to be produced
On Oahu, condo building is spreading, as well as future single-family home building projects.
There's also been some increases in jobs for the building industry, according to the latest report by the Department of Business and Economic Development and Tourism (DBEDT), with an expected industry growth increase of 0.8% (approximately 280 jobs) from the first quarter of 2017 to the first quarter of 2019. While this does not come close to comparing to pre-recession growth, which averaged 8% per year, it was better in comparison to the first three quarters of 2018 which had no change from the previous year.
━━
A message from:


Pacific Resource Partnership
As the pace of private construction slows, there are dozens of major public sector and infrastructure projects that would ensure Hawai'i's construction industry remains busy.
With the convening of the legislature – and the start of a new biennium – now is the time to fast track funding for the millions of dollars needed to deal with deferred maintenance at the 10-campus University of Hawai'i System. Our public schools, with scores of campuses in desperate need of repair and refurbishment, also need more than $800 million for repair and maintenance. And infrastructure upgrades to our airports, harbors, roadways and bridges are long overdue.
Many public works projects have been designed and are ready to be bid out. The sooner government can do this, the less of a toll the slowdown will have on our state and on the hard-working men and women who contribute to the health of our communities.
━━
Overcoming Obstacles
Required permits are necessary for construction projects to begin, and the Department of Planning and Permitting issues between 15,000 to 20,000 permits per year. The process can be long, depending on numerous factors, and it has some builders saying it takes months to get one. Costs associated to the delays are incurred, beyond materials and labor, and these delays not only affect the project, but also jobs and the economy.
"The slow permitting process continues to be a major problem for our industry. In construction, more than in most industries, time is money. A six-month or longer delay to receive a permit can endanger a project and the jobs and other economic impacts that follow," says Pacific Resource Partnership, an advocacy, consulting and representation firm for the building industry in Hawaii.
Terrance Arashiro, president of Austin, Tsutsumi & Associates, Inc., agrees. His company has been in business in Hawaii as an engineering practice since 1934. "Delays in project starts due to permitting and entitlement regulations continue to plague the industry, not just in the private sector but even for government sector partners," says Arashiro. "In the meantime, the cost of borrowed money combined with material and labor costs keep creeping up. For infrastructure replacement work, time lost leads to a more deteriorated state of the infrastructure than when the project was envisioned and budgeted. So we are in essence having to build more with less dollars."
Contractors have been teaming together with lawmakers to increase the speed of the permitting process. The Oahu Homebuilders Coalition was created in 2018 to put pressure on the city's Department of Planning and Permitting to improve the process, and some joined together to pass Bill 64 in November 2018.
The bill, which requires the city to issue permits within 60 days of filing for one- and two- bedroom family homes, passed in November 2018 with a 9-0 vote. While this is a win for homebuilders, other developers feel that it will only add to the problems.
"Unfortunately, changes brought on by recent legislation are only expected to exacerbate the problem. Honolulu City Council Bill 64 prioritizes faster approval of homebuilding permits, but expediting them will likely come at the expense of commercial construction permitting, which may face even longer delays," says Pacific Resource Partnership. "Additionally, last year the city stopped performing courtesy inspections, which allowed construction work to commence while permit applications were being reviewed. Ending this practice has made it harder for contractors already grappling with a cooling market and could prolong the decline in private sector construction."
Though delays in permitting is a huge problem, it's not the only issue that the construction industry has to contend with. Rising material costs is a trend that seems to be sticking around. According to UHERO's report, "Solid national demand for building materials, import tariffs, and rising energy prices will push construction costs higher in the coming years." Companies are now more than ever looking for ways to save money via technology or buying bulk materials.
"Some of the challenges we continue to face today are the continuing rise in construction and labor costs, a limited pool of top tiered subcontractor availability, a slight decline of new construction work, and facing existing and new competing general contractors from the mainland. It seems to be a cyclical ordeal and all of these issues we face are all connected," says Tacazon. "I believe continuing to be proactive in developing new methods to control construction costs would entice clients."
For Kiewit Building Group, which provides building services to a variety of market segments, the biggest challenge has to do with finding the right talent. "A shortage of craft personnel and college graduates entering the construction-related work force continues to be the greatest challenge," says Tom Broderick, VP Building Group for Kiewit. "There has to be continued emphasis placed on informing students at the high school level and above, informing them of the opportunities of the industry."
Continuing efforts to influence students to enter the construction industry and go on to learn engineering or construction-related fields is important, Broderick says.
━━
A message from:


Austin TsutsumI
& Associates
Established in 1934, Austin, Tsutsumi & Associates, Inc. is an early pioneer of the engineering industry, and is recognized by both Hawaii Business Magazine and Pacific Business News as a Best Places to Work and a Top 250 Company in the state. ATA's primary business is consulting in the areas of civil engineering, environmental engineering and land surveying, and has the largest local traffic engineering group in Hawaii. "As a kamaaina company, we have deep roots in the islands and have worked tremendously hard to be a thoughtful and trustworthy partner of the community," says Terrance Arashiro, president. "We deeply appreciate the trust that is placed in us by our clients and the public sector. Integrity in our practice has been a touchstone for us throughout the years." ATA looks forward to reaching its century mark and are likely to achieve this milestone with flying colors.
━━
Looking Ahead, Moving Forward
Following the construction boom in 2016 and 2017, there was a lull in projects getting off the ground in 2018, and with the Honolulu Board of Realtors releasing figures of a 13% decline in home sales at the end of the year, the industry will be looking to the public sector in 2019 to provide support for the construction industry, and a slower economy.
"There is no shortage of shovel-ready projects that government agencies could put out to bid. Government should prioritize funding long-needed public works projects—like an estimated $864 million Department of Education repair backlog, deferred maintenance at UH, overdue infrastructure upgrades especially at our airports and harbors, transit-oriented development and public-private partnerships for affordable housing—to provide a soft landing for the construction industry," says Pacific Resource Partnership. "Focusing on public works projects would stimulate our industry and the wider economy in the short term, helping to offset a cyclical slowdown. More importantly, they would be investments in Hawaii's future, ensuring greater productivity and quality of life for local workers and residents."
Public projects like the renovations and expansions of airports, roads and the construction of the Honolulu rail transit system will continue to drive the industry, according to UHERO. This should bring real income and employment higher next year.
"The construction industry should remain robust in 2019 and into 2020, based on the inventory of projects currently in the works or under design. Beyond that, TOD [Transit-Oriented Development] and affordable housing are good reasons for much optimism, not just because of the construction boom, but because Honolulu is in sore need of live-work places for future generations less dependent on their vehicles," says Arashiro.
"There is always some cautiousness in outlook due to the fragility of the economy, dips in investor's motivation and their ability to attain their bottom line ROI [return on investment]. Factors such as plan approval delays, bid protests, higher than anticipated construction costs, and labor shortages work against all those involved in development and construction. But with government and private sector partners working together with stronger will and political fortitude, positive changes can happen in these Islands."