Talk Story: Dave Matlin of UH Athletics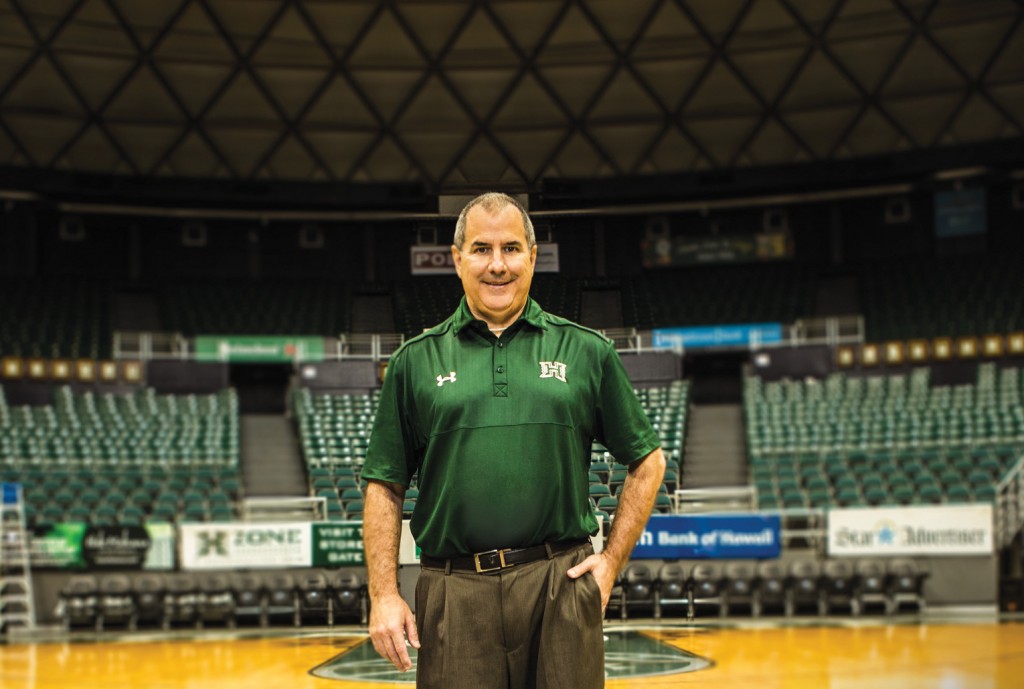 Dave Matlin, Athletics Director University of Hawaii at Manoa
Matlin says UH Athletics has cut costs in many areas and strategically increased spending in others. Meanwhile, revenue is up and deficits down at Manoa's athletics department. His next challenge is persuading state legislators to directly fund Athletics to offset the unique costs UH faces mainly because its NCAA Division I opponents are located thousands of miles away.
━━
Q: When you took the helm in 2015, UH Athletics had an annual deficit of $4.2 million, which has been cut to $1.7 million. Do you think you'll eventually break even?
MATLIN: Breaking even starts internally and we've taken measures to make things better. We've done this all-college sports deal, which has increased revenue by about 30 percent, or $600,000. We have done a deal with Under Armour for our apparel, which is saving us $300,000 to $400,000. Our deal with Hawaiian Airlines is another savings of $300,000 to $400,000. Breaking even is hard to forecast. Expenses are going up. Fringe benefit rates (medical, retirement, etc.) have increased quite a bit. Our costs were $2.7 million in 2014. We anticipate they will be $4.3 million during the current fiscal year. We are also investing in the program, like offering better nutrition for our student-athletes and giving stipends, which are needed for competitive reasons. We have also invested into recruiting, increasing our budget by 15 percent, which actually helps you be more competitive – and being more competitive helps sell more tickets and more sponsorships. But despite all of these expenses, we have managed to lower the deficit.
━━
Q: You were the first Athletic Director to make the case for direct departmental funding to state legislators. What sparked that strategy?
MATLIN: What is different for UH Athletics than any other school is that we have about $1.7 million in incremental costs because of our geography. (Matlin is referring to added costs that UH's competitors do not face.) We felt we needed help with those costs because there's not much we can do about them – moving California closer to Hawaii is not going to happen. But athletics also provides a value, being ambassadors of aloha and carving branding opportunities for the university and the state. There are so many worthy areas that need funding in the state, and by no means are we the most important one. But you just present your case and what your needs are and we feel fortunate to get support from both the executive and the legislative branches.
━━
Q: Some contend that public funding should instead go to Hawaii's chronic challenges, like affordable housing.
MATLIN: There's no question those are super important issues and it is a tough job to prioritize. Our job is to be the best we can be and tell our story, while understanding there are other priorities. We need to communicate that we can make the pie bigger. Our program produces about $7 million in tax revenue, $66 million in total spending and creates about 894 jobs – that is from the Shidler College of Business study in 2014. I am sure those figures have increased. We are also listening to what our elected officials and the community are saying about how we can do things better. We are always looking for ways to get better. We have benchmarked ourselves against our peers – the Mountain West Conference and the Group of 5 programs. (see Group 5 explanation further down). One area that we need to improve on is fundraising and we're working on that. An area where we are ahead of our peers is ticket sales. That said, we still need to have more ticket sales. I think in 11 out of 13 areas that we evaluated, we are even or above our peers.
━━
Q: Will there come a day when you can operate without public funds?
MATLIN: There are only 24 public schools that are breaking even right now and all those schools are from the Power 5 conferences, which have $30 million to $40 million in TV revenue. I think that's a good thing to aspire to, but I don't think it's something that will happen in the near term.
Power Colleges
UH belongs to different NCAA conferences for different sports. For instance, the men's football team is part of Mountain West, but most of the UH sports teams are part of the Big West conference and a few play in the Mountain Pacific Sports Federation. Ten conferences are part of NCAA Division I football, the premiere tier of U.S. college football. The "Power 5" conferences – so-called because they attract the biggest crowds and most lucrative TV contracts – are the Atlantic Coast Conference (ACC), Big Ten Conference (B1G), Big 12 Conference, Pac-12 Conference and Southeastern Conference (SEC). The other Division I conferences are known as the Group of 5: The American Athletic Conference (AAC), Conference USA (C-USA), the Mid-American Conference (MAC), the Mountain West Conference (MW) and the Sun Belt Conference. A few universities, including Notre Dame and West Point, are independent schools that do not belong to any football conference.
━━
Q: You pay a lot for travel, but you also have to subsidize competitors to come here. What percentage of your expenses does this constitute and will you be able to renegotiate those terms?
MATLIN: I think we pay about $2.1 million in travel subsidies to schools within our conference. It is not likely that those terms will change. There are no anticipated renegotiations. We also have to pay when nonconference teams come, too. Then there are our travel costs. Some teams in the Big West just take school buses to go to games, but for us there is a plane ride every time. And we have to get to our destination earlier to get acclimated for competitive reasons, so our stays are longer and more expensive. Our incremental costs associated with travel are around $3 million. We are not going to get geographically closer to the Mainland, so the travel costs are what they are. There is always going to be a cost differential that puts us at a competitive disadvantage. You look at our budget compared to our peers and it looks like we're the third-highest budget, but when you take out those unique costs we are actually in the bottom three.
━━
Q: Football is having a strong season, with attendance around 23,000 to 25,000 per game, do you think you'll go back to the days when you consistently drew 40,000 to 50,000 spectators per game – or is that impossible without a new stadium?
MATLIN: Attendance has increased since last year. That being said, I do think a new stadium is important. Then the question becomes: How do we fund it? Attendance across the country has been declining. What we have to do is focus more on Millennials and people 35 and under. We need to be more creative to entice them back to sporting events. A good size for a new stadium would be 30,000-35,000 seats. Colorado State has built a new stadium that's a great model for Hawaii. A new stadium has to have modern-day amenities, like suites and ways to monetize better, like strategic signage locations, updated concession areas and better concourses.
━━
Q: You are no longer doing marketing in-house. It was outsourced to IMG College LLC. Has it yielded the results you were hoping for?
MATLIN: "It has exceeded expectations. UH Athletics managed the corporate sales program in-house from 2005-2017. It was one of the most successful partnership programs in the country. But that model seemed to peak as the cash generated from 2005-2017 increased by only 1.9 percent. The IMG partnership returned $2.7 million in our first year (fiscal 2018), which was $600,000 more than we generated during the years 2005-2017."
━━
Q: Your position is fraught with political pitfalls and financial pressures. Three years into your tenure, would you vie for it again?
MATLIN: The short answer is yes, because the opportunity to make a difference is so great. We have 500 student-athletes, and we are helping to educate them and develop their leadership skills. That's big. But also the impact that UH athletics has for the whole state is even bigger in some ways. These student-athletes and our coaches are ambassadors of aloha. They help with our tourist trade and they help make Hawaii a brighter place.
━━
The interview was edited for conciseness and clarity.