Many Hawai'i Defense Jobs Are Not Going to Locals. Advocates Want to Change That.
Despite its tarnished reputation amid the Red Hill water crisis, many think the U.S. military is the best bet for revitalizing the local economy.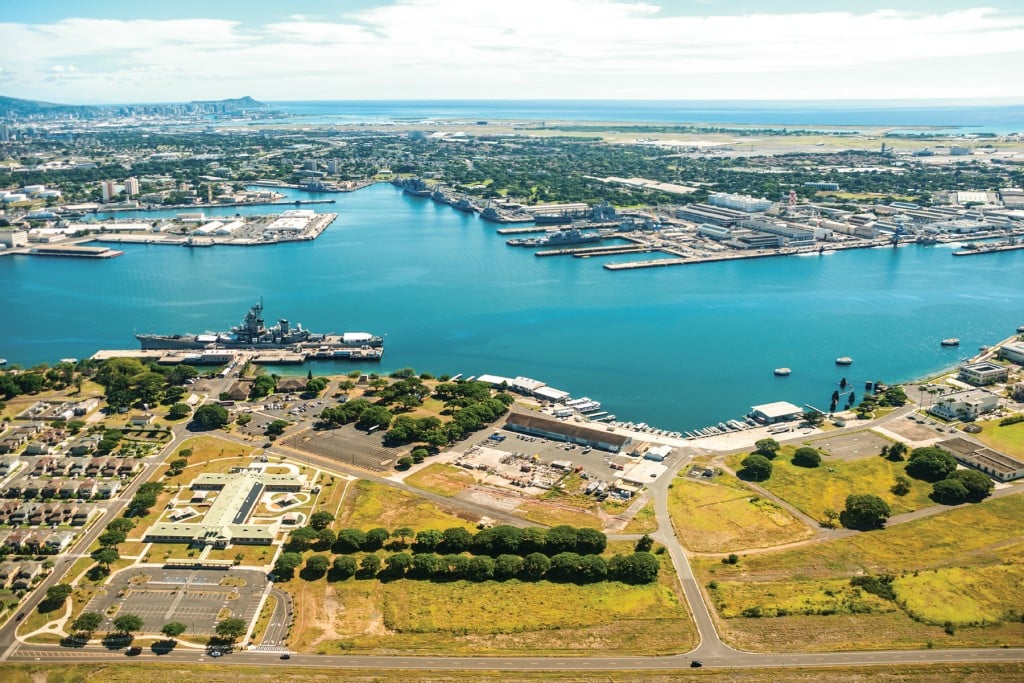 The Red Hill leak is just one of the challenges created by a strong military presence in Hawai'i. But there are also lots of pluses – including thousands of well-paid civilian jobs. Currently, too many of those skilled jobs and contracts are filled by nonresidents and mainland companies. Here's what local advocates say needs to be done to create a workforce and private sector that serves the military's needs while strengthening the local economy.
…
One major solution to Hawaiʻi's brain drain is already here in the Islands: the U.S. military. The armed forces already provide thousands of well-paid civilian jobs, but too many of the cutting-edge jobs and contracts are filled by mainland-based people and companies.
The challenge Hawai'i faces is to train local people for these careers and to further develop local companies that serve the military's needs here and throughout the Indo-Pacific region, according to leaders we interviewed in private, nonprofit, academic and government sectors. They believe those skilled workers and companies – and the expertise they develop while serving the military – can then be leveraged to create even more jobs and businesses to serve civilian markets in Hawai'i, across America and around the world. The cumulative effects throughout the local economy could be enormous.
Brennon Morioka, dean of UH Mānoa's College of Engineering, says that if key stakeholders "coalesce around our common needs and interests and commit to supporting and cultivating the development of this local workforce in these high-tech areas, we might be able to finally build these new high-tech economic sectors that we have talked about for years."
Requires "Joint Innovation"
O'ahu is the headquarters for the U.S. military across the Indo-Pacific region, a command that stretches from the U.S. West Coast to India and from North Pole to South Pole. The region includes some of America's biggest military threats – China, Russia and North Korea – which guarantees the Pentagon's investment in Hawai'i will be massive and long-term.
The U.S. Indo-Pacific Command, based at Camp Smith in 'Aiea, relies on tens of thousands of Department of Defense civilian employees and contractors, many based in Hawai'i. Pearl Harbor Naval Shipyard, for example, has provided well-paying and skilled local jobs for more than a century.
Ashley Conner, director of community and public outreach for the command, says that creating further opportunities "will hinge on joint innovation between the state and the military to … create a local workforce to support national defense requirements."
Conner lists three existing areas for further collaboration:
Creating a commercial cloud presence in Hawai'i that could serve the federal departments of Defense and State and local companies.
Building on existing partnerships among UH Mānoa, the Pentagon-sponsored National Security Innovation Network and local industry to spur local innovation on military needs and problems.
A strategic talent pipeline into the DoD and intelligence community with the Mentoring Program for Intelligence, a partnership between UH Mānoa and the U.S. Indo-Pacific Command. The program is designed to provide high paying employment pathways to local students, and certificate and undergraduate intelligence studies degree programs are in the works.
She says other potential "talent pipelines" would focus on personnel administration; logistics; and physical security, investigations and law enforcement.
Generating Breakthroughs
Two local groups support military-civilian collaboration: The Hawaii Defense Alliance is an association of industry, government and educational partners, and the Hawaii Military Affairs Council, which was created by the Chamber of Commerce Hawaii, comprises business leaders and retired U.S. military generals and admirals.
The Military Affairs Council believes "the support of facilities, training areas and logistic enablers in Hawai'i are invaluable to the readiness and posture of our joint force in the region," Conner says in an email. The council believes the key to increasing local jobs and business opportunities "will be to focus investment on generating breakthrough innovation" to serve the military's mission.
Conner says the council also believes: "The military has some work to do to improve relations with Native Hawaiian organizations and it starts with respect, understanding and dialogue. This respect is not just for the land but for the people and the culture of Hawai'i."
Says Morioka, UH's engineering dean and a participant in both the Defense Alliance and Military Affairs Council, "I believe further investment by the U.S. military in current programs and initiatives that already incorporate the DoD into the university's research and curriculum programs would be productive. Plus the relationships and structure already exist.
"Here at the College of Engineering, we try to embrace what we call Industry Infused Curriculum, where our students engage with industry mentors on real world projects."
In one example, he says, the military provides students with real problems and students learn "lean startup methodology" techniques to develop solutions through two platforms: "Hacking for Defense," a university course sponsored by the DoD that teaches students to address security challenges, and X-Force Exchange, which IBM describes as a cloud-based threat intelligence platform.
New Communication Technologies
Morioka emphasizes the need to build a local workforce to meet the military's technology needs. That in turn will add local expertise, jobs and businesses to support new communication technologies that serve both the military and civilian populations – including broadband and 5G wireless systems, cybersecurity, hardware and software expertise, and much more.
What's needed is collaboration among local stakeholders, he says. "I think today is our best opportunity to be able to make this happen and much of it is because of the federal interest in not only supporting workforce development in these critical areas but doing it locally."
Jon B. Kutler, who served here in the Navy, is CEO and founder of Admiralty Partners, a Los Angeles-based company that says it invests exclusively in aerospace, defense and federal information technology industries. Kutler is a resident of Hawai'i Island and a nationally recognized expert on aerospace and defense spending.
"The most important suggestion (for Hawai'i) is to change our frame of reference regarding military jobs," Kutler writes in an email. "Jobs are a byproduct of having value to offer. We also need to focus more on the longer term than just the short.
"If you analyze local defense spending it is currently focused more on a project-related basis: What facilities need to be built or what services provided? That historical approach provides 'jobs' but it does not build any residual intellectual capital in Hawai'i. When the construction is finished or the program cut back, the jobs go with it. In those cases, most of the higher paying positions are with mainland companies that operate offices here. That does not build a lasting competitive position for Hawai'i. Other states focus more on creating lasting companies based upon technology than just jobs today."
---
Related stories: Military Money By the Numbers, Employing the Military
---
Centers of Excellence
Kutler says the two most important investments that Hawai'i requires to succeed in this area is defense industry education and support, and in creating centers of excellence. The state government and UH need to take the lead in creating such centers, he says.
"Hawai'i does not have the land, expense advantage or desire to build these unique capabilities or positions in manufacturing, but we can do it in information technology and services. In this case, UH can play a lead role." It's a role leading research universities play around the world, he says.
UH, through focused funding, can attract even more leading professors in niche areas like alternative energy, ocean sciences and sustainability. "While we do not necessarily think of these as areas of defense spending, the Pentagon spends billions of dollars annually in each," Kutler says.
"Recycling trash, water management and sewage waste management are areas where there should be disproportionate high local interest in funding projects. The plan should be to help existing companies grow in the short term while we develop the local intellectual capital to compete more broadly at home and the mainland over time."
Patrick K. Sullivan is the founder and CEO of Oceanit, a Honolulu-based company that has thrived on innovation, often rooted in new technologies developed under military contracts. He is also the author of the 2020 book "Intellectual Anarchy, The Art of Disruptive Innovation."
The book, he says, details "how we can find disruptive solutions to hard problems, problems so difficult that they can seem impossible."
"Problems of that magnitude demand radical new ideas – an incremental approach won't work. Their solutions seemingly come out of left field, defying conventional wisdom, and overturning existing industries, practices, and business models."
Diverse Economy
Sullivan says that for Hawai'i to be economically successful in the long term, it must establish a diverse economy.
"I believe that science, engineering and disruptive innovation and methods are new ways to build a new economy in Hawai'i. … There may be sufficiently highly educated graduates in Hawai'i and those who wish to return to Hawai'i to live and work permanently. Based on my experiences, the talent and capability in Hawai'i is of significant high quality and they can compete at any level anywhere in the world."
Sullivan says Hawai'i's mindset needs to change. "The current community and political leaders do not appear to think deeply about economic solutions for Hawai'i. … Our leaders must support, establish and build new, sustainable and clean industries in Hawai'i," he says. He points to marine biodiversity as an area where Hawai'i's natural advantages can be leveraged for jobs and research funding from the federal government.
"Like everything else, timing is everything. If Hawai'i does not start now, it will be difficult to catch up economically in the future."
The state Department of Business, Economic Development & Tourism says it recognizes the need for Hawai'i to earn more of the military spending issued here.
A large portion of defense contracting in Hawai'i goes to out-of-state contractors, says John B. Greene, DBEDT's defense industry specialist. "Of particular importance to our projects moving forward is ensuring that we close the gap on those subcontractors that are awarded to mainland companies and those that are awarded to local companies."
He says that one reason the Hawaii Defense Alliance was created was to bring together government, educational institutions, community resources and private sector partners to identify challenges and offer solutions and means to increase business opportunities. Working groups are already focusing on four areas: small-business support, workforce development, business and economic systems, and market development resiliency.
Finding Skilled Workers
One challenge is finding skilled workers for military jobs and contracts. "We've seen the successful implementation of the apprenticeship program between Pearl Harbor Naval Shipyard and Honolulu Community College, which offers graduates immediate employment in various specialty trades in the shipyard," Greene says.
He points to several training programs that focus on cyber defense, including one in which the National Security Agency identifies UH as a cyber defense center of excellence. "Through that program, over 60 UH graduates work for the NSA," Greene says.
And the U.S. Indo-Pacific Command, UH and industry partners are developing curriculum and internships to offer undergraduates careers in intelligence and cyber security.
DBEDT has also awarded a contract to the nonprofit Pacific Impact Zone, which aims to improve Hawai'i's dual-use sector: companies that create technologies that serve the military and can also be put to civilian use.
Sullivan, Oceanit's CEO, says Hawai'i must "develop local intellectual capital" to compete at home, nationally and globally – but also to overcome the problems that lie around us.
"All these challenges directly impact our lives and our unwritten future," he says. "They have enormous economic consequences for humans and society. They also provide incredible opportunities for investors and innovators."
---
"The Most Consequential Region in the World Today"
The Indo-Pacific Command, based at Camp Smith in `Aiea, is the largest of the U.S. military's six geographic commands.
About 375,000 civilian and military personnel are assigned to its area, which covers about half of the Earth, stretching from the waters off the U.S. West Coast to the western border of India, from Antarctica to the North Pole.
Jason Chung, a retired colonel and VP for military affairs at Chamber of Commerce Hawaii, says the Indo-Pacific region "is the most consequential region in the world today and for the foreseeable future."
"It is the economic center of gravity of economic growth in the world; seven of the ten largest militaries and five nuclear nations reside in this region."