Hoʻohaʻaheo: Public School Proud [Sponsored]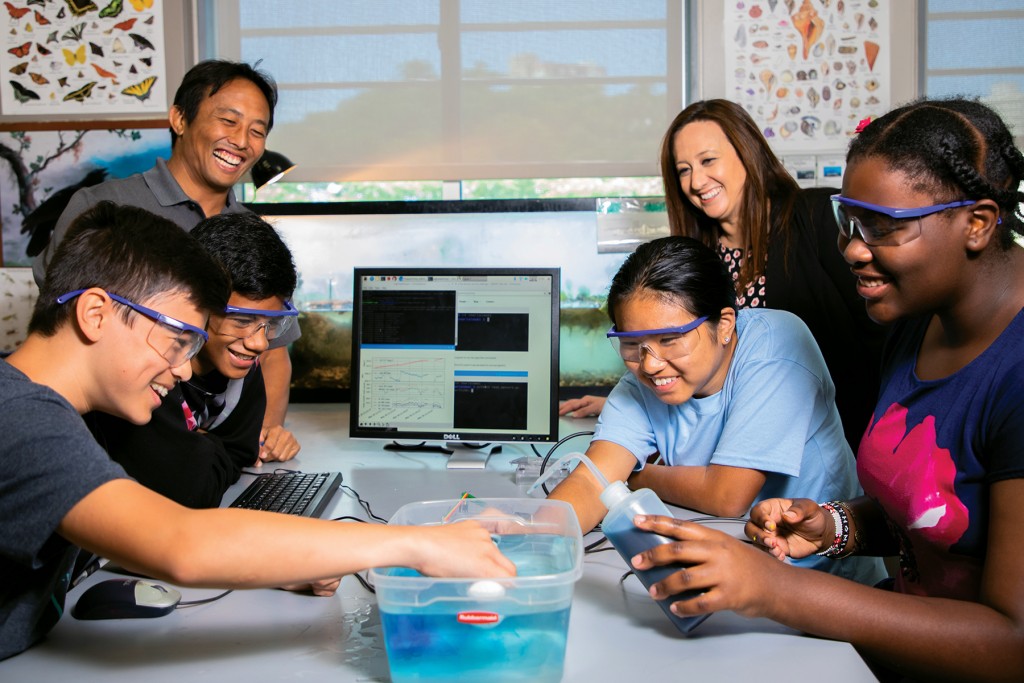 PROMISE: EQUITY
Students will experience strong relationships and supports that mitigate disempowering differences to enable them to thrive academically, socially, and civically.
ACCESS; PERSONALIZATION; COMMUNITY; CLOSING ACHIEVEMENT GAPS; QUALITY
Future Schools Now: Making Strides Toward Modern Learning Facilities
by John C.H. Chung, Facilities Development Branch & Nanea Kalani, Communications Branch
School facilities play a critical role in our ongoing effort to provide campuses that promote and support world-class learning across Hawai'i's public school system.
Achieving this ambitious goal requires innovative solutions that address the need for fast-tracking immediate capital needs while strategically planning for future improvements.
To that end, the Hawai'i State Department of Education (HIDOE) last fall initiated a three-part strategy to modernize and streamline our facilities program to better align our strategic focus on providing respectful learning environments with our core value of ensuring access to a quality public education for every student in every community.
We've named this initiative Future Schools Now to convey the urgency of modernizing every one of our public schools to foster innovation and 21st century learning.
The strategy involves streamlining how the Department contracts repair services to fast-track priority projects, increasing the community's access to project details with an online database that provides real-time information, and implementing a data-driven analysis to guide planning for future school needs.
"This redesign effort provides our stakeholders and partners with information that allows them to be data-informed advocates for equitable funding and resources," said Superintendent Dr. Christina Kishimoto.
Here's a look at our progress with the three strategies.
Job Order Contracting
Under Future Schools Now, the Department is using a proven method called Job Order Contracting, or JOC, to expedite work on school roofs, the largest category on our repair and maintenance (R&M) backlog.
The method allows HIDOE to con- tract several vendors through competitive bidding for common projects over the life of a multiyear contract, rather than having to bid out individual jobs for routine repairs.
The Department began using JOC in January for school roof repairs and so far has completed 29 projects.
Just one example to highlight the difference between using JOC and the state's traditional design-bid-build process: Castle High School's auditorium roof was repaired in less than two months, from procurement through construction. By comparison, a roof repair at Radford High took six years. It was initiated in 2011 and finished in 2017 using the design-bid-build method.
This, Superintendent Kishimoto added, will be our new normal.
In the first six months of the year, we've procured more than $4 million in construction work under JOC. The aim is to eventually handle all roof repairs with this method, followed by heating, ventilation and air conditioning (HVAC) systems, and electrical upgrades in future rollouts.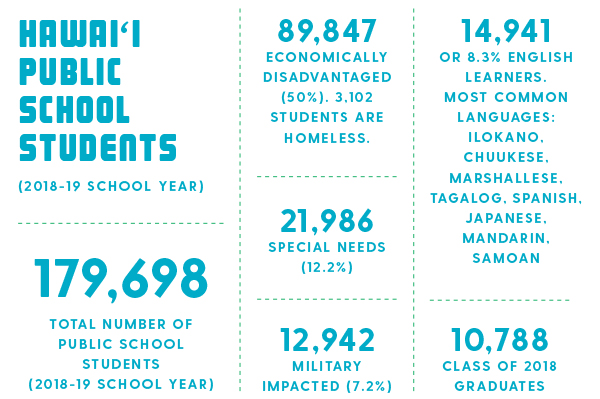 Capital Improvements Program (CIP) Project Tracker
The Office of School Facilities and Support Services created an online database that started off as an internal tool for our facilities team and Complex Area staff to track and monitor CIP projects from start to finish in real-time. The software can organize our repair and maintenance projects into categories, showing where our greatest needs are, and the data can be filtered by school, Complex Area, island and legislative district.
We've since expanded access of this database to lawmakers and we are working to expand access further to the school level and others sometime next school year.
With added transparency, we will be able to improve equitable access to quality learning spaces through data-informed decision making about project priorities.
Facilities Master Plan Guide
A comprehensive facilities study being finalized will provide data to guide future facility improvements and maintenance projects. The study will establish a facilities roadmap that is driven by data and stakeholder input. Many of our principals, students, teachers and Complex Area Superintendents participated in the multiyear effort to draft this study.
When integrated into our planning and budgeting process for capital projects, it will ensure the state gives equal weight to future improvements and immediate needs. Click here to learn more about Future Schools Now.
CARING FOR STUDENTS THE BARBERS POINT ELEMENTARY WAY – Rosa Fanuaea's three children, who each have serious medical needs, attend Barbers Point Elementary, where Rosa says the staff takes extra care to ensure her children are properly cared for while in school.
Equitable Access to Quality Healthcare Available at Schools
by Complex Area Superintendent Ann Mahi, Nānākuli-Waiʻanae Complex Area & Derek Inoshita, Communications Branch
Nānākuli High and Intermediate School (NHIS) and the Wai'anae Coast Comprehensive Health Center (WCCHC) dedicated their new School-Based Health Center (SBHC) in September. The SBHC was created to address chronic absenteeism. Attendance is one of the most powerful predictors of student success. NHIS is the third school that has partnered with the WCCHC to open a SBHC. In 2016, SBHCs were established at Wai'anae Intermediate and Wai'anae High School.
The SBHCs were established after convening a community group consisting of school leadership, families, staff and local organizations, who identified student health as one of the primary factors underlying chronic absenteeism. Parents suggested the creation of a health clinic on campus as one way to address this issue.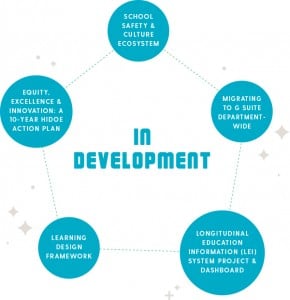 "Chronic absenteeism can impact a student's ability to stay focused and graduate on time, which affects their college and career potential well into the future," said Superintendent Kishimoto. "Nānākuli High's new Health Center will help to diagnose health issues on site and reduce absences, keeping students on track toward academic success."
The SBHCs offer students a full range of pediatric clinical services including diagnosis and treatment of illness and injuries, sports physicals, management of chronic diseases such as asthma and diabetes, and referrals for behavioral health services such as anxiety and depression. A federal grant provided initial funding for the SBHCs with an additional $86,000 in grants from Kaiser Permanente.
Running an organization as complex as HIDOE requires modern tools and processes, and we continue to push ahead with improvements to ensure that everyone in our schools and offices has access to efficient and effective systems to carry out our work. As part of our commitment to transparency, we are working to modernize our financial management system and creating new ways of visualizing financial data to increase understanding and engagement around our budget and expenditures from the system level down to the school level. To learn more about the Department's budget and what it takes to run it, visit HawaiiPublicSchools.org.
From August 1, 2016, to May 31, 2019, a total of 6,647 primary care service visits were made at the three locations for everything from coughs and abrasions to headaches and ankle injuries. Of these visits, 6,047 or 91 percent of cases were able to return to class immediately after treatment. From January 1, 2017, to May 31, 2019, SBHC clinic providers also made referrals for 1,944 behavioral health services visits.
"Many teens have not had a comprehensive physical exam or even been seen by a primary care provider in years," said Dr. Vija Sehgal, chief quality officer and director of Pediatric Services at WCCHC. "Thanks to our partnership with the schools and support from Kaiser Permanente, these clinics located conveniently on their campus will help change that while also empowering teens to play an active role in their personal health and well-being."
STUDENT VOICE
What would a school of the future look like to you?
If I were designing a school for the future, I would make sure to get the opinions and perspectives of multiple kids, this way you have lots of ideas and you can be sure the school meets everyone's needs. I would like to see more project-based learning and group work so that you can learn while you are also learning to interact with others. There should also be choice in terms of the projects we get to pick. Another idea I have is to include a variety of courses that go beyond just the core courses like mathematics and English language arts. For example, we might have courses in robotics, gardening, construction or video-game design!