Say "Yes" to Celebrating Small Businesses with First Hawaiian Bank
Vice President and Team Leader Lara Sonoda shares the wide range of services and supports that bankers can provide to small business owners, whether they are just starting up or looking to expand an established brand.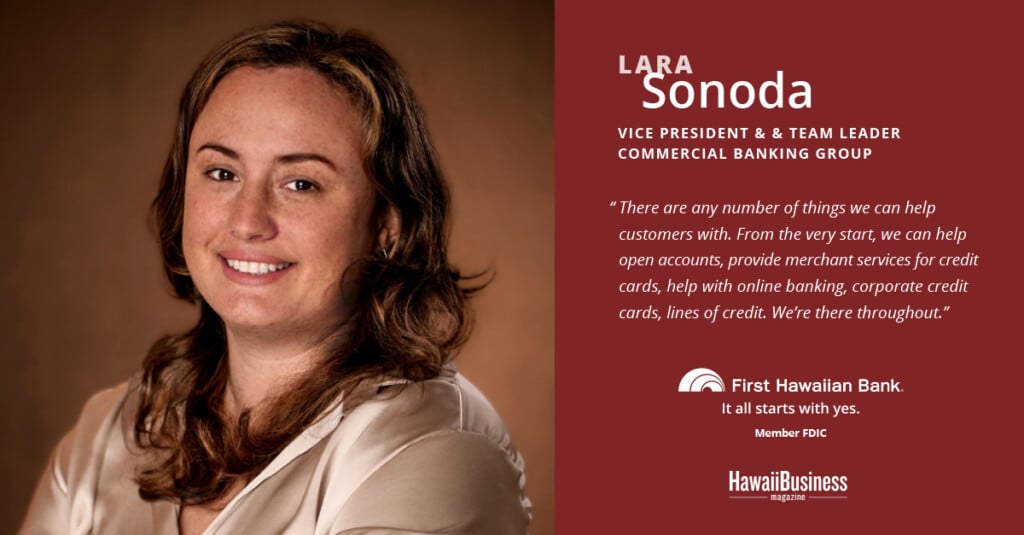 Small businesses and the individuals behind them play important roles in our communities. Hawaii Business Magazine and First Hawaiian Bank are celebrating Small Business Month by talking to bankers who are passionate about helping local entrepreneurs thrive with the right tools and team.
Small business owners are often not aware of all the resources available to help them succeed throughout the life of their business, says Lara M. Sonoda, Vice President and Team Leader, Commercial Banking Group, Hilo.
Sonoda says a wide range of small business owners come to her for a variety of reasons; from basic advice on how to start a business, to a line of credit or working capital, to established businesses looking to expand.
"Whatever customers ask, we try to find the answer," Sonoda says. "We pretty much handle it all."
First Hawaiian can also help set up your support team with a banker, a CPA or accountant, and resources at the Small Business Administration (SBA). "It's helpful to be aware of all the different partnerships that you can have that will get you to where you want to be," Sonoda says.
Helping business owners expand with a line of credit or working capital needs, Sonoda also analyzes their financials, highlighting things that could help them along the way. "We work alongside their CPA's, attorneys, to make sure we are meeting all their financial needs."
There are any number of things First Hawaiian can help customers with, Sonoda says. "From the very start, we can help them legally file their business, help open accounts, provide merchant services for credit cards, help with online banking, corporate credit cards, lines of credit… We're there throughout."