Say "Yes" to Celebrating Small Businesses with First Hawaiian Bank
"To help drive success, surround yourself with a trusted team of professionals: a CPA, an attorney, and a banker. They have key areas of expertise that can fill gaps and keep you on track."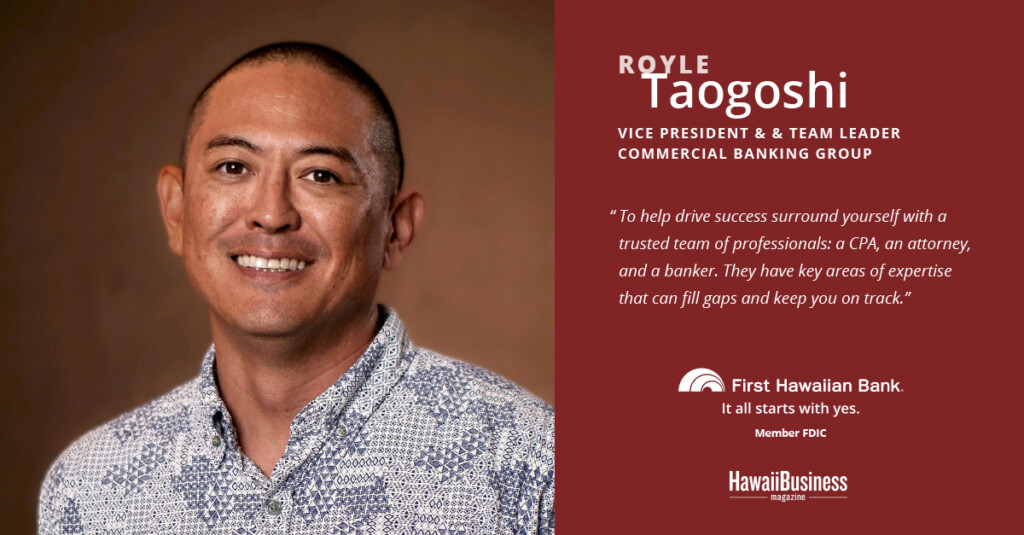 Small businesses and the individuals behind them play important roles in our communities. Hawaii Business magazine and First Hawaiian Bank are celebrating Small Business Month by talking to bankers who are passionate about helping local entrepreneurs thrive with the right tools and team.
On Maui, Royle Taogoshi is Vice President and Team Leader of First Hawaiian Bank's Commercial Banking Group in Kahului. He says he often sees new business owners come to the bank, not necessarily with a particular financing need, but for some guidance.
"To help drive success, surround yourself with a trusted team of professionals: a CPA, an attorney, and a banker. They have key areas of expertise that can fill gaps and keep you on track." he advises.
New business owners also need to pay attention to their credit rating, and a trusted banker can help them to maintain a healthy one. A common mistake Taogoshi sees new business owners make is trying to grow too quickly, over-leveraging themselves without realistic projections or a solid business plan, versus growing and building up the business organically.
"Quite often, the new business owners that I meet with are trying to juggle too many roles and haven't had the time to focus on the financial end of their business," Taogoshi says. "It is my responsibility as their banker to fill that gap and utilize my expertise to help with their current and future banking needs which often is not just limited to checking accounts and business loans."
First Hawaiian Bank is a full-service financial institution that provides a multitude of business services, including employee benefit services such as payroll, health insurance, supplemental insurance coverages, and retirement plans as well as credit card processing, and other treasury management services, just to name a few.
"Identifying and implementing these essential business services for our customers is often just as critical as providing a business loan," Taogoshi says. "In the long run, I'm here to help our community and ensure it prospers."