Four Programs That Inspire and Teach Kidpreneurs
Local programs use various hands-on approaches so children in grades K-12 better understand business – and life.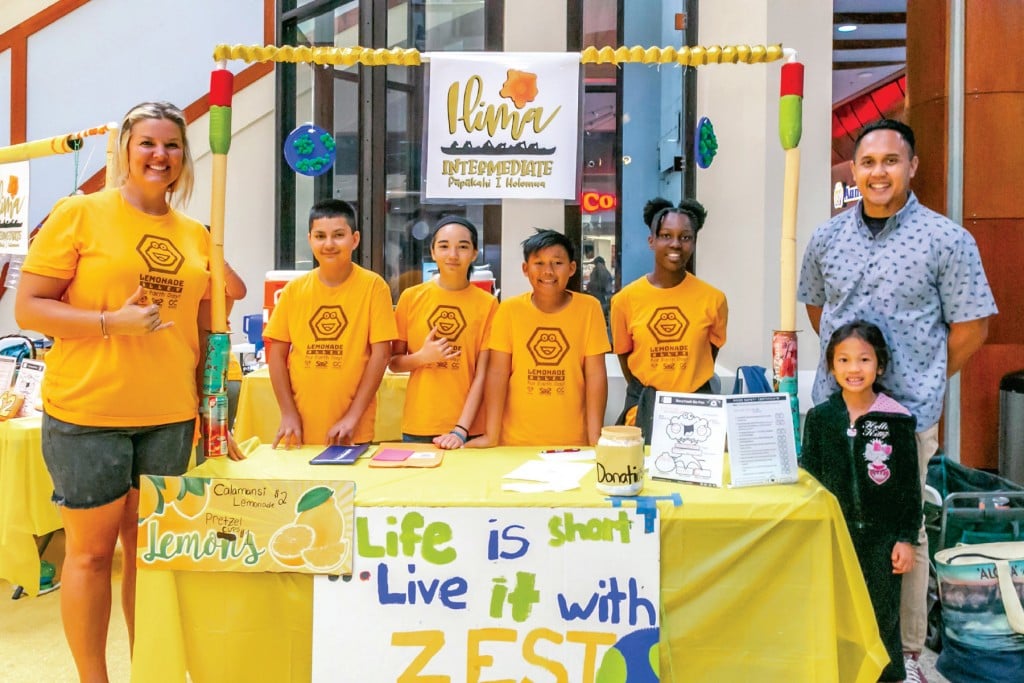 Steve Sue likes to start young when nurturing the next generation of public-spirited entrepreneurs.
He launched Lemonade Alley in 2011, a lemonade stand challenge for children in kindergarten through high school. Sue says that while it teaches Hawai'i's youth how to make a profit, each team also chooses which charity will receive their earnings.
"I'm really on the bandwagon about not stopping with entrepreneurship but moving to social venturing. They can make a living themselves, they can even be rich, but they should still be looking at how to sustain the world and the economy and help people in need," he says.
Over the past decade, participants in Lemonade Alley have donated over $200,000 to various charities.
Lemonade Alley is unique, but it's not the only program in Hawai'i that aims to inspire and teach young people about entrepreneurship before they reach college.
Project-Based Learning
One way K-12 schools are fostering the next generation of entrepreneurs and creators is through hands-on learning, says Brandy Sato, the secondary school principal at Island Pacific Academy.
Starting in fall 2021, IPA will transition from the International Baccalaureate Programme to Design Thinking, a curriculum for students and teachers to create innovative solutions for their communities using empathetic understanding and problem-solving.
"We're ready for the next evolution in our school and in our philosophy, and we really want to create a program that's focused on student-centered knowledge, learning and creation," Sato says.
IPA already offers a design technology course that Sato says gives students a chance to use design processes to make products that address community or school needs. Once students reach eighth grade, they have the chance to pitch their products to a group of "investors," similar to the TV show Shark Tank, says Sato.
"We really want to expand on the concept of students as creators and innovators. And we think capitalizing upon design thinking and having that influence all of our academic disciplines in our secondary school is really going to provide more of those opportunities for kids to think about their future careers, and to see themselves as contributors to their community," Sato says.
Click here to find design thinking resources.
Keeping Tech in Hawaiʻi
Redefining success in the minds of Hawai'i's youth has been Nalukai Academy's main mission over the years, says program director Aaron Schorn, who also teaches at Hawai'i Preparatory Academy.
Nalukai's Summer Startup Camp is an immersive technology and entrepreneurship program for Hawai'i high school students. Students develop their own startups with their teams and work with tech industry leaders.
View this post on Instagram
Tuition is free for each student selected to the cohort, and everyone gets a MacBook laptop that they keep after the two-week program. Schorn acknowledges this might be a "horrible business model," but it creates a diverse and inclusive group.
"It's all about human connection and relationships. If you look at modern startups or successful businesses, product development is all about having a diverse team," Schorn says. "And so, the secret sauce of Nalukai is treating those human skills as technical skills."
Usually the summer camps are held in Waimea, on Hawai'i Island, but the 2020 and 2021 programs were virtual because of the pandemic. But online or in-person, the first days are devoted to creating a culture among the students, Schorn says.
"The hardest thing to do, even for the most privileged kids in the world, is to get them to feel like they belong," he says. "Like saying that you've got to get into an Ivy League school, or you're a failure. So Nalukai and my work at HPA are about chipping away at that monster that exists, even here in Hawai'i." Schorn says the more that Nalukai roots its curriculum within the ethos of Hawai'i, the more potent and authentic the products of the program will be.
Some of those products are mindfulness apps, businesses that help students with school essays and digital platforms for preventing bullying.
Breaking Down Barriers
Hawaii Biz Kids is a three-week program in Honolulu that combines entrepreneurship with physical activity. Daynin Dashefsky, founder and owner of Kahala Jiu-Jitsu, says she has always wanted to teach kids about invention and once she opened her jiu jitsu studio, she had the perfect space to fulfill that dream.
"Our headline for jiu jitsu is 'We are a life school, not a fight school.' So, every time (regular) school is out, we have camps that help teach kids things that will help them throughout their life," Dashefsky says.
The program lets children ages 9 to 12 make real money, says Dashefsky. At the end of the third week, there is an innovation fair where people can buy the students' creations, such as cookies, slime and clothes.
The camp curriculum consists of self-defense classes in the morning – Dashefsky believes that physical activity helps kids retain what they learn – and business classes in the afternoon. Students learn how to create their own business plans and the skills it takes to sell a product. And they spend an hour at the end of each day solely on public speaking, says Dashefsky.
"She taught us how to not show that we were nervous, like not fidgeting or pacing when we were presenting," says Caleb Garcia, a graduate of the program.
Christian Garcia is the father of Caleb and his younger sister, Saraí, who also attended the program. "I remember the first time our daughter did public speaking in front of a whole group. She was super nervous, almost crying. And then, at the end of it, she was able to give her presentation very confidently."
Dashefsky says her next steps include franchising the program to jiu jitsu schools on the Mainland.
Making Lemonade
Lemonade Alley's curriculum starts with teaching its young participants the basics of mixology, Steve Sue says, and then evolves to guiding them on how to form a sales pitch. The lemonade stands are made from recycled materials, which are then lined up every April to be judged by community experts.
One amazing thing is the liquid variations. "We can have 50 teams with just three ingredients: lemon juice, sugar and water. And the lemonades will all taste different. And the children will know why. … I would say some of our students have done better than what I have seen professional mixologists do locally," Sue says.
The program can be taught at home by the children's families or by a teacher looking to incorporate project-based learning into their curriculum, he says.
In a sister program, Project Lemon Tree, young leaders design and build pergolas to protect lemon trees on school campuses. Sue says the two programs work hand in hand because the trees provide participants with free lemons.
Katrina Kuo, a project manager for Project Lemon Tree in 2018, will start attending Stanford University in the fall. She says the project allowed her to apply what she learned in high school math and science classes to real-life projects.
"Because of this project, I was able to see the engineering side, along with how it was to manage individuals and business aspects. … When having your own business and company, you need to learn how to organize tasks, and how to bring new ideas to innovation," Kuo says.