Go Paperless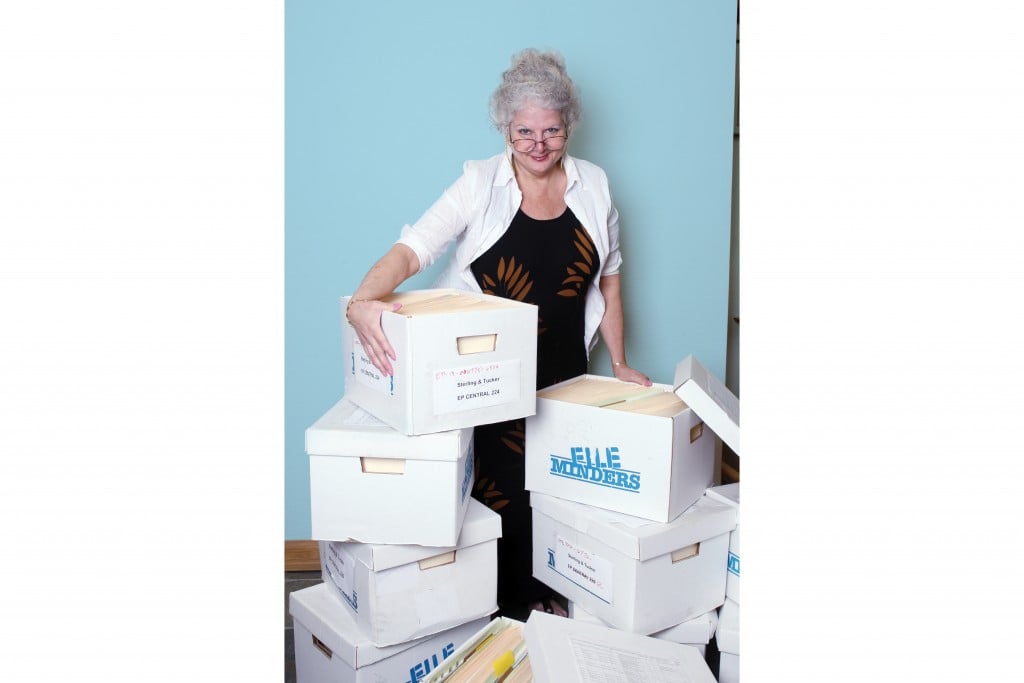 Three Ways To Make Your Office Truly Digital
A great stack of banker's boxes dominates the scanning room of Sterling & Tucker, a law firm that specializes in estate and financial planning. The neatly labeled boxes are packed with hundreds of legal files and financial documents – the lifeblood of a firm like this – but all of them are headed for the shredder. It's a sign of the times. Sterling & Tucker is one of dozens of Hawaii companies – law firms, medical offices, accountants, architects – that are systematically converting from paper files to electronic files.
Indeed, over the past four or five years, tens of thousands of the firm's paper files have passed through this room on the way to being scanned or shredded. That makes this as good a vantage as any from which to see how conventional companies like Sterling & Tucker reinvent themselves and gradually become examples of the fabled paperless office.
Outsource the Work
For Sterling & Tucker, like many file-laden professional firms, the easiest path to the paperless office was to hire a contractor. Several years ago, they chose Profitability of Hawaii, one of the largest imaging companies in the state, to begin scanning their old files and to create an electronic filing system that mirrored the features of their paper system. "We started slowly," says firm administrator Leslie Ishimi. "We said, 'Let's try these five or 10 boxes and see how it works.' " Since then, a steady stream of banker's boxes has flowed between Sterling & Tucker and the bulletproof scanning room of POH.
"The service is excellent," says Ishimi. But the digital files' utility is the best feature. POH delivers the files on a CD in a fully searchable, indexed format. "One of the things that POH does beautifully for us is bookmarking," Ishimi says. "They scan the files in sections, so they're already bookmarked for us. When we get the files back as PDFs, they're already ready for our attorneys. They set that system up for us."
But that doesn't mean it's easy for Sterling & Tucker. No matter who does the scanning, there are hard decisions that have to be made in-house. "We're still responsible for those documents," Ishimi says. No doubt, POH, with its high-test scanners and proprietary software, could have finished digitizing the law firm's files long ago. But Sterling & Tucker's own procedures slow the process. "When we get the hard copy back," says Ishimi, "we still have to make sure what's on the PDF is what we sent them. Then we have to have an attorney approve whether that file can be shredded or not. So, reabsorption – the work process after it comes back – is one of the things that dictate the rhythm. We can only reabsorb so much at a time from POH without hiring more people, which would defeat the reason we're using them."
There's also the question of what to scan. "Normally, we would recommend not to go back in ancient files," says Keanu Bruner, a marketing and sales executive at POH. "Scanning can be expensive. To the company, it could cost $300 to digitize a single banker's box. And in a four-drawer file cabinet, there are about six banker's boxes." For a law firm like Sterling & Tucker, with its prodigious files, that adds up. Clearly, choosing what to scan calls for a strategy.
"We use a three-pronged approach," says Ishimi. "You don't want to pay for things you don't need; so, for the old files that we store off-site, you have to come up with a way to quickly weed them out." For the other files, she says, "You have to ask yourself, 'What might your client need later that you could be responsible for?' And also, 'What might you need later?' " Your imaging consultant can't answer those questions for you.
For all its complications, though, Bruner believes the paperless office is inevitable. "There's more than one reason to digitize and go paperless," he says. "You might want to reclaim valuable office space. It might be for disaster recovery purposes. Or speed of access to documents might be the primary reason for going digital. But resistance is futile," he says. "Going digital is not an option anymore. In my mind, the way you do it is softly, gently and slowly. But you're going to do it."
It helps, though, to have professional advice.
Software Solution
Judith Slawsky, an independent CPA and certified financial planner, didn't choose her own path to the paperless office. As a securities licensed representative, she's subject to strict SEC and FINRA rules regarding record keeping. One of those rules is that electronic records must be kept in an inalterable format. And, although there are dozens of document-management systems on the market, almost all of them work by creating PDFs, a type of file that can be altered by anyone with Adobe Acrobat. Other companies, including Profitability of Hawaii, say their files, saved in a WORM (write once, read many times) format, are also SEC compliant. But only one system, a popular program called LaserFiche, was acceptable to Slawsky's broker/dealer, First Allied Securities. "Our legal department said it was LaserFiche or nothing," she says.
Like many who contemplate going paperless, Slawsky was attracted to the environmental advantages. But she also had practical motives. "I was in a smaller space then," she says, "and I was running out of filing room. I was creeping out into the hallway with files. And space is expensive in Hawaii." Even so, the software's cost made her put off the purchase for several years. In the end, it was a move to a new location – and the prospect of moving all those files – that made her decide. "The upfront cost was expensive. How much did I pay? I think it was about six grand. Plus, you pay $600 to $800 a year for on-going support."
Some people think it's too expensive, but they just don't understand the cost savings.
Still, for Slawsky, the convenience of electronic files is worth it. "I love it because of not having to search for old records and files," she says. With Optical Character Recognition and advanced seek-and-search features, LaserFiche makes finding almost any file, even one you've forgotten the name of, a matter of moments. Now, when a client calls asking for a file, Slawsky can pull the file at once instead of telling the client, "I'll get back to you." She also notes, "I now have maybe 16 drawers of file space that are nearly empty." Maybe another advantage for Slawsky was that the LaserFiche agent on Oahu was a friend and fellow CPA and certified financial planner, James Michishima.
Michishima originally came to LaserFiche as a user, like Slawsky, drawn to the program because it was SEC and FINRA compliant. But, like anyone making the move to electronic files, Michishima faced the question, "What to scan?" "When we started," he says, "I made the internal decision to back-scan everything. I think that's probably the best decision that I made. Now, we know that everything's in our database, so that's where we look." Clearly, going completely paperless increases the firm's efficiency, allowing staff to find client documents almost instantly and to effortlessly share files or work remotely. But it's a costly strategy initially in time and resources.
"Accounting and financial planning are really paper heavy," Michishima says. "When we started, we had maybe 100 boxes of files. It took us six full months to scan everything. And when we started, we only had one scanner. Everyone had to work at least one day a week scanning."
But Michishima is confident that the efficiencies inherent in a paperless office more than offset the cost and complications of conversion. "Some people think it's too expensive," he says, "but they just don't understand the cost savings. In 2002, we had three full-timers and myself in the office. Today, we still have three full-timers and myself. But we've doubled the volume of our revenue. That's primarily due to the efficiencies of LaserFiche."
MacGyver It
Going digital need not cost thousands of dollars. In fact, one of the ironies of the paperless office is that you may already have all the tools. Nancy Grekin, an attorney with McCorriston Miller Mukai MacKinnon, makes do with a desktop scanner, Adobe Acrobat, Microsoft Office and PaperPort, a simple document-management program that comes free with many scanners. Paperless is a matter of knowing how to use these basic tools, she says.
PaperPort, for example, allows her to scan documents directly as PDFs. Drag an icon to Word and PaperPort automatically uses Optical Character Recognition to create a nearly flawless text file. Drag the PDF to Outlook to attach it to an e-mail. If, like Grekin, you subscribe to an inexpensive Internet fax service like Maximail, you can drag and drop to send a fax as well. Of course, the main function of PaperPort is to organize and manage all kinds of files – Word documents, PDFs, e-mail, faxes, Excel spreadsheets, etc. – in one, easy-to-understand system. All paperlessly.
For Grekin, the key to going paperless is simply not to use paper. "I just don't print stuff," she says. "I just save it on my computer. I don't save or send any mail; I really use e-mail. I deliver all my legal work by e-mail – 100 percent. I don't mail documents to people ever. If somebody's somewhere and they've got to sign something, I e-mail it to them and they print it off and sign it.
"Also, I don't print my e-mails," she says. Instead, she uses the filter features in Outlook to sort them, noting, "If you're not going to print them, then you've got to organize them." Similarly, Grekin considers herself an expert in the "so-called power features of Word," using techniques like automatic paragraph numbering and cross-reference codes so that she can quickly change legal documents herself. "Other people don't use these features," she says. "So, they have to have secretaries who spend their day reading documents and making sure the cross-references are right and renumbering paragraphs when the lawyer wants to take one out." "But I don't need a secretary," she says, "because I don't need anyone to do that stuff for me. I let my computer do it."
"See," she adds, "all this is really more about being efficient than it is strictly about being paperless."