Going to College Before College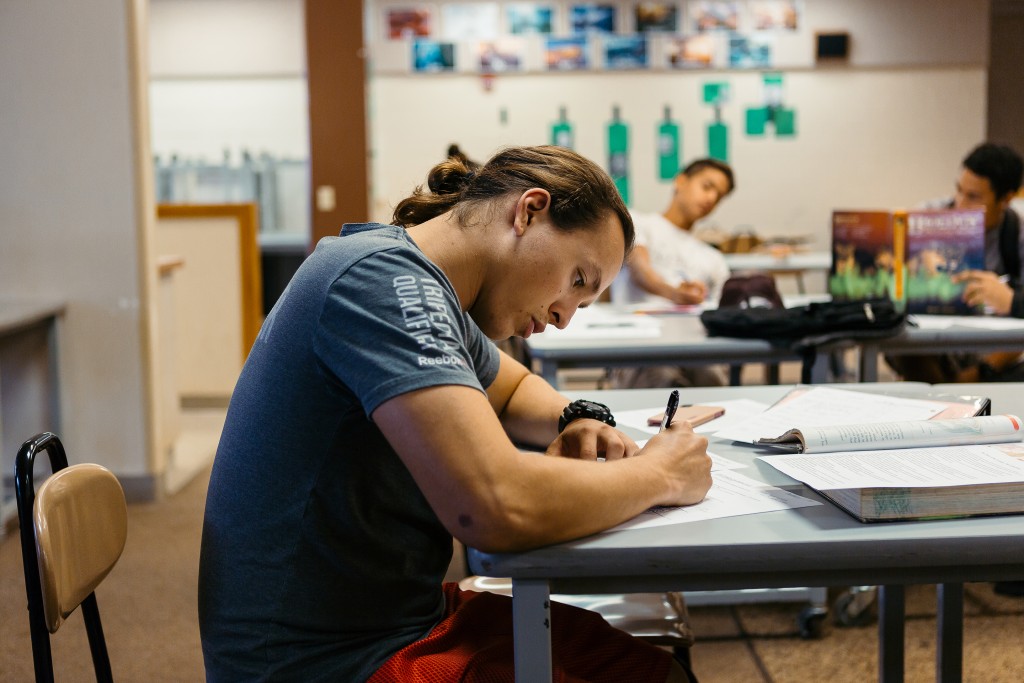 Many local high school students can now take courses that give them high school and college credits at the same time. If they stick to it, they will eventually graduate from college in less time and at less cost.
Leanne Villanueva used to think college was out of reach. It would be expensive, and she didn't think she would do well in a college class.
She's proved herself wrong. She began taking free college courses as a high school freshman, and in May she was one of 11 Waipahu High graduates who received associate degrees in the same month they earned their high school diplomas. That work saved her two years of time and money on the bachelor's degree she's now pursuing at UH West Oahu.   
The college courses Villanueva took were offered through dual credit programs that allow high school students to simultaneously receive credit toward high school and college requirements. Such programs help students adjust to the rigor of college study, advance toward their educational goals and build confidence. It's too early to tell if these programs improve college graduation rates, but educators find that students who take dual credit courses are more likely to enroll in college and continue into their second year.
"For us to meet the workforce demands of the future, we need to start preparing our students now to ensure they graduate from high school, go on to college and gain the skills necessary to fill those high-demand jobs that will move our economy forward," says Stephen Schatz, executive director of Hawaii P-20 Partnerships for Education, a statewide effort led by UH, the state Department of Education and the Executive Office on Early Learning.
Hawaii P-20's goal is to have 55 percent of working-age adults obtain two- or four-year degrees by 2025. Currently, 44.3 percent of working-age adults have degrees, but by 2020, 70 percent of all jobs in Hawaii will require some postsecondary degree or a certificate, Schatz says.
Game Changer
UH and DOE offer three dual credit programs: Early College, Running Start and Jump Start. Early College allows high schoolers to take college-level courses tuition-free on their public or private campuses or online. In Running Start, high school students pay tuition for the courses they take at UH campuses or online with other college students. In Jump Start, high school seniors enroll in career and technical education programs at participating community colleges and only pay for supplies, textbooks and other course fees. Students who take Early College often end up taking Running Start classes as well.
Students apply for the programs and have to meet the prerequisites for each college course, whether that's a placement test, successful completion of certain high school classes or other measures. UH Mānoa and Hawaii Pacific University also have their own dual credit programs.
Since its establishment in 2012, Early College has made college-level courses more accessible, Schatz says. More than 800 Early College course sections have been offered at 38 high schools, and the number of public and charter school graduates who have taken dual credit courses continues to climb. Seventeen percent of the class of 2017 participated in dual credit.
These courses allow students to experience the rigor of college amid the comfortable familiarity of their high schools, says Janette Snelling, principal of Kohala School.
The programs have also changed high school campus cultures. Keith Hayashi, principal of Waipahu High School, says before Early College began, his students lacked confidence that college was possible for them.
The school's first Early College course, Psychology 100, was held in summer 2012 with 30 students. Hayashi says the class had an attendance rate of 99 percent and students earned an average GPA of 3.2 or 3.3: "Students loved it, and they said, 'Can we have more of this?' And they earned dual credit in social studies, so that took care of their senior social studies credit course, and they got three college credits from West Oahu."
Waipahu High's Early College program has grown to include about 60 classes. Students can take classes to explore what college is like while accumulating credits or pursue an associate of arts or associate of science degree, which means taking 60 credits, or 20 college classes. Some students pursuing associate degrees are able to complete most or all of their high school requirements early and can spend their senior year taking courses at Leeward Community College.
Mark Silliman, director of Waipahu's Early College program, says about 15 to 17 percent of the student body have taken Early College classes: "That's that proverbial drop of iodine in the beaker. It begins to change the color and the culture of the entire campus."
Villanueva says the program increased her confidence, helped her establish connections with college professors and gave her a head start on her bachelor's degree. She and the other Olympians – the term used for Waipahu High students who earned their associate degrees through the school's Early College program – have become role models, and some return to the school in the summer and receive stipends to help tutor the next set of students.
"With that in place, students really started to build the program, and I think kids were coming not only one by one anymore, but they were bringing their friends," which created a support system for the students to succeed, Hayashi says.
Finding Your Passion
The dual credit programs aim to change aspirations and behavior, says Tammi Oyadomari-Chun, academic affairs program officer for the UH community colleges: "We've really been looking more at trying to help students who were on the fence or didn't really see themselves as fitting in or being successful in college, and realizing that they are and increasing their confidence and then their behavior."
High school graduates with dual credits enroll in college and continue into their second year at higher rates than their peers who did not take any of these courses, says Schatz. And low-income graduates who participate in dual credit are more likely to enroll in college than their peers without dual credit. For the classes of 2013 through 2017, 74 percent of low-income graduates who participated in dual credit enrolled in college, compared to 42 percent of their peers who did not have dual credit. "So what's exciting is that this seems to actually be making an impact in aggregate on a population that has historically struggled," Schatz says.
College enrollment rates for public and charter school graduates have hovered around 54 to 56 percent for the classes of 2012 through 2017, according to Hawaii P-20 data. Schatz says Early College has contributed to the college-going culture and he's eager to see if the college enrollment rate will increase as the program becomes more popular. This spring, a record 16 high school students earned college degrees from UH through the Early College program. An additional Waipahu High student received her associate degree in December.
These programs have also helped students explore careers and discover what majors they want to study. Cecily Poai, a 2017 Waiākea High School graduate, took Early College courses to discover her passions. The courses helped her to choose sociology at Pacific University in Oregon, and her eventual goal is to work at a nonprofit.
Providing students with more opportunities to explore careers is especially important at a small rural school like Kohala High School, where the master schedule is limited. Principal Janette Snelling says the two dozen teachers can only teach so many classes, so Early College can offer subjects not typically taught at the school, like anthropology and astronomy.
This past school year, Kohala High offered six Early College classes. Each class needed a minimum of eight students, she says, but the school had no trouble recruiting students. The school selects courses based on whether they fulfill UH general education requirements and match students' interests.
Waipahu High is working on programs in which dual credit courses align with the requirements of certain four-year degrees at UH. This means students can enter programs to pursue certain areas of study at the high school, receive their associate degrees by the time they graduate high school and then move directly into their majors as college juniors. Programs already exist for majors like engineering at UH Mānoa and creative media at UH West Oahu, Silliman says, adding that he wants to create one for education.
"If you want to infuse our workforce with the badly needed teachers that we need in special education and primary and secondary, if we want to shorten that time and accelerate and strengthen our economy and provide those kinds of jobs, you do it in Early College," he says.
Ronald Cambra, assistant vice chancellor for undergraduate education at UH Mānoa, says dual credit students tend to have already figured out what they want to study when they arrive on campus because they have taken courses in areas that interest them.
Sheldon Tawata, coordinator of the Kuilei Outreach Program at Kapiolani Community College, says students and parents should keep in mind that dual credit programs are not for everyone. He worries that high schoolers rushing to pursue associate degrees may not fully explore their interests.
There should be a thoughtful process to understand each student's interests and goals, as well as the family's resources, when determining the best fit, Tawata says. The challenge is there seems to be social pressure among students and families to take dual credits just because they see so many others doing so.
"It's like, 'If my child is not in it, does that mean he's at disadvantage?' And so there's that pressure, and that's not fair to anybody. The messaging should be about equity and about fit, and just saying here are these opportunities and that's all it is," he says.
Who Pays for the Programs
"There are not as many jobs as there used to be where you can just graduate from high school and go immediately into the workforce and make a wage that's going to sustain your lifestyle," Schatz of Hawaii P-20 says.
The difference in annual median salary between Hawaii residents ages 25 to 64 with associate degrees and residents with high school diplomas was $10,500 in 2010, says Oyadomari-Chun. Residents with bachelor's degrees earned $17,000 more than those with only high school diplomas.
Early College does not make money for UH, says Debora Halbert, associate vice chancellor for academic affairs at UH Mānoa, "but it is such an important public good that it offsets any sort of financial calculation."
Each dual three-credit course costs a high school $6,000 to pay for the instructor, no matter how many students are in the class, Schatz says. The minimum number of students depends on the agreement between the college campuses and the high school. In Running Start, the program in which high school students take courses at UH campuses with other college students, tuition is charged for every credit, though some students receive grants to cover their costs.
It's hard to tell how much money UH campuses lose from dual-credit programs, Halbert says. One could argue that campuses lose the difference between the flat rate per credit model that the high schools pay and the per credit/per student payments. On the other hand, one could argue the campuses will receive their money back when students end up there and pay tuition. "Because the program is so young, none of this has been calculated, nor has a framework for how to calculate it been developed to my knowledge," she says.
This is the first year that money has been specifically designated for Early College in the state Department of Education's budget, says Lindsay Chambers, a DOE media specialist. The department received $1 million for the program in 2018 and in 2019 will receive $1.5 million. In the past, high schools received federal grants, per-pupil funding from the state and grants from private foundations. Many still receive a mix of funding for their programs.
At Waipahu High, Early College has built pride within its students, Hayashi says: "I think that, together with our industry partners; career academies; our student organizations on campus; a willingness for people outside of our school, whether postsecondary or industry … to invest in them sends a strong message to them. Hey, you know what? People care about you, they're willing to support you.
"That provides a whole lot of encouragement for our kids to work even harder."