Going to College Before College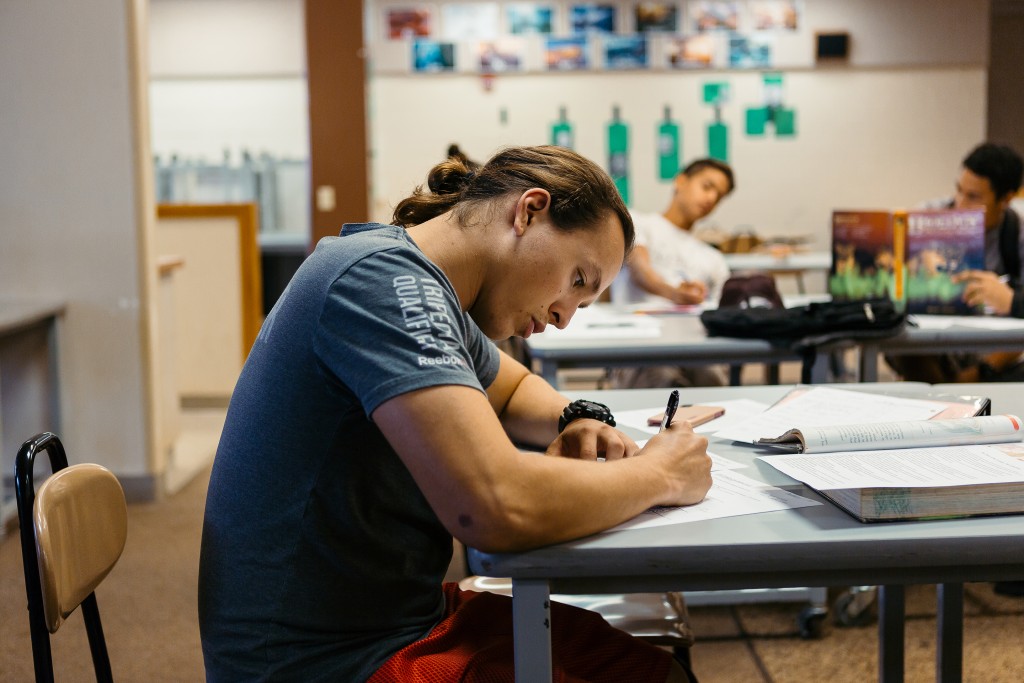 Barriers Removed 
Some reasons that college students don't finish their degrees include academic unreadiness, unavailability of courses and degrees, finances and discomfort with the campus.
Students with dual credits tend to have a leg up when they enter because they've already been exposed to college classes and college culture. Students who don't have these dual credits tend to have a harder time adjusting, say the educators interviewed for this article.
At UH Mānoa, the biggest concerns are whether freshman students continue into their second semester and then into their sophomore year, says Ron Cambra, assistant vice chancellor for undergraduate education. Ninety-three percent of first-time, full-time freshmen continue into their second semester; the goal is 95 percent. About 78 percent of students continue into their second year; the goal is 85 percent. UH Mānoa has tried to make the transitions as smooth as possible.
Until two years ago, freshmen and transfer students would register for the fall semester in August, typically a few weeks before classes began. Today, they register in late May, giving them time to ask questions about which classes to take and tweak their schedules. This also helps the campus make sure it's providing enough sections of each course.
Learning communities have helped freshmen continue into their sophomore year, Cambra says. Such communities have existed for over 10 years but have been revamped to focus on courses that fit majors that students are interested in pursuing. Students register for a group of classes based on their interests, plus a one-credit course that introduces students to studying, writing papers and using the library. The same set of students are enrolled in four of those classes, including the one-credit course, which Cambra says creates a natural study group and helps students become more comfortable with the campus.
Currently, about 40 percent of the campus's incoming freshman class has registered for learning communities. The goal is 50 percent for academic year 2019-20. The retention rate for students who register for learning communities is 86 percent, compared to 78 percent for all first-time freshmen, Cambra says.
UH Mānoa faculty will review the campus's general education requirements over the next couple of years. Cambra says the idea is to look at the efficiency and effectiveness of the requirements and better integrate them into academic majors. That'll free up more course hours for students to pursue other interests.
"The question really is: Are we removing barriers so students can get to their goals? And I think we've done a pretty good job of trying to get those taken care of as much as we can," Cambra says.
Providing Students with More Options
Dani Sur is a senior at Maryknoll School. She has a 3.8 GPA, participates in the school's Key Club and Science Olympiad , plays soccer and water polo, and bowls, among other activities.
For the past year, she's also been a student at Hawaii Pacific University, taking 10 college classes. She'll continue that schedule this year, and in spring 2019, she'll earn her associate degree and her high school diploma. (Disclosure: Dani Sur is the daughter of Hawaii Business' associate publisher, David Sur.)
Hawaii Pacific University has offered dual credit classes for the last 10 or 15 years, says John Gotanda, HPU's president. Today, the university has partnerships with four private high schools and one public school. Some classes are held at the high school campuses; others are at HPU or through real-time distance learning via video. The high schools decide how the classes will be offered to their campuses and whether the costs for them will be passed on to students.
At Maryknoll, the cost of the college classes is included in the price of Maryknoll's tuition, Sur says, adding that the lack of additional costs is the best part of the program. The only thing she does have to pay for is her books.
Last school year, Dani reserved Tuesdays and Thursdays for her high school classes at Maryknoll; she was at HPU's downtown campus every Monday, Wednesday and Friday. Taking college classes has given Sur more confidence that she'll succeed in college and has helped her to adjust to college life, such as being ready  with her notes for a lecture and making sure she has her books on the first day of school.
Gotanda says HPU's dual credit program was meant to create more paths to college and help reduce the time and cost of a college education. In the same spirit, HPU just launched new paths that allow students to complete four-year degrees – in communications, criminal justice, general business, management or marketing – in three years.
He adds that these programs provide students options: "It allows them the option to finish quicker. It allows them the option to explore. And I think having those options really provides a student with flexibility when they go to college, without  burdening them with additional time and cost."